KBank has a new "Customers' Life Platform of Choice" strategy with an IT budget of THB4.0-5.0 billion, p.a., to totally digitalize services, thus to maintain their digital banking leadership. Their goal is to offer a single platform that responds best to all customers' requirements in their lives. In doing so, they expect to further enlarge their customer base to 15.1 million customers. K PLUS users should thus reach 10.8 million and annual loan growth to reach 5.7 percent in accordance with Thailand's expected GDP at 3.7 percent growth, all while keeping their NPL ratio at only 3.3-3.4 percent.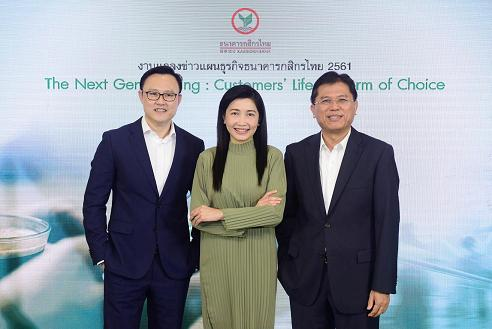 KBank President Predee Daochai says that
the commercial banking system is encountering many new challenges and business opportunities that will influence KBank's business strategies. Concerning economic factors, Thailand is expected to experience GDP growth of 3.7 percent in 2018, mainly supported by public infrastructure investments that should offset slowing exports and tourism, despite their high growth this year. However, purchasing power has been impeded by high household debt and farm income that may deteriorate. Although economic growth may be sustained, it may be lower than in many other ASEAN nations, and this situation could compel Thai businesses to expand into those ASEAN member economies.
Changing consumer behavior is evident in current online lifestyles and financial transactions. People are now using  mobile banking more than ever, as seen from the number of mobile banking accounts to total population, where that ratio was 0.9 percent in 2016, versus 34.8 percent in 2010. Likewise, the number of e-money, internet banking and electronic card users has been on the rise. This indicates that online transactions are now taking on an increasingly important role.
The government policy to promote a cashless society is in alignment with the five-year strategy of the Thai Bankers' Association to advance digital services and thus reduce cash management costs nationally. This policy has encouraged the development of many new services. Examples include expanded use of chip-embedded debit cards, more EDC-equipped merchants, the new PromptPay service and standardized QR codes for payments, which will likely change consumer behavior. More online services have been developed, as well. Amid rising competition from new service providers and cross-industry businesses, KBank aims to differentiate themselves from peers by offering impressive service and innovative products that best respond to customer needs, all with swift transactions and trustworthy security.
Mr. Predee added that KBank places equal importance on both domestic and regional economic directions, consumer behavior, government policies and market competition. These factors are assessed to define new strategies that can enhance business operations and adapt to coming changes while sustainably upholding their superiority and relevance to customers' lives.
Mr. Pipit Aneaknithi, KBank President, says that,
in response to the many new challenges, KBank has decided to redefine their business directions. Guided by their core Customer Centricity strategy, they now aspire to be their "Customers' Life Platform of Choice".
Built upon their strengths that have made them Thailand's number-one digital banking provider, KBank services are based on a three-pronged approach: (1) Beyond Banking; (2) Embedded Trust; and, (3) Everyone, Every day, Every way, Everywhere. To this end, they have set their sights on providing all customers with banking services beyond the norm to gain customer trust and meet the needs of all in their everyday lives, anywhere, anytime.
With the aim of becoming Customers' Life Platform of Choice, KBank carefully scrutinizes analyses of customer behavior to shed light on real needs. To make KBank services a more integral part of customers' daily lives, they are thus focusing on providing services via four key KBank mobile applications:
K PLUS: KBank mobile banking app ('K+') with the most users in the Thai mobile banking market. K PLUS users are expected to reach 8.0 million by the 2017 yearend, and rise to 10.8 million in 2018.
K PLUS SHOP: KBank mobile banking app for merchants that accommodates payments using QR codes – a first in Thailand.  Around 200,000 merchants will use K PLUS SHOP in 2017 and may reach 1 million in 2018.
K PLUS SME: KBank mobile banking app for SMEs: K PLUS SME users are expected to reach 420,000 by the 2017 yearend, and may reach 500,000 in 2018.
Pruanfun: A special menu of the K+ app featuring an online market that sells a wide selection of products. To become available in 2018, this menu is expected to offer around 50,000 product items.
Technology is vital to the development of services in this era. KBank will thus work closely with KASIKORN BUSINESS-TECHNOLOGY GROUP (KBTG) to develop services focusing on Customer-Centric Technology for a Better Life. Each year, around THB4.0-5.0 billion will be spent on IT development. Key initiatives for 2018 include:
K PLUS - a Lifestyle Banking Platform: They aim to make 'K+' a lifestyle banking platform that satisfies the needs of all customer segments via an extensive suite of services. Of note will be the Pruanfun menu to be added to the K PLUS app to revel online shoppers with a known, secure app.
Machine Commerce: KBank will employ machine learning technology to analyze and develop services that are in sync with customer behaviors, as well as to updating market data on target groups via Mobile Life PLUS on K PLUS.
Low-Value Remittances via K PLUS: In 2018, customers will be able to make outward remittances on their own via "K+" to over 40 destination countries worldwide, e.g., the US, UK, Singapore, Hong Kong, Australia and the European Union. This initiative will open a new dimension in retail offshore transfers.
Machine Lending: This service employs machine learning technology to analyze customers' spending behavior in order to assess risks and project loan demand. Loans are then proposed to both retail and business customers before they even make requests for them.
Enterprise Letter of Guarantee on Blockchain: KBank is the first bank in the world that has developed this service. In 2018, the number of users should reach 7-10 large enterprises and 4-5 financial institutions are expected to connect with this system.
Clearing and Settlement via Blockchain: KBank in cooperation with IBM has spearheaded the development of this service to offer businesses worldwide to enter into agreements on cross-border funds transfers and make such transactions almost real time. This service also allows users to check their account debits and make payments on digital asset swaps issued by central banks.
KBank has steadily established partnerships in the digital ecosystem. Aside from setting up digital partnership work teams within KBank and KBTG, the Bank has also established Beacon Venture Capital Co. Ltd., which is tasked with investing in startups, to seek innovations that are consistent with KBank's strategies expand our services. With one billion Baht in initial capital, THB250 million have already been invested directly into two startups and via two venture capital (VC) funds so far in 2017. For 2018, Beacon Venture Capital targets an increase in investment of around THB200-300 million into four startups, focusing on those having AI and blockchain technologies, as well as via a VC fund.
Mr. Pipit added that
with the "Customers' Life Platform of Choice" strategy, our customers will get new experience from enhanced services, which have been developed as an integral part of their lives, aided by technologies and innovations.
KBank President Ms. Kattiya Indaravijaya stated that under the new strategy, KBank has established operational plans that are more in alignment with all business segments:
For Retail business, KBank strives to become Thailand's best customer-driven retail bank with personalized solutions to maintain our status as customers' "Main Bank". This is aimed at bolstering retail loan growth to 6-8 percent p.a. and expanding the number of our retail customers to 15.1 million, as well as the number of K PLUS customers to 10.8 million.
For SME business, KBank will focus on being the "Bank for SMEs customers" and a total solution provider for them. KBank has set a 4-6 percent growth target for SME loans and 2-4 percent growth target for fee income, as well as the value of market share at 28.5 percent.
For Corporate Business, KBank is determined to be the "Trusted Bank for Corporate Customers" by responding to all their business needs, e.g., increasing loans to corporate customers by 5-7 percent, while gaining 2-5 percent higher fee income and commanding a 22% market share in the segment.
International Business: KBank continues to gear up toward being an "AEC+3 Bank" via "Dual Track Regional Digital Expansion", a two-pronged strategy. The first track is Classical Expansion by extending the bank's business network into the region and improving service in each country. KBank is working on opening branches in Vietnam and Myanmar within 2018-2019. The second track is Digital Expansion by developing an Issuing and Acquiring Business system for electronic payments. KBank will use the knowledge and experience from the operations in Thailand to promote the bank's businesses in the region where economic activities are expected to expand robustly. In 2018, the CLMVI are expected to see electronic payment transactions rise 20 percent.
Regional Settlement Hub: KBank introduces "Exotic Currency Settlement Initiative" service that would allow fund transfers between all AEC+3 currency pairs. KBank is the first Thai bank to enable customers engaged in regional trade to directly transfer funds in AEC+3 currencies without multiple conversions. Since the launch of this service in 1Q17, over THB16 billion has been transferred thus. KBank is also preparing to link with other payment systems in the region, wherein KBank Thailand will serve as the hub to receive orders for payments to other destinations within the region.
With regard to overall goals for 2018, KBank looks forward to achieving loan growth of 5-7 percent,  flat in non-interest income growth rate, a net interest margin (NIM) between 3.2-3.4 percent and NPL  (non-performing loans) gross to total loans ratio standing at 3.3-3.4 percent.
Ms. Kattiya summed up that
challenges and business changes have led to the "Customers' Life Platform of Choice" strategy as the best fit for the new era.  KBank is determined to incorporate technologies and innovations into banking services, and as part of KBank's operational guidelines, in every aspect to remain the digital leader.  KBank is confident that the bank will reach the goal of being the bank that stands side-by-side with customers to facilitate their daily routines, serving both their lifestyles and business needs. This will enable KBank to sustainably maintain their leadership in banking services in the long run.