Guided by the principles of a Bank of Sustainability, KBank unveils its strategic directions which focus on business growth, customer responsiveness and enhancement of end-to-end work efficiency; it also aims for loan growth of 5-7 percent in 2023 amid a "K-shaped" economic recovery
KASIKORNBANK (KBank) has established its business directions in accordance with the principles of a Bank of Sustainability. To advance its K Strategy, the Bank prioritizes business growth and customer responsiveness: dominate digital payment, reimagine commercial and consumer lending, democratize investment and insurance, and penetrate regional market in the AEC+3 region. In parallel, it focuses on enhancing the customer experience across all channels while also upgrading its long-term competitiveness. All of these endeavors are undertaken in order to secure the Bank's status as a leading financial institution, to prepare for potential economic volatility, and to drive the Thai society and economy towards sustainable growth. For its financial targets in 2023, KBank aims for loan growth of 5-7 percent and control asset quality with NPL ratio targeted less than 3.25 percent. In addition, KBank still proactively embarked in take care of and continuously provide assistance to customers.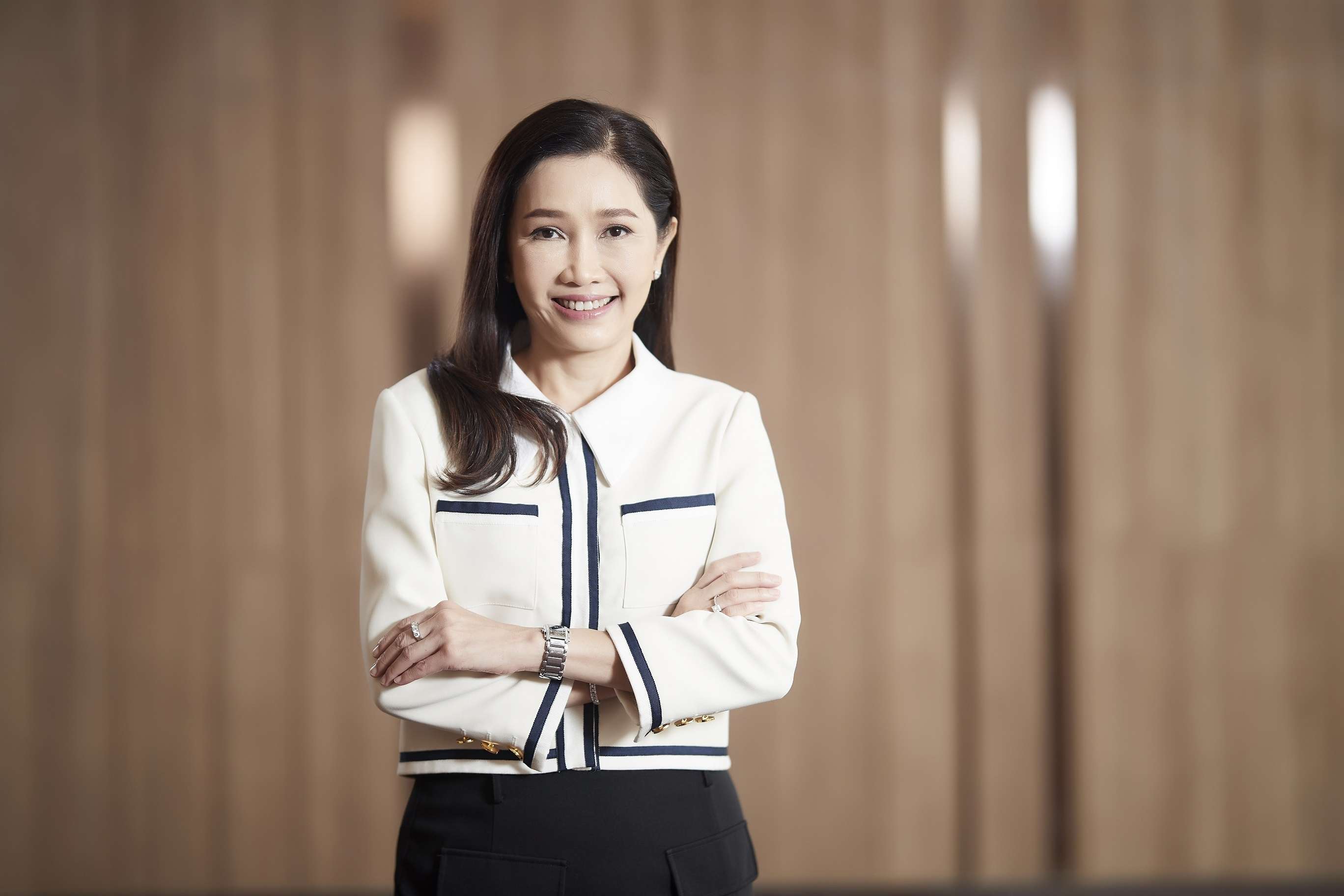 Ms. Kattiya Indaravijaya, KBank Chief Executive Officer, stated that the Thai economic recovery in 2023 has thus far gained traction compared to 2022. Thai GDP is expected to grow 3.7 percent, driven mainly by tourism given China's reopening policy. However, tourist arrivals are unlikely to return to pre-COVID-19 level until 2024, while risk lingers from slowing exports as advanced economies are lapsing into a recession. The Thai economy will therefore see an uneven or "K-shaped" recovery as improvement will vary across different businesses amid persistently high operating costs as evidenced by rising wage and interest rate trends as well as high household debt.
KBank has announced its financial targets for 2023 with growth in line with the prevailing economic conditions and its prudent business operations. In detail: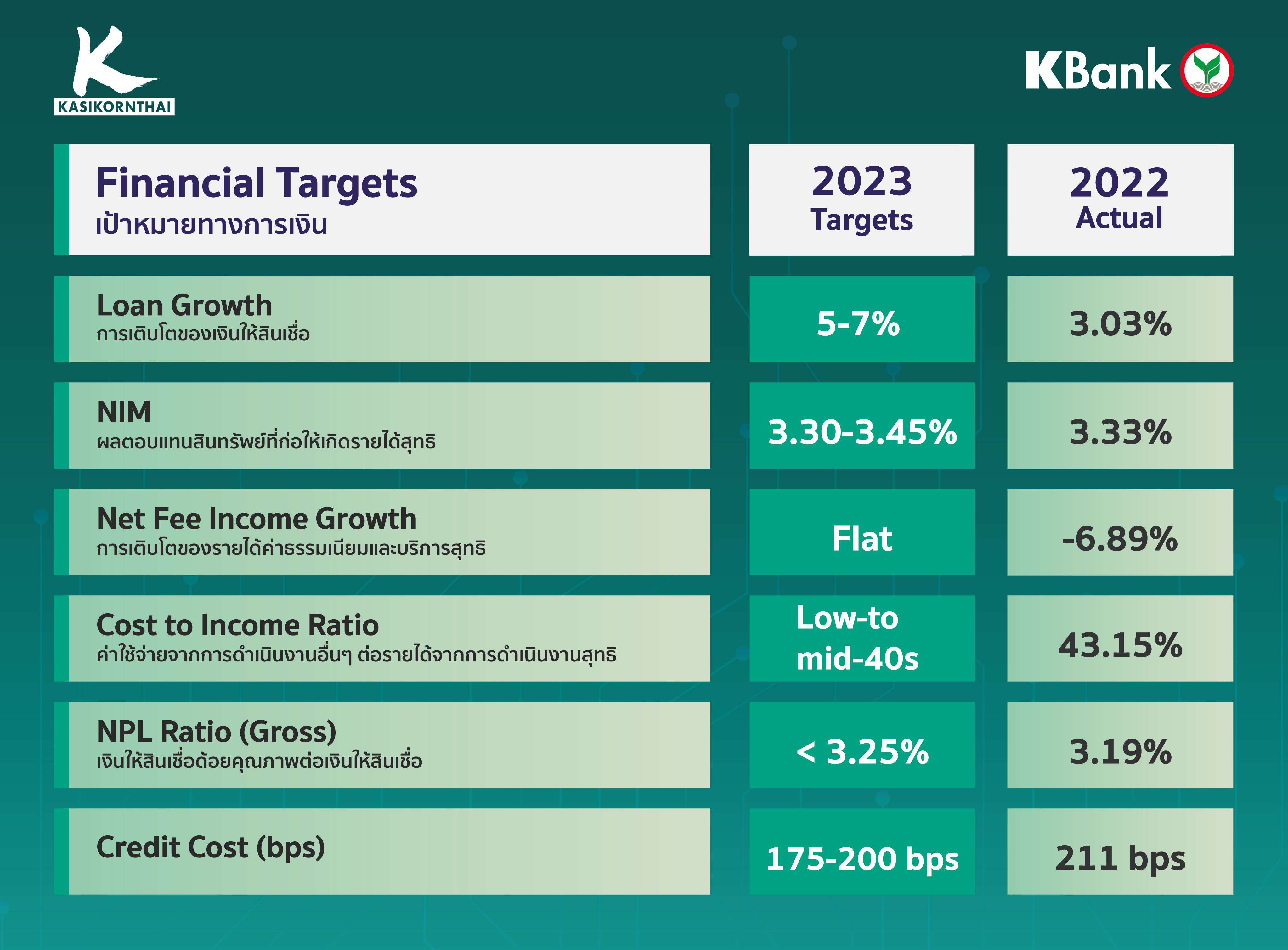 Loan growth of 5-7% will be mainly from regional expansion strategy to seek new source of revenue and be more diversified, along with growing corporate lending. The Bank will continue to focus on quality using effective data analytics capability, analyzing to find customers who are interested in loans and have ability to pay, and screen and closely monitor credit quality. The Bank targets to grow corporate loans by 4-6%, SME loans by 1-2%, and retail loans by 2-4%.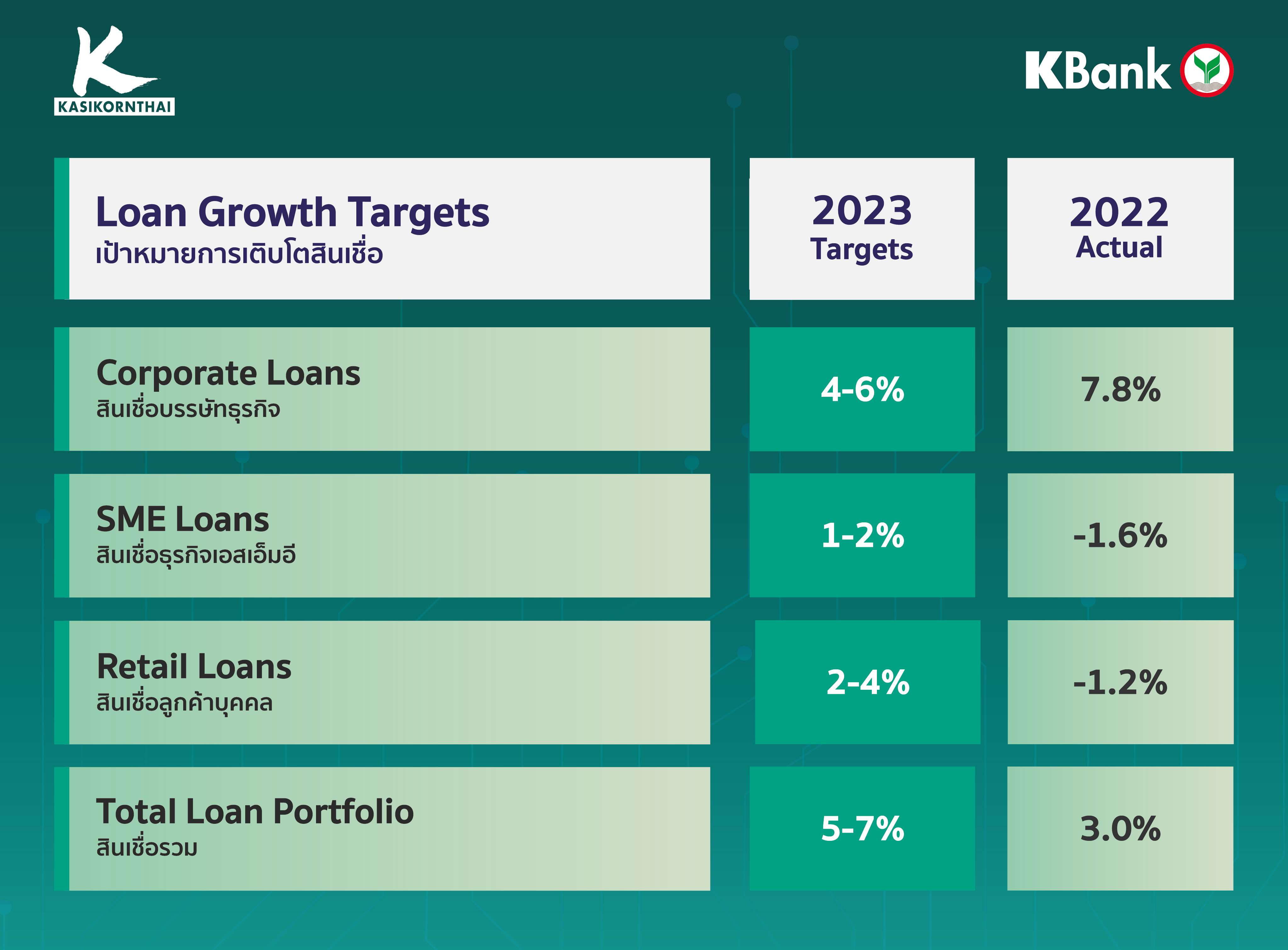 Net Interest Margin (NIM) will be at 3.30-3.45%, in line with interest rate trend and loan growth, along with good funding cost management.
Net fee income growth will remain flat due to changes in consumer behavior that will affect conventional transaction fees. Wealth management business, and products related to tourism business will expand.
Cost to income ratio is expected to stand at low- to mid-40s level as income growth in line with the gradual economic recovery, while the Bank continues to focus on cost management and productivity improvement.
NPL ratio (Gross) less than 3.25 percent as Thai economic growth will be in K Shape. Uneven economic recovery continues to impact credit quality. The Bank will continue to proactively manage asset quality.
Credit Cost is expected to be in the range of 175-200 bps, gradually decreased from the peak level in the previous year. The Bank continues on prudent financial policy when considering expected credit losses.
Ms. Kattiya said, "For business strategies, KBank will continue to advance its business through the principles of a Bank of Sustainability under good corporate governance, appropriate risk and cost management, with the aim of empowering every customer's life and business." The Bank's business strategies are as follows: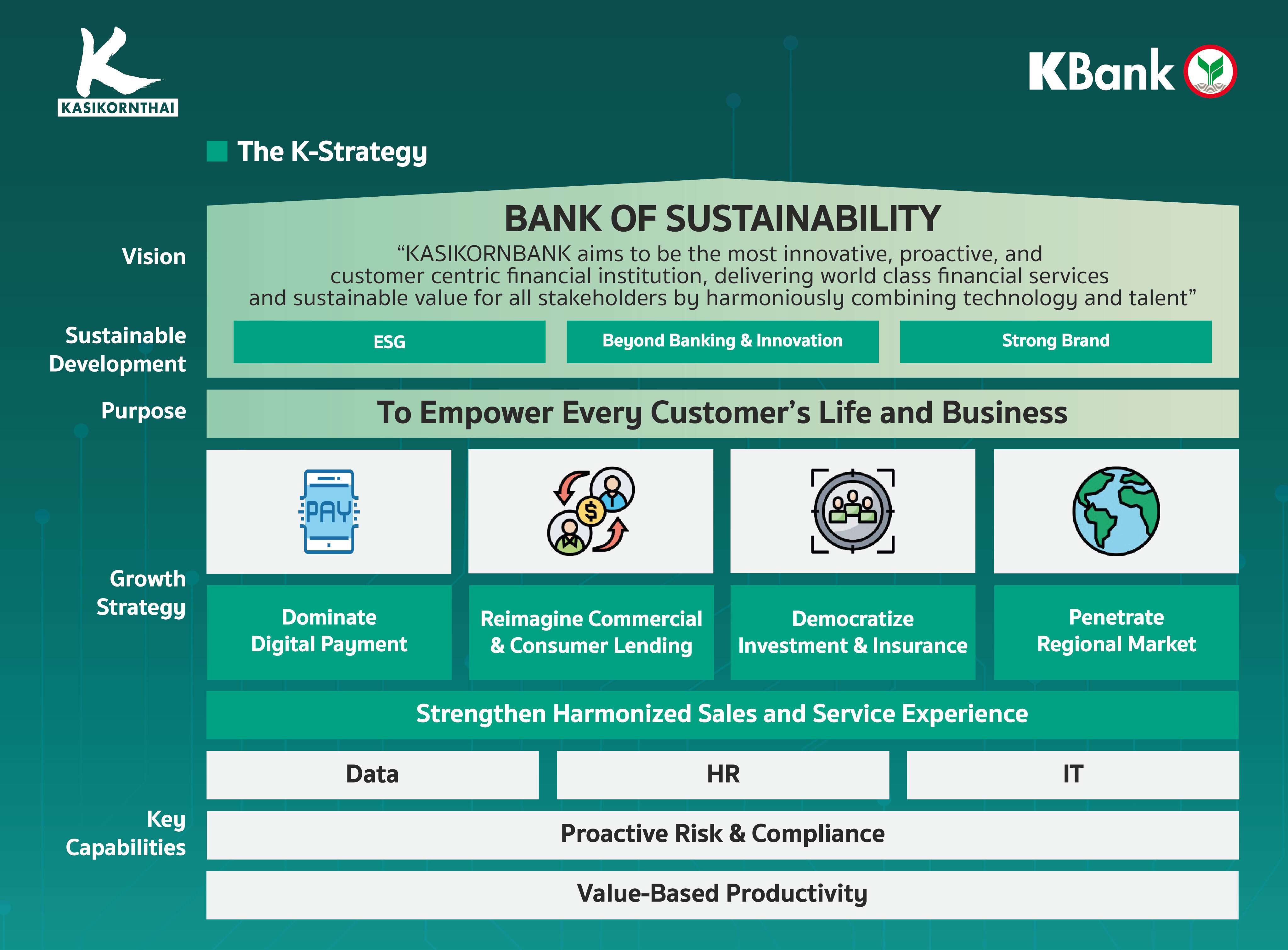 1. Sustainable Development: KBank has operated business in accordance with ESG principles across all three dimensions – environmental, social and governance (ESG). We prioritize the development of competitive capabilities in a technology-driven business world that goes beyond banking and innovation, amid the ever-evolving technology, consumer behavior and environment. Our focus is also on creating a strong brand under the single brand of KASIKORNBANK.
2. Growth Strategy: To advance K-Strategy for business growth and customer responsiveness. Our growth strategies include dominating digital payment, reimagining commercial and consumer lending, democratizing investment and insurance, and penetrating regional markets in the AEC+3 region. We also focus on strengthening harmonized sales and service experience, seamlessly integrating all service channels of KBank through K PLUS – our key service channel. Along with this, KBank will enhance basic infrastructure to offer an excellent customer experience across all service channels.
3. Key Capabilities: End-to-end work efficiency enhancement. We prioritize upgrades of our long-term competitiveness through five key capabilities, namely, 1) Data: Development of data analytics capability to enhance business opportunities and operational efficiency; 2) Human Resources: Being the Best Place to Work, Learn and Lead; 3) Information Technology: Adopting modern, world-class technology to make KBank the top regional financial service provider; 4) Proactive Risk & Compliance: Proactively identifying potential risks and establishing loss prevention and detection; and 5) Value-Based Productivity: Enhancement of work efficiency through creation of value proposition.
In 2022, KBank established strategic directions under a novel business model in order to enhance customer responsiveness in answer to the changing business contexts. Notable efforts include its joint investment with JMT Network Services PCL (JMT) in setting up JK Asset Management Company (JK AMC) – Thailand's first joint venture co-owned by a commercial bank and an AMC in order to improve asset quality management. KBank also introduced "K PAY LATER" – a loan designed specifically for small-pocket customers' daily spending – the first of its kind in Thailand. In order to expand its reach to other countries within AEC+3, the Bank increased its shareholding in PT Bank Maspion Indonesia Tbk to 67.5 percent and opened the Ho Chi Minh City Branch in Vietnam, while also launching K PLUS Vietnam so as to create a Digital Lifestyle Ecosystem for retail customers in this market. In 2023, the Bank will continue to implement its strategic projects with the aim of empowering every customer's life and business in the rapidly changing world.
Ms. Kattiya noted in closing, "In addition to business growth, KBank's mission is to drive society and the Thai economy forward in a sustainable manner. The Bank continues to focus on adoption of technology, innovations, and synergies with business partners both at home and abroad, to empower every customer's life and business. To this end, our efforts are focused on offering suitable products and services to customers; improving services for an enhanced customer experience; and promoting financial inclusion in the commercial banking system for the general public through funding sources and liquidity enhancement, along with provision of financial literacy to retail and business customers in support of their vigorous growth. In addition, we continue to adopt a proactive approach in assisting our customers affected by the uneven economic recovery through the Bank's various channels. We also embrace ESG aspirations with the aim of becoming the ESG leader among banks in Southeast Asia, leading Thai customers and businesses to move towards a sustainable economy together.