This is the exciting line up of speakers at this year's Seedstars Asia Summit, the second edition of the annual Asian Regional Summit that connects the most relevant players in innovation and technology with the world and between each​ ​other.​ ​The​ ​event​ ​is​ ​invite​ ​only but Techsauce's readers can simply enter the code 'SSWAsiaTechsauce' into the promo code field on the Seedstars Asia Summit website to receive tickets.
Anisha Singh (CEO of mydala): Not Quitting is a Superpower. Really.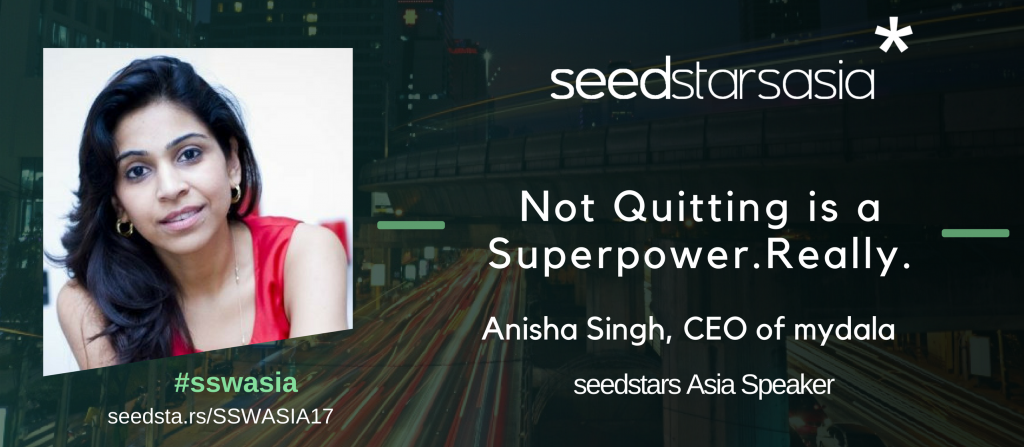 Anisha Singh is the Founder and CEO of mydala.com. The company started under her leadership in 2009 and since then mydala has grown to become India's largest local services marketing platform. Today mydala stands strong with more than 130,000 merchants and 38 million registered users across 209 cities. mydala leads the market with 200,000 transactions per day and 85% of our traffic comes from mobile channels.
Anisha began her career with the Clinton administration in Capitol Hill, helping women entrepreneurs raise funding for innovative women-led businesses. Anisha is dedicated to building a future where women's success stories are accepted as the norm, not the exception. An active mentor and angel investor, she is currently planning operation Recast, an event that will provide a platform for shortlisted female entrepreneurs to pitch their business ideas to angel and venture capitalists.
Alan Jiang (Head of Southeast Asia at ofo): Scaling Across Asia & the Sharing Economy Outlook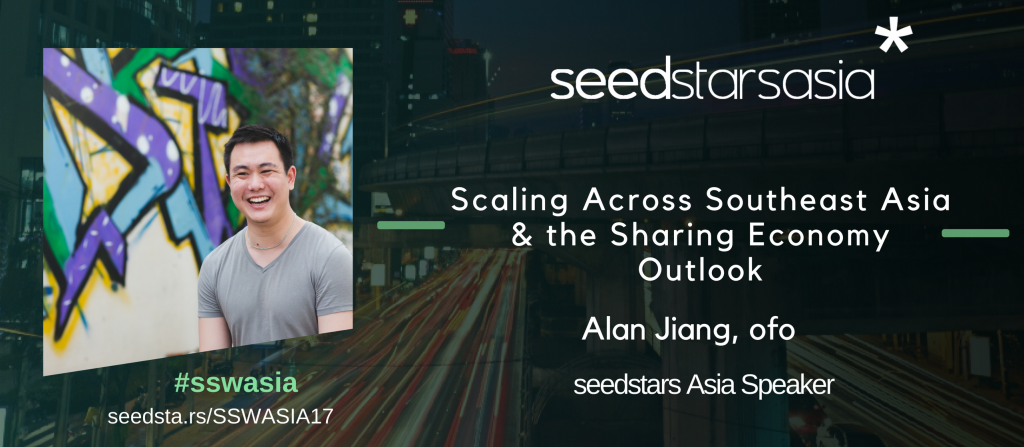 Alan oversees the company's strategy and operation in the SE Asia region. Previously, Alan was at Uber for four years, helping to launch Uber's business in China, Malaysia, Vietnam and Indonesia.
Aimen Khan (Mobile App Marketing Consultant Southeast Asia at Google): Machine Learning and the Future of Mobile Marketing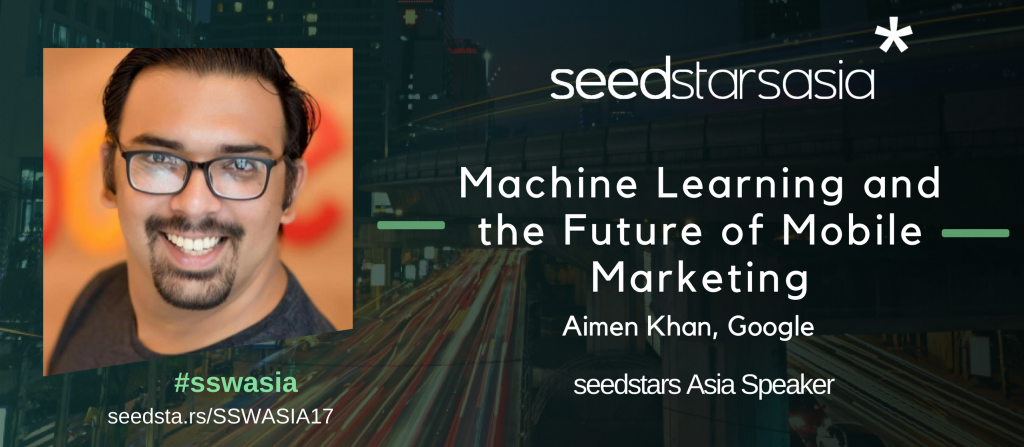 Aimen will talk about the changes in the world of marketing and the impact machine learning is making on the way we acquire users.
Michael Foley (CEO of Grameenphone): The fun part of the job: working with entrepreneurs (and it helps to drive transformation too!)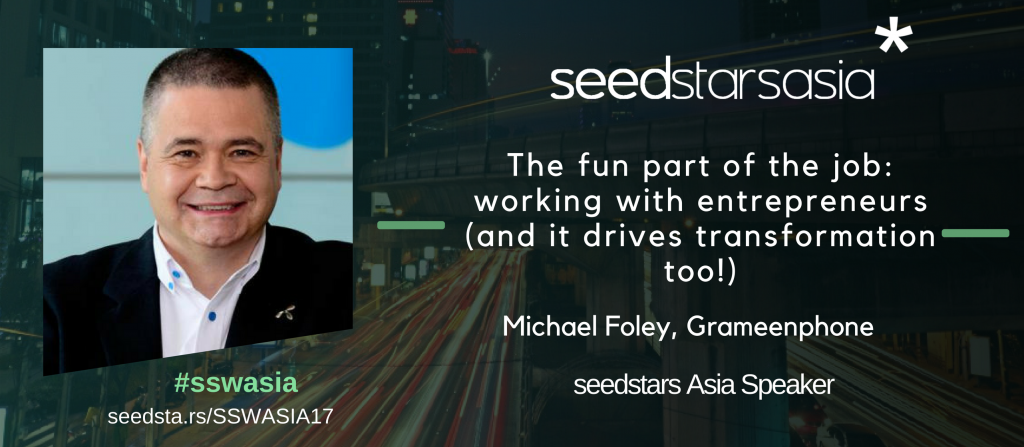 Grameenphone is the largest telecommunications operator in Bangladesh and part of the Telenor Group. Michael has been with Telenor Group since 2014, as the CEO of Telenor Bulgaria before CEO of Grameenphone. Prior to that, he served as CEO of Telenor Pakistan. He has more than 30 years of sales, marketing and operational experience in the telecom, retail and gaming sectors from both advanced and growth markets, and a passion for working with startups!
Alyssa Maharani (Launchpad Accelerator Startup Success Manager at Google): Designing for Emerging Markets.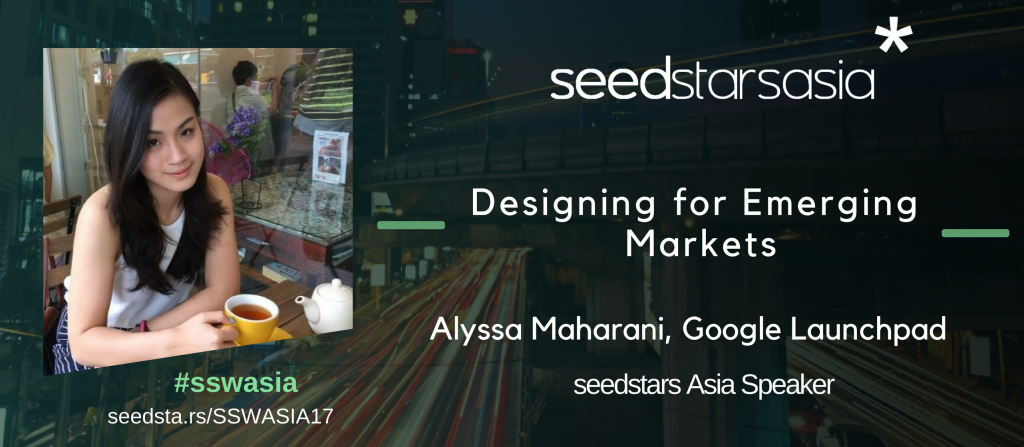 Alyssa will speak on how to make sure products are designed effectively for emerging markets.
They will be joined on stage by panelists on the Future of Food and Feed:
Abhinav Mehra, ID Capital
Tim Hadsel-Mares, ScanTrust
Pearl Lee, Tech in Asia
and 15 startups from 15 ecosystems across Asia, from Singapore to Pakistan to Korea, who won their local Seedstars pitching competition.
Want to join the event? To secure your spot (limited capacity and invite only) to network with and learn from the speakers at the Summit, please email [email protected]. More information on the agenda of the Summit day can be found here: seedsta.rs/SSWASIA17 .
Techsauce's readers can simply enter the code 'SSWAsiaTechsauce' into the promo code field on the Seedstars Asia Summit website to get a ticket.