MyCloudFulfillment, the leading order fulfilment service provider in Thailand, has closed its Series B fundraising round from JWD Group and SCB 10X, bolstering its strength for regional expansion.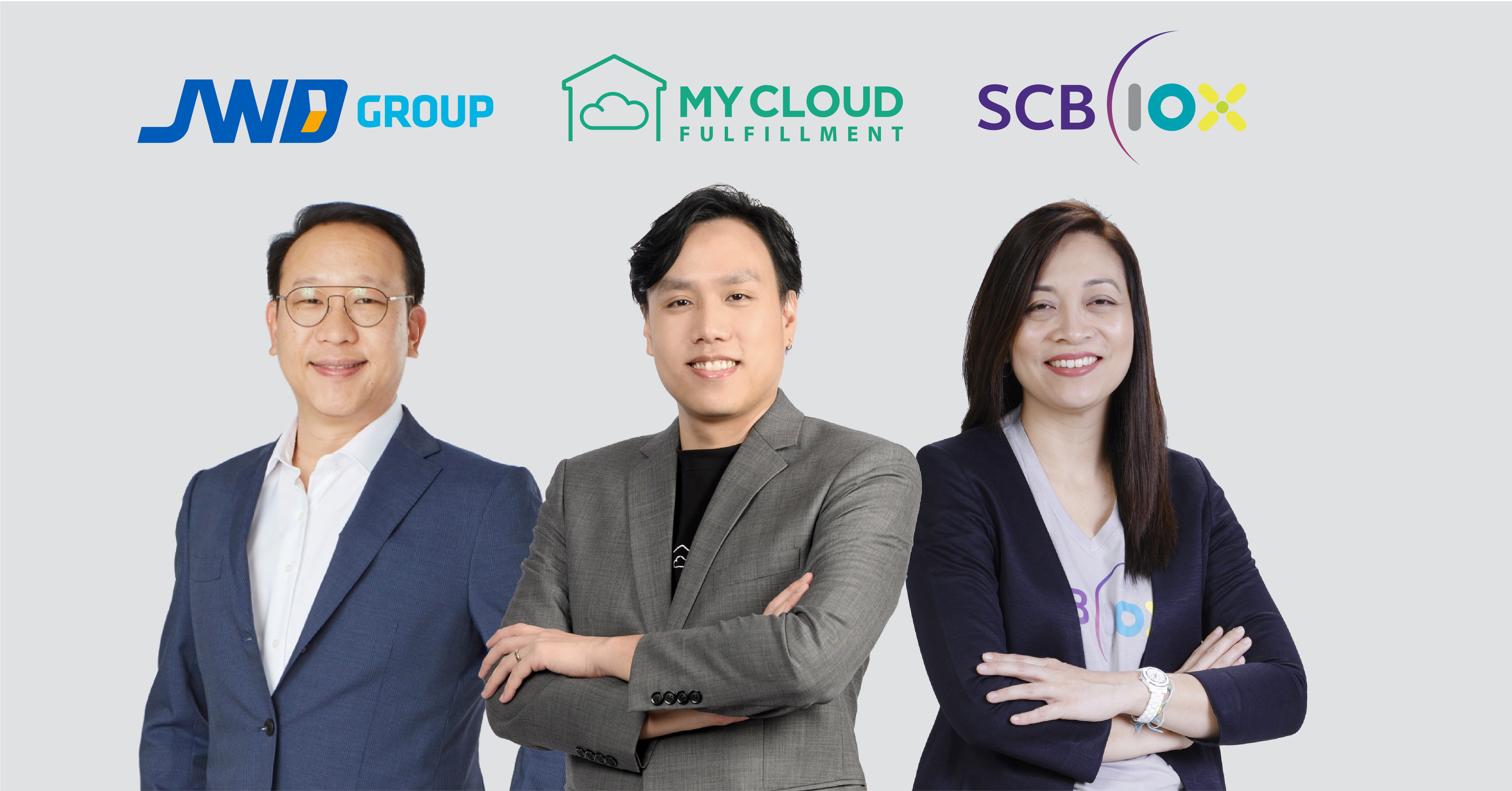 Nithi Satchatippavarn, Co-founder and CEO of MyCloudFulfillment, said that a total fund of $7.4M will be mainly used on improving warehouse and service capability, expanding the management and software development team, and expanding its service to neighbouring countries.
"This round of investment is a significant step for us. Not only just the money to boost our growth, but we also get strong partners to help us in client growth, warehouse development and service expansion. JWD is a major logistics company in Thailand stock market and SCB is very proactive in transforming its service for e-commerce. The synergy between MyCloudFulfillment and JWD brings the best of two worlds. MyCloudFulfillment will take responsibility in WMS, OMS and operation, while JWD will take charge on capeCAPEX investment and infrastructure.With JWD strength and expertise in traditional logistics, it will help us speed up our new warehouse setup and expansion, while we help JWD service full-scale order fulfilment to its clients and turn around its warehouses right away. Moreover, we can combine SCB 10X financial tools with our order management system to help our clients manage their shops and payments easier than it has ever been"
Mr. Charvanin Bunditkitsada, Chief Executive Officer of JWD InfoLogistics Public Company Limited or JWD stated that: "I am very honoured to have the opportunity to invest in MyCloudFulfillment in this Series B. JWD sees great potential in e-commerce order fulfilment and warehouse expansion capability from MyCloudFulfillment. That is why we have good confidence in investing in the company, which will have high growth in response to the growing trend of e-commerce. JWD has long gained experience in logistics both domestically and internationally. We are also equipped with the readiness in terms of the logistics infrastructure and different types of warehouses in key strategic locations serving across industries. Furthermore, its customer base covers every industry group. When combined with the expertise of MyCloudFulfillment - a leading Thai start-up with its software technology as its major asset – we can connect with every online platform and do data mining, enabling seamless back-office's order management. This helps JWD to start running Order Fulfilment Service within 2 months. The partnership helps both parties speed up e-commerce fulfilment expansion, boost competitive advantage and refine the best state-of-the-art operation that will hold the legacy of great service mind. We are certain that MyCloudFulfillment will become the leading order fulfilment company in the region."
According to SCB 10X Chief Venture and Investment Officer, Mukaya (Tai) Panich, "SCB 10X is excited to announce our participation in Series B fundraise of MyCloudFulfillment, led by JWD. We are proud to be an investor in MyCloudFulfillment since Series A, and continue our support in Series B. Due to COVID-19, we are seeing accelerated adoption of digital lifestyle by consumers and digital transformation by corporates. In the past 2 years, we have seen the rapid rise of social commerce and e-commerce in Southeast Asia, as more people go online. Start-ups that enable social commerce and e-commerce like fulfilment and logistics firms will continue to greatly benefit. MyCloudFulfillment, a seamless one-stop fulfilment provider offering inventory storage, order packaging, and last-mile delivery to e-commerce, social commerce and omnichannel businesses, is the key critical enabler of today's social commerce and e-commerce trends. As a payment partner of MyCloudFulfillment, we are looking forward to continuing to work closely together."
During the first half of the year, MyCloudFulfillment has enjoyed consistent growth in orders with the latest figure recorded at 300,000 orders per month, a triple leap from the same period of last year. Also, apart from the company's three existing warehouses located in Ladkrabang and Rangsit with 10,000 square meters of space in total, the fourth warehouse facility located in Min Buri with more than 6,500 square meters of space is added as part of its expansion through the collaboration with JWD Group. The new warehouse is set to fulfil up to 30,000 orders at a maximum per day. Moreover, MyCloudFulfillment's business achievement is widely recognized in which it was awarded the Merit Prize from the 2021 National Innovation Awards in the category of Excellent Innovation Organization for Medium-Sized Private Organization, and the Bai Po Business Awards by Sasin as well as being one of the two Thai start-ups selected to feature on Forbes Asia 100 To Watch this year.
"MyCloudFulfillment is the best order fulfilment solution for multi-channel sellers. We connect with diverse platforms, manage orders, and provide inventory updates to different channels e.g., Marketplace, Website CMS, Live commerce and many more. Apart from API connectivity, our system provides a myriad of features able to promote sales automation, for instance, virtual bundling and promotion management. Our service can also be tailored for each store's demand and uniqueness while retaining the flexibility to accommodate highly fluctuating orders. Our goal, however, does not end with fulfilment service. We aim to go further by becoming the key assistant for online businesses. We believe from the start that for everything we do, we want to help sellers manage their shops efficiently while achieving sustainable growth. Today, we may be helping our clients in managing their warehouse and order fulfilment. But our next step will be solving stock problems; reducing sunk costs while maximizing sales opportunities, which can be done through predictive analytics. Next year, we are launching inventory intelligence on the dashboard for each shop. This was made possible because we handle both OMS and WMS for our clients. Through machine learning, we can utilize first-party data of each shop, going through the pattern of sales cycles and stocks replenishment, to recommend the right amount of stock they should be keeping in the warehouse. This can help recommend several businesses such as: which product should be stocked or reduced? Which item brings in profit or loss? Or which product can generate more sales from each different sales campaign?"
"We see room for growth in the e-commerce market. It keeps growing as we move. Asia's current e-commerce market is valued at $45 trillion, which is bigger than the e-commerce values of other regions combined. More importantly, Southeast Asia shows the highest growth rate in the region at 44.2%. For Thailand, the market value in 2020 was recorded at 228,000 million Baht (42% increase from 2019) and is expected to soar to 280,000 million Baht in 2021, or 22% higher. The COVID-19 pandemic may improve, and people are returning to their daily life, but online shopping will still keep growing. In fact, it is predicted to grow even bigger. What is interesting is that a Thai spends 7,290 Baht per year on online shopping. This places us on the second-highest only after Indonesia, for average consumption per user in Southeast Asia. With all these factors, I am certainly confident that there are many opportunities for Thai e-commerce. Our economic recovery may be slower than other countries, but our e-commerce is thriving, and the future of commerce here is looking bright," said Mr. Nithi Satchatippavarn.
"Our aim in growing is not to go fast but to go steady. Our most important mission is to develop our services and optimize our efficiency to serve our one sole purpose from the start: To help clients manage their operation efficiently and sell more. Our priority is not about expanding the number of customers rapidly but growing with them. The goal is to become their most reliable partner and really help them grow. We want to make sure each of them can really generate more sales and reap more profits from using our services."