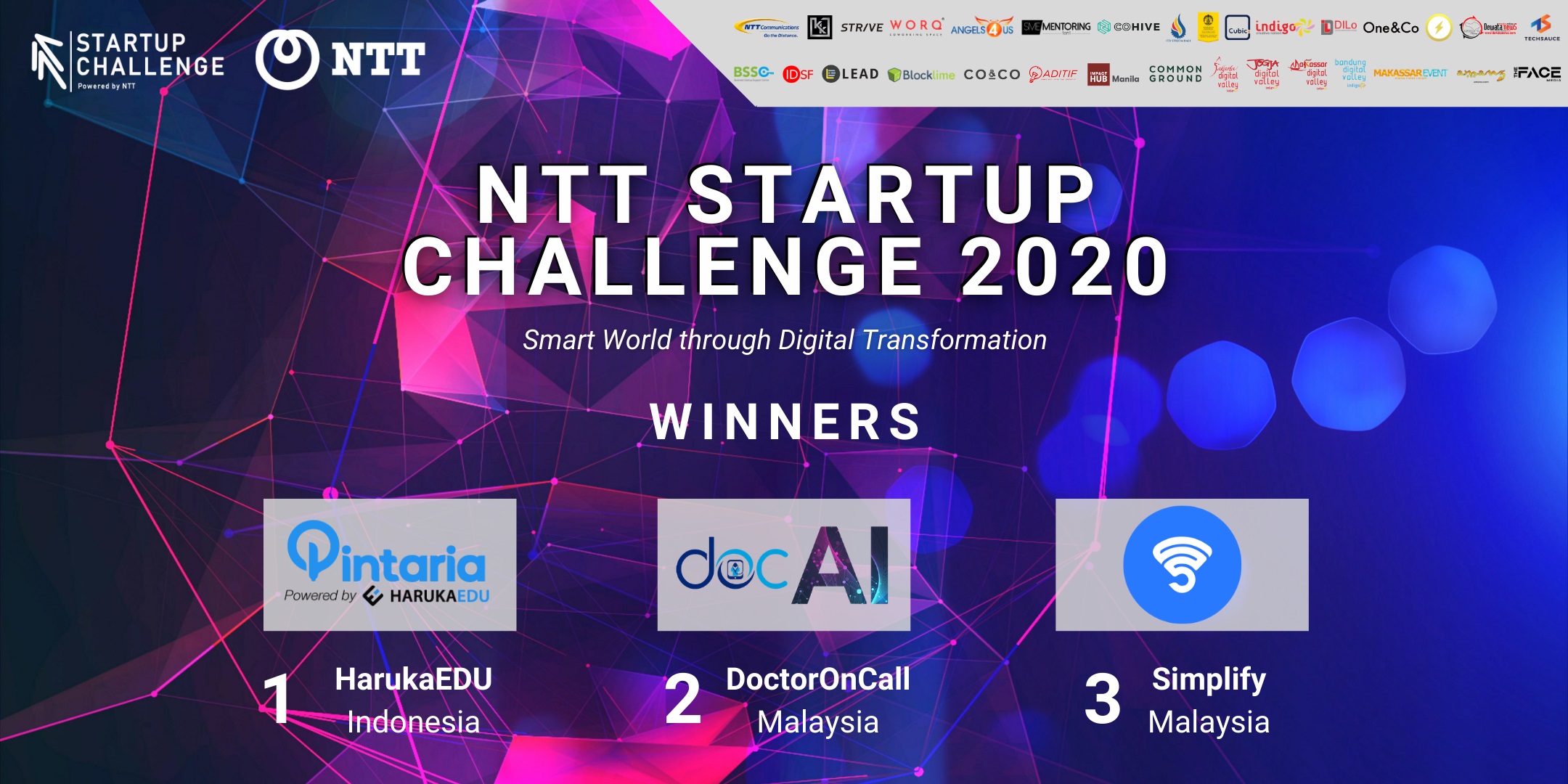 NTT Startup Challenge first started in 2017, intending to support the startup ecosystem in Asia by leveraging the alliance with NTT Ltd. to increase the startup business. This 4th year of the NTT Startup Challenge has attracted more than 900 startup companies in Southeast Asia, mostly from Indonesia, Malaysia, Singapore, Thailand, and Vietnam.
This year's competition was run virtually and held with the theme "Smart World through Digital Transformation", from September 25th to November 26th. The participants registered their startups and presented their startup ideas to the Venture Capitals panel, CEOs, and Executives from the NTT Group.
In a post-event interview, the CEO of NTT Ltd. ASEAN, Png Kim Meng, said that all the participants' quality was very encouraging. Their topics and ideas reflected the industries most affected by the global pandemic this year. He was delighted to see that young startups do not stay away from difficulties and continue to bring innovative and advanced ideas to shape the post-COVID-19 world. He was sure that they would continue to play a role in pushing the digital transformation agenda in this region.
Three startups successfully stole the panelists' attention. They became the winners at NTT Startup Challenge 2020 after a very competitive idea presentation process. The ideas were judged based on ideas' originality, attractiveness, challenges, and strategies.
The 1st winner of NTT Startup Challenge 2020 came from Indonesia, HarukaEDU, a startup engaged in the education industry. It offers technology solutions for universities, companies/ institutions, and individuals in designing online learning. The 2nd winner came from Malaysia, the first and largest digital healthcare platform that brings more effortless and affordable access to medicines through their online clinic, pharmacy, and specialists, called DoctorOnCall. The 3rd winner was Simplify, again from Malaysia. It is the world's leading peer-to-peer internet-sharing platform. It turns the users' home broadband and personal hotspot into a global Wi-Fi network, making them a little Internet Service Provider.
These winners got a cash prize of US $ 5,000 given by Mizuho Tada, President Director of NTT Indonesia. Further, to drive startup growth, they also received an exclusive invitation to the Startup-Enterprise "Matching Event", which provided access to global investors and companies through the NTT Group investor network and the opportunity to connect NTT Group's strategic partners.
The competition was conducted very well, and the enthusiasm of the startups was outstanding. Therefore, for those who have a brilliant idea to run like a startup or those who have not been lucky at this year's event, prepare your best startup, and see you at the next NTT Startup Challenge! Please visit NTT Startup Challenge 2020 website to know more about the winners and the event.
About NTT Ltd.
NTT Ltd. is a leading global technology services company. Working with organizations around the world, we achieve business outcomes through intelligent technology solutions. For us, intelligent means data driven, connected, digital and secure. Our global assets and integrated ICT stack capabilities provide unique offerings in cloud-enabling networking, hybrid cloud, data centers, digital transformation, client experience, workplace and cybersecurity. As a global ICT provider, we employ more than 40,000 people in a diverse and dynamic workplace that spans 57 countries, trading in 73 countries and delivering services in over 200 countries and regions. Together we enable the connected future.
Visit us at hello.global.ntt