OfficeMate, a subsidiary of Central Retail, has uplifted its business practices through a brand-new positioning as "Quick-Win Partner" to reinforce the commitment in being the "Fast Track for Your Business to Win" through helping entrepreneurs in all industries to adapt to new ways of doing business effectively. The company will focus on the strategy of offering a one-stop solution for customers to have " Everything You Need, Quick and Easy!", allowing them to be ready to start or expand their businesses quickly. With a wide range of products and services that are more than office supply, OfficeMate has over 100,000 items for all types of businesses including specialized businesses such as factories, industries, manufacturing sectors and warehouses.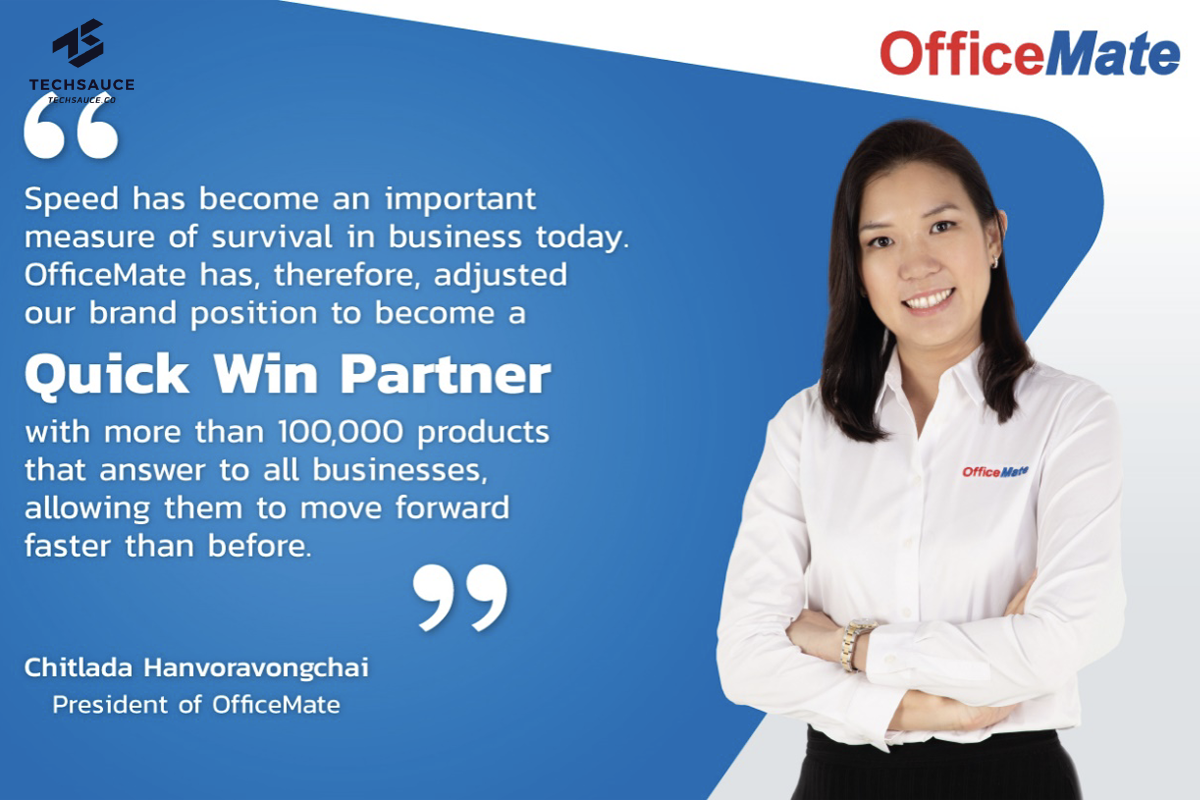 Ms. Chitlada Hanvoravongchai, President of OfficeMate, a subsidiary of Central Retail, said, "The continuation of COVID-19 situation is causing entrepreneurs in many sectors to face different challenges in their businesses. "Speed" has become an important measure of survival and growth opportunities in doing business in the Next Normal era. Therefore, OfficeMate has adjusted its approach to shortcut processes and lead time for entrepreneurs to move faster than ever with a new positioning as a "Quick-Win Partner" which means we want to be a partner who accelerates entrepreneurs to adapt quickly, generate income rapidly, and, at the same time, help them "save time" and "save costs". OfficeMate developed a one-stop solution that addresses the full range of products with more than 100,000 items at reasonable prices. OfficeMate also offers a seamless experience in choosing, ordering, and delivering products in both online channels and omnichannel stores with the concept of "easy to order, fast delivery."
OfficeMate is committed to address business needs beyond "Offices", particularly those of other segments including factory, industrial and warehouse by adding more than 30,000 items of factory related products from leading brands including Thai Watsadu and Jenbunjerd to its 'one-stop factory solution':
Safety & PPE from various brands including 3M, Microtex, Pangolin, Yamada, Safety Jogger and Giant Kingkong.
Warehouse supplies for packing, storing, and moving from various brands including Jumbo, Happy Move, Sanki, Kassa, Apex, Nuvo and Barco.
Manufacturing supplies from various brands including Misumi, Bosch, Stanley, Tajima, Hachi, Pumpkin, Makita, Toolmax, Kendo and Truper.
Factory miscellaneous from various brands including Masterkool, Hitachi, Hatari, Mitsuta, Fire Winner and Combi Ware.