Have exciting Space-based business ideas? Now's your chance to put it to the test and win a Grand Prize reward of 10 million JPY!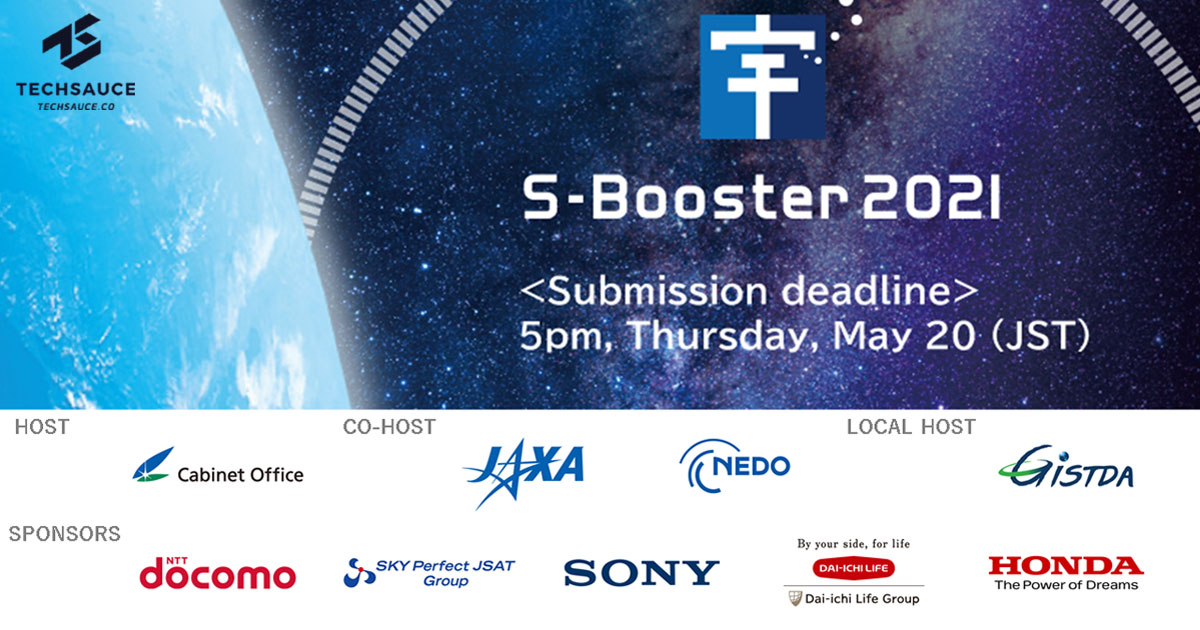 S-Booster is a space-based business idea contest hosted by Cabinet Office, The Government of Japan and co-hosted by Japan Aerospace Exploration Agency (JAXA), New Energy and Industrial Technology Development Organization (NEDO) and as a local host, Geo-Informatics and Space Technology Development Agency (GISTDA).
S-Booster aims at creating business cooperation and is sponsored by NTT DOCOMO, INC., SKY Perfect JSAT Corporation, Sony Group Corporation, The Dai-ichi Life Insurance Company, Limited and Honda R&D Co., Ltd. (Introduced in Japanese alphabetical order of company name)
The application area is expanded to the Asia-Oceania from 2019. A wide range of business ideas are submitted by entrepreneurs, students, individuals, members of different industries, and others who are aiming to start businesses or launch new projects.
When you describe space-based business, you may think of rocket and satellite development, but there are also untapped businesses in various application fields that utilize "Space Data" such as GPS, bringing added value as one of the Big Data.
In 2021, S-Booster opens the applications under the following themes.
Space-based business ideas (collaboration with Japan)
Business ideas based on the themes proposed by sponsors
NTT DOCOMO, INC.,
"A new way to "connect" space and the earth to enrich people's lives."
SKY Perfect JSAT Corporation
"Our Unlimited Vision, Your Practical Value."
Sony Group Corporation
"listens (senses) to the silent voices of all things in nature and prevents undesirable events in advance"
Honda R&D Co., Ltd.
"Intelligent Ground Mobility Robot and Vehicle Utilizing Information from Space"
Details of Sponsor theme can be found at the following site. https://s-booster.jp/en/2021/
Additionally teams selected as finalists will get the following support to commercialize your business ideas.
Brush up your ideas with experts
Business matching opportunities
Prizes and prize money for funding activities in the initial period
For more information, please visit S-Booster website!!! https://s-booster.jp/en/2021/