Siam Piwat is reinforcing its position as 'The Visionary Icon' by unveiling a new digital strategy that will create an integrated offline-online ecosystem and engage its retailers and business partners to create digital experiences that cannot be purchased and meet the needs of Global Citizens.
Siam Piwat is joining forces with all groups of partners and a leading digital innovator to co-develop a digital retail ecosystem of the future.
For the first time ever, online communities will be built around customer interests on a digital platform with an integrated loyal program. Also introduced will be VIZ Coins, which customers can use when shopping, thus delivering experiences and privileges that cannot be obtained with money and paving the way for a fintech platform in the future.
To bolster its strength, Siam Piwat is recruiting new young talents, who will be given opportunities to take on leadership roles, demonstrate their capabilities, and work with world-renowned brands to co-create projects that will become the talk of the world.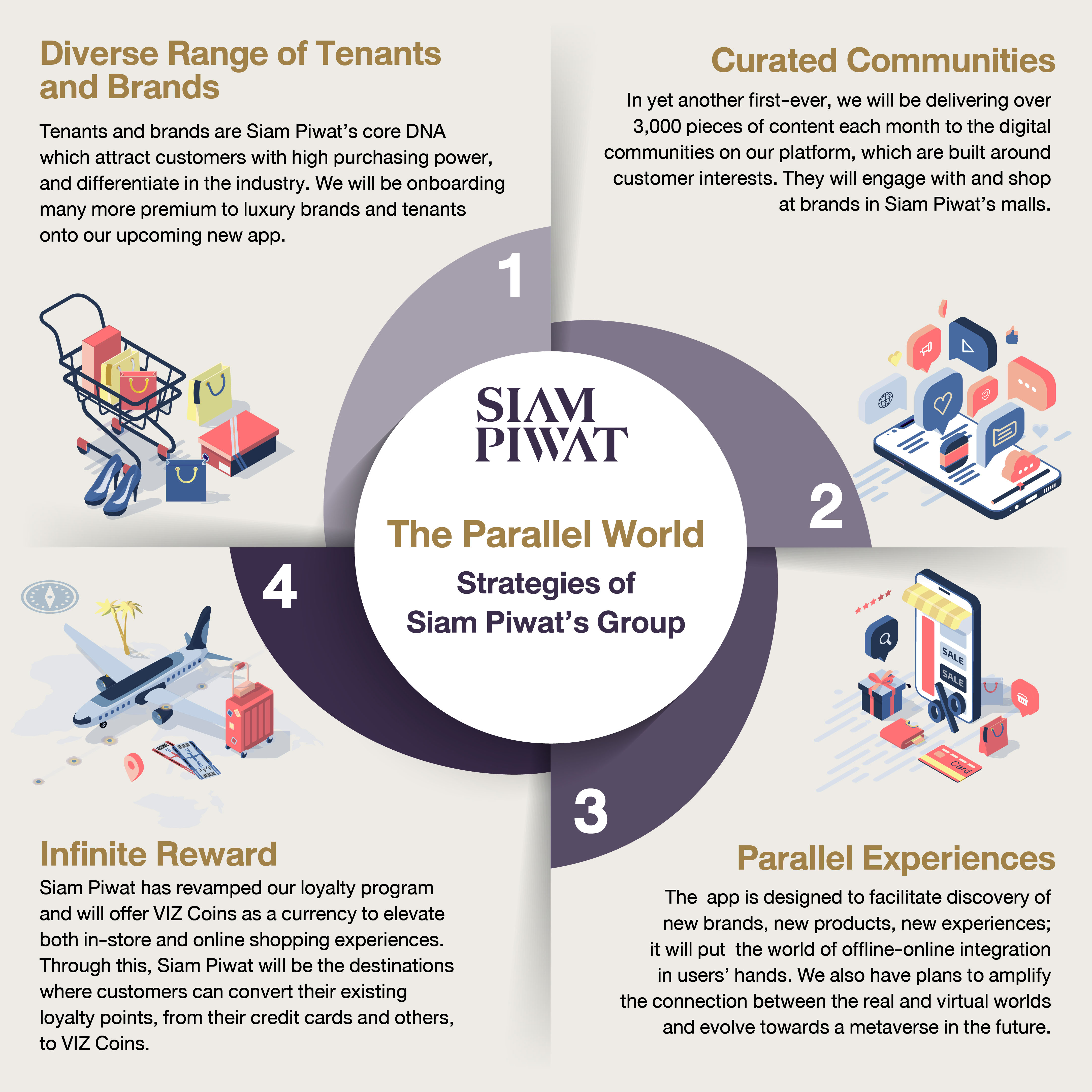 To reaffirm its position as The Visionary Icon, Siam Piwat, the owner and operator of Siam Paragon, Siam Center, and Siam Discovery and a joint venture partner of ICONSIAM and Siam Premium Outlets Bangkok, is rocking the retail industry again with a new digital strategy in the last quarter of 2021, which will see Siam Piwat joining forces with world-class partners to develop an innovation that will connect its exclusive offline experiences to an online platform that offers value beyond mere shopping, thus creating a new offline-online ecosystem that will change consumer behaviour and bring together online and offline in the future parallel world of retail.
As a retail leader in creating unprecedented and unique experiences, Siam Piwat is set to create never-before-seen digital experiences through the development of an innovation of the future that will link customer aspirations to business opportunity generation and brand promotion for its business partners, thus creating an unrivalled sustainable ecosystem. This new format of offline-online platform will deliver value for everyone involved across all dimensions even beyond the realm of retail as well as enable daily customer satisfaction management where customers are encouraged to take part in creating digital communities around their interests and avail themselves of hyper-personalized benefits and experiences.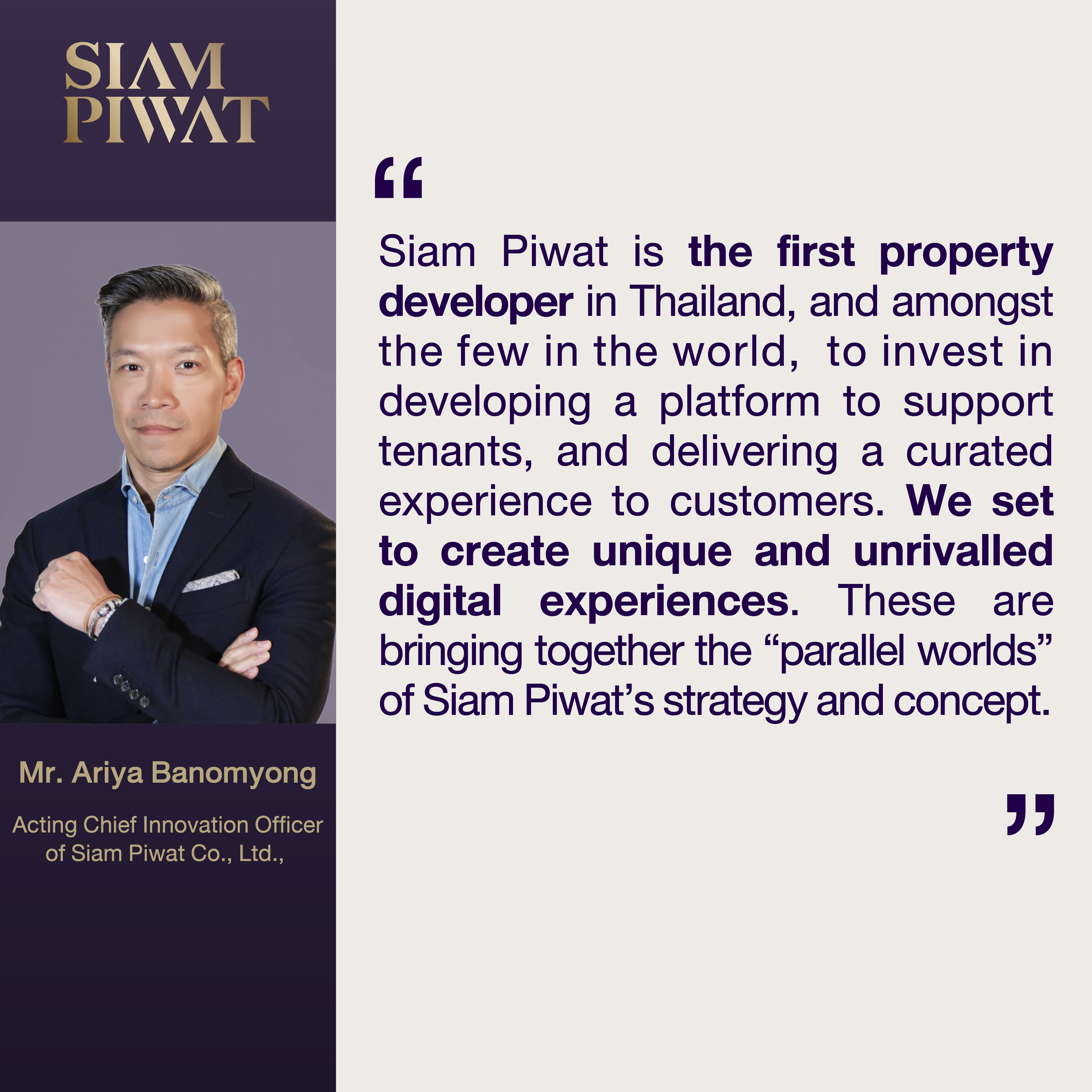 Mr. Ariya Banomyong, Founder of Transformational and Acting Chief Innovation Officer of Siam Piwat Co., Ltd., said, "Siam Piwat is the first property developer in Thailand, and amongst the few in the world, to invest in developing a platform to support our partners, and delivering a curated experience to customers. We wanted to design an experience beyond the common transactional, discount-driven e-commerce marketplaces.
As a retail leader, Siam Piwat's ambition is to create a unique experience, addressing the needs of its core customers, the affluent customers, who seek a more curated experience, as well as the needs of its tenants and partners.
As such, the new platform is centred around daily community-based content, so customers can discover new trends, new brands, new products, new events every day, as well as hyper-personalized benefits and experiences.
Covid-19 has ushered in an e-commerce boom, and customers have become more comfortable shopping online than ever. However, after almost two years spent at home and working from home, when shopping malls re-opened in September, customers came back in force. Covid-19 has made us appreciate and miss the offline world, as customers, we live in both offline and online worlds. These are the "parallel worlds" of Siam Piwat's strategy and concept."
The upcoming new platform, under the Parallel World strategy, is built around four building blocks:
Siam Piwat's diverse range of tenants and brands: This is Siam Piwat's core DNA and the key to our success. It is what attracts customers with high purchasing power and differentiates Siam Piwat. Since the launch of Ultimate Chat & Shop back in April 2021, right after the 4th Covid wave, customers have spent 9-10 times the average e-commerce transaction in Thailand. In the near future, Siam Piwat will be onboarding many more premium to luxury brands and tenants onto its upcoming new app.
Curated communities: In yet another first-ever, Siam Piwat will be delivering over 3,000 pieces of content each month to the digital communities on its platform, which are built around customer interests, while also driving engagement through an unparalleled offline-online integrated loyalty program. Siam Piwat believes in content-driven engagement as a way to connect with its customers, so that they will engage with and shop at brands in Siam Piwat's malls not because of discounts, but because these are the brands that they love – these are aspirational brands for them. What do customers want? How to mix and match for an occasion? What are the latest self-care trends? Such content will revolve around communities.
Parallel experiences: Customers with high purchasing power seek curation. Therefore, winning them over is not about having tens of thousands of products, but about having the products they want. This requires a mix between art and science; the art of merchandising and offering products that Siam Piwat's target group are interested in, and the innovation and technology that can personalize content and products based on customer's profile and data. Designed to facilitate the discovery of new brands, products, and experiences, the upcoming app will put the world of offline-online integration in users' hands and enable them to access fresh experiences that cannot be purchased from anywhere and at any time. Siam Piwat also has plans to amplify the connection between the real and virtual worlds and evolve towards a metaverse in the future.
Infinite rewards: Siam Piwat has revamped its loyalty program and will offer VIZ Coins that customers can use both offline and online at participating brands. Through this, Siam Piwat will be the destination where customers can convert their existing loyalty points, from their credit cards and others to VIZ Coins, allowing them to enjoy more privileges.


This new platform is being developed:
In collaboration with Siam Piwat's business partners, to ensure that the user experience is aligned with their brand positioning;
With tech partners, to build the new platform and data infrastructure as well as a loyalty program;
And last but not least, with well-known influencers to produce community-focused content.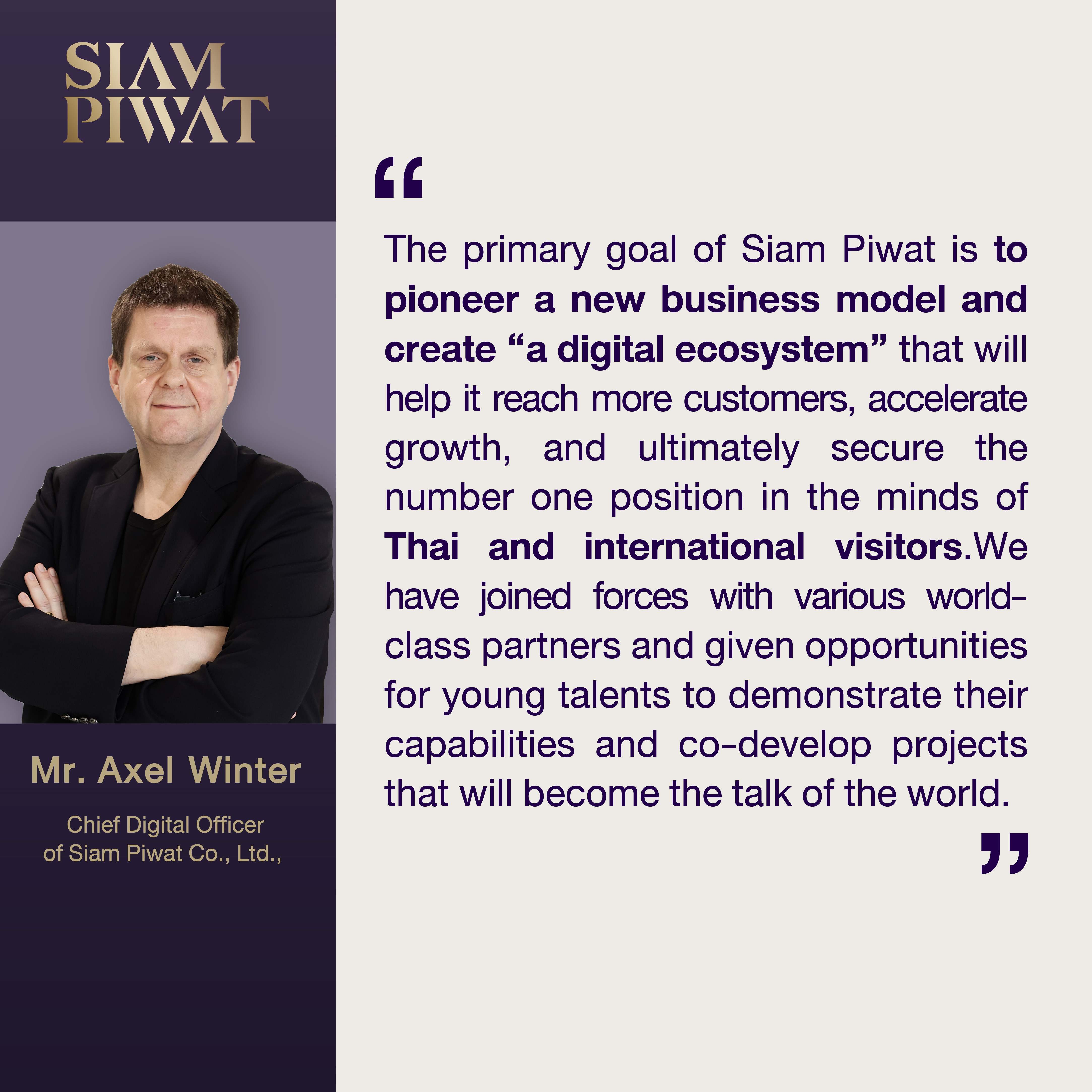 Mr. Axel Winter, Chief Digital Officer of Siam Piwat, stated, "The primary goal of Siam Piwat is to pioneer a new business model and create a digital ecosystem that will help it reach more diverse customers, accelerate growth, and ultimately secure the number one position in the minds of Thai and international visitors. To this end, we have joined forces with various world-class partners. Recently, we have partnered with the digital asset platform ZIPMEX to enable customers to trade ZIPMEX tokens for actual products or services, with loyalty programs in the pipeline to deliver experiences that create added value and provide enhanced convenience. We have also collaborated with KX to launch Coral – an NFT marketplace platform that will lead to new developments in art, culture, and lifestyle and deliver ultimate experiences for local and international visitors. As part of this initiative, NFT Innovation Digital Walls will be installed in Siam Paragon and ICONSIAM so that visitors to our shopping malls can closely appreciate NFT artworks. Siam Piwat has also partnered with Perx Technologies, a Software as a Service (SaaS) provider, to build a never-before-seen digital experience that will expand its customer base, currently consisting of Thai and international consumers with high purchasing power, even further across the world through global partners. At the same time, customers will not only have access to an eye-popping range of benefits and privileges that cannot be bought with money through a new hyper-personalized loyalty program but will also enjoy an exciting immersive gamified shopping experience that is completely unique and cannot be purchased. Furthermore, towards the end of this year, we will also announce more partnerships and unveil a team of newly-recruited digital talents who will be introducing fresh and exciting experiences to customers."
"The key to success in driving business amid the swift changes in the digital era is to have a robust team of talents who are adaptable and ready to learn new things. I'm excited to work with Mr. Ariya and specialists from various global corporates, to execute the digital and innovation road map. We also prioritize the development of young talents, and to this end, we are taking onboard new young recruits during this transition period and giving them unique opportunities to assume leadership roles, demonstrate their capabilities, and challenge themselves through special business projects, where they work as self-directed teams and take a flexible and agile approach to management and decision making. Through these projects, they are given opportunities to learn, collaborate with world-renowned organizations, and ultimately develop innovations that will deliver experiences beyond expectations to customers across the globe. We believe that our company is the perfect platform for young talents who are seeking exponential self-development and once-in-a-lifetime opportunities to co-develop projects that will become "the talk of the world" and gain experience that cannot be found anywhere else," concluded Mr. Axel Winter.
During this transition period where people are becoming more fully adapted to the digital world, Siam Piwat believes that the value and experience of the offline world will remain sought after and irreplaceable. Siam Piwat's latest innovation thus seeks to seamlessly integrate the offline and online worlds and answer a comprehensive range of lifestyle needs from convenience to value creation in order to truly fulfil the lifestyle of the future. This early December, get ready for the launch of the new platform that will be at the forefront of community creation, customer relationship management through a loyalty program, and Social and E-commerce, and pave the way towards fintech in the future.