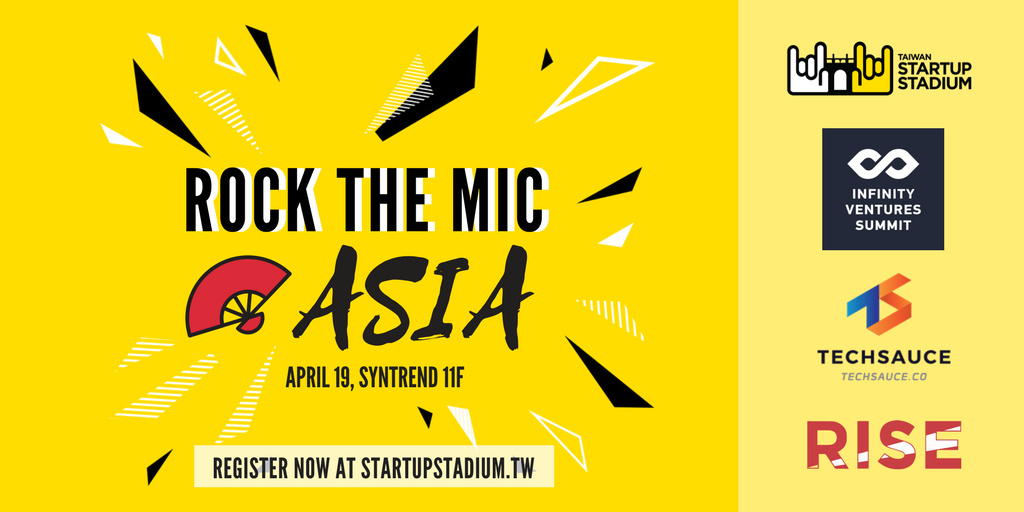 Techsauce Roadshow 2018 is about the rock the house in Taiwan as it joins forces with Taiwan Startup Stadium (TSS) to find its Taiwanese champion at the Rock the Mic Asia!
It's about to get really fun and exciting in Taiwan, as Techsauce Roadshow 2018 joins forces with TSS, a startup cluster that focuses on supporting startups in Taiwan on their journeys to the global stage, to host the Rock the Mic Asia.  TSS has played a huge role in teaching startups on marketing, international fundraising, and TSS launched a global accelerator to help startups to get into Y Combinator and 500 Startups.
The Techsauce team has really been impressed in our journey to find the best startups across 20 countries and we can't wait to see what Taiwan has to offer.  We are even more excited to join hands with TSS on April 19, 2018 at Syntrend find what startups will get the chance to participate in the Infinity Ventures Summit, Techsauce Thailand, and RISE Conference.
Rock the Mic ASIA is the contest that will select Taiwan-based startups with high potentials in order to access to business connections across Japan, Thailand, and Hong Kong. We are super excited to launch our adventures with Infinity Ventures Summit, Techsauce, and RISE this year.
The winner will get free roundtrip tickets at Techsauce Global Summit 2018.  There not only will they get a free booth to showcase their startups, but a chance to win the pitching grand prize!
3-in-1 Combo: Pitch For Your Asia Ambition!
The judges for the big pitching stage are Joseph Huang, Venture Partner of Infinity Venture Partners, Leroy Yau, Co-founder and Industry Development Lead of Everiii, and our very own Oranuch Lerdsuwankij, Co-founder and CEO of Techsauce Media.
The judges expect 2 minutes of pitching followed by possible Q&A from the judges.  Done in English, the pitches cannot have slides, no product demos and teams can pitch for more than one conference. 
The criteria is simple, teams have to show a mature product with clear branding that is ready to scale globally. 
Here are some details on the other 2 events featured at the event:
The Infinity Ventures Summit 

Infinity Ventures Summit is a gathering for 600+ executives of domestic and foreign technology companies such as SONY, SEGA, LINE, KDDI, DMM, Gree and also Europe's biggest tech forum SLUSH will all be here to discuss avant-garde market trends and management techniques.
Taking place in Taipei, Taiwan, on June 6-8, 2018, it is the first time IVS is being held outside Japan and Greater China will be attending the event.  The conference is expected to introduce more than NT $10 billion of funds for Taiwan's unicorn cultivation.  Selected startups will get referrals to investors and corporations in Japan, meet and pitch to more than 600+ leaders from Japan and abroad, and fast-track to LaunchPad, one of the most closely watched startup pitch contest in Japan. 
Rise Conference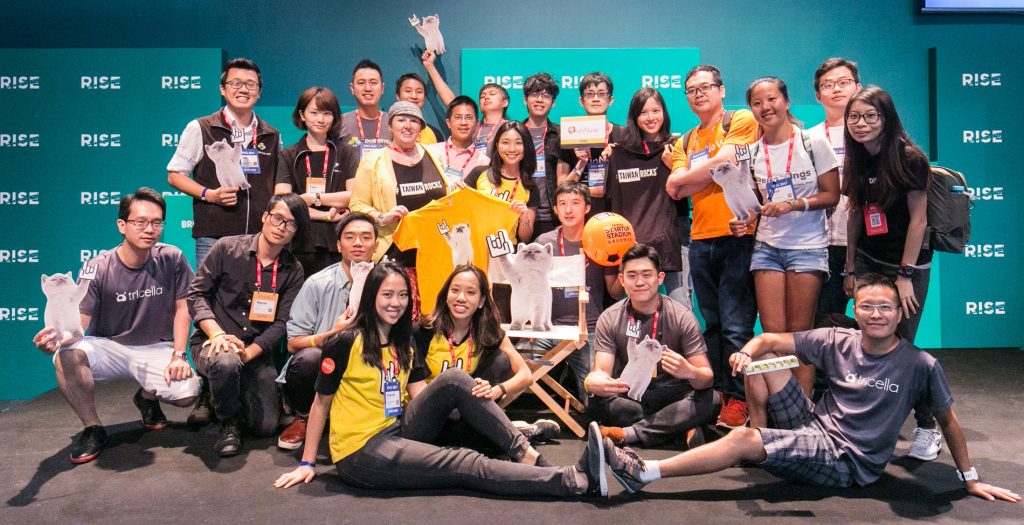 Taking place in Hong Kong on July 9-13, 2018, the Rise Conference will have startups from around the world, major media outlets, and hundreds of investors gathered in one place.  Winners will get the chance to gain media coverage from over 100 markets, and get exposed to 150k+ attendees.  You will also get exposure on Demo Day, free individual and group professional photo shoot, and pre-conference training. 
Battle of the Startup Ecosystems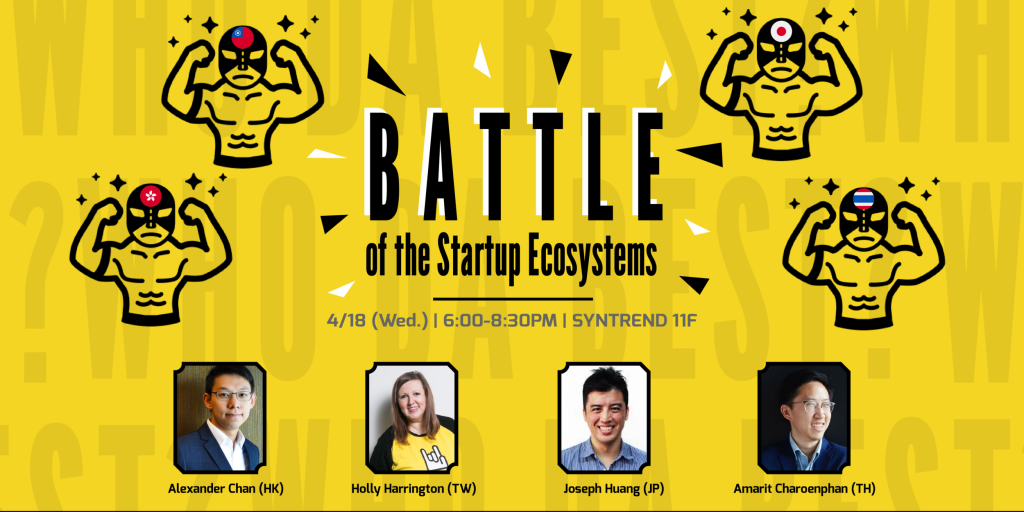 Just a day before the Rock the Mic Asia, TSS is set to have the Battle of the Startup Ecosystems fireside chat, experts from Taiwan, Japan, Hong Kong, and Thailand.  Speakers will battle it out on which ecosystem is the best in the region.  Speakers include Alexander Chan (Co-Director of The Mills Fabrica HK), Amarit Charoenphan (Co-Founder and Chief Connection Office of Techsauce Thailand), Joseph Huang (Venture Partner at Infinity Venture Partners), and Holly Harrington (General Manager at Taiwan Startup Stadium).
They will discuss hot issues such as what is the coolest things happening in each ecosystem, what is the latest vertical trends in each startup scene, and what are some secrets about each ecosystem that only locals understand.
Taiwan, looking to be the hub of AI
TSS CEO and captain Anita Huang in an interview with Forbes in 2016 said Taiwan is definitely catching the startup bug, but is finding its own way in scaling to global markets.  Need to be bolder and having investors more knowledgeable about valuations, Taiwanese startups are busy studying about how to scale up, work on distribution channel development, create partnerships, sales, and marketing.  To expand opportunities, TSS is working with regional savvy investors from Southeast Asia, Hong Kong, and even Japan.
The Taiwanese government like others in Asia are waking up to the call to support a fertile ecosystem.  Rising star legislator Karen Yu, who also had started a startup, Okogreen, is working to change laws to bring more investment into the country.   You is pushing for changes in legislations to bring more foreign investment and give legal protection to FinTech startups with Taiwan's Act on Financial Technology Innovation and Experiments.  This will also more support for small experimental firms. 
Alongside this the Taiwanese government has allocated NT$1 billion (US$34 million) to Southern Taiwan Science Park (STSP) and Central Taiwan Science Park each to grow AI and robotics over the next four years, under the Forward-looking Infrastructure Development Program.
So you could say we are definitely excited about Taiwan!  Join us April 19, 2018 at Rock The Mic Asia, at Syntrend, 11F, No. 2, Section 3, Civic Blvd, Zhongzheng District, Taipei City, 100!  Whether you are interesting in pitching or just want to chat with us about the ecosystems in Southeast Asia, we would love to hear from you!  For more information go to: https://www.startupstadium.tw/rock-the-mic-asia-2018/
Find out where Techsauce Roadshow 2018 is going next!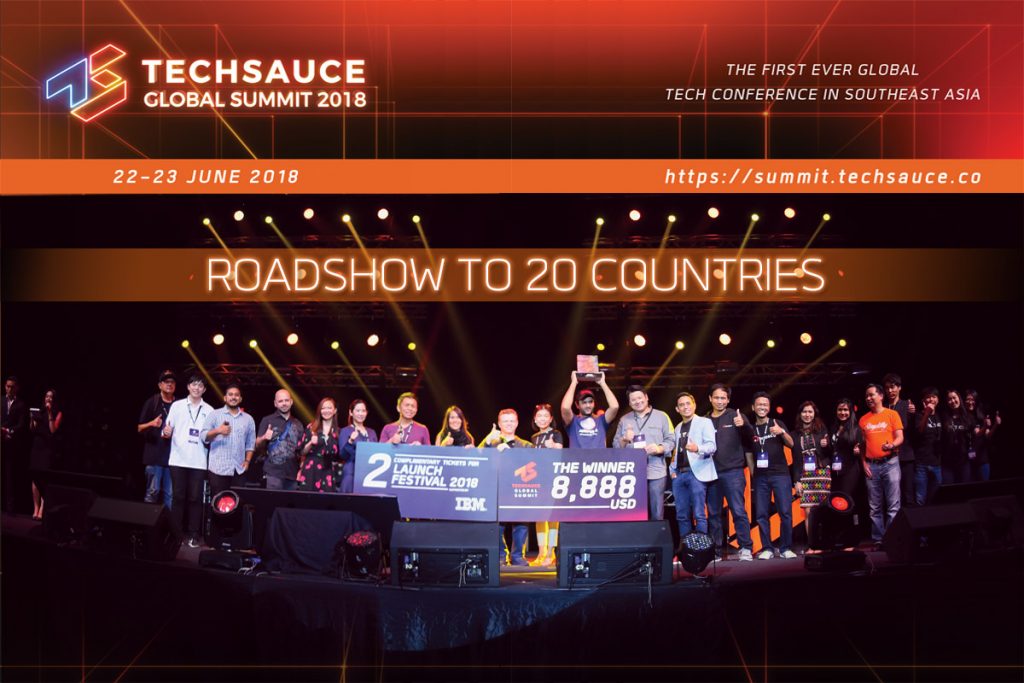 This year's Techsauce Roadshow 2018 is heading to 20 countries where we seek out the best startups to compete in the final stage at Techsauce Global Summit 2018!  Winners of each roadshow will win free roundtrip tickets and a booth featuring their startup at this year's summit!  To find out more about where we are going next check out https://summit.techsauce.co/roadshow/
Join Techsauce Global Summit 2018!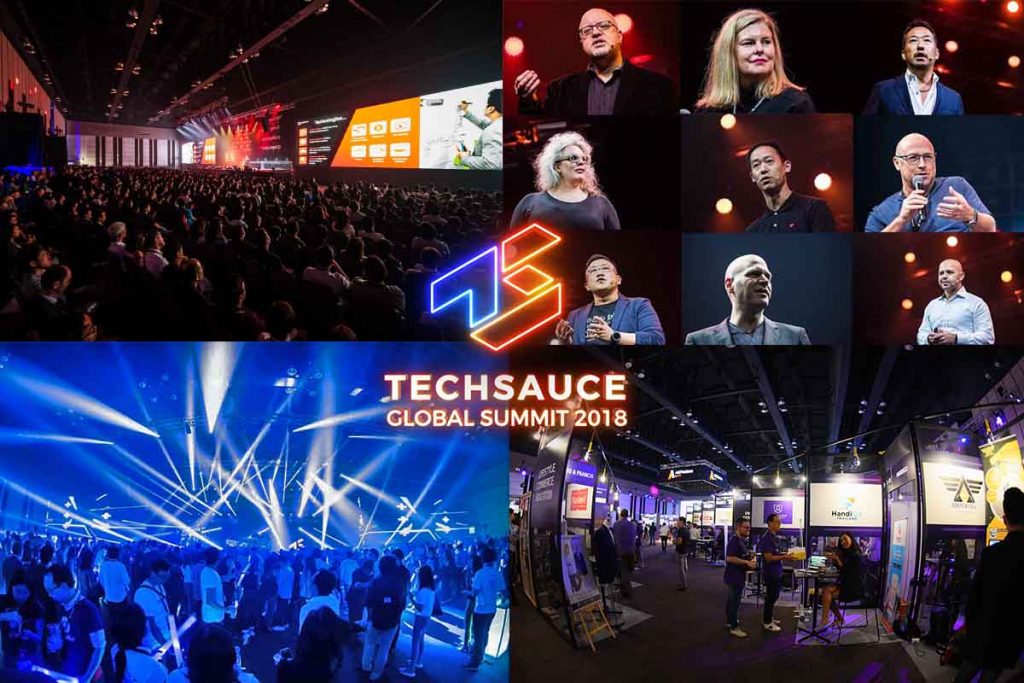 Want to meet up with our winners? Watch them battle it out with other roadshow winners at Techsauce Global Summit 2018 taking place in Bangkok from June 22-23, 2018.  You can also meet up with other startups, VCs, corporates, and guest speakers!  Join us by going to https://summit.techsauce.co/
See you there!