The Aspen Network of Development Entrepreneurs (ANDE), a global network of almost 300 organizations that propel entrepreneurship in emerging markets, Social Enterprise Thailand Association (SE Thailand), the British Council – the UK's cultural relations organization – the United Nations Commission for Asia and the Pacific (ESCAP), and Thailand Development Research Institute (TDRI) today co-launched two new reports: Bangkok Entrepreneurial Ecosystem Snapshot and The State of Social Enterprise in Thailand. ANDE's Bangkok Entrepreneurial Ecosystem Snapshot, developed with support from Mastercard Center for Inclusive Growth and available in English and Thai, captures support available for entrepreneurs in Bangkok, Thailand based on a sample of 267 active organizations.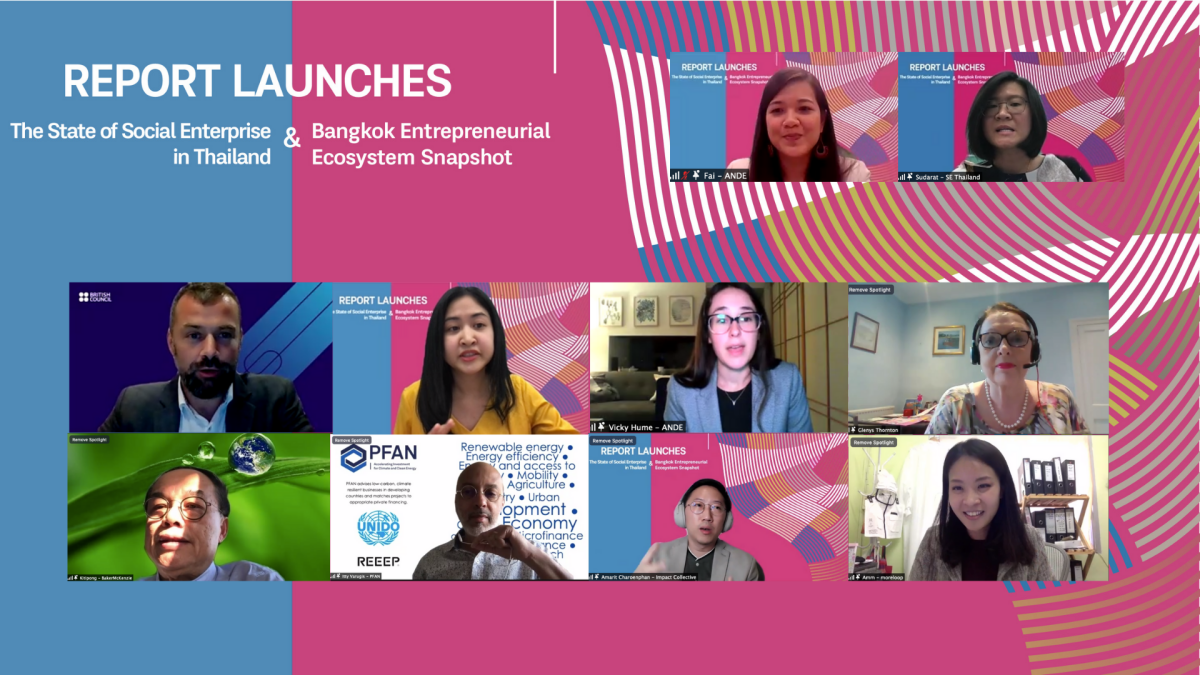 The report identifies challenges, opportunities, and recommendations on how to meet the needs of small and growing businesses (SGBs) and organizations that support them in the entrepreneurial ecosystem, now more important than ever to address given the continued social and economic headwinds brought about by the COVID-19 pandemic. ANDE has previously conducted similar ecosystem snapshots, which provide an overview of the support available for SGBs in a specific geography, in Myanmar and several African cities and countries.
"We are proud to release this newest snapshot, with important insights into the entrepreneurial ecosystem in Bangkok. Supporting SGBs is more important than ever, and we encourage business support organizations to make good use of this information to foster conditions in which businesses can thrive," said ANDE's Executive Director Richenda Van Leeuwen.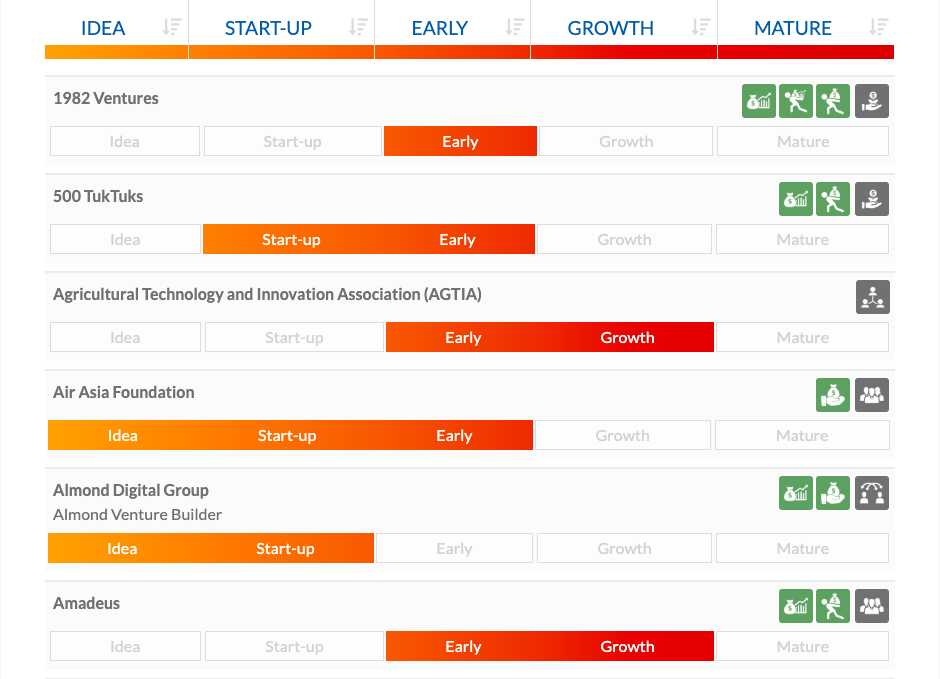 The Social Enterprise Landscape Survey in Thailand is the latest in a series of reports developed by the British Council and ESCAP which explore the social enterprise landscape across the Asia Pacific region, the Thailand report has been developed in partnership with SE Thailand and the Thailand Development Research Institute (TDRI) and is supported by HSBC. The report provides an understanding of the current status of social enterprises (SEs) across Thailand, with the aim of helping to inform the design of support measures to nurture SEs in the future while exploring the current impact SEs have on society and the environment in Thailand. The report also investigates the impact of the COVID-19 pandemic on SEs in Thailand, and their response to this crisis. Findings and analysis have been developed into a set of data-driven policy recommendations for relevant agencies and stakeholders in the SE ecosystem in Thailand.
"This report arrives at an opportune time for the development of future data-driven policy for social enterprise promotion in Thailand.", Somkiat Tangkitvanich, TDRI President, commented.
"The world struggles to find a new balance between consumption and conservation; social enterprise comes close to providing a solution as it offers a realistic way of achieving economic, social and environmental prosperities. While social enterprise ecosystem in Thailand has gained traction in recent years, it has been a very long journey and there are still many challenges to overcome. I believe The State of Social Enterprise in Thailand will offer insights for those who are interested and will contribute in driving the new economy forward," mentioned SE Thailand's Chairman M.L. Dispanadda Diskul "The report offers not only evidence, but also great hope. Social enterprises in Thailand are forging the path to a future economy that is more equal, inclusive and innovative. Progress is still being made, even amid the challenges of Covid-19." Stated the Head of the British Council's Global Social Enterprise Programme Paula Woodman.
"Social innovators and entrepreneurs have stepped up in response to the COVID-19 pandemic. From providing educational technology and e-health services for the most vulnerable to developing community tracing initiatives, their work is more critical than ever. Social enterprises can also play an essential role in building back better from the pandemic, demonstrating how businesses can address today's pressing social challenges at the same time as generating economic growth. We commend the Government of Thailand for promoting for promoting social innovation and entrepreneurship regionally and globally, and hope that this report helps countries to put in place the necessary environment to grow this important sector," said ESCAP Deputy Executive Secretary Kaveh Zahedi.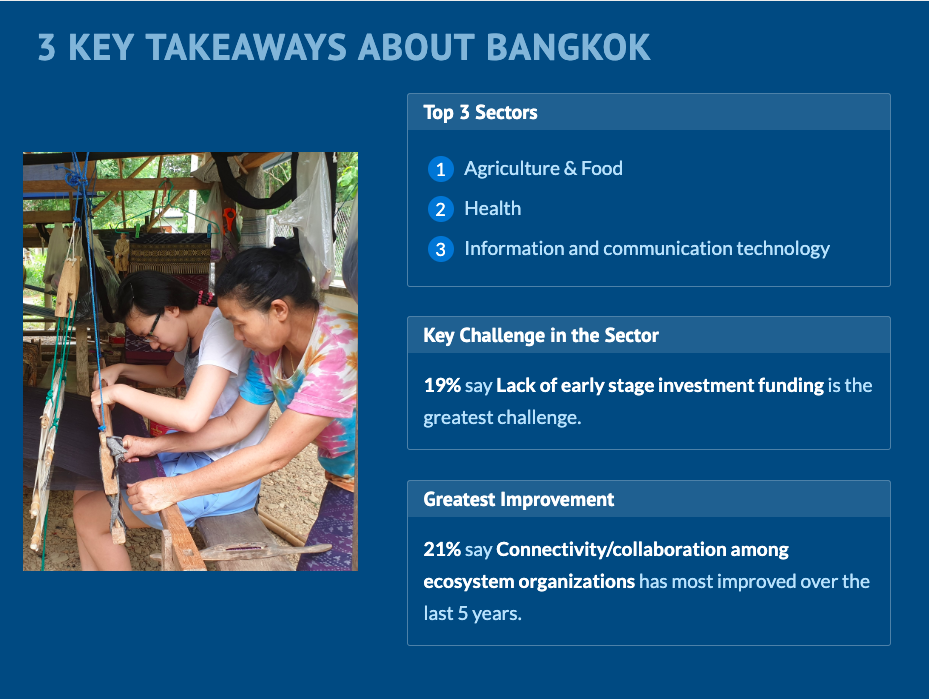 Key Findings from the Bangkok Entrepreneurial Ecosystem Snapshot:
Collaboration is cited as both the greatest challenge as well as the greatest potential improvement for the ecosystem. Ecosystem leaders can act as conveners to gather information on what entrepreneurs and intermediaries see as top priorities for the sector and synthesize this into a publicly disseminated vision for the ecosystem
The top three barriers entrepreneurs face when seeking financing are lack of business acumen and experience, limited financing options, and lack of scalable business model. These can be addressed by improving mentorship and knowledge sharing, enhancing and increasing investor pools, and providing top quality entrepreneurship support programs and education
Most actions that organizations have taken or anticipate taking to respond to the COVID-19 crisis relate to adjusting the content and delivery of programming to meet the needs of entrepreneurs. Very few organizations are delaying or downsizing their programming, a reflection of Thailand's relatively strong management of the pandemic. The greatest imperative for ecosystem builders is therefore to help organizations make these adjustments to ensure support programs remain relevant and effective.
There is a need for more women in leadership positions. Women currently lead only 12% of investment providers and 15% of corporates and corporate foundations; this gender gap indicates a clear missed opportunity in reaching more women entrepreneurs. The representation of women in leadership positions is positively correlated with the ability to reach and attract more women entrepreneurs, highlighting the need for more female leadership in investment providers, corporates, and corporate foundations.
Key Findings from the State of Social Enterprise in Thailand report:
Social enterprises in Thailand mostly operate in education, agriculture and health sectors and deliver impact for various groups of beneficiaries mostly low-income families, elderly and youth
Social enterprises are resilient and agile in crisis reflected from their ability to adapt during the COVID-19 pandemic
Social enterprises report limited access to capital and limited understanding of SEs among the general public as the major obstacles
Policy recommendations to support social enterprises in delivering greater impact include: promoting awareness and understanding of SEs, providing more data and research on SEs, supporting SEs to demonstrate their impact, implementing the law to strengthen the ecosystem such as tax benefit for investors investing in SEs and expanding funding and finance available to SEs.