In a drive to expand KBank Service, KASIKORNBANK (KBank) and Forth Smart Service PCL (FSMART) are introducing a cash withdrawal service at Boonterm kiosks via K PLUS. The first-of-its-kind service – which will be available within the third quarter of 2021 – reinforces both parties' determination to provide customers greater convenience in their use of KBank Service for making deposit, funds transfer, cash withdrawal or identity verification, 24 hours a day. FSMART is confident that this cooperative effort will allow Boonterm to serve as a bank branch for communities, allowing customers to conduct all financial transactions at Boonterm kiosks. The company aims to accelerate the expansion of services at Boonterm Mini ATMs, with the target set at 10,000 locations as soon as possible.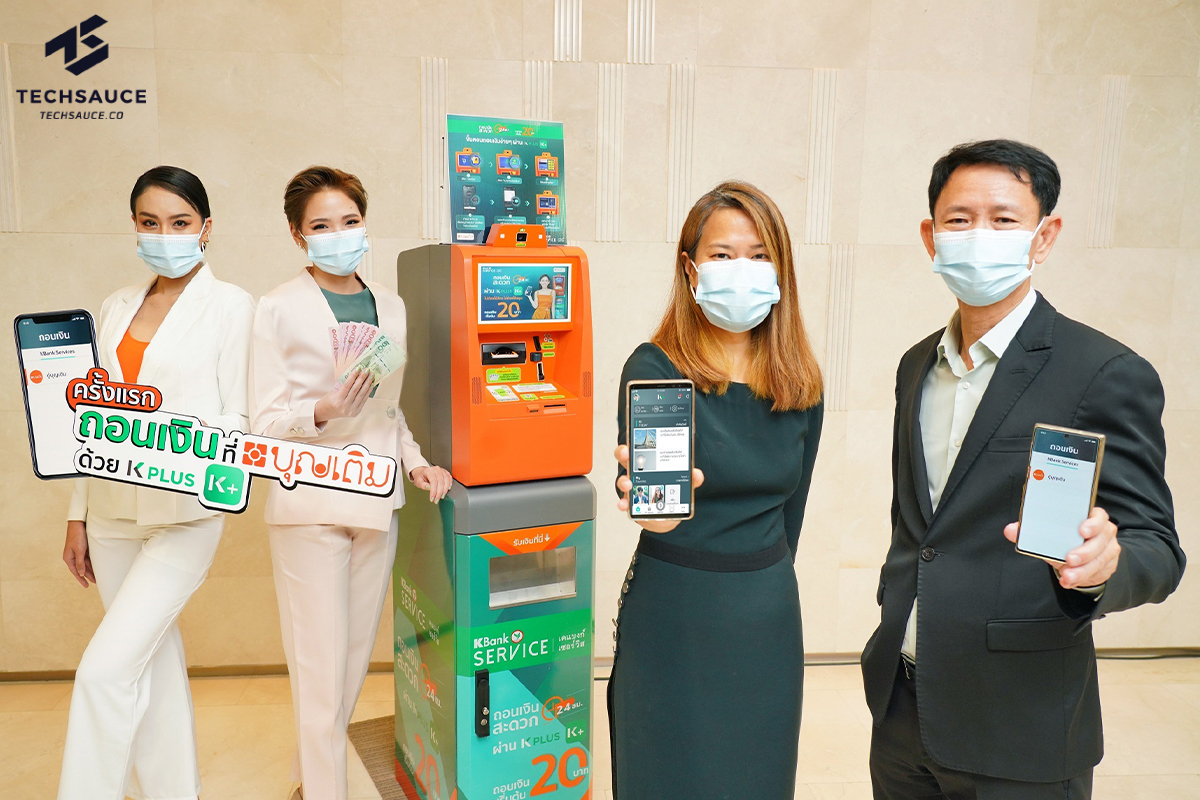 Ms. Supaneewan Chutrakul, KBank Executive Vice President, noted that KBank is determined to offer customers complete service coverage. To this end, the Bank has worked with its partners which are banking agents to increase the number of KBank Service locations, especially in areas lacking a nearby KBank branch or ATM, to ensure that customers have convenient access to financial services just like having a bank branch close to home. Presently, there are more than 200,000 KBank Service locations available where customers can conduct deposit, funds transfer, withdrawal, bill payment and identity verification for product or service application. In 2020, transactions conducted via KBank Service topped 33 million.
KBank has teamed with FSMART to debut a Boonterm cash withdrawal service via K PLUS during the third quarter of 2021. With this service, customers will enjoy a more comprehensive service package from Boonterm kiosks in addition to the existing deposit, funds transfer and identity authentication services. It is expected that the number of cash withdrawal transactions via Boonterm kiosks will reach at least 8 million per year.
Mr. Pongchai Amtanon, Chief Executive Officer of FSMART, the number-one end-to-end automated service platform operator via Boonterm kiosk,, said that the present collaboration with KBank will support Boonterm in its goal of being a genuine bank branch for communities, as customers will be able to conduct all financial transactions via Boonterm kiosks, including deposits, funds transfers, cash withdrawals and identity authentication for bank account opening.
Cash withdrawals via Boonterm kiosks can be made without using a card. Customers only need to choose an account for cash withdrawal and the desired amount on K PLUS, then scan the QR code on the Boonterm kiosk to receive the cash instantly. The minimum withdrawal amount is 20 Baht, and the maximum amount is 3,000 Baht per transaction, or 20,000 Baht per day. This cash withdrawal service is available 24/7, and its security is on par with that of K-ATMs.
During the initial phase, around 200 Boonterm Mini ATMs will be available immediately, with more kiosks to be installed in the near future. The target is to expand this service to 10,000 locations as quickly as possible. FSMART assesses that cash withdrawal via Boonterm Mini ATM has the potential for strong future growth. Even as the current market trend depicts a rise in e-payment services, the volume of cash withdrawal via ATMs under the current banking system averages 180 million transactions per month and also tends to increase over time, consistent with the volume of cash in circulation within the country. If only one percent of all customers choose to withdraw cash from Boonterm Mini ATMs, the number of such transactions is quite likely to reach 1.8 to 2 million per month. On the other hand, the number of deposits via Boonterm kiosk totals 2 million transactions per month, or approximately 10 percent of all cash deposits via CDM services, which total 20 million transactions per month.
Customers who experience issues when using the Boonterm Mini ATM can request assistance via the K-Contact Center at tel. 02-888-8888, or call the Boonterm Call Center at tel. 1220, 24 hours a day.