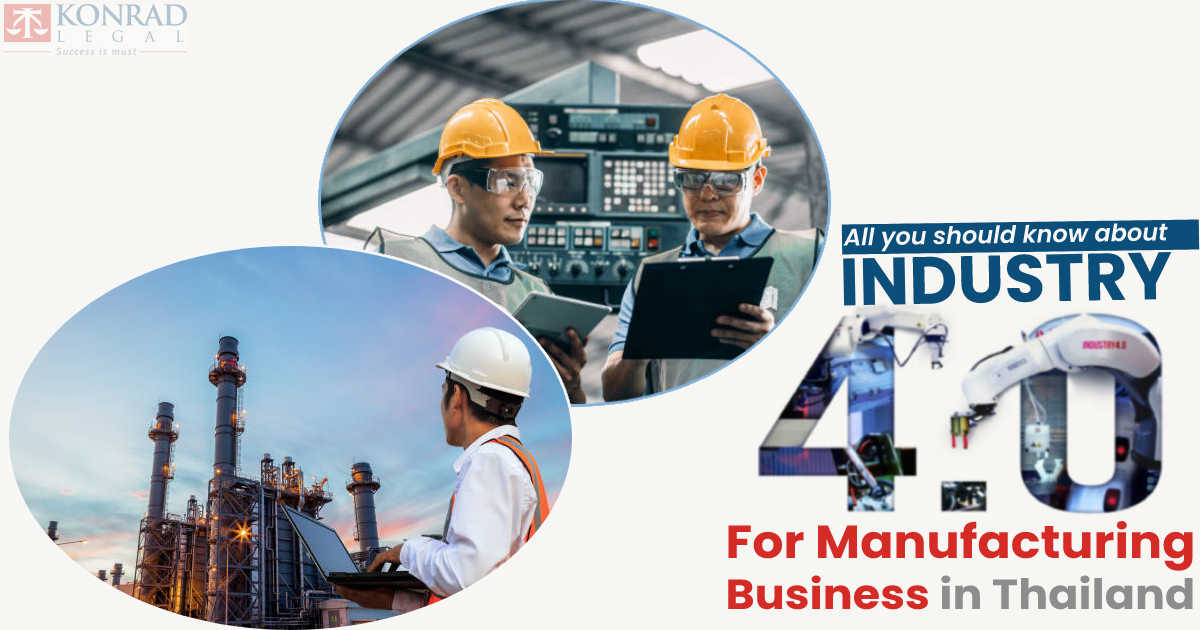 304 Industrial parks, in our opinion, have seen many developments in Thailand's economy. It ranges from labor-intensive to capital-intensive processes of manufacturing in Thailand. Understanding Thai geo-economics, we feel, will be advantageous to everyone who has worked in or is interested in investing in this fascinating country. In this article, we will take a broader look at the movement of the manufacturing business in Thailand in order to increase our understanding of the Thai industry, as well as areas that have the potential to become places that benefit from the development.
As the world's population grows, so does the number of changes. Depending on their nature, they may become visible sooner or later. Industrial transformation is one of the factors contributing to a rise in the number of resources required by humans. So far, there have been four macro-level shifts that have an impact on manufacturing and industrial operational approaches. Each country has its own name for the recent transformation, and Thailand uses the word "Industrial 4.0," which translates to "Industry 4.0."
INDUSTRY 4.0 – HISTORY
There were three industrial revolutions prior to Industry 4.0. Each revolution's development and changes are as follows:
The transition from human and animal work to machines, primarily through the utilization of steam and waterpower, was known as the First Industrial Revolution .
Electricity was introduced during the Second Industrial Revolution , which greatly enhanced output. During this time, industrial buildings such as larger factories were built and developed.
The Third Industrial Revolution pushed technology into industry, replacing human labor with more accurate and effective automation.
The Fourth Industrial Revolution (Industry 4.0) makes use of the Internet to connect entire databases on manufacturing and service, as well as various communication tools to transmit data in real time. It also advances machines that can produce small parts more precisely and greatly improves manufacturing effectiveness and quality.
Industry 4.0, which is built on digital technology, is the result of a German national strategic effort. Germany is one of the world's industry leaders, able to anticipate shifting trends and sustain its manufacturing leadership position. The German initiatives of 2013 address many parts of the industrial sector that needs improvement. Information technology system, as well as information system among tools and state-of-the-art technology that satisfies consumers' demands better than before, has played an important role in the operation. This policy aims to support a changing world with a growing population. Additionally, it is to recognize diversity, prevent wasteful resource use, and meet the needs of all people.
INDUSTRY 4.0 AND THAILAND 4.0: RELATION
Industry 4.0
Economics drives the "Industry 4.0", which is a global policy. Following are the names by which it is popular in various nations:
Industry 4.0 – Germany,
Smart Manufacturing – the United States of America,
Factories of the Future or FoF – European Union,
Industrial Value Chain Initiatives or IVI – Japan), and,
Made in China 2025 – China.
Its goals include converting industrial manufacturing patterns to digital systems and linking different parties over the Internet to suit a wider range of needs.
Thailand 4.0
The Thailand 4.0 strategic initiative, on the other hand, is a comprehensive approach of the Thai government to develop the domestic economy. They aspire to move from a moderate to a higher income rating for the country. Thailand is stagnant at this level, which is the "middle-income trap," for more than two decades. In line with global trends, more technology, innovation, and digital systems will play a key role. Before Thailand 4.0, there were three economic transformations, whose brief descriptions are as follows:
Agriculture and cultivation were the target industries in Thailand 1.0. After conserving a sufficient amount for household use, any extra crops would be sold for profit.
Thailand 2.0 continued agriculture but began to use tools and machines in production, transforming into a light industry sector that includes shoes, leather goods, and textiles, among other items.
Thailand 3.0 marks the beginning of a new age of heavy industry and export. The current era sees national income grow at only 3.4 percent, and the domestic economy has been stuck in a middle-class trap for a long time. As a result, in order to transform economic structures, development methodologies must be defined.
Thailand 4.0 focuses on innovation-driven manufacturing. Food and agribusiness, biotechnology, wellness, and medical technology are the primary focus areas. Additionally, smart machines, digital systems, and artificial intelligence are the target technology and industrial groups of this program. Thailand 4.0 is a policy that will assist expand the local economy and preparing for a changing global industrial system through industrial development and the establishment of high-value culture and service.
THE BOTTOMLINE
The expansion of the Eastern Economic Corridor, or EEC, is another aspect of Thailand's Industry 4.0 initiative. This project benefits from its proximity to Bangkok, airports, and seaports. This makes transit more convenient. Chon Buri, Rayong, Chachoengsao, and Prachin Buri are among the provinces that are worth investing in. These provinces are bordered by the industrial estate and properties with top firms' manufacturing bases. Primarily, they are from the electronic and automotive industries, in addition to their advantageous location.
If you are seeking an industrial property to rent in this area, we would like to introduce 304 Industrial Park . It is in Prachin Buri and has a total area of almost 32,000,000 square meters. This industrial building is ideal for long-term holding. The total area of the Industrial Park is 1,920,000 square meters. It consists of a power plant with a producing capacity of 670 megawatts. Additionally, the reservoirs of the plant have a capacity of 40 million cubic meters.
Therefore, for a manufacturing business in Thailand, Thailand 4.0 or Industry 4.0 will yield great results for you. The progress will be in favor of your business, RoI, and sustainability. To register a manufacturing business in Thailand, email us at [email protected].