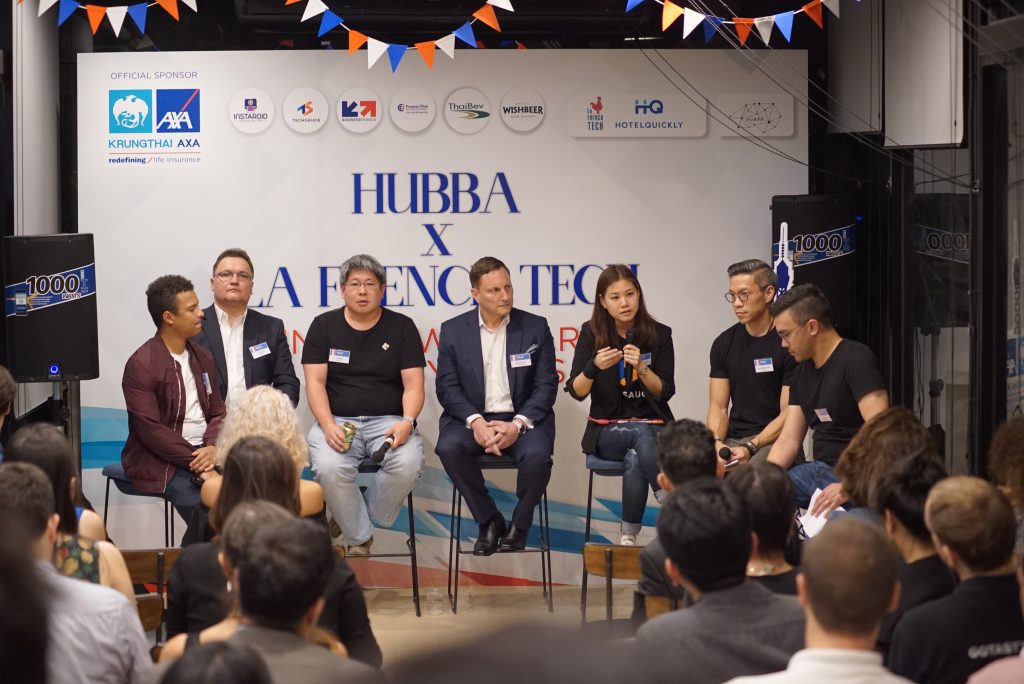 The Thai and French Tech Ecosystem have had their separate groups of startups to interact with. The Thai's ecosystem was spearheaded by Hubba, the first ever co-working space in Thailand, and the ecosystem being managed by La French Tech, a community of over 9500 French startups, entrepreneurs, and stakeholders who have raised a cumulative sum of USD 3.18 billion dollars in 2017.
Techsauce had the privileged to attend the "HUBBA X LA FRENCH TECH: JOINING TWO ECOSYSTEMS" Networking and Discussion event which was sponsored by Krungthai-AXA Life. This event invited speakers from tech companies in both Thailand and France to discuss on the future of Thai-French partnership in the business sector.
One of the French entrepreneurs in La French Tech's community is Djoann Fal, the Co-Founder and CEO of Getlinks, an online platform that links people with a background in Information Technology (IT). Established in 2015, Getlinks has become a global server that functions in Singapore, Thailand, France, South Korea, India and Hong Kong. Working with large technological corporates such as Line and Google, they help to source for the suitable candidates with the right skillsets to join these companies.
Another French Entrepreneur is called Jerome Cle, the CEO of Rising Suns, a firm that invests into innovative payment solutions such as SafaCard and Rising Sun Dematerialized Banknotes (RS-DM). SafaCard is a global Islamic Finance-compliant payment network with an objective to better serve a fast-emerging and highly diversified Muslim society.
Another member of the panelist is Paul Ark from Digital Ventures. Digital Ventures is the fintech arm of Siam Commercial Bank. Paul manages the corporate venture capital fund worth US $50 Million. Digital Ventures is a global fund that invest in Fintech or any related forms of technology that can benefit financial institutions. They invest all over the world, from North America, to Europe to all around Asia.
From the Thailand's ecosystem, one of the most prestigious guests is Ms Oranuch Lerdsuwankij, the CEO and Co-founder of Techsauce Media, the leading source of all tech and business news in Thailand and Southeast Asia
This session was mostly done in a Question & Answer format where Tiwa York, Founder of Kaidee, the moderator discussed some key questions with our panel of speakers.
Tech trends in Thailand and Southeast Asia
What are the tech trends, opportunities and needs of Thailand companies in the next 12 to 24 months?
Oranuch: Since last year, there has been a technological shift in companies that function in the agriculture, food, healthcare and energy sector, with these areas bringing in a wealth of investments. That means we expect to see more start-ups that solve fundamental human needs such as energy, agriculture, food and healthcare. We want to see more startups working from a different industry than the typical E-commerce site. Many startups in Southeast Asia learn European or American techniques and methods when trying to create a sustainable startup for the long-term future.
So Mimee, you have the experience as the CEO of a media company to see such a broad view? Is there a specific example that you can give us on something innovative that is happening in Southeast Asia right now that you don't see in other western markets?
Oranuch: Indonesia and Thailand's market faces a big challenge when it comes to logistics, transportation and construction. One of the innovators in Thailand, the founder (Patail from Builk.com) worked in the construction industry for more than a decade, he understands the value chain of construction industry very well, so he can identify the pain points. The moral of the story is before starting a real business, you should think about your domain expertise.
How do you see the trends in Southeast Asia developing for fintech and how does this affect your investment decisions for the future?
Paul: We have not brought in our focus, we still think rather globally when it comes to investing, we are the largest homegrown VC funding firm. We have very little investments in the local ecosystem and so we are not extremely supportive of Thailand-grown startups, it relates to our investment mandate as well as the life cycle and stages of startup ecosystems in Thailand and Southeast Asia in general are only about 5% in the funding process. Hence that is not what we are looking for since 5% is not even the length of a fully funded cycle. Furthermore, the overall entrepreneur community in Thailand are mostly first time entrepreneurs. Which means that if you are new to the entrepreneurial space and you are trying to tackle something as difficult as entrepreneurship, you are going after the businesses that is the easiest to watch, quickest to market and requires the lowest possible capital. Which also largely means that you are going after a lot of B2C businesses. And obviously, one of the areas that is the easiest to watch and the quickest to market is E-commerce.
Thus, you are not seeing a lot of B2B yet, you're not seeing a lot of startups that are trying to target large enterprises like banks. Those types of B2B entrepreneurs will greatly help the ecosystem to diversify and mature. You know if we look at places like Silicon Valley, these are ecosystems that came up in the 1930s, and so they have close to 100 years to slowly involve their ecosystem to have B2B, B2C, O2O, every form of business types that you can think of. So Digital Ventures focus is largely on the look for transformative technologies. Technologies that are basically going to upgrade our industries and get to the core of our businesses. We are looking at Artificial Intelligence (A.I), making investment in the quantum computer space. An ecosystem takes time to grow, which I believe is something that Thailand's ecosystem can benefit from. Our local strategy might not necessarily be tied to Fintech.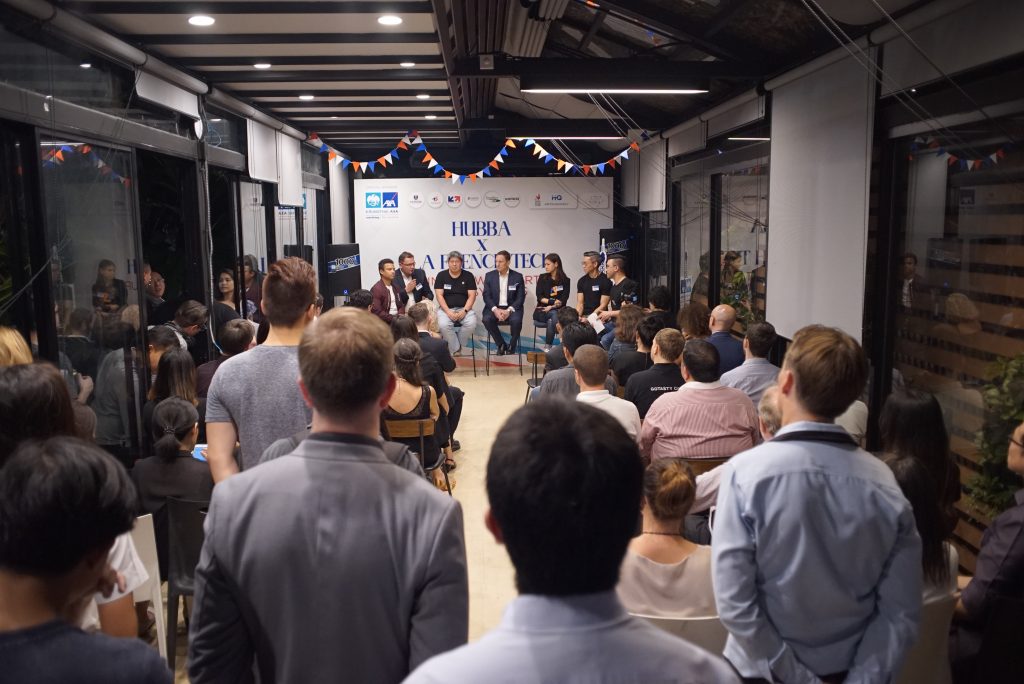 Cross Fertilization of Tech Ecosystems
In your experience of expanding regions, how do cultural differences among different nationalities help to foster and benefit ecosystems?
Djoann: I think we need to look at Southeast Asia as a plethora of talents. We need to look at the patterns. We need to analyze the specific's market needs and identify recurring themes, such as VCs investing in specific industry, we see big corporation trying to make big transformation.  I think what is important is to really identify the motivations and the drive of the different people. People from different backgrounds have different perceptions of the world. To be able to identify and understand what motivates a person is the key to adapting towards the person's needs to establish great relationships which will foster strong ecosystems for the future. I think that what Hubba has done is create an interesting community of entrepreneurs with diverse cultural backgrounds where we can tap on.
Most VCs would say judging from your background, that you are not experienced. But I would disagree to say that you are bold enough to be trying something different, which is to build collaboration between the ecosystems in Southeast Asia. However, do you think it is physically possible to get 6 different cultures to come together and create something meaningful?
Djoann: I think it doesn't matter where you come from, if you are using technology to create something useful, to create a legacy that help others, I think that is the most important element regardless of your nationality, race or cultural background. I think the person's passion will outshine the people's cultural difference. As long as we have a clear vision and a clear plan on how to utilize new forms of technology, I believe that is really powerful.
Have you seen a true market winner that is able to leverage on the diversity in ecosystems that have merged and make something out of it?
Djoann: Singapore is one of the few countries that has made used of its connections with different ecosystems to enter not only Asia but the US market as well. Singapore managed to identify the niche of each market and what service that would benefit these markets. Another key resource that Singapore leveraged on was their common language with major economies such as USA and UK. The common language of English allowed firms from these large countries to transit easily into Singapore's English-speaking economy. Business was also done smoother due to the absence of a language barrier. I do not believe there is a market winner and a market loser, but I do believe that some markets might be more mature than the others. In our company in Singapore, we have 37 nationalities. Here in Bangkok, we have 43 nationalities. In the US, we have 3 nationalities. In Switzerland, we have 3 nationalities. In France, we have 2 nationalities. And that just gives you some insight as to how Asia is a great place for people to work together. Where Investors, Venture Capitals, Start-ups and Entrepreneurs gather to function in an ecosystem filled with vast resources, talents and different perspectives.
Where do you see the future of banking in Thailand?
Paul: The future of Banking is more about the service than the actual technology. I don't know when exactly Thailand will go cashless, but the one pattern that we see is that a cashless economy is penetrating society at an exponential rate. Which means that if we look at Thailand which is still largely driven by cash, a lot of people in this economy is saying its going to take forever because the change to a cashless society has been very slow. That is very linear thinking. I think once we get pass that inflection point, we will go cashless in a very short period of time. However, it is not link to the cash, it is link to the service. Asian cities are 10 times more crowded than what we have in the western world. This encourages interaction, coupled with the excellent service that local Thais are well-known for, the arrival of a cashless society is only a matter of time.
How our tech communities can maximize impact
How can technological companies like Line help to facilitate the start-ups within these eco-systems to further improve on their services and technology?
Ariya: We have always been trying to support the tech and start-up ecosystem in Thailand. We believe that our technology can help Thailand compete on the global playing field. Some of the Thai start-up services are also parring up with us to use our services, such as Lineman & Linepay. We also have a USD10 Million fund, only for Thailand. Because we believe that Thailand is a growing ecosystem with huge potential for phenomenal change in the future. Thai people provide the best services and can work in great teams, making them highly valuable in any successful company.
Brandon, how does AXA, a global company help to build up the ecosystem of start-ups in Thailand?
Brandon: We absolutely need to leverage on all local startup ventures. We are looking for new channels to get to know our start-ups better. We see ourselves as a service provider to not just our consumers but to our start-ups as well. We still take 95% of business on paper application. That has to change. It is important to know how our customers receive and disseminate information as they can help widen your market stream if you are able to follow their flow of information. But more importantly, how do we use the technology that we are aiming for, the technology that we don't currently have, to get to know our customers even better? That is some food for thought to think about.
How does Thailand, which seems so far away from France, leverage on the French community in both France and Thailand to collaborate and benefit with the Thai community in Both France and Thailand?
Paul: I had the opportunity to bring my team out to Paris and we were quite astounded to see some of the initiatives that the French community was implementing. When we talk about how we can combine the infrastructure and technology together, it creates different personalities in the tech ecosystem. We are talking about services that are hyperlocal. And we need to find out the root cause of why services are currently the way they are. In Paris, the education system is rooted in engineering, mathematics, logical reasoning. And these are the fundamentals to areas like A.I, Blockchain, Cryptocurrency and Fintech. So when I look at A.I, I do not just go to Silicon Valley, I go to other places like Paris and Canada where their strength is in their core resource, in deeptech. I can't really say about the applicability of Thai business models going to Paris. But for the Thai technology that is coming out of France, that form of business mostly revolves around deeptech as they can benefit from France's strong knowledge on deeptech.
The "HUBBA X LA FRENCH TECH: JOINING TWO ECOSYSTEMS" Networking and Discussion event has given Techsauce some insights as to how the French and Thai communities are working together to build up a strong ecosystem for both their countries. The future looks bright for both LA FRENCH TECH and HUBBA as they look to enhance and improve the ecosystems for startups, venture capital firms and investors, both locally and abroad.