In a captivating session in the afternoon of the first day at Techsauce Global Summit 2023, Luca Bruschi unveiled the intricate details of the Agile transformation journey undertaken at the LEGO Group in recent years.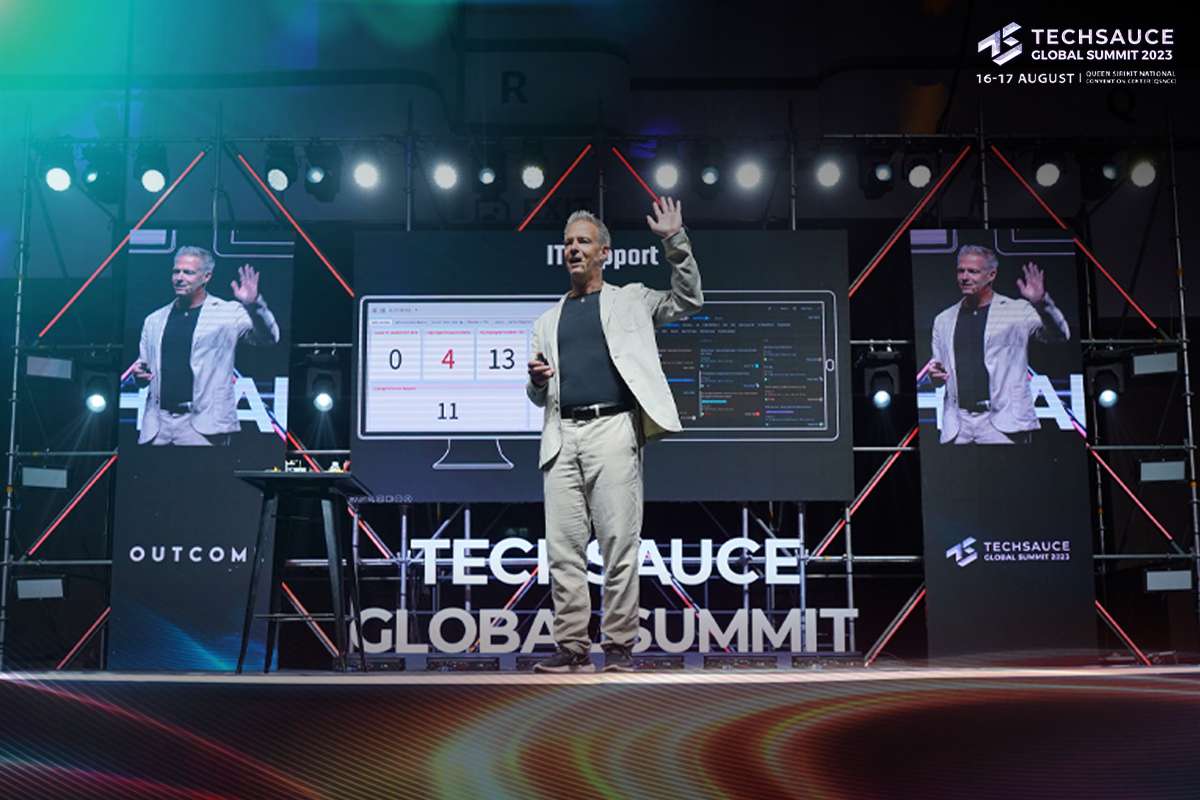 As the spearhead of the Global End User Support department, he plays a pivotal role in offering assistance to LEGO employees worldwide encountering IT difficulties.
For him, Introducing Agile methodologies into an IT Support framework was no simple task. He shares how he delved deep into the leadership challenges faced and illuminates how, in his dual capacities as Product Owner and Competency Lead within the HQ team, he and his team adeptly navigated the evolution of their work processes.
Furthermore, the embrace of data analytics heralded a groundbreaking shift in the global onboarding experience for newcomers at The LEGO Group's Headquarters. By integrating data analysis, gamification, and storytelling, the induction process for these fresh talents has been elevated to unparalleled heights.
Here's a summary of his insightful talk.
About the speaker:
Luca is an accomplished coach and strategic leader with over two decades of experience in multinational corporations. He is skilled in cultivating business relationships, bridging technical information to business objectives, and fostering partner and internal-facing credibility. Luca is a LEGO® SERIOUS PLAY® Certified Facilitator, using his expertise to design and conduct dynamic and effective workshops both in his professional and personal life.
Integrating Agile with IT Support
The journey began with a recognition of the seemingly disparate realms of the Agile methodology, primarily known in software development and IT support. For Luca, the challenge was to marry these two, making them harmonious in their functionality.
Four Key Areas of Transformation
Bruschi highlighted four primary domains where the transformation was focused:
Data-Driven Decision Making: The first step was to encourage employees to create tickets for their IT issues, allowing the team to track problems and plan solutions. By analyzing data, patterns became visible. For instance, regular spikes in password reset tickets after holiday periods led to the implementation of a self-service portal.
Direct Communication with the Business: Bruschi emphasized the importance of connecting directly with business teams. By attending their meetings and listening to their needs, IT support could tailor their services more effectively.
The only way to understand that is to talk to the business to be invited to their meetings to listen and figure out how to fit their needs.
Collaboration within IT: Within The LEGO Group, with its 50 product teams, it was crucial to establish a dialogue between them and IT support. By identifying the applications causing the most problems, the teams could work together to find root solutions rather than applying repeated quick fixes.
Process Review and Improvement: By introspecting the IT support's internal processes, they aimed to reduce the lead time between ticket creation and resolution. However, Bruschi also realized that process refinement alone wasn't enough.
LEGO Bricks and Agile
A noteworthy point was the inclusion of LEGO bricks in their daily practices, emphasizing creativity, transparency, and storytelling. This creative approach, combined with a data-driven mindset, paved the way for a refreshed global onboarding experience.
Through Luca's journey with the LEGO Group by marrying the seemingly opposing worlds of Agile and IT Support, the team could foster a more proactive, efficient, and user-friendly support ecosystem.
Thinking Outside the Box with IT Solutions
At the LEGO Group, thinking outside the box isn't just about creativity; it's about effective leadership and innovating in everyday processes. The company's unique approach to IT solutions offers a window into this mindset
With this Luca shares a few processes regarding how he pushes the envelope of outside-the-box-thinking giving examples including
Optimized Loaner Device Process: of the initiatives led by a member of the IT team that drew inspiration from Amazon's Locker system in Denmark to optimize the loaner device process. Instead of employees queuing up for temporary devices when their PCs malfunctioned, the IT department set up lockers, streamlining the process. This allowed employees 24/7 access to replacements, ensuring minimal disruption.
New Employee Onboarding: Traditionally, new employees at the LEGO Group's headquarters underwent an in-person orientation session where IT protocols were explained. However, the pandemic shifted this routine, making it necessary to send devices to employees' homes and create engaging virtual presentations. These shifts weren't permanent; once it was safe, the orientation was moved to the company's clubhouse - a recreational space for employees, making the process more interactive and engaging.
Engaging Training with LEGO Bricks: Instead of a typical, mundane IT presentation, the leader used LEGO bricks for storytelling. Incorporating the iconic LEGO bricks into their daily operations added an unexpected layer of creativity, transparency, and a narrative-driven approach. They conveyed the IT department's role, demonstrating procedures and troubleshooting using LEGO models. It not only made the session interesting but also showcased how every process at LEGO can be innovative.
Feedback Mechanism and Data Analysis: Taking feedback seriously, the IT department started incorporating data analysis into its processes. By analyzing tickets created by new employees in their first 30 days, the team was able to identify common issues and address them proactively in training sessions.
Engaging Quizzes: To ensure that employees retained information from the training, the team introduced a quiz at the end of sessions. The top performers received LEGO sets as prizes, making the learning process more fun and engaging.
Ultimately Luca holds a belief in the LEGO group that leadership should be passionate, intensive, and inspiring. Whether in professional scenarios or while coaching an under-15 basketball team which he doses, the idea is to inspire and drive each individual to hit their 'buzzer beater' – to give their best shot. It's not just about playing the game but playing it right, with dedication, zeal, and most importantly always smiling doing it.