Techsauce and the Polish Investment & Trade Agency (PAIH) host an insightful online talk session on the future of FoodTech in Poland and Thailand.
As FoodTech plays a bigger role in the food industry, what will the future of the food industry look like? Techsauce and PAIH sought to answer that question with a live online talk session on 8 December 2021, showcasing the progress that has been made with FoodTech in Poland and what lies ahead for the food industry in Thailand. The online session, "Food for the Future: The FoodTech Scene in Poland and Thailand", was made possible through the collaboration of Techsauce, PAIH, the Embassy of the Republic of Poland, and the Royal Thai Embassy, Poland, Warsaw.
It featured keynote sessions on the revolution of Thailand's FoodTech, Poland's unique FoodTech ecosystem, and three leading Polish FoodTech companies.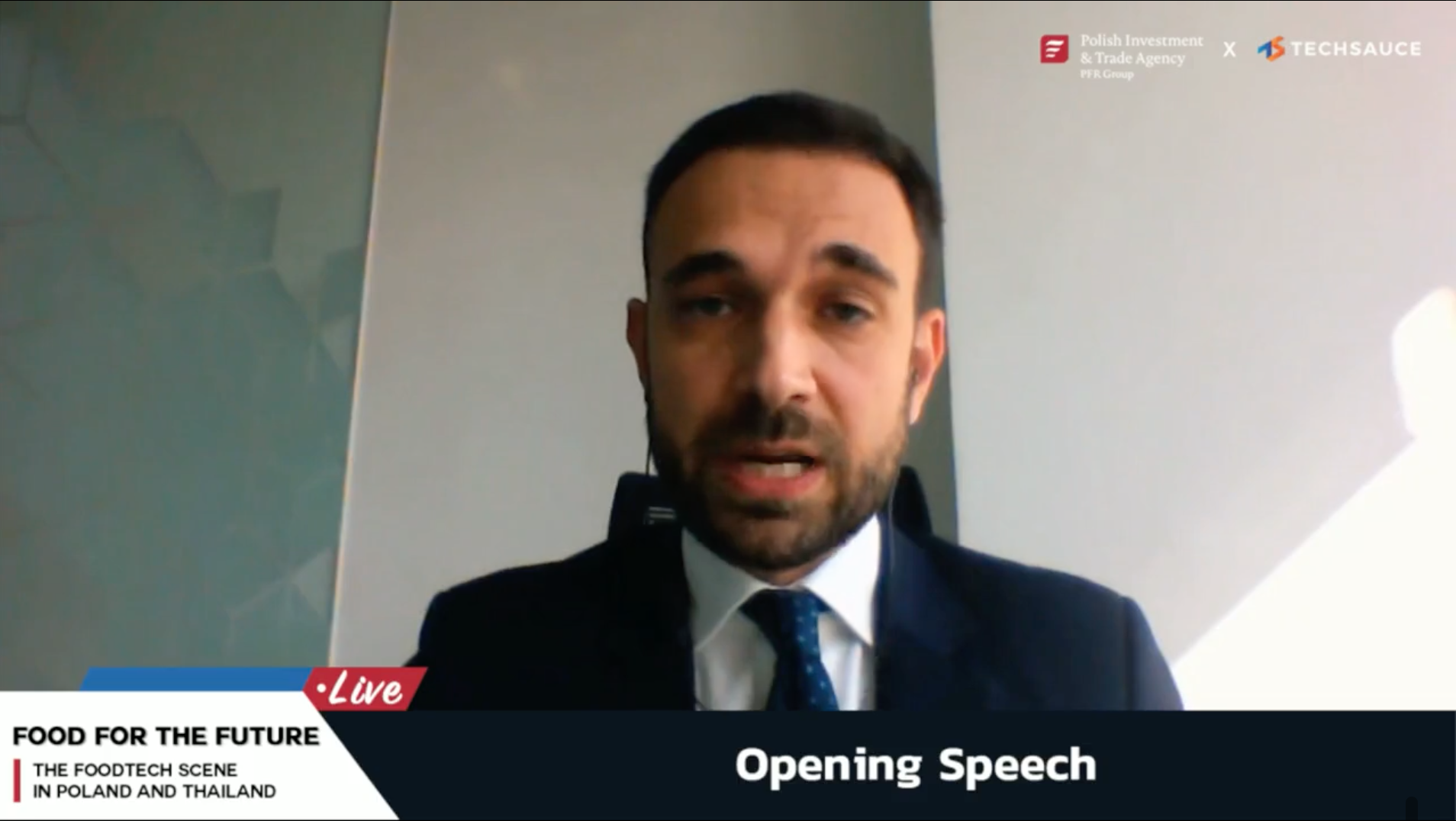 Norbert Bak, head of the foreign trade office in Bangkok of the Polish Investment & Trade Agency, emphasized on how FoodTech was a top priority of PAIH. With Thailand being the "kitchen of the world" with its amazing ingredients and cooking, it makes great sense for it to collaborate with Poland, one of the leading food production markets in Europe. Since joining the European Union (EU), Poland has dramatically accelerated the improvement of its food technology to keep with the EU standards.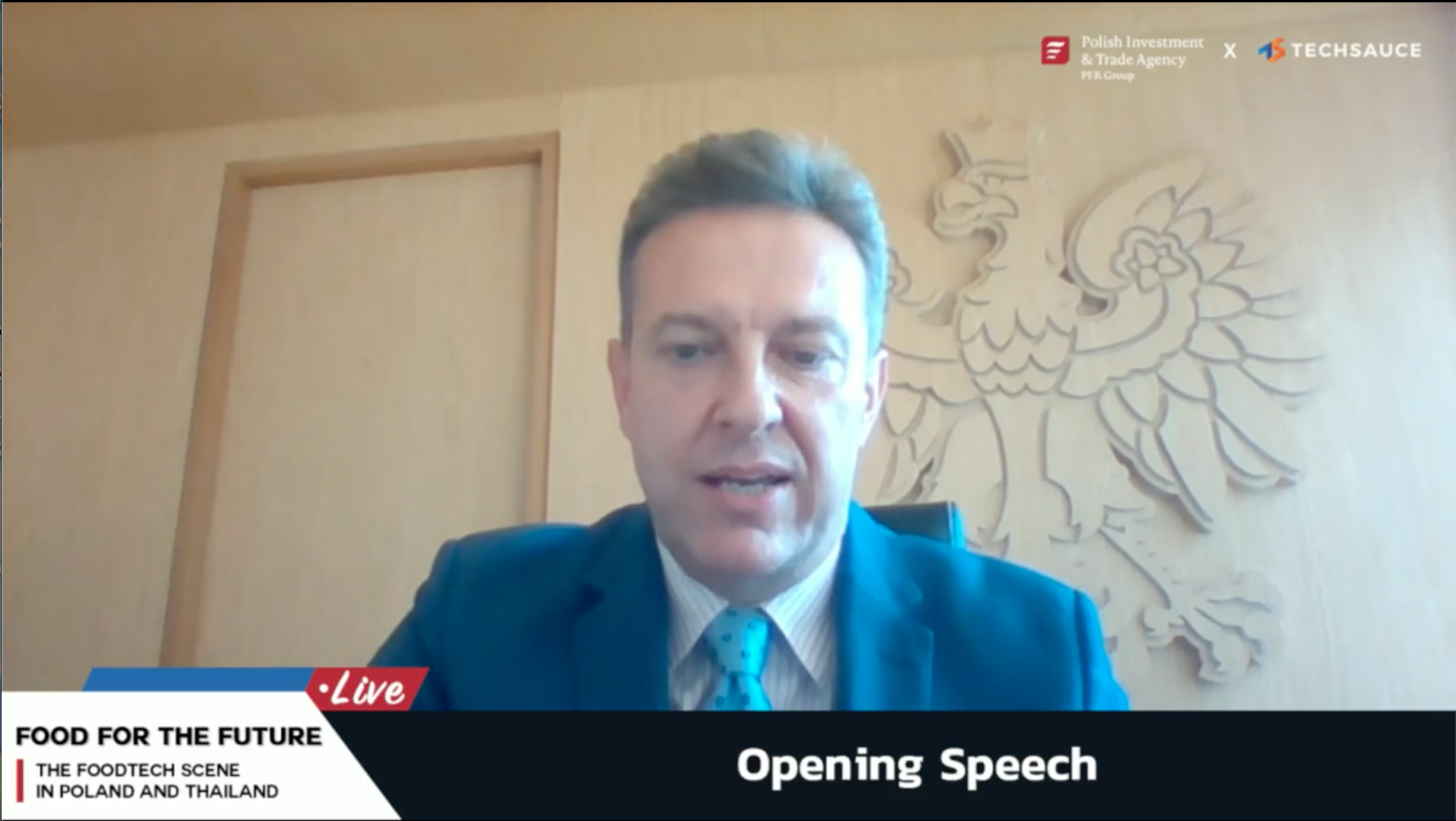 Meanwhile, H.E. Mr. Waldemar Dubaniowski, Ambassador of the Republic of Poland to the Kingdom of Thailand, The Embassy of the Republic of Poland, noted how Thailand and Poland have been leaders in the AgriTech sectors as both countries are synonyms for the word "delicious". As "twins", both countries are working to organize more events in the future to support further development and enjoy both countries' food.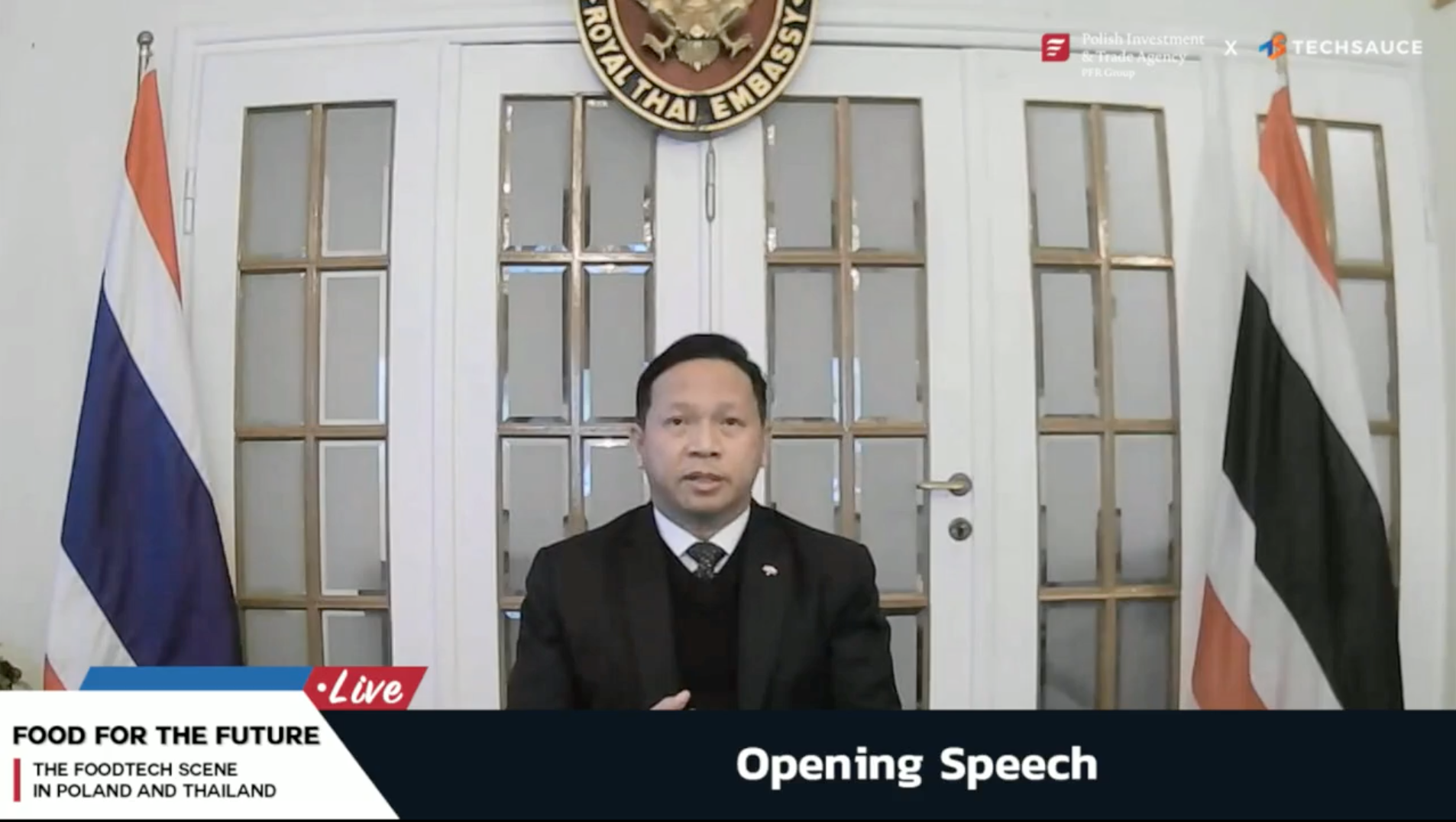 Lastly, H.E. Mr. Chettaphan Maksamphan, Ambassador of the Kingdom of Thailand to the Republic of Poland, Royal Thai Embassy, Poland, Warsaw, saw the Food for the Future: The FoodTech Scene in Poland and Thailand online talks as timely. He said it was a good opportunity for both countries to further cooperation in trade and investment in the future, especially in FoodTech. His Excellency added that healthy plant-based food, which was featured in the online sessions, increased health benefits. Lastly, the ambassador added that ultimately, both countries could work together to reach sustainable goals. Echoing H.E. Mr. Waldemar, he looked forward to planned activities to promote FoodTech and MedicalTech as both countries celebrate the anniversary of warm relations.
The Revolution of Thailand's FoodTech
Thailand continues to be a strong player in the food industry and with the introduction of FoodTech, the kingdom is set to make an ever bigger presence in the global market. Dr. Tunyawat Kasemsuwan, Director Group, Global Innovation, Thai Union Group Public Company Limited said this was true as the food industry in Thailand remains a key growth engine in the country. With its geographical advantage, Thailand is within reach of the 645 million consumers in ASEAN as the kingdom has experienced a surge in technology adoption even prior to the COVID-19 pandemic. From the fast adoption of mobile phones, Thailand has advanced rapidly with digital technology such as internet banking.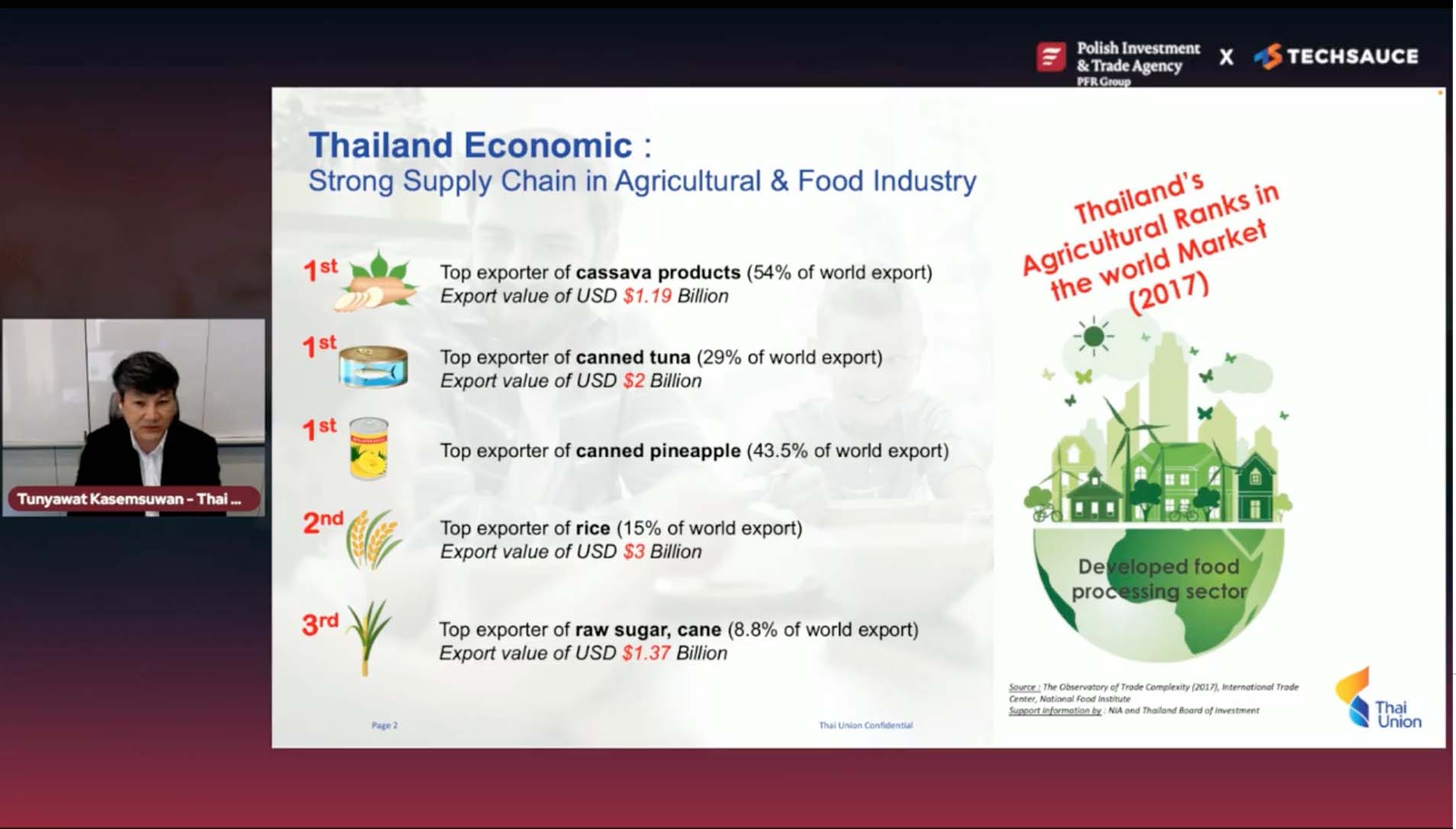 Thailand's strong food supply chain of products such as dairy, agriculture, and meat products, has been the backbone of Thailand's economy with the food industry contributing 1/5 of the country's GDP. This is why the government's support for functional, organic, and medical food is being supported by technology. This is to support the rapidly changing consumer behavior of Thais.
The COVID-19 pandemic has driven many changes. One is bringing more focus on healthcare. Another is consumers switching to online shopping. In addition to this, consumers are increasing household stock as the pandemic has left many less mobile than in the past. Lastly, everyone is more prudent in spending, with purchases focused on essential food for any potential crises in the future.
Poland's Unique FoodTech Ecosystem
One the other hand, Poland has become a rising star in FoodTech innovation according to co-founders of Poland's accelerator foodtech.ac, Mr. Piotr Grabowski and Mr. Michał Piosik. Both shared their experience in working with brilliant new startups that are changing the food industry in Poland and Europe. Both believe food and tech equals sustainability and that there is definitely money in the sector which is expected to grow fast in the future. Over a span of 30 years the two were able to play a part in building up Poland's ecosystem with now over 300 startups and over 100 investors involved in the country.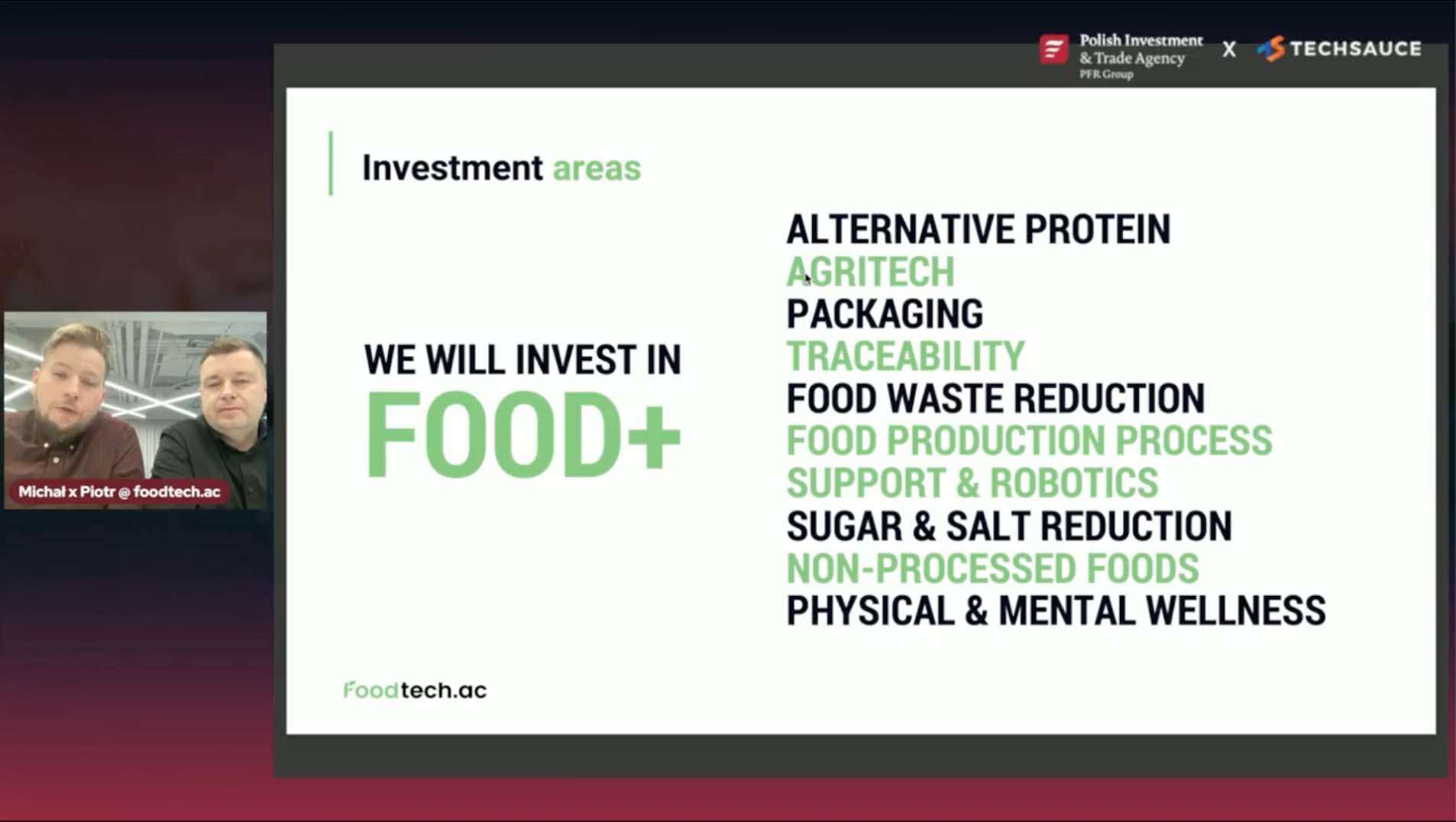 After being overlooked for several years, now FoodTech is about to set the scene for a new era for the food industry. Both say the hot areas to come include, alternative meat, AgriTech, sustainable packaging, food waste reduction, robotics, non-processed food, and more focus on physical and mental wellness. There is great potential as the timing is perfect for growth in Poland.
Showcasing what Poland innovation had to offer, three leading startups were featured at the online event.
Apollo: Plant-based Chicken Alternative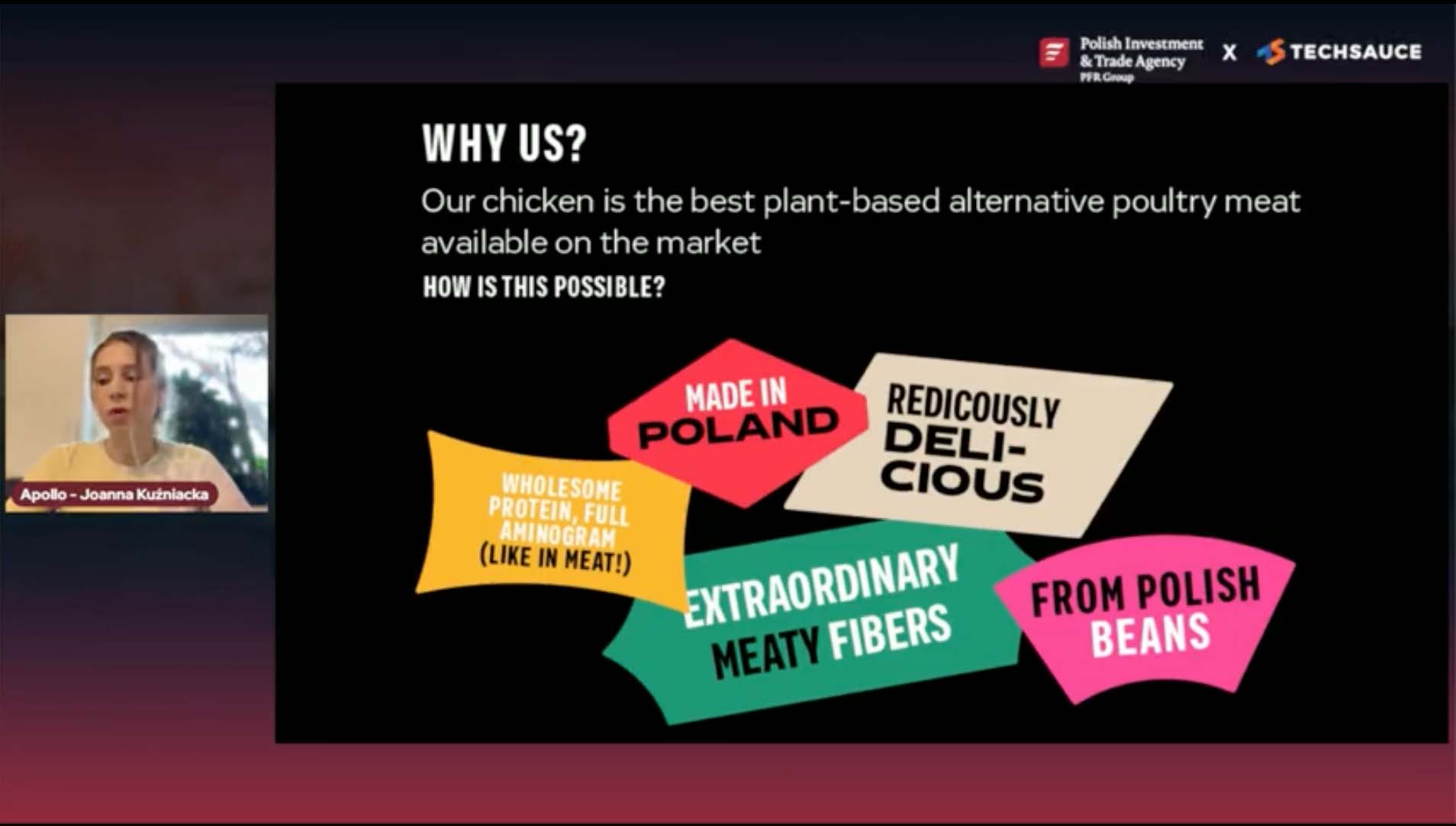 With a passion to provide healthy and tasty cuisine, Ms. Joanna Kuźniacka, Chief Marketing Officer, Apollo / Qurczak Co., Ltd., said her company wanted to make a difference with its plant-based chicken alternative. Following its launch, the company has received much attention from the Polish media as there was a frenzy over the product. The company has been invited to the presidential place and has taken part in supporting innovative startups in Poland. Now it hopes to go international.
It's bean! The World's First Bean Yogurt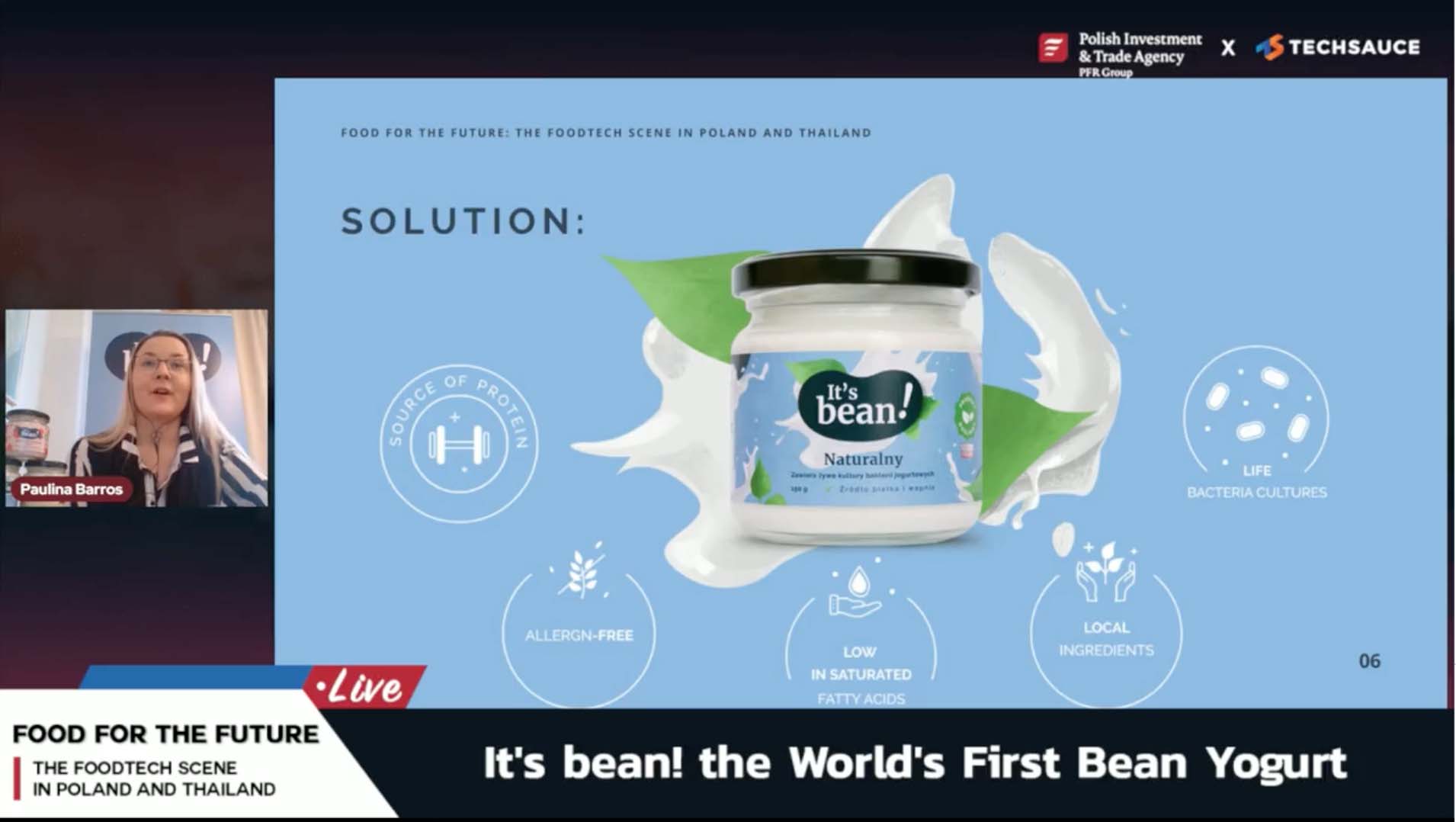 As humans get older, there is more difficulty in digesting sugar and dairy. Dairy has been a controversial issue as it consumes large amounts of water and releases a massive amount of Co2. This is why Ms. Paulina, the co-founder of Cool Beans Co., Ltd said the focus on vegan dairy options has brought about a variety of products. However, with further debate over the benefits of soy and coconut based vegan products, It's bean has attracted much attention as it is the world's first bean yogurt. The company hopes to grow further as it works hard to provide a nutritious product at the optimal taste.
Nielone: A Plant-based Substitute for Minced Meat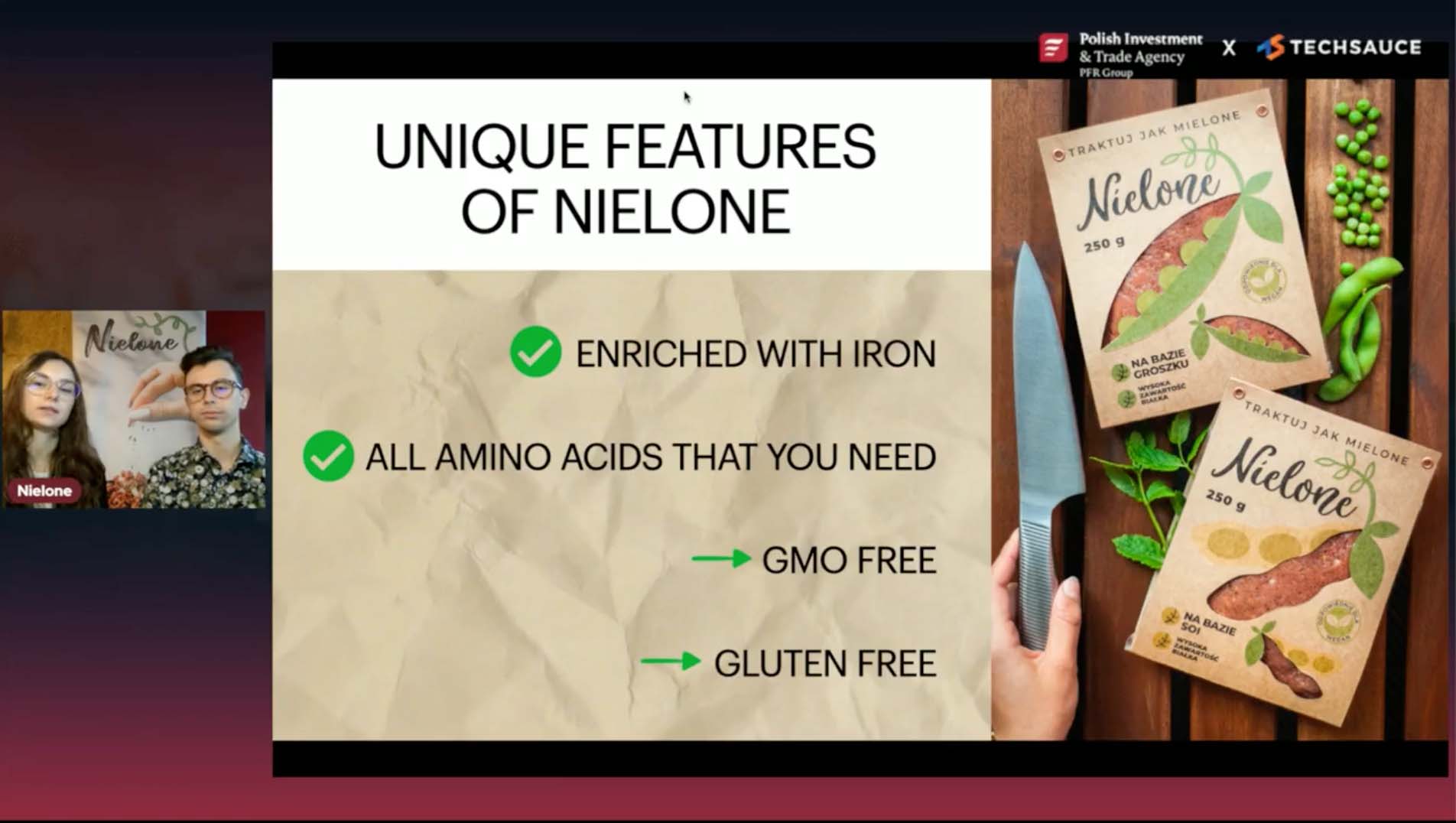 It is incredible how the co-founders of Nielone, Martyna Polak and Andy Staniek, scaled their business from a coffee house, ice cream parlor, and vegan restaurant to a leading plant-based minced meat brand. Nielone Chief Marketing Officer Martyna Polak and Chief Executive Officer Andy Staniek are passionate about producing their soy based and green based meat that is health and tasty at the same time. They hope to expand to ready-to-eat meals and scale onto the global stage.
For more information on FoodTech innovation in Poland and Thailand can be found at the Facebook pages of Techsauce and the Polish Investment & Trade Agency (PAIH).