After Freshket has been rolling as an online fresh market for restaurants which helps them to buy ingredients easily, especially for small to medium size restaurants. Freshket is now available for owner to access the cost of ingredients information or Food Cost at any time.

"Freshket understands restaurant owners that Food Cost is significant in order to manage a restaurant. It is the main cost for at least 35% of all restaurant cost. Therefore, we have discussed with our team that we need to give them a hand. The restaurants who buy from Freshket should be able to access their Food Cost whenever and wherever they need to," said Ms. Ponglada Paniengwet, the CEO of Freshket.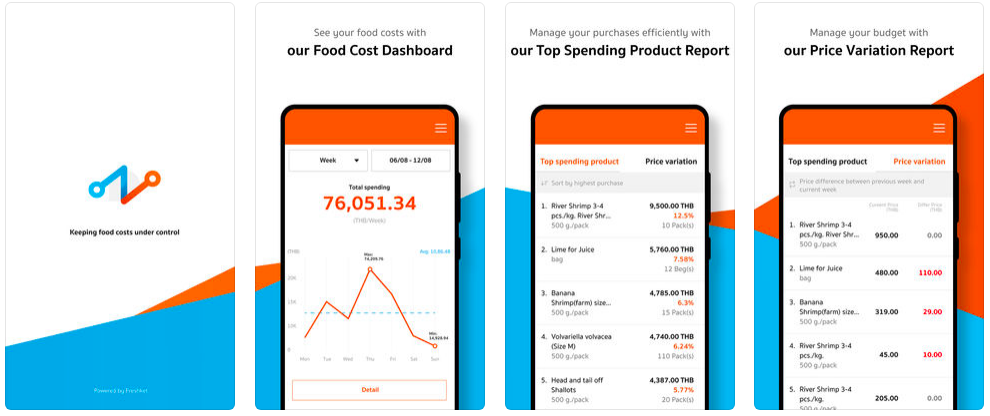 Freshket decides to develop from restaurant purchasing information and manipulate as a dashboard on an application which could be seen in real time; according to days, weeks, months or even a year. Moreover, restaurant owners could see the changing of the price on each item and could download a file of these information.
Freshket chooses to deliver a new application named Freshket Insight. As we know that most of the users are commonly using Freshket application to create an order by the employee, who has a duty of purchasing. Therefore, we decide to separate the report to be in another application to help restaurant owners see them easily, so that in the future they could use the information to criticize their business from the actual insight from their own restaurant.
Ms. Ponglada said, "Freshket Insight project actually gained feedback from our users who use Freshket. It seems like a small community to us that they are really kind and generous to suggest or give us feedback and we have many great ideas among their suggestions. We tried to filter and develop the needs of the restaurant owners. Currently, restaurant community that uses Freshket is very stable, half of them spread the words for us or they tell their friends and neighbors about us. We believe that the way that help us is referral, it is very useable in terms of a real usage. We have demonstrated restaurant behavior of daily usage. What they have is a piece of paper that will be written on for their suppliers, they write down items and quantity of each. They then send a LINE message or make a call to their suppliers. Therefore, we simulate that paper to be in our application.  When the employee chooses the item and input quantity, it is all done by taking only 2-3 minutes. It is very convenience for a small restaurant that goes ingredients shopping by themselves, once they use Freshket they do not have to waste time go to the market. They can happily enjoy their business, also it is manageable. Restaurant owners could check of what their employee ordered or how much they spent. It is very obvious for account or finance that they do not have to touch much with paper because we provide an e-billing."
Further from creating a capability in managing ingredients for small to medium size restaurants, which have a maximum of 5 branches; Freshket hope to develop a food supplies industry by gaining restaurants that have 6-20 branches in order to help them purchase ingredients as well. Even Though, the business model is dissimilar to the current business model, which only suit with a small size restaurant. Freshket will learn, solve, and develop continuously.