"Asia's Hottest Tech Conference in Thailand" isn't just the summit's slogan, but is also the goal of the organizers, who wish to see Thailand become the regional capital of Tech. Today, the Techsauce team has held a press conference officially announcing the Techsauce Summit 2016, sharing some of the highlights that will truly cement the Techsauce Summit's place as Asia's Hottest Tech Conference in Thailand.
The Opportunity to talk to World-renowned Speakers
The Techsauce Summit is the prime opportunity for you to meet and exchange ideas and experiences with our long list of invited Speakers:
First CEO of LINE Japan, the creators of the app that is on every Thai smartphone – Mr. Akira Morigawa
Founder of Technode and Techcrunch China, a well-respected source of tech media in the country – Dr. Gang Lu
CEO of Camera 360, creators of the popular camera app – Mr. Hao Xu
A Mentor from 500Startups, the venture capital firm with a formidable roster of world-famous businesses in their portfolio – Mr. Ross Kingsland
And many more who will be travelling to Thailand just to be at the Summit!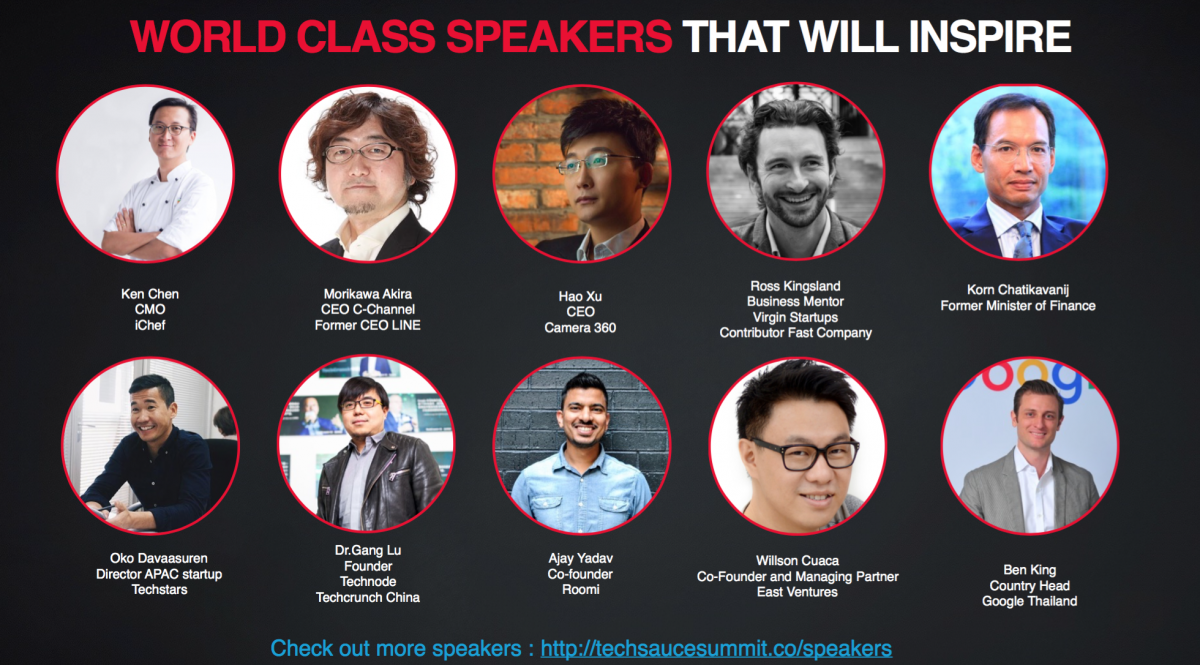 The One-Stop Destination for People, Knowledge and Workshops
A collection of experiences in all aspects of business, from people and organizations in Thailand and beyond – entrepreneurs, developers, investors, government and private agencies, accelerators and media.
Aside from our varied and esteemed guests, the Summit will also offer a wide variety of content, relevant to both entrepreneurs and start-ups to SMEs and Enterprises, including:
Panel discussions about Tech across six industries: E-commerce, FinTech, Gaming, Enterprise, IoT and Knowledge sharing on building businesses and Tech startups – how to raise funding from investors
Startup Pitching Stage: divided into Early and Growth stages, this is a great opportunity for businesses and entrepreneurs to present their ideas to win prizes!
Exhibition of Thailand's Top 100:  A showcase of the Top 100 successful startups in Thailand, who will also be offering workshops for anyone interested as well.
A Networking Party of Epic Proportions…
Smart Business Solution Zone:  For modern SMEs who want to utilize IT tools to prepare their business for the digital age
Speed Dating and Business Matching with leading VCs and Corporations
For organizations that wish to provide support to startups: Join our seminar on 'How do the world's biggest companies deal with startups?' This will be the first time in Thailand where large corporations and startups come together to exchange business models and know-how, and will be joined by Mr. Arnaud Bonzom, director of corporate innovation from 500 Startups, who will be flying in just to attend this event.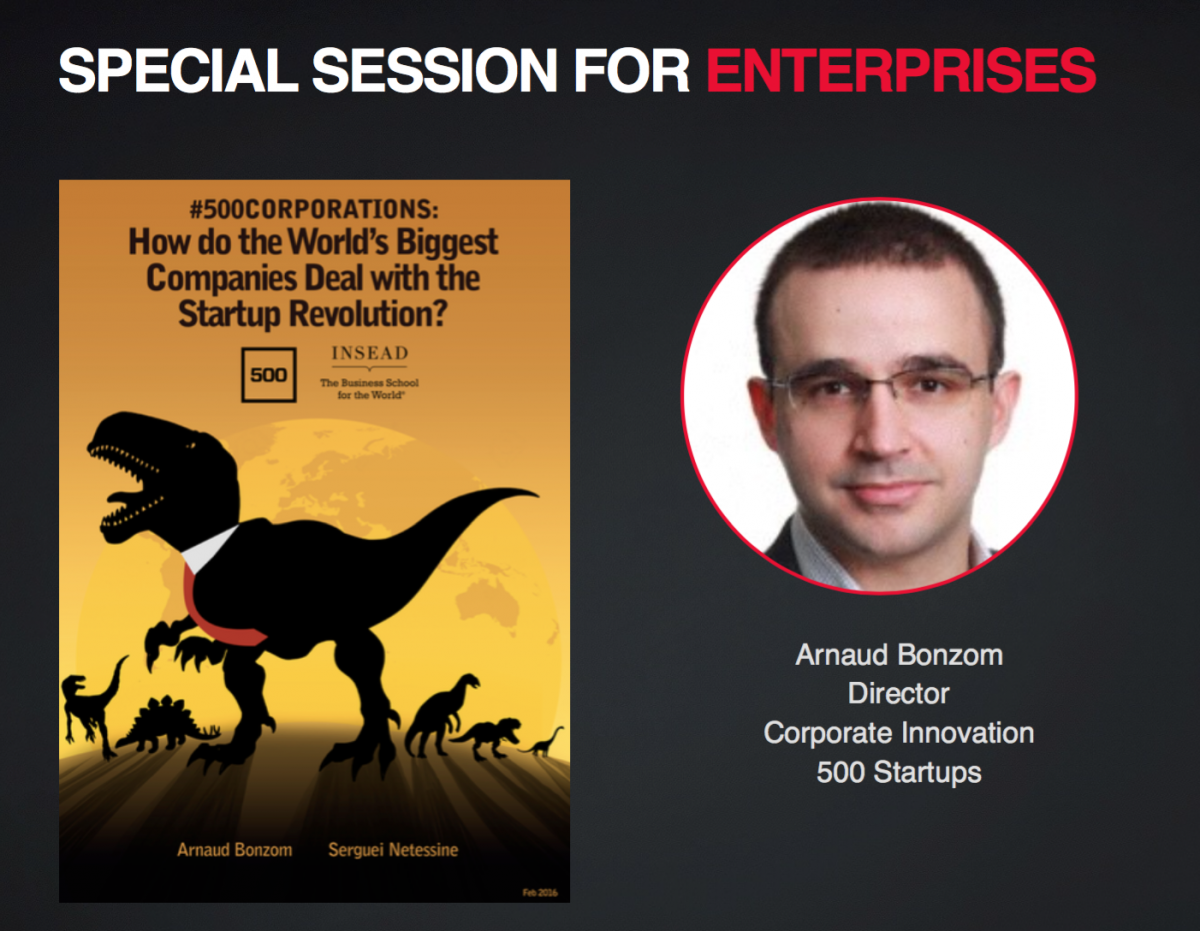 Meet the 'Regional Unicorns' in the Flesh!
World-renowned speakers aside, this is also an opportunity to meet the Unicorns, which refers to startups with a valuation exceeding 1-billion USD – a title shared by only 200 startups around the world.
At the Techsauce Summit, we will get to meet:
Chief Operating Officer of Cruise Automation, the startup acquired by General Motors for over 1-billion USD – Mr. Daniel Kan
Group President of Garena Online, a newcomer Unicorn from South East Asia – Mr. Nick Nash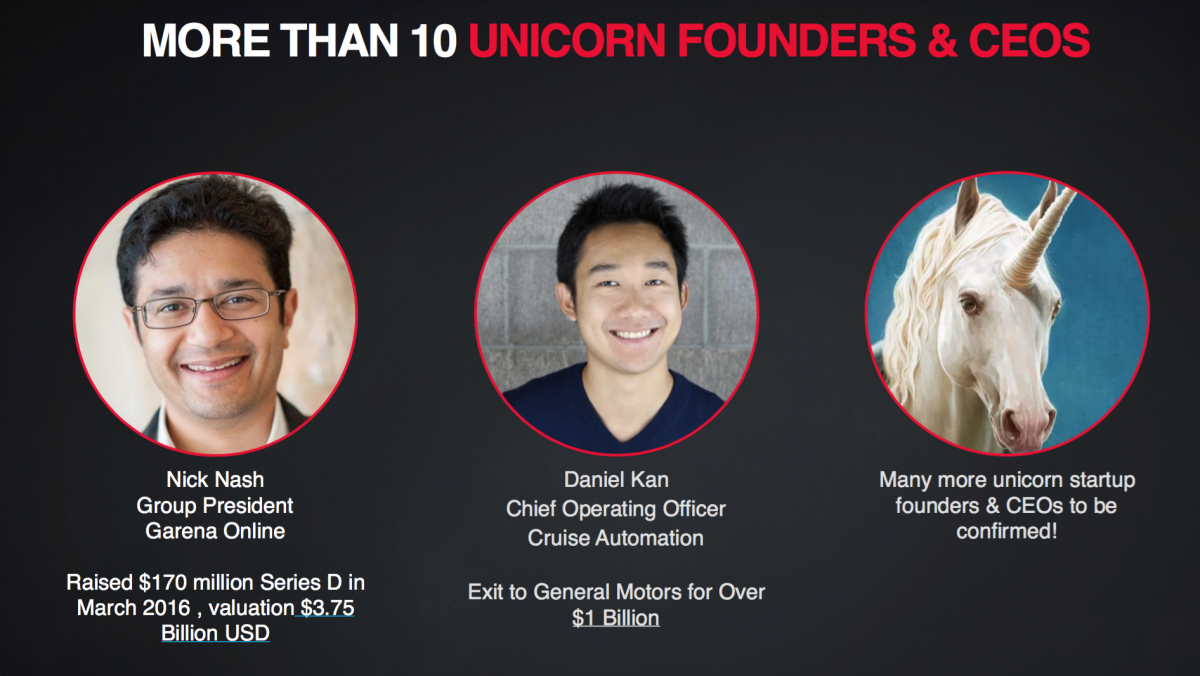 Meet Startups and Accelerators all the way from Silicon Valley
We've brought Silicon Valley to Thailand for the event. Meet famous, elusive founders from many successful startups:
Tikhon Bernstam: Co-Founder of Scribd, the beloved platform for all bibliophiles.
Emmet Shear: Owner of Twitch, the famous live-streaming platform for gaming with over 45 million viewers worldwide.
Marcus Segal: SVP owner of Zynga, the online-game developer acquired by Facebook
Thai-blood Silicon Valley Startups like Credit Karma
But that's not all; the Summit will also be hosting many famous Startup Accelerators from Silicon Valley, such as:
Justin Kan and Michael Seibel from Y Combinator, the company known as the "strongest Startup Accelerator in the world".
Mr. Yossi Hasson, Managing Director of Techstars, the startup accelerator with over 5-billion USD worth of investments in their portfolio
500 Startups: The world-famous accelerator from Silicon Valley
The Techsauce Summit will be the first event in the SEA region to bring all three world-class accelerators in one place.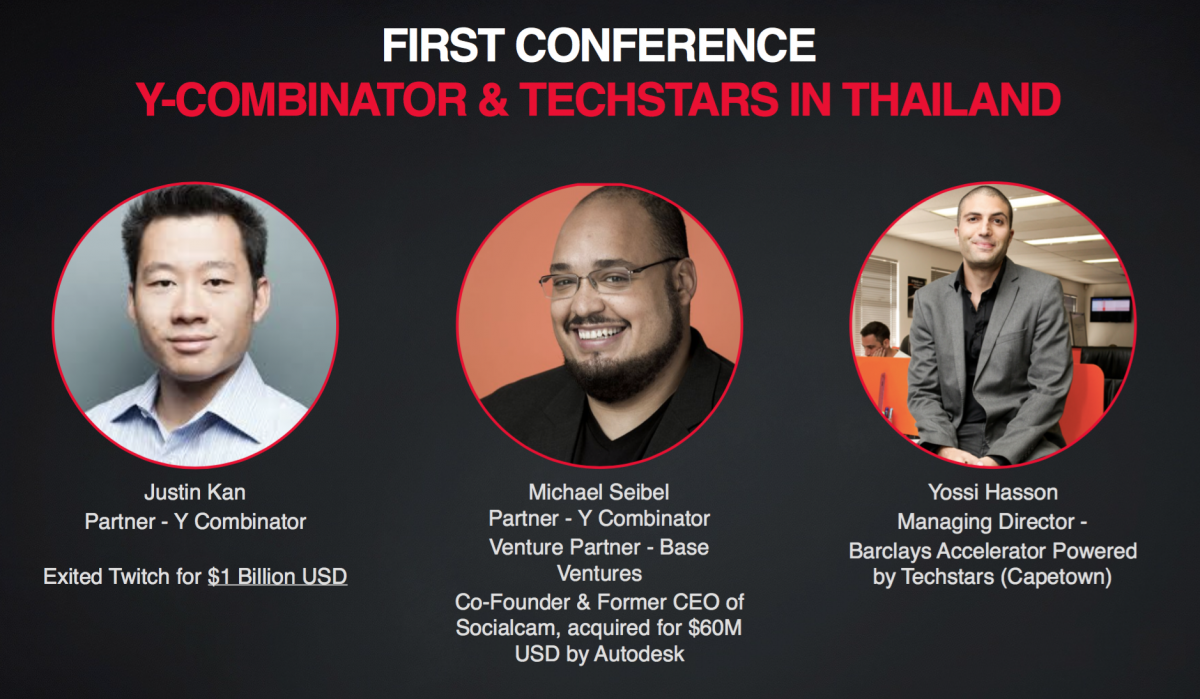 A Passionate Team of Organizers
The Techsauce Team has over four years of experience working as the facilitators for startup information resources as well as knowledge-sharing sessions all across Thailand, with a burning passion for creating better and better work. This year, we at the Techsauce Team have decided to kick it up a notch, and thus we present the Techsauce Summit 2016.
Our mission is to elevate Thailand to become the region's center for Tech and help businesses and entrepreneurs achieve true concrete, growth.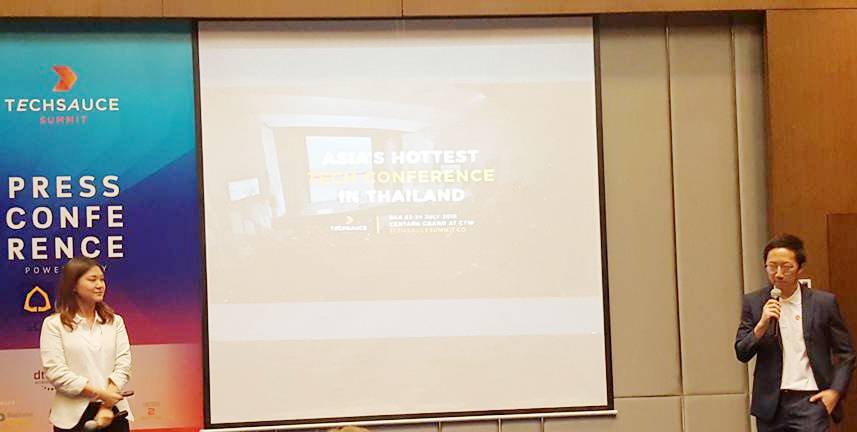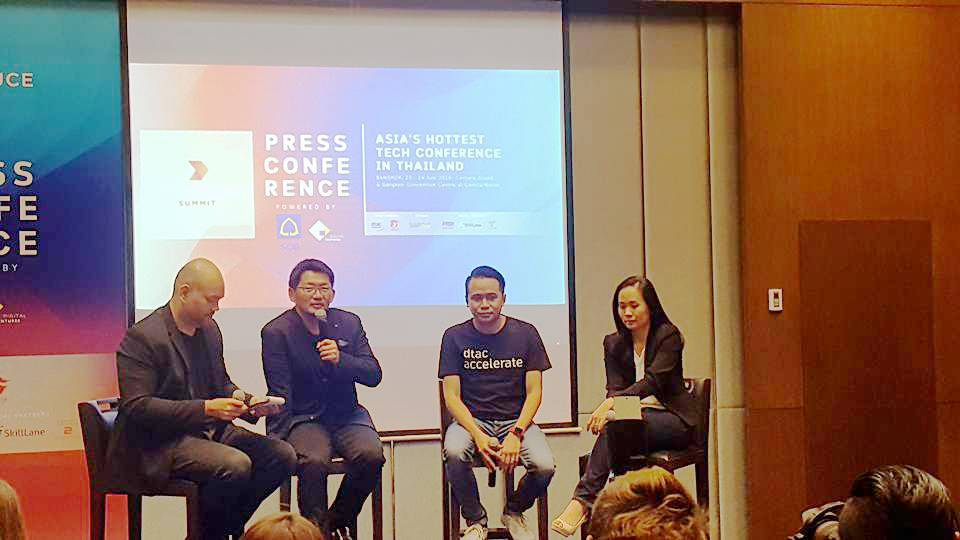 Get your Early-Bird tickets today, and meet us at the Summit!
The Techsauce Summit 2016 will be held on the weekend of July 23rd and 24th, 2016, at the Centara Grand at Central World hotel. Doors open at 9.00am. You can get Early Bird tickets for a special 6000 Baht (discounted from 90000) from today till the 31st of May. The price covers attendance to all seminars and activities, as well as lunch and coffee breaks for both days of the event.
Click here to purchase tickets to the Techsauce Summit
Click here to purchase tickets to the Techsauce Summit
We'll see you at the event :)