Ironically in the digital age of endless options people still struggle with the question of what is the purpose of life.  Techsauce takes a look at how ikigai can help you find happiness. 
At every stage of our lives we make a decision that impacts our future and most often we are not happy with what we decide.  Why is it that many people who seem to have success in life, a good career, and a luxurious apartment turn out not to be happy?  Does success really bring about happiness?  At the end should we keep searching for happiness?  Is having a life with meaning more fulfilling than one with happiness?
In this era people strive to find happiness in their work and how they live.  Something that AI cannot provide, is the purpose of our lives.  We can only find our purpose by ourselves.
The Master Skill 4.0 "that people in the digital age need, which AI cannot provide." is a workshop created by AIS The StartUp and Techsauce. It highlights the important soft skills needed for attaining the Master Skill 4.0.  This is the second time this workshop has been held to teach "ikigai", happiness that can be created", which is the method of finding the value in ourselves or the purpose of life and how this can be incorporated into the running of a corporation.  Speaking and sharing their experiences in this workshop are Fire One One Company Limited CEO Shakrit Chanrungsakul (White), Techsauce Global CEO Oranuch Lerdsuwankij, and AIS The Startup Head Dr. Srihathai Prammanee. 
Shakrit Chanrungsakul (White), CEO of Fire One One Company Limited brings about ideas from the famous book, Ikigai, on happiness and the purpose of life and asking the question: At the end of the day what is everyone really pursuing?  The book gives examples of people who have found work that brings them joy whether they be an owner of a small tissue shop in Japan or a world-class chef in Spain.
El Bulli produced the best chefs in the world.  This was the only restaurant located in a national park in Spain.  It received great accolades including the title of The World's Best Restaurant from the Restaurant Magazine, which it won consecutively from 2006 to 2009.  The restaurant's head chef, Ferran Adria won the award of Chef of the Decade 2010 from the Restaurant Magazine.
Yet despite this Michelin 3-Star Restaurant receiving massive awards consistently and having a long waiting list, it closed its doors in the year 2011.  Ferran simply said, "I never wanted to be a cook."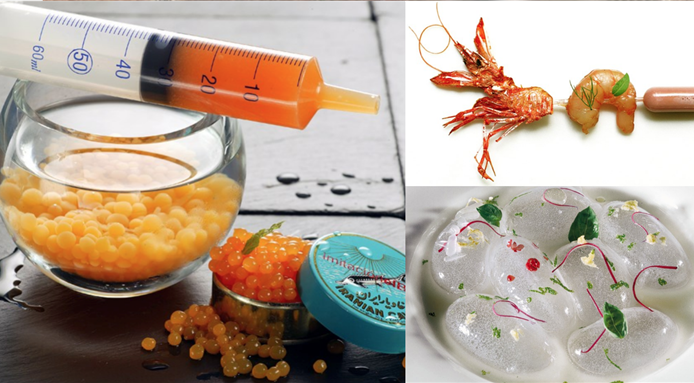 Zermatt is heaven for the sport of skiing in Switzerland.  Every year people climb it and every year here are accidents.  It has received so much attention that Netflix produced a documentary series on rescue missions that take place on the mountain, which is known as "The Horn".  The documentary features the rescue missions of the rescue helicopter company, Air Zermatt.  The company is owned by 88-year-old Beat H.Perren whose family has run the rescue company for 50 years.  Both his father and grandfather were mountain guides who lost their lives on the mountain.  He feels that he has been handed down the responsibility from his family to make sure no one loses his or her life on the mountain.  If you watch this documentary series you will see that these people are happy with their work even though it poses great risks to their lives.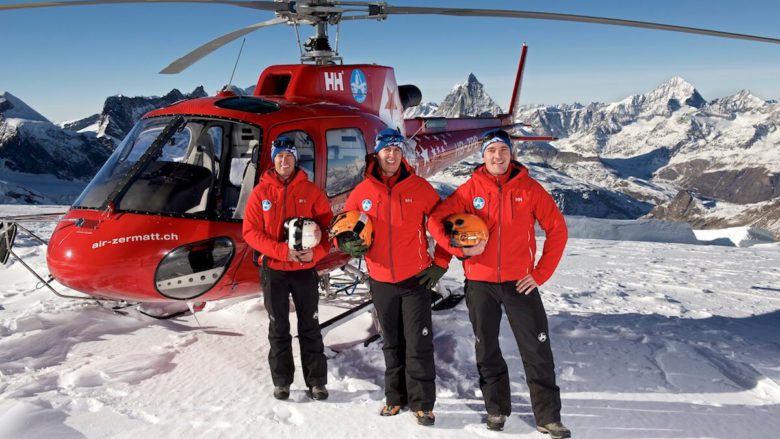 You can see that there is no success that can guarantee true happiness.  Chef Ferran was not interested in what could make him a massive amount of money or in reaching the pinnacle of being the best chef in the world.  He closed down his restaurant and accepted less income in order to open up a culinary school because success to him was using all of his skills to bring about value and meaning to himself and society.
Are we just following others?
Are you someone who tries to take selfies at a specific angle just like influencers in the social media world?  Do you give value and importance in how many likes you get?  If at the end of the day there was no Internet what would you be left with?  Does the need to take photos to broadcast yourself at all times and not being your authentic self, truly fulfill you?
 Things that you love, that you are good at, that can make you money, and that the world needs.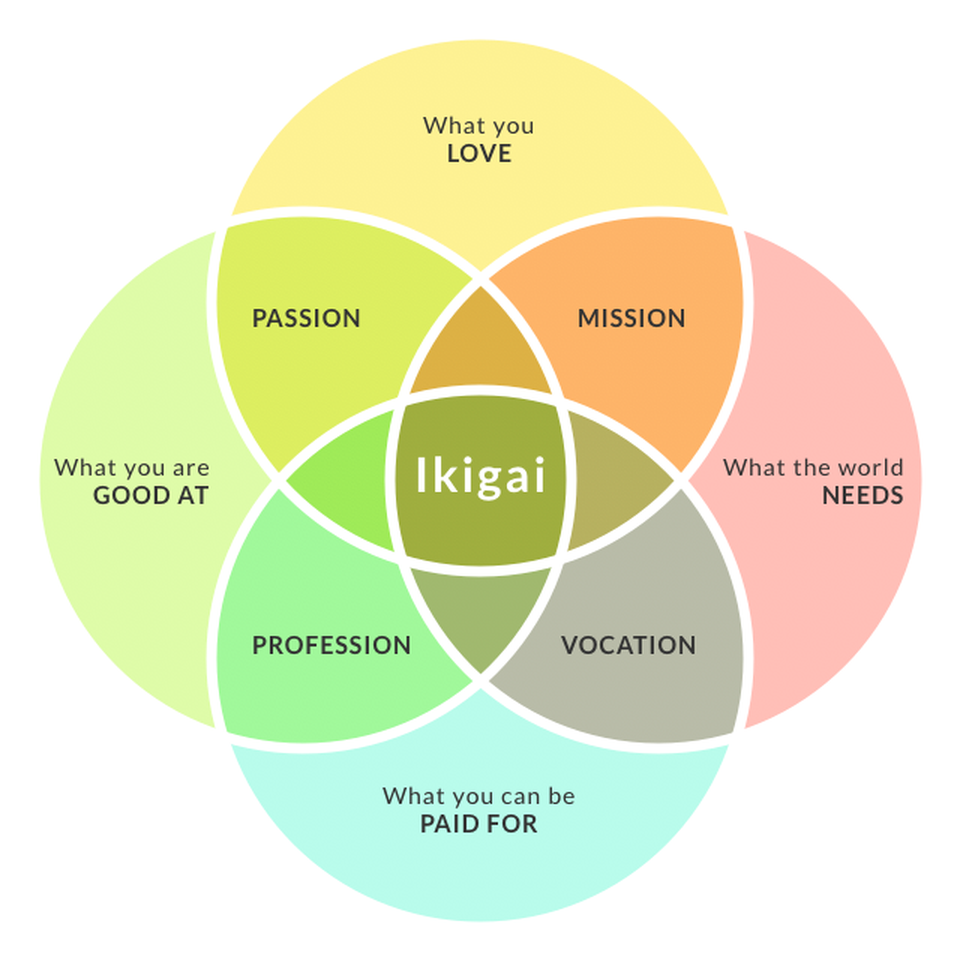 Most people know Ikigai through these 4 circles.  Finding the intersection point, is finding the right balance in our lives.  This is what we all need to strive for, but should not compare to others because the balance point for each individual is not the same.  If you have this understanding, you can reach your balancing point.  Once we reach it, we can then be truly satisfied and happy.
So you can do something.  If it is something that you may not be good at yet, but like and can develop yourself in that field, write it out.  What do you want?  Who do you want to be?  Is there a role model that you can look up to?  Ask yourself, "If you were that person, would you be happy with your life?"
A career that has meaning" is up to each individual.  It is not up to your boss, parents, or friends on social media.  Stop comparing yourself to others and start doing something that you think has meaning to "you".
Even Chef Ferran, who seemed to have achieved great success in the eyes of society, did not know what he was working for.  So instead of thinking about what others think and comparing yourself to other people or pursuing a career that is accepted and lauded by society even though you do not know whether you like it or not, why not build a career on something that has real meaning to you?
Millennials and the massive choices they face  
Life is like watching Netflix.  We keep searching for what to watch and end up not really watching anything.
Shakrit gives the video example of Pete Davis's What Netflix Taught me about Life, which compares life to watching Netflix in the most interesting way.  The term "choice overload" is a characteristic of millennials.  This generation is overwhelmed with so many choices that many cannot decide what path to take because there is no pressure to choose.  Obviously most of us are happy to have many choices because it is better than not having any.  However is it always good to have many options?
Life being stuck in the hallway 
Another example of this generation having too many choices that is interesting is the article, Why Keeping Your Options Open Is A Really, Really Bad Idea.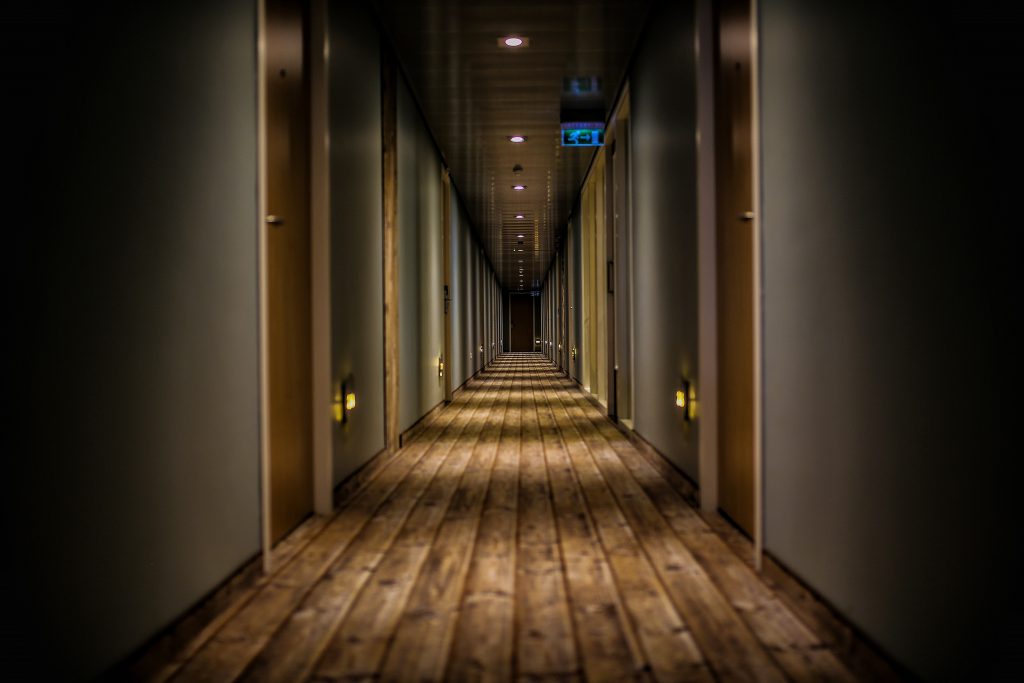 Life is like living in a hallway.  There are many doors to choose from.  When one does not know what lies behind them it is hard to make a decision on which door to open.  You try opening each door.  When you find a door that is not for you, you go back into the hallway and start again.  You keep doing this over and over again.  Having too many choices and chances to change your mind, leads you to not having commitment in doing anything.  Not getting your hands dirty into something results in you not developing any knowledge or expertise in that field.  Whenever you face a challenge, you have already accepted defeat.
It would probably be great if in life we can turn back the time and get back something that we lost.  Most people often keep their "options" open and wait for the right time to execute something.  They take their time to relax while they find the right option to avoid commitment because once they make their decision there will be no turning back.
Of course all of us search for success and try to find the best thing for ourselves, but is keeping too many options open a good thing?
Research shows that having too many choices to choose from leaves people less satisfied.  People are less happy when they choose something that can be reversed.  An example is purchasing something and having the option to return it within 30 days.  This would leave you less happy than if you did not have the option of returning it.
Harvard psychologist Dan Gilbert says the reason for such behavior is because when humans are given only one opportunity to decide on something, their brains will have something called the psychological immune system that will give them the confidence in the decision they have made.  Cut out all the unnecessary options and it will seem immediately less valuable compared to what was decided.
Vice versa if we have more options, we cannot avoid the temptation to think about the downside to our decisions on whether our choices were the best for us or not.  This makes us easily give up on many things.  This is the reason why nowadays people have low tolerance levels.  In such a scenario, the psychological immune system does not work and you will have less happiness with the decision that you are going make.  This does not only rob you of your happiness, but it also lowers the efficacy of your work too.
Are you running in search for opportunities or are you running away from reality?
Are you are a runner that does not run towards success and are running away from problems?  Sometimes when you something wrong, it is necessary to endure and overcome the ordeal.  So giving yourselves a lot of options is not a good thing.  Making an uncompromising decision and giving real importance to it will bring you happiness and give you more chances to succeed.  What you need to do is start doing something little first, understand it, have patience, endure, give yourself a chance, and do not quit.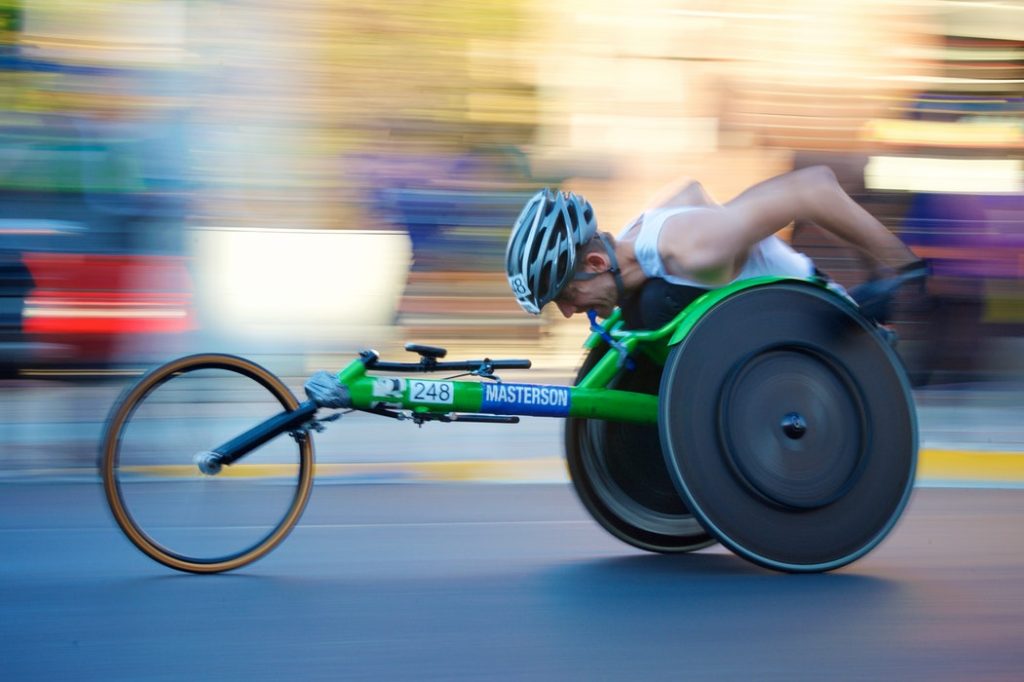 Focus only on the things that you need to do.  Push out problems and obstacles.  Of course everyone has problems, but it is how you deal with them.  We can choose when to solve problems and when it is necessary to focus on work.  It is impossible to solve all problems at the same time.  Even if we can do it, we should not.
At the end, the ikigai of each person is up to the question of what is the purpose and value in a person's life.
Try asking yourself why you were born on this earth.  What can you do for others?  How can you use your unique skills to bring about meaning and change to the world?
This does not mean you need to quit your job in search for your ikigai, but it is to let you be aware of what you are passionate about.  Does your job enable you to strengthen your skills to help support your passion and develop your expertise in what your want to do?When you know what you want to do, do not overthink it.  Just choose something and start doing it with passion and be ready to accept whatever problems that may come.
At the end of the workshop Techsauce Global CEO Oranuch Lerdsuwankij and AIS The Startup Head Dr. Srihathai Prammanee shared their stories on the value of life and how it can be applied to organizations.
The method of creating balance in life 
Shakrit: Ikigai is just a map.  Do not set a goal in not facing any problems or obstacles in your journey or letting problems deteriorate your energy.  Deal with the problems at the right place and at the right time.  Do not think of them while you are focusing on your work.
Oranuch: In each of our lives there are times where you find something different that gives you happiness.  For example when you are a fresh graduate you are someone that loves learning.  Even though you have made mistakes that you cannot go back and fix, you should see them as lessons you have learnt.  Helping others gives you happiness in terms of bringing spiritual fulfillment.
Dr. Srihathai: Work is just part of life.  We cannot force everything to be as we hope them to be and control everything.  When we are able to not let misery get the best of us, there will be happiness.
The method to creating happiness at work
Dr. Srihathai: We should be able to think that this is an opportunity to prioritize what is important to us and not think that there is just too much work.  As a manager if you think about what can be done for employees to work with ease and happiness, view coworkers as friends, and know that what they are doing is benefiting others, you will be proud and happy.  We should not force ourselves to find happiness in work only, but in life.  In terms of relationships sometimes we may be the source of negativity for others.  What you can do to make things better is to apologize.  If we have passion to find happiness in little things each day, view each day as living our lives instead of going to work, and allow employees to take ownership of their work, we would be much happier.  Try thinking about whether you help others around you everyday find happiness.
Oranuch: If you start doing something you have to be brave enough to face risks and have backup plans.  People are not able to know what is right until after they learn from mistakes.  The most important think is being a quick learner.  You can think, but don't overthink.  Do not worry too much.  In terms of relationships, our lives do not last that long, so we should make time for those around us as much as possible.  Relationships are based on the steadiness of our efforts and our daily interactions.  As for relationships at work, it is about being sincere to one another.
Shakrit: Waking up every morning is a new chance in life.  When you are able to be thankful for this new chance, how will you use it?  What are you going to do to make others around your happy?  Even though problems may come do not try to solve every problem.  The most important thing is being well prepared.  Do not think of how you can find happiness, but think about how to deal with what causes suffering.