An insight into an emerging Thai startup, Ninjavan as they fight for their position within the logistics industry. What technology are they using and how can they make their mark on the Logistics industry?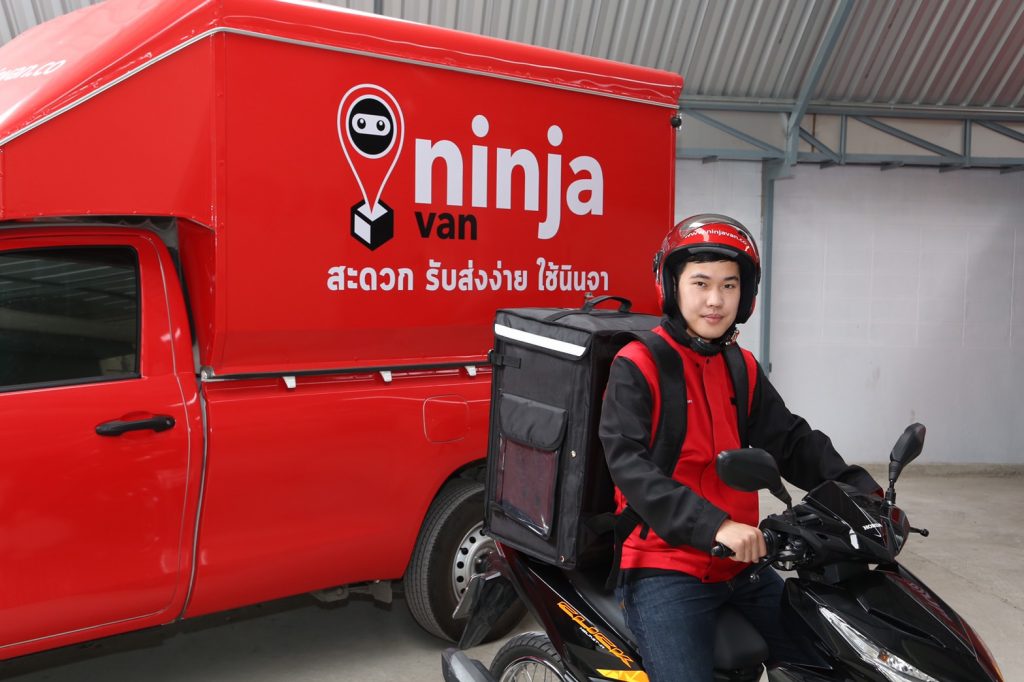 How long have you been running the company for?
Ninja Van, a technology­ enabled logistics company started in Singapore in 2014 with the aim of taking the hassle out of the parcel for customers. The business has subsequently expanded its presence in Southeast Asia. Thailand started running its operations in July 2016 and was officially launched in late August 2017.
2) What E-Commerce sites do you collaborate with the most?
We have established partnerships with platforms such as E-commerce, Page 365, Lazada, Thai ticket major, Pomelo and Chillindo.
3) What is the core problem/issue at the heart of the logistics industry in Asia?
The process of delivering parcels are still done manually, with multiple forms having to be filled and delivery orders being missed, resulting in customers not receiving their packages. Ninja Van exists to revolutionise logistics through our technology ­enabled delivery systems in Southeast Asia. We provide delivery services to businesses of all sizes. Our dedication to customer satisfaction means that they can enjoy flexibility through their tailored solutions and the assurance that we will fulfil their logistics needs
4) What sort of technology have you created and how will it benefit the logistics system?
We build everything in­house using a variety of technology in our stack. Our applications are built primarily on Java and our technology is built to scale to handle transient loads during the peak periods. We also employ a multi­cloud strategy. Our competitive edge in terms of technology would be our engineering that allows us to scale volumes as well as our algorithms which help us to automate processes and systems.
5) How did you create it? Did you collaborate with another company?
The technology which powers Ninja Van's logistics solutions is all proprietary and created in­house. We are not collaborating with any other company
6) What country has been most successful in integrating Ninja Van? Singapore, Indonesia, Thailand, Malaysia, Philippines, Vietnam?
The Singapore business is the most established one as we started here first. For the rest of the markets in Southeast Asia, we have been experiencing strong growth too.
7)Do you have plans to implement it into other countries in Asia?
For now, we are still focusing on growing and expanding within the current markets which we grow in.
8) What makes you different from competitors in the market?
These aren't exactly our direct competitors. Thai Post, Kerry Logistics and Alpha Logistics are probably our direct competitors
9) What do you hope to achieve in Thailand?
Being able to provide our technology­enabled delivery services to the entire population in Thailand.
10) What do you see the future of Ninja Van being?
We hope to pursue more cross­business opportunities. At the same time, we will continue to ensure that our technologically­driven logistics solutions address the delivery needs of all business sizes and consumers.
11) What is the future of Logistics of South East Asia?
As e­commerce is thriving in Southeast Asia, we foresee that there will be an increasing need for logistics delivery services in the region. To keep up with customer needs, logistics providers will need to automate their systems, offer flexible delivery options and provide recipients with the option of tracking the status of their parcel deliveries.
12) Why expand into Thailand?
We realised that there was potential to provide technology­enabled logistics solutions in Thailand due to the thriving e­commerce industry and growing number of social sellers there.
13) What do you offer that is different from the other logistics companies out there?
For one, as a start­up, we are definitely more technology­oriented compared to the local incumbents. This is particularly appealing to some of the newer e­commerce shippers when it comes to integration with their own systems. However, shippers do not switch to us simply because we're equipped with cutting­edge technology.
The sense of trust towards Ninja is built gradually as we guide them throughout the transition process, providing them with round­ the­ clock support, and ensuring them that our team (and not just our technology) is reliable. They definitely are open to using technology to help them be more efficient, and also especially when it gives them more transparency / real­time visibility to track the status of their parcels. However, it also does mean that we have to be flexible to accommodate their needs. This includes chatting with our Customer Service via texting instead of via email or phone; transcribing handwritten addresses into our systems so that it is compatible with the Ninja way etc.
In April this year, Ninja Van launched a mobile application called Ninja Easy for social sellers and individuals who wish to send packages in Thailand. Available as an app for both iOS and Android, users can place an order for a Ninja to pick up their parcel within 90 minutes from anywhere within Bangkok, and have it delivered countrywide within 1­3 days. Cash On Delivery (COD) is an important method of payment for Thai consumers (approx. 30% of e­commerce transactions in Thailand are done via COD). Our technology allows us to conduct COD in a reliable and accountable way. From collection to reconciliation and remittance of COD monies, we are able to ensure that all CODs are properly accounted for, therefore shippers do not need to worry about not receiving their COD funds on time and in full.
14) Do you have investors?
Yes, we do. In our series B round of funding, Ninja Van secured US$30 million. Our investors include Abraaj, Monk's Hill Ventures, B Capital Group and Yahoo Japan Capital.
15) What are some of the issues you have come across since running the company?
As with any new technology start­ups, we have had our fair share of issues with operations when we first started. However, we have addressed this by understanding the needs of both our shoppers and sellers. Based on feedback received from the ground, our engineers have worked continuously to tweak and improve our technology to make it more relevant to the local markets, whether it's in Thailand or other parts of Southeast Asia. At the end of the day, Ninja Van exists to make logistics a simple and seamless affair for our business partners and consumers by providing them with hassle­free and technology­enabled delivery services.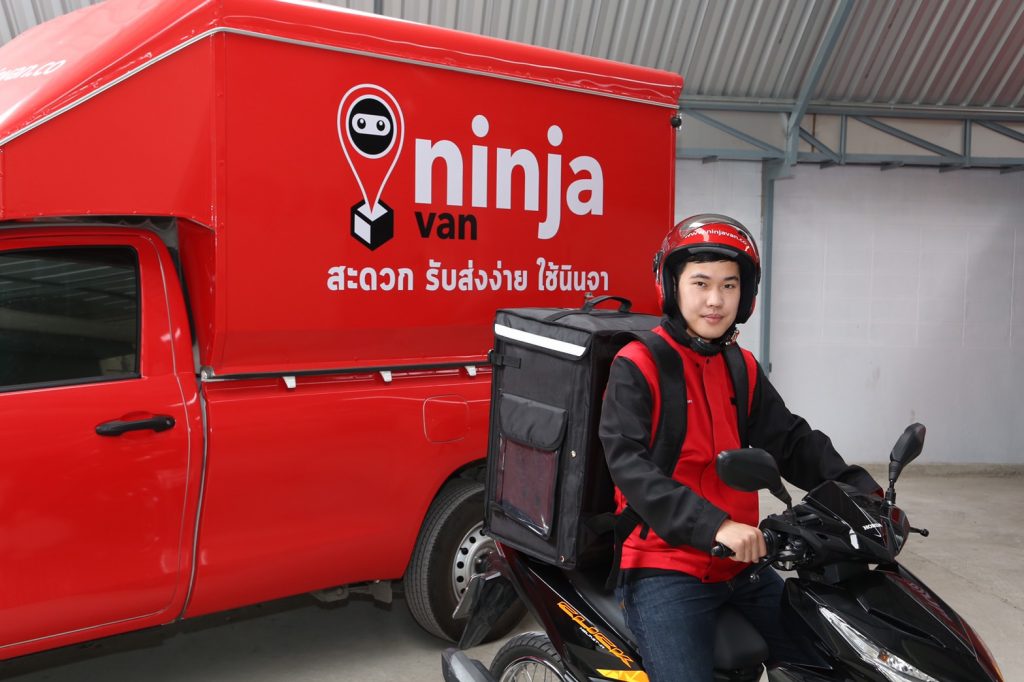 LAUNCHED IN 2014, NINJA VAN IS SOUTHEAST ASIA'S FASTEST GROWING LAST-MILE LOGISTICS COMPANY, POWERING BUSINESSES WITH INNOVATIVE TRANSPORT SOLUTIONS.
Our Mission
We are passionate about breaking the bottlenecks in logistics in South East Asia and we look to deliver innovative and scalable logistics solutions to businesses of all sizes. We understand E-commerce, modern consumers and the need to create open, honest and seamless customer experiences. We believe that we are the best at what we do, so come and join us in revolutionising the logistics industry. There's no way like the Ninja way.