In my opening remarks to the executives, representing five of the largest Thai corporations, I referenced a recent CB Insights Amazon strategy teardown. The thoughtful piece details Amazon's operating activities in virtually every business imaginable – from e-commerce and logistics to cloud computing and consumer facing AI. What binds Amazon's businesses together is its "technological prowess." Technology has made them a category leader.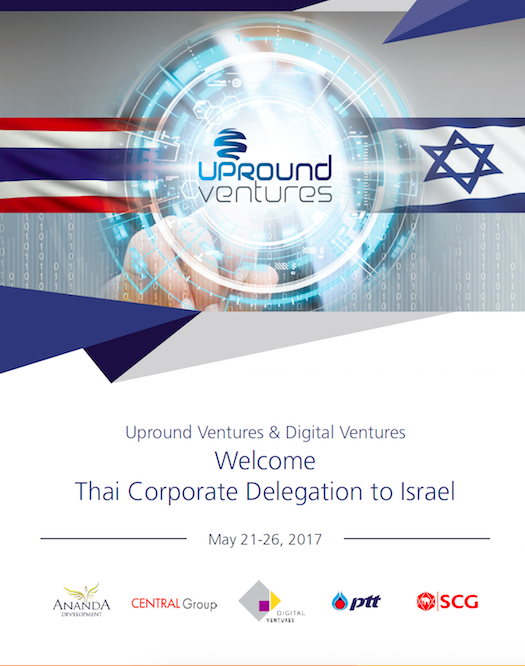 The Thai executives represented the largest property developer (Ananda), the region's industrial conglomerate (SCG), the leading oil and gas player (PTT) and retail property giant (Central Group) who were hosted in Israel by Upround together with Digital Ventures (Siam Commercial Bank), for this reason. Technological excellence, for which Israel is renown, can make large companies into category leaders – and the primary reason why global competition for the best Israeli startups is fierce.
New SE Asian Hub?
The Thai executives spent a week exploring the practical implications of some of the most extraordinary technologies.
Their interests were genuine. They came not for the theater of innovation. Not for a technological petting zoo. These executives lead the fastest-growing corporations in Thailand. But they understand that even 100 years of operations will not ensure their survival if they don't continue to innovate.
SCG found start-ups delivering data driven product optimization, freight sharing systems, IoT data science and customer centric logistics – potential game changing technologies that will spearhead the next generation of innovation.
Ananda's continuous innovation philosophy ingested construction tech drones, technology for smarter homes, smarter cities, clean energy and urban living innovations to better serve their employees, their customers, and their shareholders.
Central rethought next-generation customer engagement via a mobile personalization platform, KYC authentication firewall, engaging entertainment tech for retail and price optimization software – to pave the way for differentiation, and greater profitability, among competitors.
PTT explored solar optimization, energy management and data driven product optimization to compete in the 21st century. And our co-host, Digital Ventures, is diving into big data for default probability, psychometric credit scoring and a virtual hacker's know-how to minimize the economic impact of security threats.
Israel's technological prowess is well known – skills honed in the entrepreneur's military service and brought to market in the "Start-up Nation." For these Thai executives however, these start-ups represent the edge needed to become the new SE Asian hub for global startups looking to expand to Asia.
The "Tachlis"
In Israel, we discuss relationship building as the key foundation to developing long term trust and successful business relationships in SE Asia and China. And with our Asian colleagues we introduce the term "tachlis", the Israeli term for pragmatics. In other words, moving forward in concrete ways when two sides see value in a strategic partnership, investment or commercial relationship.
In addition to presenting the Thai executives to select Israeli start-ups with disruptive technologies, we were happy to open the doors to our many friends heading the CVC, accelerator and global innovation teams of multinationals who have established a presence in Israel. This was of particular interest: each of the Thai corporates on the trip had fairly new innovation teams seeking to gain insights from the various models used by leading MNC's in Israel. Thank you Citi Ventures, Deutsche Telekom Capital Partners, ClalTech, Samsung Next, Singtel Innov8, Verizon Ventures, IBM Alphazone, Tyco Innovation, Nielsen Innovate, Barclays Techstars and GE Ventures for sharing your stories. You may have met your next partner, co-investor, or start-up acquirer.
So, after meeting nearly 60 pre-screened relevant startups, potential co-investors, government 'startup' officials and a leading legal team (thank you Meitar) to help close future deals, what is the "Tachlis?"
Sincerity. Israeli entrepreneurs are ready to engage more with the world. Given our geo political position, Israeli's are of a global mindset from day one, naturally moving from the US to Asian markets, provided there is a strategic partner on the ground or significant customer potential.
Demonstrate value to the startups beyond capital by being that key reference customer or value added partner critical for market penetration
Develop a presence on the ground to better compete for the best startups, demonstrating a commitment to Israel and creating an agile and speedy fail fast/win fast corporate innovation strategy.
My colleague Shir Bodner and I, along with our illustrious and global advisors in Israel, Asia and the US are bullish on the opportunities in store for Thailand. The fact that these five strong corporates took time out to visit Israel, were keen to embrace the very full agenda we designed and are now actively following up, sends a positive signal to all.
Can Thailand join the Asian Tiger club?
We think the recipe for success lies in the coupling of the strongest of Israeli tech with the readiness of the innovative Thai corporates to work together, from the C suite to the individual business units. Sitting around the table exactly a week ago, at an exquisite Moroccan restaurant in Jerusalem, founded by a different type of entrepreneur, we raised a glass to new friendships and tachlis in Israel. This article is contributed by Esther Loewy, founded and CEO of Upround Ventures