Since the start of 2020, the pandemic COVID-19 has wreaked havoc in every industry worldwide. Its (mostly) negative impacts affect the largest global corporations and trickle down to SMEs' small units and startups on the local scale. While it is hard to deny that there has been a tremendous amount of economic loss caused by this once-in-a-century situation, it has also given rise to other unique opportunities.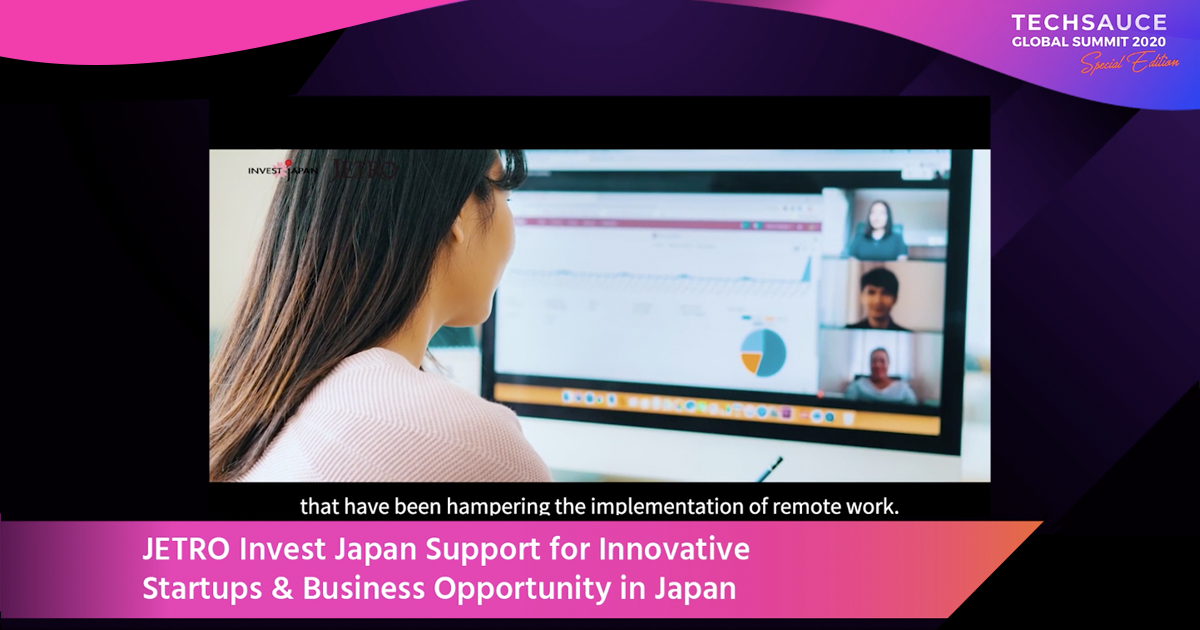 Rather than surrendering to and stopped by COVID-19, Japan's country has chosen to turn the crisis into a fresh eye towards promising opportunities and important fundamental changes. The pandemic has caused everyone in the work industry to challenge and change their most basic assumptions about how work should be done in this case of Japan. Work cultures like stamp culture, face-to-face sales, or even physical clinical trials are no longer necessary when everything becomes done online and largely digitized. The old normal process is being disrupted and introduced to the new normal working style that requires adaptation and vigilance. Although, such a change may be hard to come by or reconcile with especially if you are alone. Thus, many bigger companies in Japan, like major corporates, VCs, and accelerators, have now started seeking collaboration and joint forces with startups and SMEs, bringing in their strength in innovation and agility to reinforce and up their game once and for all. Interestingly, this phenomenon does not only happen in Japan but also everywhere else in the world.
Recognizing this changing trend and the need for innovation, JETRO (The Japan External Trade Organization), established in 2003 and who works to promote mutual trade and investment between Japan and the rest of the world, has as recently as 2019 turned their attention towards startups and corporates with innovation and the collaboration among and between these two. JETRO promotes the expansion of Japanese SMEs worldwide and encourages foreign businesses to set up and thrive in Japan, including businesses from Thailand and South East Asia. It has been doing so through the 54 JETRO offices worldwide and 48 JETRO offices across Japan.
With the new focus on innovation, it is now working diligently to scout for innovation-led startups and businesses to create foreign collaborations that will help tackle the problems and bring valuable solutions to the society and the economy of Japan. The criterion by which JETRO uses to select the businesses to support requires that they come from one of these sectors: AI, IoT, Drone, Big Data, Space, Robotics, Life Sciences, Renewable energy, Infrastructure, and other relevant sectors included in Japan's Growth Strategy.
The foreign business must pass JETRO's necessary screening to receive support and other free services designed to help set the business up, run smoothly, and grow in Japan. These support and services include: 1.supplying market research reports to help business navigate around the market, 2.expert consultations about everything needed in the setup (bank account, laws, Visa, tax, HR search and location search), 3.free temporary office space in six major cities in Japan including Tokyo and Osaka for 50 business days, 4.exposure to business opportunities such as industrial tours, exhibitions and other networking events (now mostly online due to COVID-19), and 5.helps set the business up locally. It does not have to be Tokyo, as other areas are looking for critical businesses like tourism technology in Hokkaido, or Life Sciences in Kyoto and Yokohama, disaster prevention ICT in Sendai, and AI and IoT in Nagoya.
Since 2003 JETRO has supported up to 19,456 projects and more than 2,013 have successfully been set up in Japan. For Thai companies, JETRO Bangkok has supported more than 100 projects in fields such as Energy, Logistics, Service, Manufacturing and Innovative startups, these include Thai companies like QueQ, GPSC, Zanroo and Hot Deal.
This is just a sampling of the great content you'll find at the Techsauce Global Summit 2020. Check out all the sessions here http://summit.techsauce.co