The topic of artificial intelligence (AI) is frequently brought up, particularly when talking about previous years' popular trends in NVIDIA, GET3D, Midjourney or DALL-E, and ChatGPT. Furthermore, the development of Google's Bard AI, Meta's LLaMa, and Baidu's Ernie bot shows that major tech companies worldwide are seriously engaging in AI development.

According to the most recent Stanford University and MIT study, which polled 5,000 people working in customer service, the productivity of those who use generative AI at work is 14% higher than that of those who do not. This confirms what Microsoft's founder and billionaire Bill Gates once said: 'The age of AI has begun.'
However, due to the advancement of AI, which is crucial in many areas, particularly in generative AI like ChatGPT, there is controversy surrounding the idea that 'all human jobs may be replaced by AI in the near future.'
As a matter of fact, if AI is used to maximize human potential, there may be a better balance between humans and technology because "humans" and "AI" work best together. Thus, the idea of 'Augmented Intelligence,' or the application of AI to improve human productivity and capability, has emerged. Through the development of human-centric machine learning, it will become a more 'powerful' tool to enhance rather than 'to replace.' Human feedback and experiences can be gathered by this AI, and it can also generate data that will enable humans to make accurate and precise decisions and actions.
It was stated that KBTG intended to fully engage in the age of AI during KBTG's The Age of AI: Augmented Intelligence meetup.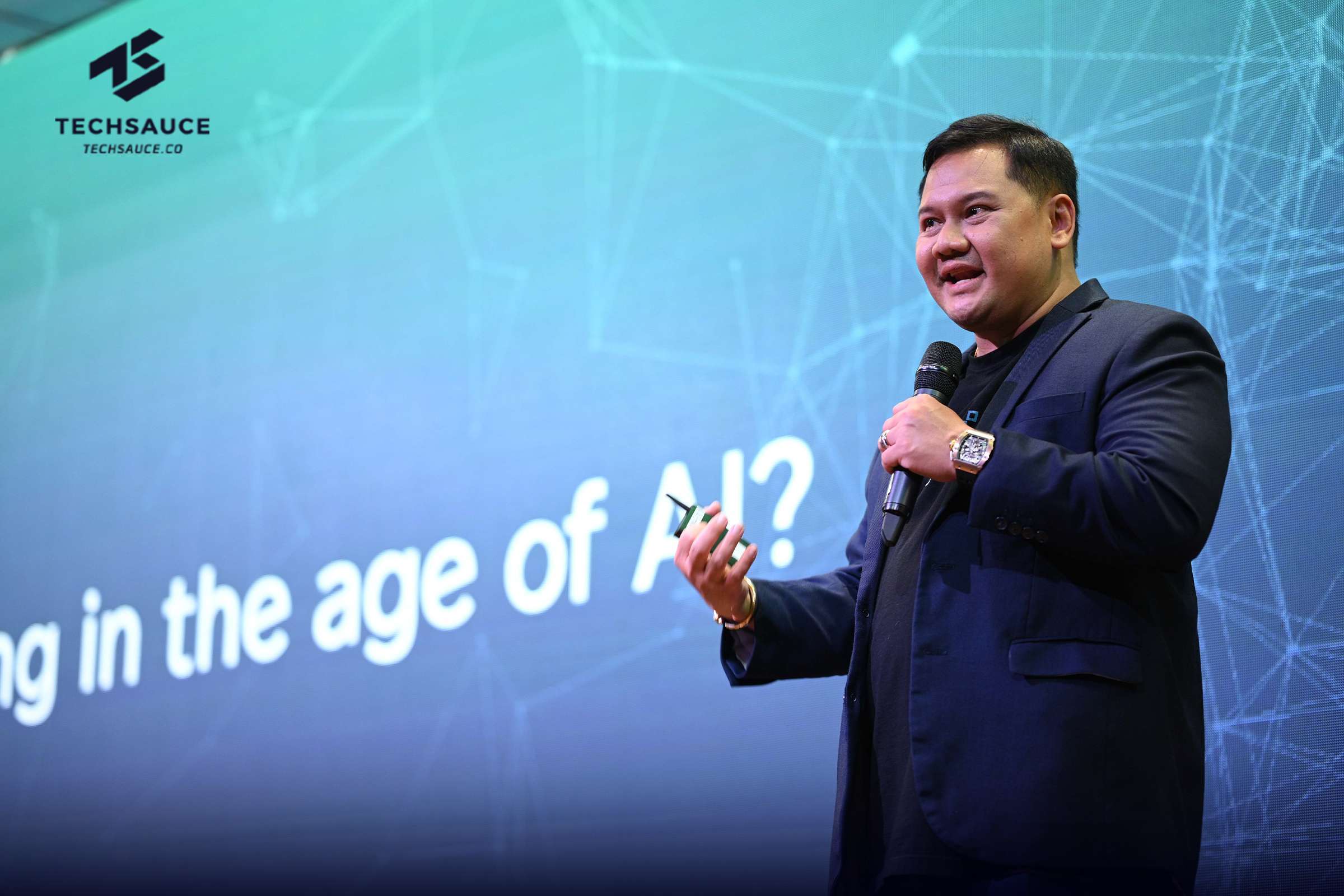 The group chairman of KBTG and Godfather of Thailand's Startups, Krating Ruangroj Poonpol, first stated about 'The Age of AI' that what we are facing is the evolution of exponential technology, or the phases in which technology will become more efficient, which consists of six phases in total.
Making Thai people more knowledgeable about AI is what KBTG primarily focuses on in order for us to develop, find work, coexist peacefully, and utilize AI to its full potential. AI will then immensely increase the productivity of humans. It is predicted that AI will be the solution to all problems and contribute at least 7% to the growth of the global GDP. However, humanity and empathy are two traits where AI cannot fully replace humans.
Thus, it conforms to the saying that "humans" and "AI" should cooperate to achieve maximum efficiency under the concept of 'augmented intelligence,' which refers to the use of AI to improve the productivity and capabilities of humans while also pushing the boundaries of humanity.
The concept of 'Augmented Intelligence' has prompted KBTG to work with MIT Media Lab to conduct research and develop AI work while adhering to the AI literacy and AI ethics tenets. It means that before any technology is released to the general public for use, it must first undergo testing to ensure its viability. All of this is done in the same spirit, with the research goal of improving people's lives.
Launch of AI Technology That Will Improve People's Lives
What will our future selves be like? "Future You" When our future can inform us of something today.
Future You, K-GPT, and Kookid were all KBTG's co-research projects that were introduced during this meetup. The first achievement to draw inspiration from a time machine was "Future You" in 2022. In this study, KBTG, a tech company, worked with the MIT Media Lab to greatly expand the capabilities of AI. KBTG is the first and only Thai company to become a research consortium member and collaborates on improving the study with other top educational institutions, including renowned psychology professors from the University of California, Los Angeles (UCLA), and researchers from Harvard University.
Pat Pataranutaporn, a doctoral student at the MIT Media Lab and KBTG fellow, illustrated "Future You" as an AI platform that enables users to communicate with their future digital twin using a Generative Pre-trained Transformer (GPT) that is customized for the users' future target data, personalities, and life goals to make the chat realistic.
This study is based on a psychological theory that says that the more clearly we can see our future selves, the more likely it is that we will act positively in the long run and have a higher quality of life.
In order to increase the credibility of the future characters, the system will create an individual synthetic memory for the user's future selves that contains their life story at the age of 60. The system will alter the users' virtual image at every age. For instance, if a high school user wants to become a doctor, AI can simulate the user's future memory when he is a 60-year-old doctor so that he can talk to and share experiences with him at a younger age.
According to the sample experiment, 70% of the 188 participants felt as though they had a real conversation with their future selves. Additionally, this technology can support them in getting rid of negative feelings, lowering anxiety, and boosting positive thoughts and motivation.
"Technology like Future You is an example of how AI is being used to help people think and plan more strategically, which will be good for their finances, education, and mental health," said Pat.
"Kookid" by K-GPT in the way of KBTG
The most recent project introduced in this meetup is the development of artificial intelligence in the Thai language, which was inspired by the first version of Future You in English.
Khun Kavin Winson, an Advanced Research Engineer at KBTG, has taken over and stated that the research team wants to apply Advance AI Technology in the Thai context. Therefore, they studied how it could be adapted to the Thai ecosystem. They started with the three important elements listed below.
Language Specific Knowledge: the understanding of the language and cultural context, such as the final particle like ka or krub.
Domain Specific Knowledge: the understanding of specific knowledge, such as financial knowledge.
Human-Centered Knowledge: the understanding of human behavior to be able to work with humans and increase the user's potential.
It is clear that we give the three elements of knowledge a high priority, not just for data but also for new types of knowledge. Then, this AI architecture was given the name Knowledge-GPT, or K-GPT.
He described K-GPT as a large language model that makes use of GPT's capacity to provide specific, in-depth knowledge by adapting a language for human conversation and enhancing Thai proficiency. As a result, K-GPT is able to respond to inquiries and offer advice just like a counselor would in every different situation.
K-GPT has been created for services in addition to being used in numerous research projects. One of them, "Kookid," which can be translated as "a consulting partner," functions as a chatbot for counseling. It is currently in the proof-of-concept stage.
Kana-Kacha, the consulting partner with two aspects
The artificial intelligence "Kana" and "Kacha" that Kookid has will share their thoughts and help us find solutions. These two have different points of view in terms of offering multi perspectives via K-GPT's AI Thought Partner. Additionally, 'Kookid' has access to information that is verified as accurate and contains credible references. Thai people are also allowed access because it will make people more trustworthy if AI is more like humans and comprehends human culture.
'Kookid' can think in many different ways and aspects to develop the best technology that places you at its center and values humans as its most crucial component. The reason why there are two chatbots that are trained and designed to have different personalities is to avoid bias when providing data and opinions.
"According to the study, the variety of aspects and thoughts leads to true innovation," Khun added. "Despite the fact that they appear to be similar, Kana and Kacha have different characteristics, so there have to be both of them. Kacha is organized and cautious when it comes to risk. Kana, on the other hand, is imaginative, adventurous, curious, and assertive. This results in a difference in their opinions and points of view, which can effectively be helpful in decision-making and problem-solving under the human-centric condition."
All of this results from the development of synthetic memory, which enabled them. They stem from value, quality, and personalization, which are the two characters' fundamental characteristics and the same mechanisms examined in "Future You."
The knowledge for fulfillment, which comes from a module called knowledge extraction, is another important component. It enables Kana and Kacha to constantly have access to accurate data. When they are both ready to communicate with us, they must learn the language through language special augmentation, which will enhance their language with the Thai context and culture, whether it be for data input or data output. Finally, every action has an inappropriate filter that will always screen for sensitive conversation.
For instance, when asked why we should save money, Kacha's response might be, "Because of the stability and security of the future and retirement life. It establishes the financial vision and offers comfort in an emergency." While Kana will assert that "money saving helps increase future chances, provides a way for further study, or starts new businesses." These give you a variety of ideas, whereas the value of finances, even for risk prevention or future planning, is a worthwhile subject.
Kacha's startup idea is focused on building online platforms that use data analysis to create opportunities by matching a user's expertise with the appropriate jobs. Kana would say that she wants to establish a service that rents out children's toys and integrates technology to support imagination and sharing for lifelong learning in kids. It is clear that while each of their concepts uses a different approach and has a different target group, they both aim to help people develop lifelong values.
With these two studies, KBTG hopes to test and demonstrate how AI can provide information that can improve human decision-making by adjusting various elements like appearance, language, and depth of knowledge and emotion.
According to Krating, AI is a new technology with a double-edged sword. As a result, KBTG wants to conduct the experiment and show that AI can provide information to enhance human decision-making.
Meanwhile, Krating mentioned the crucial task of Co-Research, where KBTG aims to develop technology and AI to augment people. He also desires education as a means of producing knowledge that will benefit others.


"The 4C framework, which consists of Co-Imagine, Co-Exploring, Co-Thinking, and Co-Creating, is what we are using to implement the Thai-AI augmented literacy guidelines and AI ethics awareness. All of them are modern-age learning that has humans and AI at its core since AI does not make humans less intelligent but rather more superhuman."
This provides an opportunity for all groups to work together for Thailand's benefit and practicality, including policymakers, educational institutes, research institutes, government sectors, private companies, agencies, organizations, and startups. In collaboration with MIT Media Lab, KBTG has been developing its first phase, which is scheduled to be finished in June 2023.
KBTG x Partner to Support AI Lliteracy and AI Ethics for Thais
In this meetupseminar, KBTG discussed the possibility of hurriedly developing the cognition to apply AI or AI literacy to the nation in a variety of ways with MIT Media Lab, and the alliance, which included NECTEC and Thammasat University. The three institutes have been working on a white paper to serve as a guideline for people who want to learn effective AI skills.
In addition to conducting research and development in the business sector, Thailand, in view of the government sector, also needs to simultaneously carry out people development for AI in order to raise AI awareness and provide guidelines for Thais on how to coexist with it and use it effectively.
"In the end, KBTG builds technology like Future You, K-GPT, and Kookid to augment people and raise the standard of living in Thailand. These encompass KBTG's entire vision."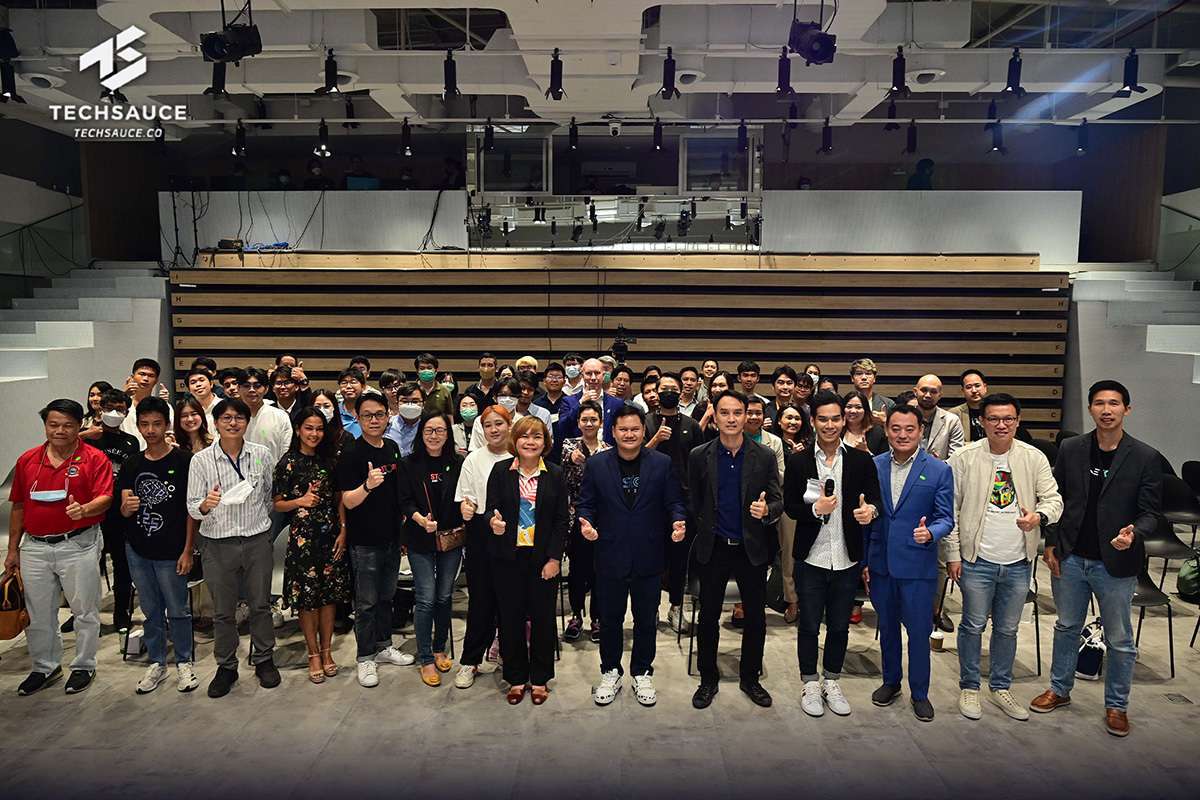 Those who are interested in working with KBTG to advance Thailand's AI, please send an email to [email protected].
This is an Advertorial article