On TEDWomen 2018, Kotchakorn Voraakhom reveals how her landscape architecture project helps the city of Bangkok, Thailand confront one of the biggest impacts of climate change- sinking cities.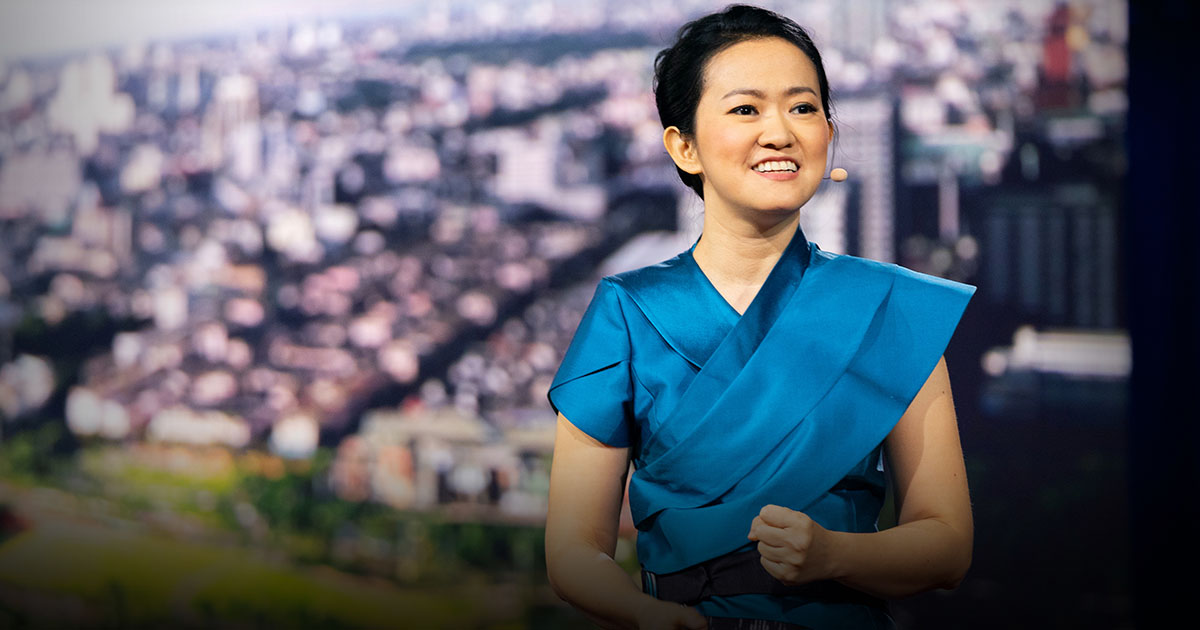 In 2011, Thailand witnessed its worst flooding in almost 70 years, leaving severe impairment to the country's economy, industrial sector, and society. But what's scarier to think about is the reality that many coastal cities across the globe are in peril of the same shared destiny including New York, London, Tokyo, Shanghai, New Orleans, and many more. For many people experiencing it firsthand, it was no doubt a moment of despair. One that you can't really do anything about but hope and pray that it passes. But for Kotchakorn Voraakhom, an urban landscape architect and founder/CEO of Landprocess, she saw an opportunity. In the heart of the disaster, Vodacom found her chance to step in and find a solution for her city.
For the past several decades, the city of Bangkok once filled with paddy fields, canals, and buildings that only go so high as a few stories have turned into a city we can hardly recognize. The striking growth of urbanization quickly filled the landscape of Bangkok with housing estates, commercial establishments, and such recreational places as golf courses and amusement parks. Voraakhom recounted in her TedWomen 2019 talk, "How to transform sinking cities into landscapes that fight flood", the urbanization effect on the city landscape as, "shifting [the] porous, agricultural land-the land that can breathe and absorb water- to a concrete jungle". As a result, every time it rains the water floods the streets as it has lost its absorbent capacity.
As Voraakhom looks back on her childhood home, a row house next to the busy roads filled with traffic, she remembers the concrete parking lots that she considered her "playground". At this playground is where she would see teeny little plants sneaking its way through a crack in the concrete and where she would dig a bigger hole to let the plant creep through for fun. In retrospect, she compared her favorite childhood game to her career as a landscape architect, which gave her "the opportunity to continue [her] cracking ambition".
About six years ago, Voraakhom and her colleagues started a project that won a design competition for Chulalongkorn Centenary Park, a competition that gave a piece of land as a public park to the city of Bangkok. And for many, it might sound like any ordinary competition for the city of Bangkok, but with one of the lowest public green spaces per capita among megacities in Asia, this was a huge initiative. The project turns out to be the first new public park in almost 30 years and contributes 11-acre green space to the heart of Bangkok.
Better yet, the project gave the city more than just another recreational and sightseeing space, it also helped the city deal with water. Since Bangkok is a flat city, Vorakhoom and her team created a design that harnessed the power of gravity by inclining the whole park to collect every drop of rain. And giving the city of Bangkok, a space to store rainwater and runoff that can be used in the dry season, a natural filtration system that helps clean water, and a retention pond that collects all of the water. Ultimately, Centenary Park's design "gives room for people and room for water" that the city desperately needs.
For her, the park is not about getting rid of the flood but rather creating a way to live with it. As she said, "Every given project, for me, is an opportunity to create more green cracks through this concrete jungle by using landscape architecture as a solution". Among many of her success stories, some of her other projects include turning a concrete roof into an urban farm, reusing an abandoned concrete structure to create a green pedestrian bridge and another flood-proof park for Thammasat University.
After all, Voraakhon emphasizes "creating a park is just one solution". She believes that regardless of your professions, everyone is obligated to understand the climate risk and put whatever we are working on as part of the solution. Because if we continue on the same path we are now, the future might not be what we want.
As she left the audience with the following remark,
I would like to share one word that I always keep in mind, that is, "tangjai." The literal translation for "tang" is "to firmly stand," and "jai" means "heart." Firmly stand your heart at your goal. In Thai language, when you commit to doing something, you put tangjai in front of your word, so your heart will be in your action. No matter how rough the path, how big the crack, you push through to your goal, because that's where your heart is.
Join her at Techsauce Virtual Summit 2020 on June 19-20, 2020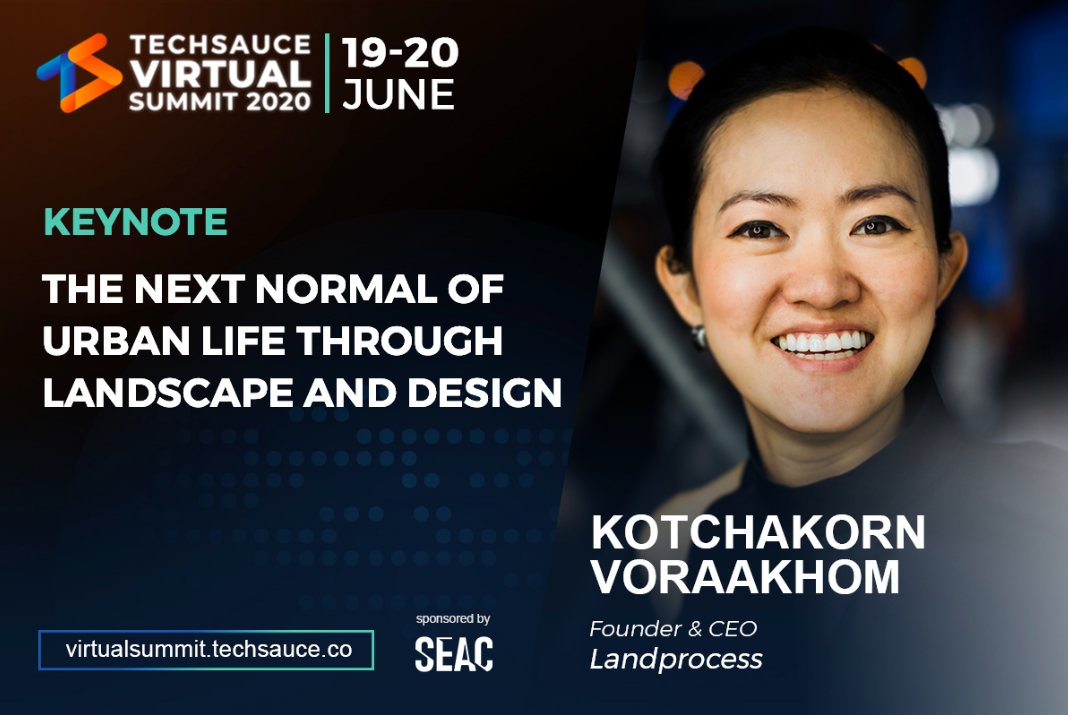 Each of us alone cannot change the world, a cliché but still true. Yet if we all look at embracing the change, imagine what a ripple effect that could have. So join Voraakhom at this year's Techsauce Virtual Summit on June 19-20 as she walks us through the world of the future of how our behavior and interaction will be shaped by space, especially post-COVID, and also the world of the future where it is friendly towards people's health and environment.
Get your ticket here. For more information on Techsauce Virtual Summit please visit http://virtualsummit.techsauce.co