Today marks over a year since the worldwide pandemic has been declared. It has had a significant impact on the e-commerce industry as online shoppers continuously change their priorities in terms of product categories.
Southeast Asia's leading e-commerce aggregator iPrice Group, in partnership with SimilarWeb, has released the Map of E-commerce Vietnam report for Q1 2021. According to the study, the demand for online groceries continues to increase, while the demand for the other categories drops.
Online grocery shopping continues to grow
Although most of the categories' web traffic in Vietnam's map of e-commerce has taken a hit, online grocery has maintained a steady and consistent growth since the beginning of the pandemic.
According to the study from last year, traffic of online grocery websites increased by 45 percent on average in Q1 2020 compared to Q4 2019. The increase was seen right when people began to fight the spread of the virus by staying home.
When the social distancing measures were reduced, the growth remained constant, rising by 10% at the end of 2020. According to the latest data from the first quarter of 2021, only online grocery websites are still growing at a healthy rate of 13%.
As a result, COVID-19 can be considered a powerful catalyst in increasing online demand for essential items.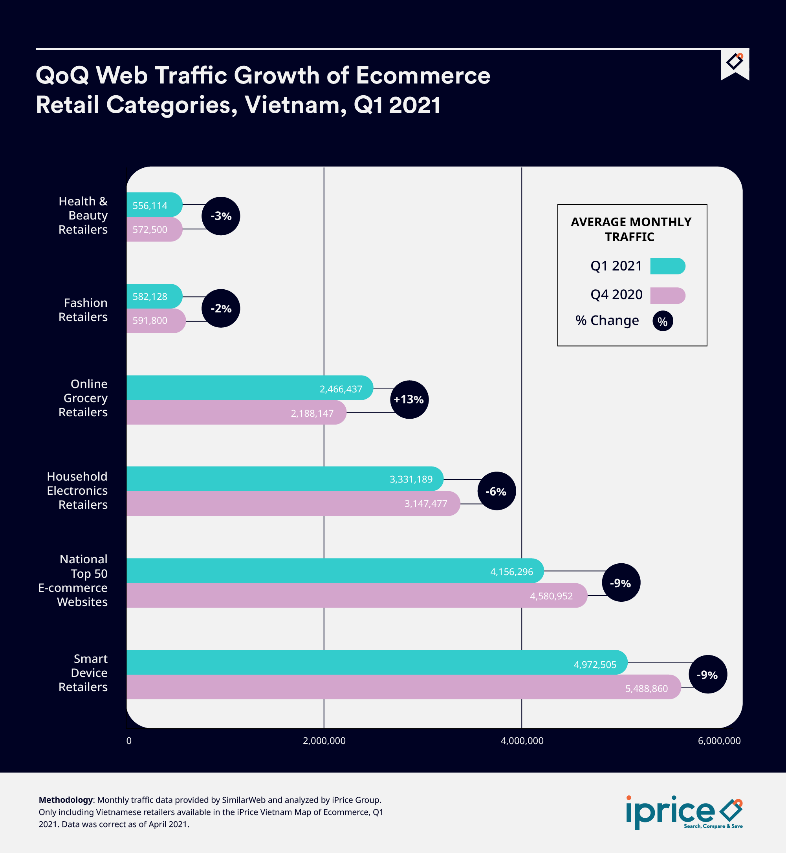 On the other hand, most of the non-essential sectors in the report were negatively impacted. The fashion sector decreased by 2% in the first quarter of 2021. Previously, however, this category made a significant recovery, with traffic increase of up to 33% by the end of 2020.
Cosmetics and skin care websites, which was one of the most trending categories at the start of the pandemic, had a minor drop of 3% in Q1 2021. Meanwhile, other categories like electronics and smart devices decreased by 6% and 9% respectively, in comparison to Q4 2020.
In conclusion, even though the measures to stop COVID-19 fluctuates growth in several categories, it also gives online groceries a boost. This shows that e-commerce players might get a competitive advantage by focusing on a single core sector, especially since the pandemic is constantly changing category demands.
Negative growth in e-commerce website traffic
According to iPrice Group and SimilarWeb, the overall average website traffic decreased by 9% in Q1 2021 compared to Q4 2020. The number of visits decreased by 4% compared to the same period the previous year. However, this is a common trend when most large and small e-commerce businesses together push promotions and discounts at the end of the year.
Shopee remains Vietnam's most popular e-commerce platform in terms of website traffic with 63.7 million visits, losing nearly 4.9 million visits from the previous quarter. Shopee Vietnam has currently ranked first in terms of traffic for 11 consecutive quarters.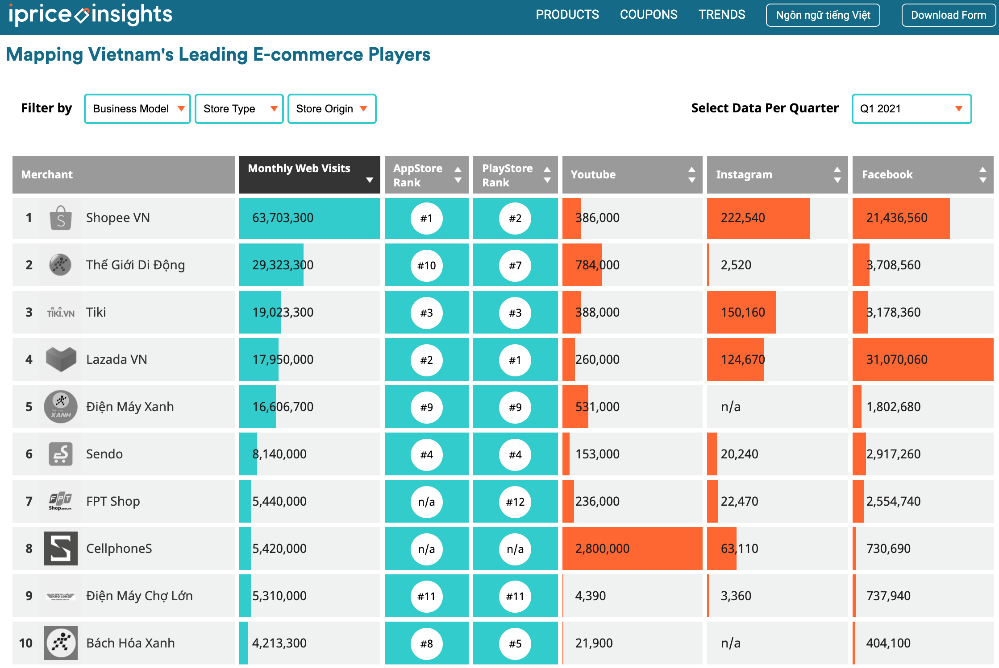 Top 10 most visited online shopping websites in Vietnam, Q1/2021, iPrice Insights
In Q1 2021, the average monthly visits to Tiki and Lazada's websites are 19 million and 18 million respectively. Sendo reached 8.1 million visitors. All three e-commerce platforms had a decrease in traffic compared to Q4 2020.
Thus, the order of e-commerce businesses in the first quarter of 2021 are still the same as last quarter's.
E-commerce businesses should consider developing appropriate centralized retail strategies in the context of the ongoing COVID-19 pandemic, where anomalies are increasingly becoming "the new normal". In this unpredictable global situation, focusing on customers and markets while keeping a close eye on competitors is not a bad idea.
- END OF REPORT -
Methodology: Monthly traffic data provided by SimilarWeb and analyzed by iPrice Group. Only including Vietnamese retailers available in the iPrice Vietnam Map of Ecommerce, Q1 2021. Data was correct as of April 2021.