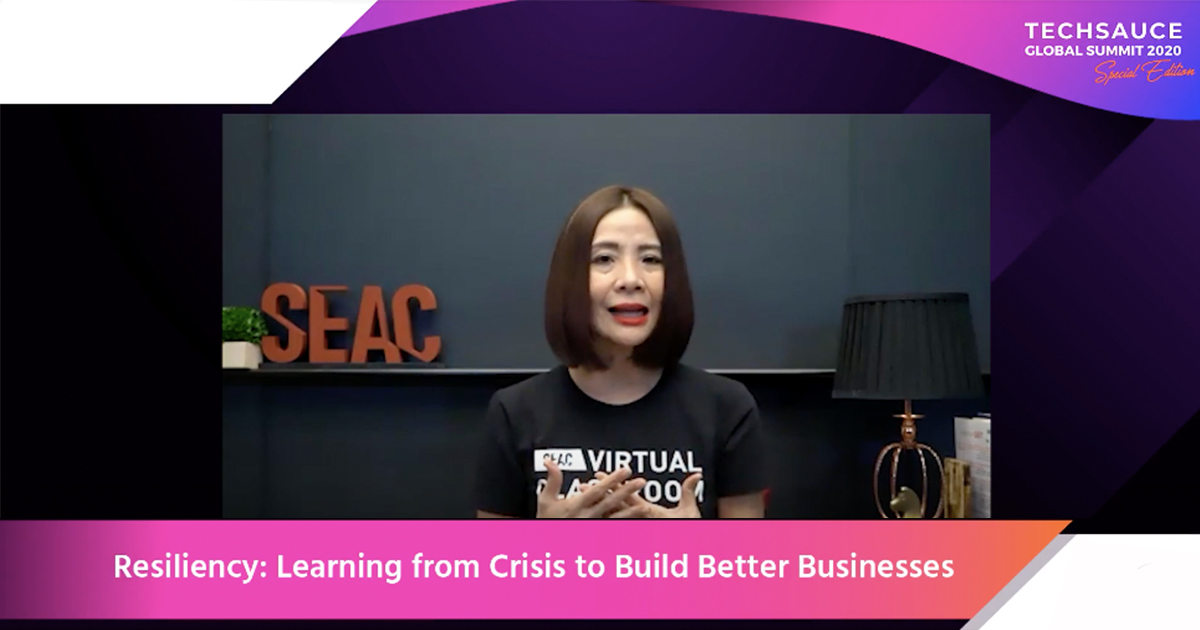 Amid the era of technology disruption, uncertainty is here to stay. Within the recent decade, there has been a significant shift to the way businesses run their operations, giving birth to new novelties and unique ways of tackling challenges. No longer can business run with their archaic ways, in order to adapt to ever disruptive world resiliency is a must for business themselves to overcome setbacks and emerge stronger. Fortunately, at TGS2020 Special Edition we have Mrs. Arinya Talerngsri, Chief Capability Officer and Managing Director at SEAC, and Annie Luu, Head of Global Partnerships at Fingerprint for Success who will share with us today how business can be better through learning from crisis and building resilience.
What is Resiliency?
Resiliency as Mrs. Talerngsri is a capacity to recover quickly from difficulties, whether it be a person or thing. It is one of the most important attributes in times of uncertainties where new challenges constantly arise. As such let it be in life or business, when faced with such unfamiliar scenarios, it is essential for us to understand resiliency, knowing how we are going to bounce back and get up our own feet as soon as we can without getting stuck.
Regarding with the Pandemic, Mrs. Luu added that in her work of helping start-up grow and transform, one of the most critical motivations is initiation, being proactive toward things that can happened and act beforehand, with the prime case of her client's company Canvas initiating work-from-home policies even before the government did.
Building Business Resilience
In facing with the pandemic this year, Mrs. Talerngsri shared 4 the trait of companies she has worked with, who built resiliency and performed better than before during these tough times including
1.) Resilience starts with Self-Awareness – as one of the keys to building resiliency, through understanding our own limitations and opportunities to do things better. Be it in business, one needs to constantly be aware what we are doing now will work or not in the future. With self-awareness, we could accept the conditions we are in, and proceed to explore for better options.
2.) Be Flexible - Since not everything essentially remains the same and self-awareness alone isn't enough for business to thrive, that's where being flexible comes in. We need to be flexible enough to focus on the things that need to be done differently, execute immediate action, see through trials and errors to become better.
3.) Letting Go – Another crucial key in building resiliency is the ability to let go, as no one same business approach can work in all contexts. What we need to understand that the old-ways of doing things will not always work, holding onto the past methodology or things we are comfortable with when doing things is not the solution to modern problems. Simply getting up from difficulties is not enough, in order to implement resiliency, we need to let go.
4.) Keep on sustaining Positive Emotions - In the quest of exploring new options and opportunities, things will not just work right off the bat. It is important for us to keep on being positive toward changes while finding our own new ways of making things work.
Most evidently with the recent acceleration toward digital workplace due to COVID19, Mrs. Talerngsri also mentioned that SEAC also practices on building its own resilience while helping people do the same through starting with changing mindset; moving beyond fixed to a growth mindset. The key to that is to constantly learn and execute, learning from failure and adapting those keys to do things better.
Companies you worked with that have become better at doing their own business?
Throughout Mrs. Talerngsri work with her client companies and organization, no matter what industries they are in, whether it be in hospitality or manufacturers
Resiliency started with the word 'reimagining'. From reimaging new business models, value propositions, what resilience companies do is moving away from the traditional methods and reimagining news for them to be on the league of their own.
Evidently with successful organizations out there who have crossed the resilience chasms like Facebook, Google, Amazon – they have moved beyond being what they started from, and expand on being an empire on their own.
With this Mrs. Talerngsri believed that in embracing resiliency, it is not thinking about improving things but asking ourselves to reimagine; to let go of our own boundaries or beliefs we once held, and let ourselves be free.
If there's a Checklist for resiliency in companies, what would be in it?
1.) Start with Mindset – putting on a different lens to see what could be better
2.) Understand Failure and Plan Realistically – Understanding that nothing will be perfect and that failure is evitable, but knowing how to fail-forward and learn from it.
3.) Building Resilience Workforce – promoting a positive sense of self and confidence in people, letting them feel safe from failing, to give them corrective feedback to ultimately instill to feel happy to learn.
4.) Coping skills – It is essential to be able to withstand unfamiliar changes and challenges that are coming, as such coping is to accept those coming difficulties and get through it.
5.) Communication Skills – Being resilient is nothing without the right communication. No one can do things on their own but engage with others in order to bring in new perspectives in dealing with complex situations.
What are some of your advice around being able to build personal resilience?
With not only businesses but our lives being disrupted, Mrs. Talerngri also stressed that personal resilience should also be practiced as it will make us a happier person in general. The way that can be achieved is through following the five principles from having gratitude, compassion, acceptance, forgiveness, and understanding ourselves. Whether it be in work when working with colleagues or personal life when being with our family, having personal resilience helps us ensure that we can balance and prioritize things when we are with a certain group of people; choosing quality of quantity. Mrs. Talerngri said that we need to understand our own dimension of emotional regulation, because with that can we truly be able to manage potentially overwhelming emotions, maintain focus in face of overwhelming challenge.
What's some of your personal experiences been and what do you remember that has really helped you become and do what you do today?
Mrs. Talerngsri has shared some of her past experience of being the opposite of what resilience is. Standing in the role with high responsibilities she needed to always make sure that things she says and do is appreciated and should be perfect, be it from spending 20-40 hours to prepare a single presentation or conducting a meeting. In the end, she learned that it's okay not to be perfect and it's okay to fail and accept that she doesn't know everything. It is a small step for learning that has shifted her thinking toward building resiliency. Through starting to learn how to say sorry, see the imperfection when doing things, and understanding how to be flexible and know that things don't have to always go as planned.
Ultimately, Mrs. Talerngsri closed off believing that Resiliency isn't a fixed trait but rather a combination of flexibility, adaptability, perseverance. It is those traits that can help us tapped into what it is to be resilient, changing our certain thoughts and behaviors and let us take small steps toward something better.
This is just a sampling of the great content you'll find at the Techsauce Global Summit 2020. Check out all the sessions here http://summit.techsauce.co.