Thailand serves as a gateway to Asia, and it is gradually becoming a strategic location for international investors looking to start or develop their businesses. For a Foreign Business in Thailand, you can form the following structures to enter the Thai market and attain foreign ownership.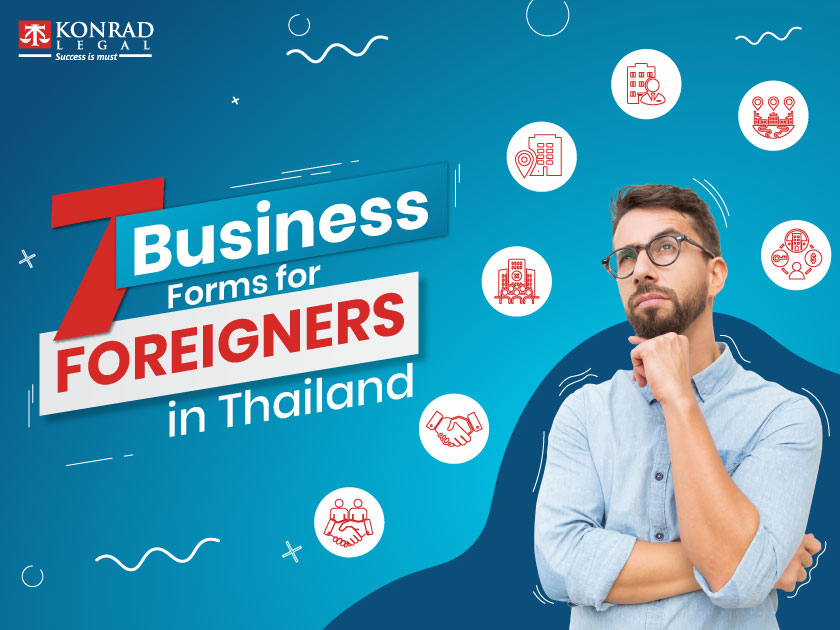 Let's have a look at the several sorts of business structures available to international investors.
The business structures in Thailand that allow foreign ownership are:
Sole proprietorship
Partnership
Representative office
Regional office
Branch office
Limited company
Joint venture
SOLE PROPRIETORSHIP
A sole proprietorship is a business structure with unlimited liability that is owned by one individual. As long as the law allows it, a sole proprietorship can participate in any business. On the other hand, enterprises providing services, cannot be sole proprietorship firms. A sole proprietorship owner can choose whether or not to be taxed as a natural person.
Foreigners cannot conduct this type of business unless they are bound by the Treaty of Amity between the United States and Thailand. Foreigners who are married to a Thai national can register their sole proprietorship in the name of their Thai spouse.
LIMITED PARTNERSHIP
A limited partnership is one in which the following elements are present:
One or more partners whose liability is restricted to the amount of money they each agree to put into the partnership.
One or more partners who are jointly and severally liable for the partnership's obligations.
The limited partnership consists of two categories of partners: one with limited responsibility and the other with unlimited liability. Limited partnerships must be registered, and they are treated as ordinary partnerships until they are registered. The limited-liability partners' contributions must be in cash or other assets.
Only the unlimited partner has the ability to manage the partnership. If a foreigner is a controlling partner, they must have a valid non-immigrant business visa as well as a work permit. Limited partnerships enable foreign ownership of up to 49 percent. If the foreign partner makes more than 49 percent of the investment, however, a Foreign Business License is necessary.
REPRESENTATIVE OFFICE
A representative office is a non-trading entity that cannot earn any revenue and can be owned entirely by foreigners. It's a non-profit organization whose financial assistance comes from a headquarters in another country.
For its head office, an affiliated company, or a group corporation in another nation, it operates a service business in Thailand.
A representative office provides non-revenue-raising services to a foreign head office by doing a limited range of activities, such as:
Sourcing of local goods or services in Thailand.
Inspecting and controlling quality and volume of goods which the head office purchases in Thailand.
Disseminating information about new products and services of the head office.
Reporting to the head office on local business development and activities.
Providing advice in various fields relating to goods distributed by the head office to the distributors or consumers.
Can only sign contracts that are essential for its operations, eg lease of the premises.
Exporting products on instruction from its head office or its affiliated companies.
REGIONAL OFFICE
The non-juristic personnel of a foreign head office is a regional office. Regional offices are not different legal companies, but rather represent the foreign head office in Thailand.
A foreign corporation must have at least one active branch or affiliate in Asia before operating in Thailand. In Thailand, regional offices are unable to place purchase orders, make sales offers, negotiate, or engage in business agreements.
A Foreign Business License is necessary for foreign head offices that want to open a regional office in Thailand.
List Three of the Foreign Business Act (FBA) allows regional offices to engage in seven specific activities:
Communicating, coordinating, and directing, on behalf of the head office, the operation of branches and affiliates which are located in the region
Financial management
Marketing control and sales promotion planning
Product development
Providing services in consulting and management
Services in research and development
Training and personnel development
The minimum capital for setting up a regional office must be at least THB 3 million, as stipulated in the second paragraph of section 14 in the FBA.
BRANCH OFFICE
A branch office is a type of business that allows foreigners to establish a physical presence in Thailand and is in 100 percent ownership. The branch office is a trading entity that can engage in revenue-generating operations.
Before the branch may begin operations, it must first get a Foreign Business License. Foreign Business Licenses are not mandatory for branches manufacturing or exporting products from Thailand.
LIMITED COMPANY
Private Limited Company
The most common business structure in Thailand is a private limited company, which is founded through a registration process that involves a Memorandum of Association (MOA) and Articles of Association (AOA). In this case, a company cannot sell shares to the general public.
A minimum of three shareholders is mandatory for a private limited company, and the stockholders have restricted responsibility. All shares must be subscribed for, and at least 25% of those subscribed must be paid up.
Foreign investors can own up to 49% of the company. However, if a foreigner wants to hold 100% of the company, they must secure the following:
Foreign Business License
Promotion from the Board of Investment (BOI)
Register through the Treaty of Amity (for US citizens only)
Public Limited Company
The public limited company can issue shares, debentures, and warrants to the general public. Additionally, enlistment of its securities is mandatory on the Thai Stock Exchange. The Securities and Exchange Act, BE 1992, governs the laws and regulations governing the procedure for selling shares to the general public (AD 1992).
Additionally, a public limited company must have a minimum of 15 promoters for formation and registration. Moreover, a minimum of five members are mandatory on the board of directors, with at least half of them being Thai nationals.
JOINT VENTURE
A joint venture is a popular company structure for foreign investors in Thailand. It is a profit-seeking enterprise run in partnership by:
A company and another company.
A company and a juristic partnership.
A juristic partnership and another juristic partnership.
A company and/or a juristic partnership with an individual, an ordinary partnership, a juristic person, or a group of people.
Joint ventures are contracts under Thai law. Additionally, the parties in the joint venture remain independent legal entities with the exception of filing for licenses and/or tax certificates.
However, if the joint venture has a majority of foreign shareholders, it must register under Thailand's Foreign Business Laws. Henceforth, it can establish a Thai branch office.
THE BOTTOMLINE
To obtain foreign ownership of a company, international investors can use Thailand's foreign business structures. However, you must guarantee that you are not in violation of the Foreign Business Act. Therefore, email us at [email protected] to set up your business quickly and effortlessly.