With the passing of long-awaited annual Techsauce Global Summit 2022, Among the experts, tech savvies and international companies joined Japan External Trade Organization (JETRO) along with its startup representatives across different sector, all with the same goal to represent Japan's Inventiveness and promote the attractiveness for investment between its country and Southeast Asia region.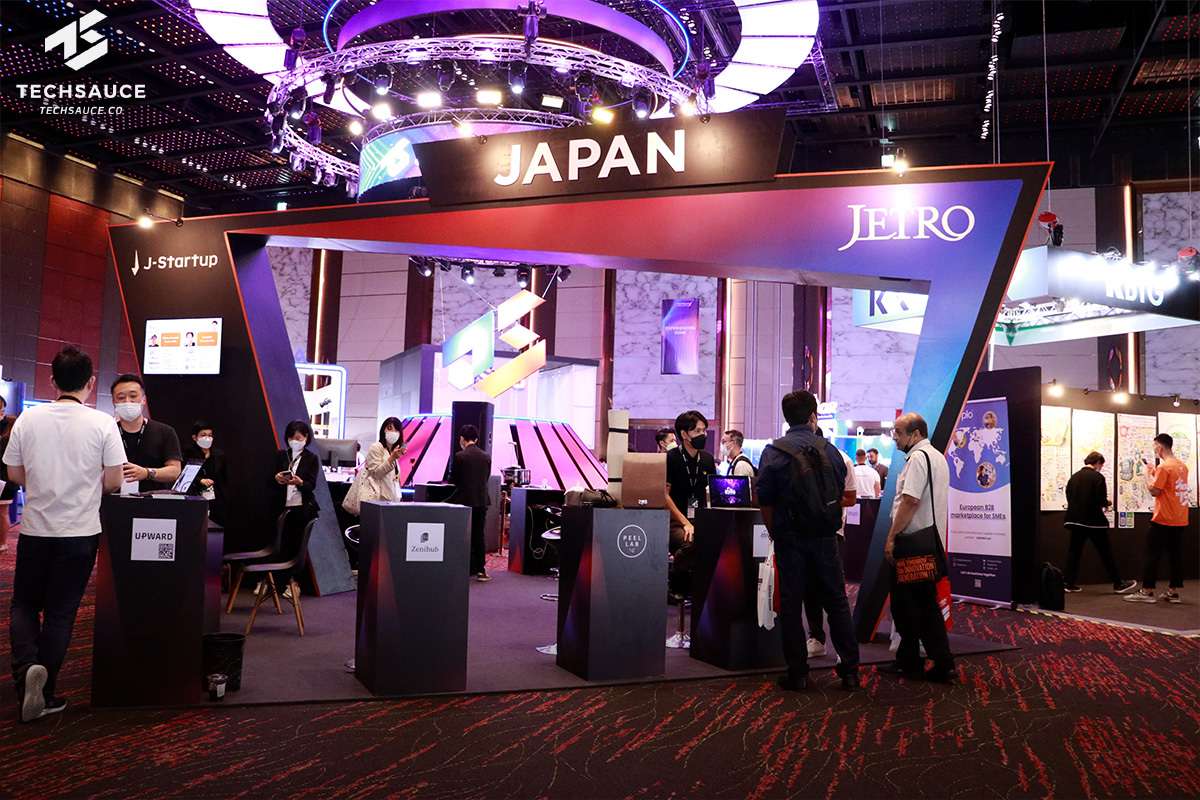 Here are some of the excerpts from JETRO and what it's seven startup rooster scooped by Techsauceteam from the event.
JETRO: Joining the TSGS2022
Japan External Trade Organization (JETRO) has played a prominent role in sustaining and strengthening bilateral trade and investment between Southeast Asian countries and Japan. Exclusively in Thailand with Bangkok office, over the past three decades alone, JETRO Bangkok has contributed to increasing Thai exports to the Japanese market and to creating awareness of the attractiveness of the investment environment in Thailand on the part of Japan's business community.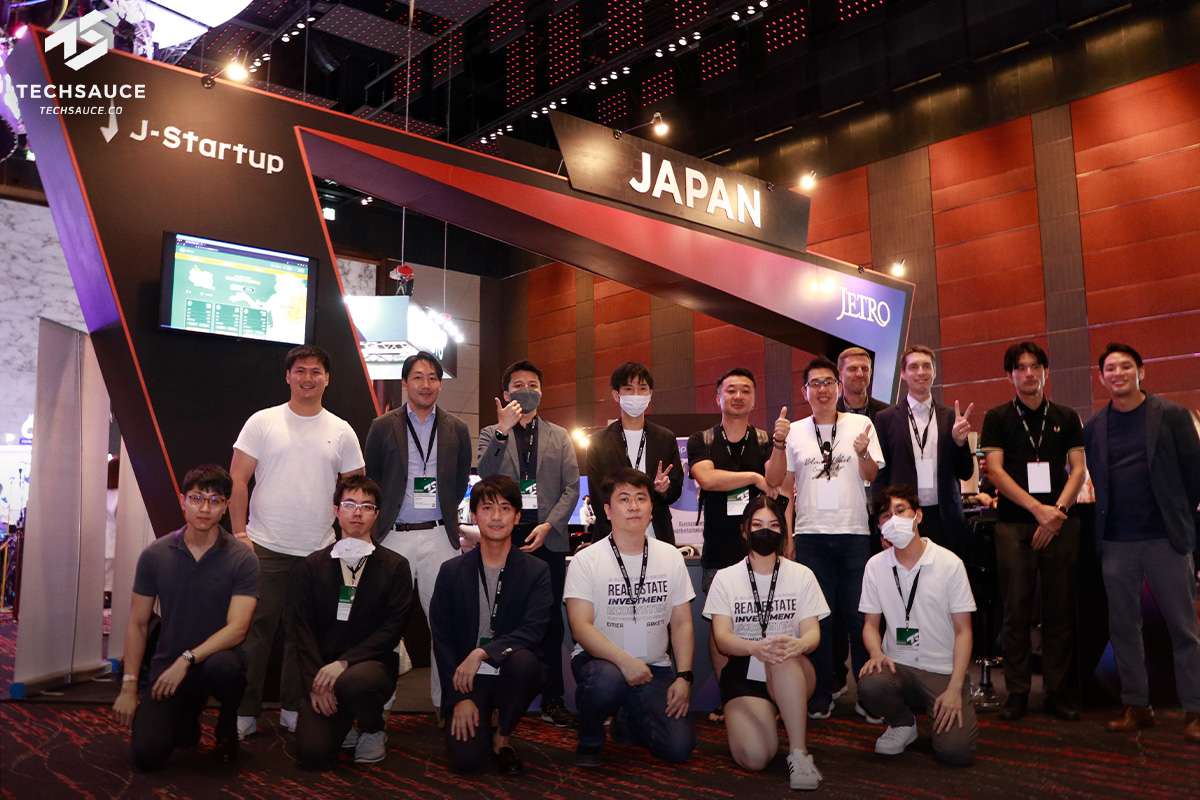 In joining TSGS2022 this year, JETRO hopes to promote collaboration through supporting its startups on its potential overseas market expansion, starting here in Thailand.
Asilla: Technology Driven Future
Along first in the list of exhibitors from Japan pavilion is Asilla co-founded by Daisuke Kimura and Nguyen Thanh Hai, it is a startup with world's leading technology in behavior recognition AI. With its AI, coined "An Artificial Intelligence Physical Security System" the technology focus on enhancing security system, using AI to detect and predict certain peculiar behaviors or motion captured on security camera then send notifications to warn its user. In its goal the startup's aim to strengthening crime prevention and bring about the safety and peace of mind for society.
Currently Asilla's product only sells regionally in Japan, but as a startup it sees the potential in expanding into Southeast Asia market. Starting with its entry in Thailand and joining the summit, its representative has expressed interests in matching with partner, distributor, specifically connecting with regional security companies where the startup's solution can be integrated for potential clients.
Peel Lab: An ethical alternative to leather for a better world.
Coming in second with Peel Lab, a Japanese B2B startup with its ambitious goal to upcycle food loss, prevent animal cruelty, reduce carbon footprint, and putting the stop to global warming. Providing an ethical alternative to leather products, PEEL Lab upcycles fruit peels from factories helping reducing waste, emission, and pollutants from traditional leather-making process. Not only that, but its platform also empowers corporate on joining the movement of sustainability through providing full-range design and services for corporate.
With its office recently set up in Bangkok, the startup now is looking to expand its footprint from Japan into Southeast Asia. Having its product sold out within less than 24 hours joining at TSGS2022, PEEL Lab believes that Thailand presents an opportunity as a gateway to Southeast Asia market as well as offering great source of raw materials for it to upcycle.
Upward: Leading Digital Transformation Service for Field Sales
Joining at third on the list is UPWARD, a Tokyo based sales engagement platform providing a Mobile Application with precise positioning technology. Committed to supporting digital transformation in sales organization the startup has worked with companies like Kubota, Daihatsu, Asahi and over other 300 companies. With their patented 'Geographic Information Technologies', simple mobile UI and support form Salesforce, and Microsoft, Upward has been refining customer relationship management process, and providing a world where everyone can use CRM and work comfortably.
In joining through TSGS2022 with several discussion and matching through the event, Upward believes that it need time to expand its business here in Thailand, furthering exploring the country's ecosystem, customer, and market size related to CRM. With the expression that Thai companies doesn't utilize CRM as much compared to those in USA or Japan, Upward does sees the potential in Thai market and further collaboration with potential partners within the region.
Protagonist's DESUME Concierge
Following next is Protagonist and its project 'Desume' a dedicated concierge that supports matching with Web3 experts and peers. Utilizing a wallet-address linked portfolio service, the startup aims to
to lay a stronger WEB3 industry-specific database, linking reliable information using blockchain where skills can be identified, and expert profile listed can also be used as a reference check.
With its vision to be the leading in the job-marketing market as of now Protagonist's Desume service has just finish with its closed-beta testing and is setting up infrastructure between WEB2 and WEB3. In joining the summit, the young startup is ready to gain potential collaboration and fund its growth for its upcoming Seed Stage round
SORAMITSU — Designing a Better World Through Decentralized Technologies
Joining the Japan Pavilion endorse by JETRO is Soramitsu, a FinTech company specialize in delivering blockchain-based solutions for enterprises and government. Since 2016, the company holds a long range of creation from domestic and cross-border payment system to the development of its own decentralized economy representing the next-generation of FinTech.
Joining the TSGS2022, Soramitsu came solidify its presence with its work in blockchain, sharing its case studies and project done in Cambodia and its collaboration with Polkadot ecosystem. Through the event the startup also express interests in following up on potential business partnership it gained here.
Credit Engine – Simpler Fundraising, the Solutions for Financial Institution.
Along the rooster of FinTech company joined in the Pavilion is Credit Engine, a platform that provide substantial increase in quality of existing lending services in Japan. Founded in 2018, the startup's online lending platform has been enabling financial institution to launch their lending service of their own, coupled with sophisticated UI and streamlined operation processes.
With its plan to expand overseas to Southeast Asia, opening its Singapore office last year. For Credit Engine in joining the summit allows a great opportunity to understand Southeast Asia market, exclusively in Thailand with its regulations and gaps along with matching up with potential partners. It also expresses its optimism in the growing of FinTech industry, citing to the number FinTech companies joined in the event.
Rei Frontier INC.
Another company on exhibiting the list is Rei Frontier with its mission to create the world's best service that connects reality and virtuality. Founded 2008, the company offers data analytics service and AR-based solution with their proprietary 'SilentLog' AI algorithm and SDK that analyze customer's behavior patterns, GPS data and journey – allowing companies to easily visualize its user's profile and lifestyle.
Among the list of prominent startups and companies joined in the TSGS2022, Rei Frontier hopes to partner with enterprises looking to elevate its service and business development, gaining a better understanding of customer's using behavioral data.
Zenihub: Reinventing Real Estate Investing
Among the final startup on the Japan Pavilion is Zenihub, a real estate investment platform where individual can invest in 'Tokenize' real estate, fractionalizing real estate properties and making investment in the industry much more accessible and affordable for everyone.
With the startup primarily focusing on high-yielding property deal in emerging economies like Southeast Asia, joining the TSGS2022 Zenihub hopes to seek investors that interested in partnering for its to obtain a licensed to get its service running.
For Information about each company here are the links,