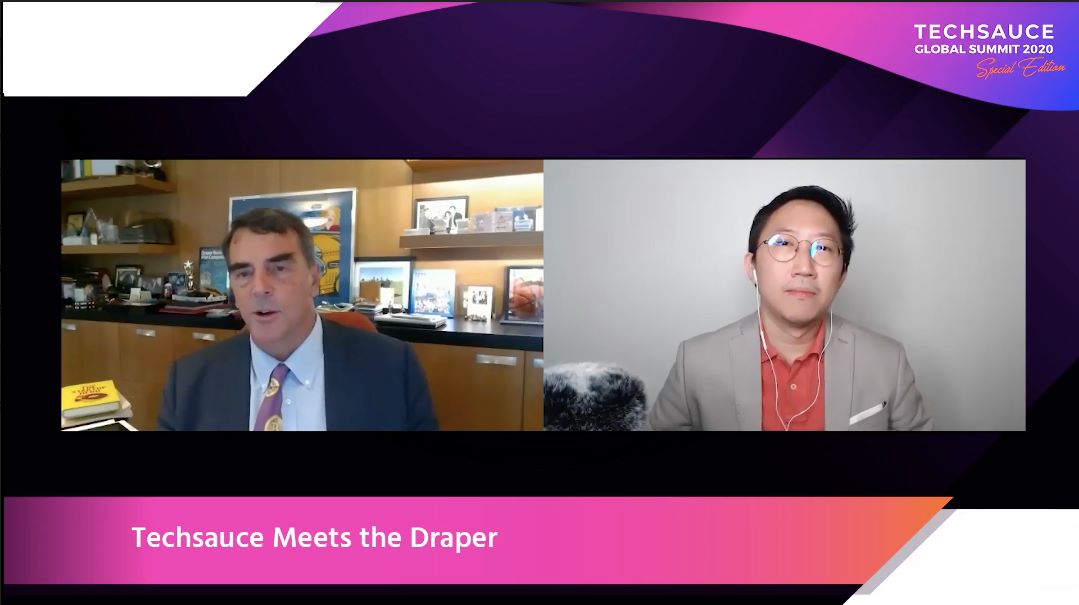 Tim Draper, founder of Draper Associates, DFJ and the Draper Venture Network, a global network of venture capital funds is considered an icon in the venture capitalist world. He is a leading spokesperson for Bitcoin, Blockchain, ICOs, and cryptocurrencies and is also the founder of Draper University of Heroes, a university that is focused on entrepreneurship. During this session, Tim shares his experience and advice on how the world of trading will circulate around modern technology.
Trading has become a competition to many which not only hurt the economy but also their hard-earned relationships. In the words of Tim: "If I have a house, and you have a farm, and we're the only two people in the world, and we don't do a deal, then I die of starvation and you die of exposure". To Tim, trading should not lead to competition but instead lead to cooperation where everyone helps each other to build value and be a part of the world economy.
The United Nations recently reported that 135 million people are suffering from starvation because the supply chain is now deemed unstable due to the Covid-19 pandemic. The whole world has gone under security protocols of social isolation, closing down businesses and travel restrictions, these protocols affected the way of living and has escalated into economic instability.
Furthermore, he pandemic has also accelerated the speed of technology adoption. With people staying in their home, they have more time to learn about the unexplored technologies such as virtual reality or cryptocurrency. The instability of the world economy has also scared people into adopting cryptocurrency faster and faster to avoid the heavy fluctuation in value of fiat currencies.
Almost every industry has been affected by the developments and innovation in technology. The communication, banking and entertainment industries are being heavily disrupted. Cryptocurrency will change the procedure of e-commerce, for example removing the need for consumer to have to pay a 2.5-4 percent of processing fees to the credit card companies. Currently there is only 1 female for every 14 cryptocurrency holder, while at the same time, females are responsible for 80 percent of the spending. If there are more female users, the banking industry will be changed forever.
In this these times of uncertainty, many investors and venture capitalists are holding back on their investments in fear of economic instability. However, in the the eyes of Mr. Draper, the pandemic is just the beginning of the world economy reset. He sees the pandemic as an opportunity for startups to utilize technologies and transform the biggest and most established industries in the world.
The new perspective: Government and the Business World
The concept of open border is now normalized in the world, citizens are allowed to relocate to their liking. Many entrepreneurs behave the same way and relocate when they are being threatened by their environment. For example; Changpeng Zhao, founder of Binance, started his business in China before moving to Singapore and then finally settled down in Malta. The reason behind his move is the working environment and restrictions on business which has forced many others to move out of a country. The role of the government has now changed drastically and when we view it through a modern perspective, the government is essentially providing services. Basic infrastructures such as education, transportation and electricityahve become essential in our lives, if the government doesn't provide the sufficient environment that business can grow on, then they will lose their human capital. If one country wants to attract more human capital, they need to offer the combination of good infrastructure, low regulation, and a free market with open opportunities along with the adoption of modern technologies. Governments in the modern day should also behave like businesses, they are competing for the great entrepreneurs and if they provide poor service, citizens will leave.
Startups vs Corporations: How to Survive in a Less Mature Ecosystem
Many major corporations have launched their own corporate venture capitals, a subsidiary that operates in a startup-like manner and may become a threat to fast-moving startups. Big businesses may use this opportunity to close the gates and stomp down the competition. Another threat is that with modern technology, almost everyone has access to the internet at their fingertips, making it more likely that your business ideas will be identical to others. In order to stand out from the crowd, your business ideas will have to be more abstract and you will need to think differently, introducing or providing something that others would think of themselves. Another key element that startups use against corporates is the ability to adapt. As startups have higher mobility, technology adoption can be done at a much faster pace thus easily putting them one step ahead. However, the most important objective is to always keep your customer satisfied in this ever changing market.
If you are an entrepreneur from a lesser developed country or market and are wondering how your business could survive against the competition, The Draper University online is now looking for unique entrepreneurs from outside the United States to help assemble their businesses. Now, Draper University also offers a free ride for top students to be a part of Draper University hero training where top entrepreneurs were made.