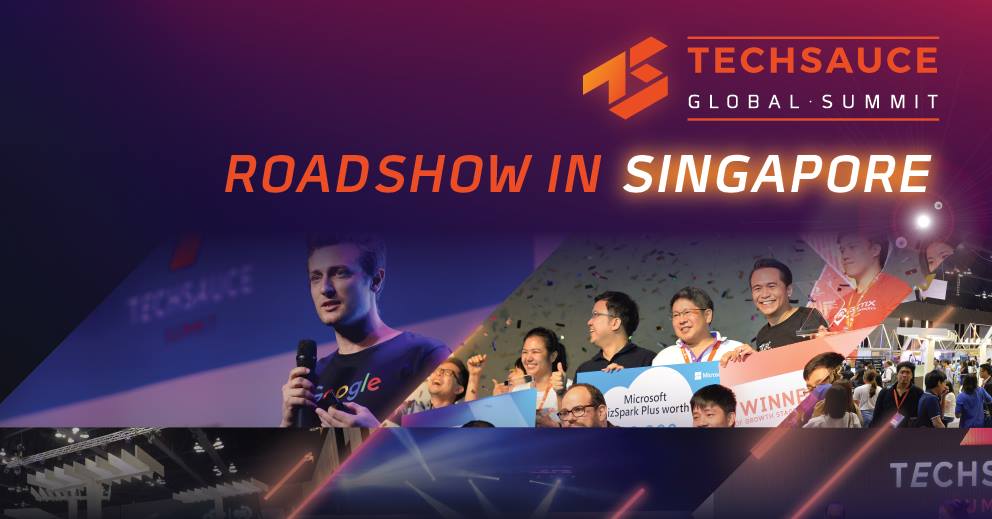 Calling all Singapore founders: your chance to pitch to Global investors managing over $2 Billion USD in capital, connect to biz dev opportunities with the largest conglomerates in Thailand and Asia and be part of Southeast Asia's freshest and edgiest tech conference and after parties with 6000 other attendees at Techsauce Global Summit 2017 has arrived – X2 flights, accommodation and a free exhibition booth for winners. Runners up will also receive two free passes to our conference.
Fill out this form and the prize could be yours! (Deadline: April 18 - midnight)
This summer, Thailand's largest international tech and startup event goes on tour throughout 6 cities to find one startup winner from each city to participate in the grand finale on July 28-29 at Centara Grand Bangkok Convention Centre.
The Singapore roadshow event features a panel with Dr. Joshua Pas, Digital Transformation director at The Siam Cement Group (SCG) and David K. Goh, Hd Digital Strategy and Innovation at Daimler on "A Corporate Perspective on Innovation: How to Implement Innovation into Big Companies In a Smart Way."
Participants will also have the chance to hear a startup success story from KKday's Regional Director/co-founder, Jim Chang, who takes the wheel for KKday's market expansion in Southeast Asia. Chang has overseen the rapid growth of 6 promising markets in the region. Prior to this, he headed the Taiwan business development team and curated the very foundation of KKday - unique tours and activities.
Believing that authentic experience is the core value of "Traveling," KKday has already collected more than 6000 worldwide experiences from professional providers and unique local experts. Chang will share tips on expansion in SEA and KKday's journey to offices in 10 countries.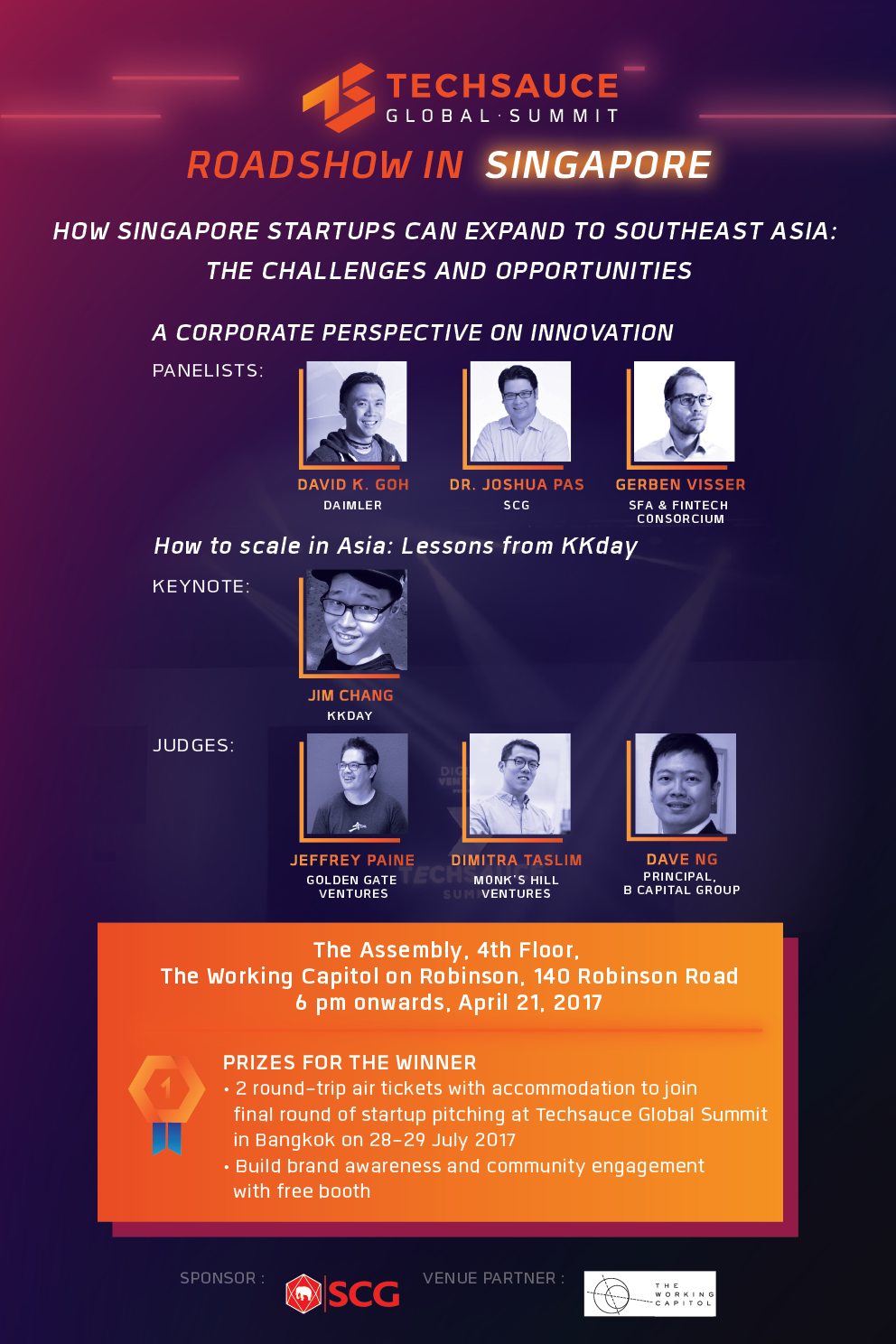 This event is held in conjunction with our venue partner The Working Capitol on Robinson, and SCG, one of Techsauce Global Summit's gold sponsors for this year, as well as The Singapore FinTech Consortium, Golden Gate Ventures and Monk's Hill VC - all of whom will also sit on the judges' panel during the startup pitching session. David Ng, Principal, B Capital Group also joins us as a judge.
What if you're not a startup or don't want to pitch but you still want to attend? Of course we still welcome you! The event is free for all participants. All startups, corporates, investors, media and ecosystem organizations are encouraged to join. Simply register here.
Roadshow schedule - April 21: 6:00 PM - Welcome message from Techsauce Global Summit organizers!
6:15 PM - Discussion panel: "A Corporate Perspective on Innovation - How to Implement Innovation Into Big Companies In a Smart Way" Moderator: Gerben Visser (SFA & FinTech Consortium) Panelists: David K. Goh (Daimler) + Dr. Joshua Pas (SCG)
7:00 PM – Keynote: "The Challenges of Scaling in Southeast Asia" - Jim Chang, Regional Director/Co-Founder, KKDay
7:15 PM – Pitching session with top 10 selected startups from Singapore & winner announcement
9:00 PM – Networking session with beer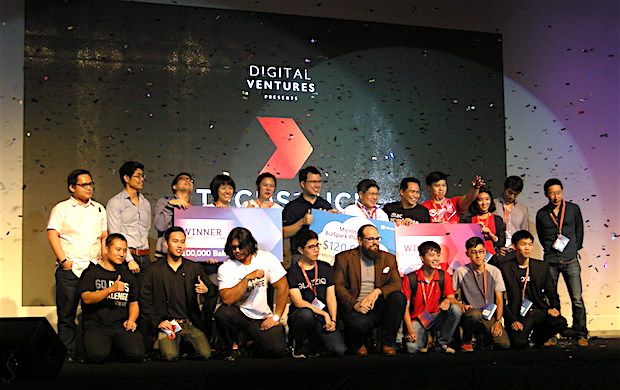 Picture from Techsauce Summit 2016
Last year, Thailand's Techsauce Summit was termed the new rock star of tech conferences in Asia. As the biggest international tech conference ever organized in Thailand, it is one of Asia's top tech conferences to watch. Techsauce Summit also holds the record for uniting the world's top 3 accelerators on the same stage for the first time in this region.
In 2017, the event is back - this time on a global scale.
Techsauce Global Summit 2017 is the melting pot for global and regional leaders in technology, venture capital, corporations and startups. Heralded by many as the "freshest and edgiest" tech conference in Southeast Asia, this is Southeast Asia's must-attend conference for technology entrepreneurs from Southeast Asia who wish to propel themselves onto the global stage and global investors who wish to identify the region's leading startups.
As Southeast Asia's first global-scale conference, it will assemble more than 6,000 participants in Bangkok on July 28-29 including 1,000+ startups, 200+ venture capitalists, angel investors and corporates, and 200+ journalists from global media outlets for this year's ultimate gathering at Centara Grand Convention Centre in Bangkok, Thailand. The Summit facilitates an opportunity to open up to Asia and the rest of the globe with top VCs and corporations such as 500 Startups, Facebook, Samsung, HP, Dentsu Inc., EY and Idea Tokyo.
See a full list of speakers and full info here: http://summit.techsause.co Book your tickets today & save: http://ow.ly/yfr3309Xnb5 To reserve spacing for booths, contact us at [email protected]
More about our roadshows: https://summit.techsauce.co/roadshow/