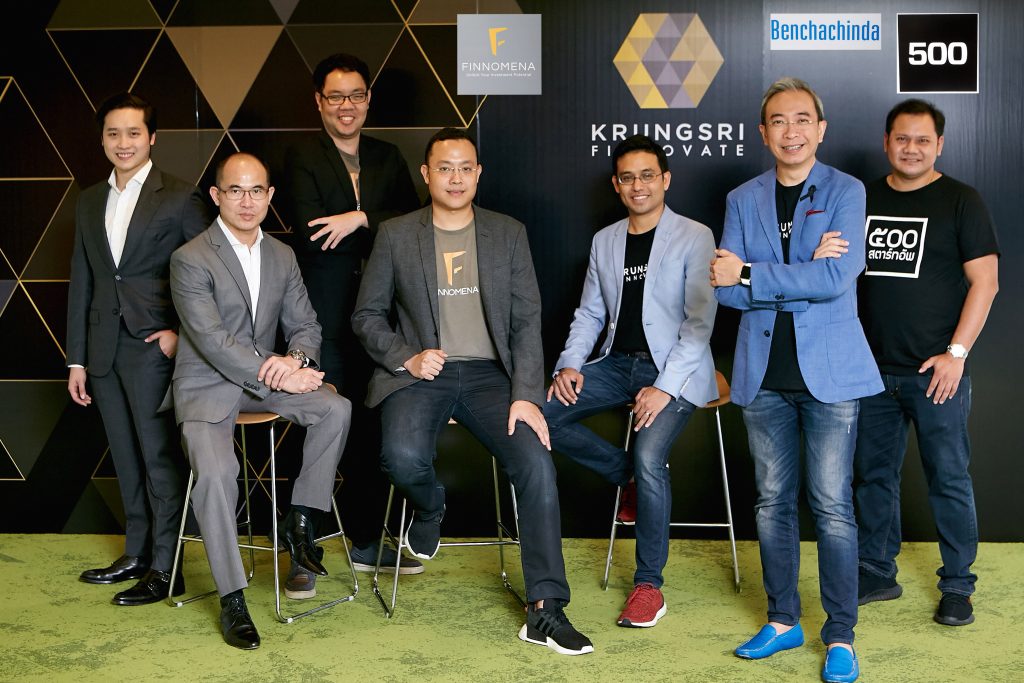 Krungsri Finovate leads the way in investing in 'FINNOMENA', a leading Thai FinTech startup in wealth management with two key investors, 'Benchachinda' and '500 TukTuks', totaling the Investment to the sum of USD 3.2 million in its Series A round funding.
FINNOMENA's expertise lies in the robo-advisors technology industry and under this exciting investment deal with Krungsri Finovate the Thai startup can further develop its wealth management advisory services.   
Mr. Thakorn Piyapan, Chairman of Krungsri Finnovate, subsidiary of Krungsri said;
"Krungsri Finnovate entered into an investment agreement to make our first Venture Capital investment in a Thai FinTech startup FINNOMENA with a total considerations of USD3.2 million or approximately 112 million baht. Krungsri took the lead in this round funding, joined by Benchachinda and 500 TukTuks."
Krungsri foresees the potential and strength of FINNOMENA to grow into a leader of the industry which has also participated in our accelerator program, Krungsri RISE Batch 1.
The FINNOMENA startup has highly-accelerated the development and rapid customer growth. Krungsri will leverage the company's strength in the robot-advisors technology by integrating the technology into our financial advisory services for wealth management business. As such, we are able to offer our users the Krungsri Mobile Application, a user-friendly, convenient and all-in-one mobile banking service, that can better serve customers' individual investment goals. " 
Mr. Vichai Bencharongkul President, Benchachinda Holding Co.,Ltd. (BCH) said,
"Investing in FINNOMENA in this Series A financing round presents a good opportunity for BCH to expand into the digital financial market as its technology-based services perfectly match customers' modern lifestyles while paving the way for BCH's future service provision through digital platforms."
As an investor, we believe the hybrid robo-advisors technology is a perfect model for the Thai market and the rest of ASEAN where the FinTech industry is fast growing. FINNOMENA's highly-capable experts make us believe that they would definitely reach the goal. If this lucrative investment is a success this will be a major green light for further banking investment into Thai startups, specifically in the tech industry.
This will push forward the growth and development of Thailand's robotic usage and put the country in the running to be at the forefront of this global phenomenon.
About Krungsri:
Krungsri (Bank of Ayudhya PCL and its business units) is the fifth largest financial group in Thailand in terms of assets, loans, and deposits with 72 years of history in the country. Krungsri is a strategic member of the Mitsubishi UFJ Financial Group (MUFG), Japan's largest financial group and one of the world's largest financial organizations. Krungsri provides a comprehensive range of banking, consumer finance, investment, asset management, and other financial products and services to individual consumers, SMEs, and large corporations through 695 branches (658 Banking Branches and 37 Auto Business Branches) and over 31,000 service outlets nationwide. 
About FINNOMENA
FINNOMENA (www.finnomena.com) aims to raise awareness and educate about investment and financial planning for Thai people. We do this through publishing various kinds of financial articles, video streaming, and organizing seminars all over Thailand. Our objective is to unlock the investment potential in every Thai people. Currently, FINNOMENA receives more than 1 million audiences from different social medias weekly. We also give investment advice through our product NTER (www.nter.io) which is a robo-advisor that has been continuously developed by our financial gurus. NTER seeks to inform investors with the best possible mutual funds in each category from every asset management company in Thailand (Best-in- class) without biases. NTER also allows investors to customize investment plans to ensure that each plan is best suited with our clients' individual purpose. We prioritize our customer's private benefits and are committed to operate on this principle. Currently, NTER has total assets under advisement of approximately THB 2 Billion which had grown constantly from THB 300 Million at the end of 2016.