Thailand, while not the most populous nor richest of the Southeast Asian nations, is currently the fourth largest ecommerce market in the region, valued at $900 million and is expected to increase its ecommerce business 12-fold to a value of $11.1 billion by 2025.
What does the attractive Thai ecommerce market look like now and what can be expected in the coming years? ecommerceIQ shares ECOMScape: Thailand to provide a quick snapshot.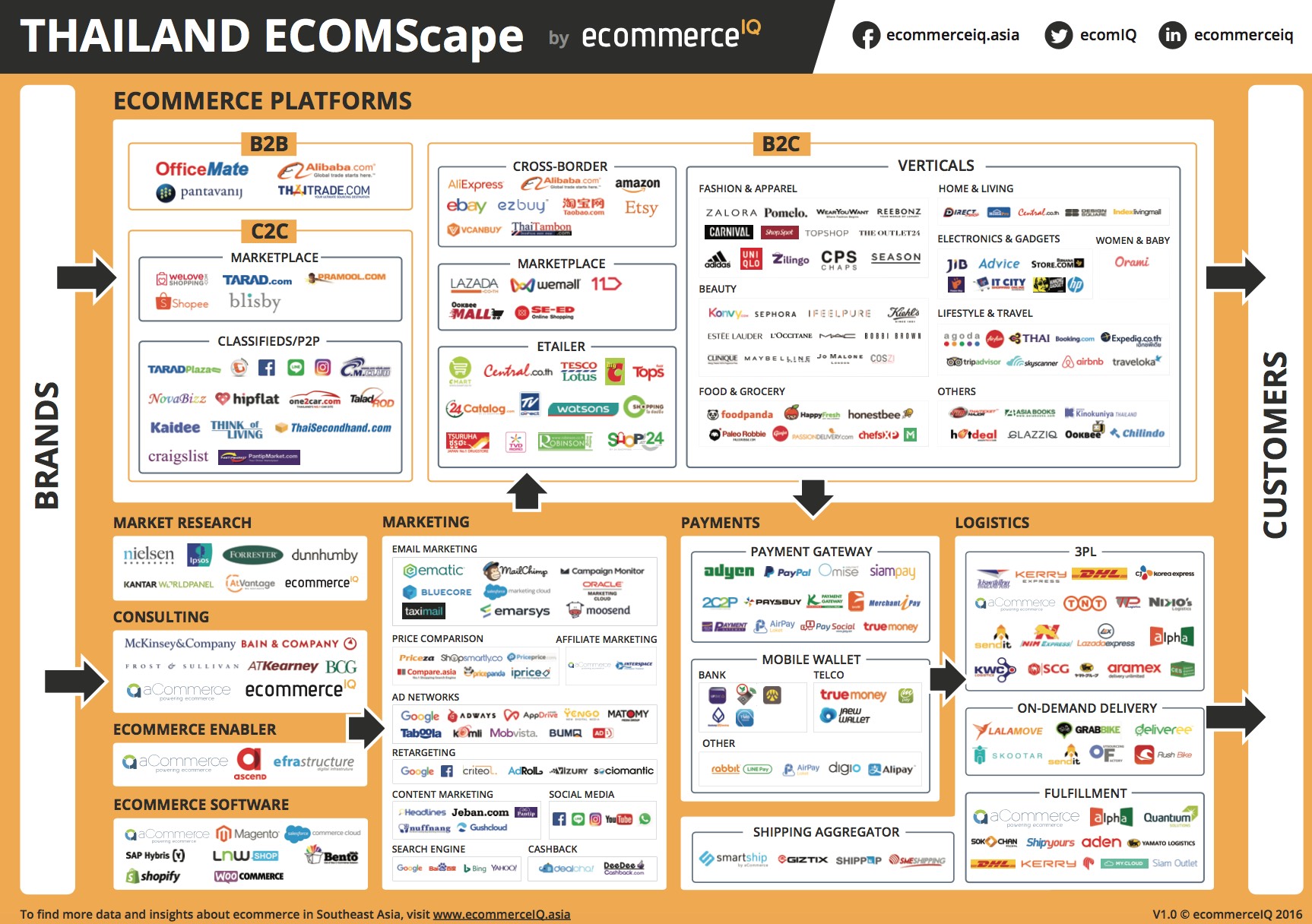 [toc]
1. Lazada is the dominating marketplace, while others compete in niches 
What differentiates Thailand from other markets in Southeast Asia is that one online marketplace - Lazada - has significantly advanced over its local ecommerce rivals. The traffic of Lazada's two closest competitors WeLoveShopping.com and Wemall.com combined makes only around a quarter of Lazada's monthly traffic.
Yet, that and the fact Lazada now has the support of Chinese ecommerce giant Alibaba, is not scaring off competitors. Korean ecommerce marketplace 11street is expected to launch in Thailand in time for campaign season, 11/11, in hopes to replicate its success in Indonesia and Malaysia. The group's claimed annual gross merchandise value of $7 billion is 7 times bigger than that of Lazada Group, but will it manage to challenge Lazada in Thailand?
Deep pocketed conglomerates are also moving in to steal market share, such as Thai CP Group, which belongs to the richest family in Thailand - brothers Chearavanont, owns Tesco Lotus, Shopat24 and 24Catalog. The second richest man in the country, Charoen Sirivadhanabhakdi, this year bought BigC and Cmart (formerly Cdiscount). While Central Group, the operator of Central department stores and distributor of several tens of foreign brands in Thailand behind which stands the third richest - Chirathivat - family, owns online marketplaces Central.co.th, Robinson and Tops. All of the above mentioned retailers have both - offline and online stores.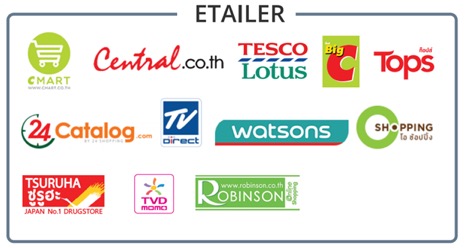 Despite Lazada's dominance, competitors are not easily scared off, especially deep pocketed Thai conglomerates who want their share of etailer online market.
Fashion & Apparel is one of the most competitive online market segments. In Thailand, this category represents a healthy mix of local players like Pomelo and WearYouWant, regional players like Zalora, Reebonz and global brands such as Adidas and Uniqlo.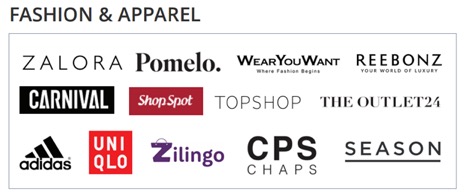 The competitive Fashion & Apparel online market in Thailand represents a healthy mix of local, regional and global players.
Brand.com webstores are also gaining traction in Thailand, which is best observed in the beauty category. Brands such as Maybelline, L'Occitane and Estée Lauder in Southeast Asia embrace the ecommerce market boom and use the opportunity to sell on their brand web stores, marketplaces or through distributors to capture the widest possible audience.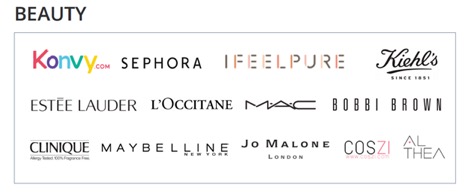 Beauty brands go all-in in Thailand selling their products online on their own webstores, marketplaces or through distributors.
2. Old school vs new kids on the block compete in C2C
Classifieds and consumer-to-consumer (C2C) marketplaces were the first 'ecommerce' businesses to operate and remain an important part of the online journey in Thailand. Three of the most popular C2C marketplaces - WeLoveShopping, Tarad, Pramool - were created around the millennium and are run by local companies. However, newer market entrants like Shopee, supported by Southeast Asia's largest gaming company Garena, are on their heels.
Tarad and Pramool ecommerce sites can be accessed on desktops, while the newest competitors - Shopee, Blisby, as well as WeloveShopping - all have mobile apps, which rank among the top 10 most popular C2C ecommerce apps in Thailand. Since approximately 85% of online shopping outside the major metro areas in Thailand takes place through mobile, it is easy to see that the new kids on the block are disrupting traditional, desktop-first marketplaces.
3. Social commerce is driven by Facebook, Instagram and LINE
An ecommerce business model specific to Thailand is social commerce - merchants set up 'shops' on Facebook and Instagram where they post images and details of their products so online browsers can inquire about the product and other details to further facilitate the deal.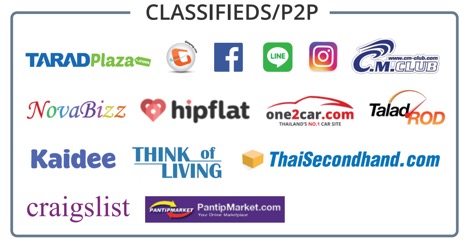 Thailand is the leading country where half of online shoppers buy directly from merchants through social networks.
According to a PwC report, Thailand is the biggest social commerce market and around 50% of online shoppers purchase products through social networks. Therefore it was no surprise when this June Facebook started testing social commerce payments in Thailand and later in August launched Facebook Shop, the first in the world.
Companies like Shopee are looking to lure merchants selling on social networks to its online marketplace with aggressive marketing by offering easy integration of their Instagram shops and reimbursing shipping, cash on delivery fees to sellers. Other players like LINE also have eyed this market segment. LINE Shop was created to utilize the wide audience of LINE messaging app and tap the social commerce market. Yet technical issues such as a requirement to upload merchant product catalogues on the app through mobile phones, as well as limited payment options through LINE Pay, has hindered the success of LINE Shop.
4. Cash is still king
Thailand is still a cash driven society and cash on delivery (COD) is the preferred payment method for 70% of ecommerce shoppers, making payments a bottleneck for faster ecommerce growth as many sellers cannot offer COD. There are various mobile wallets offered by telecom companies, banks as well as independent players but so far, none of them have quite caught on.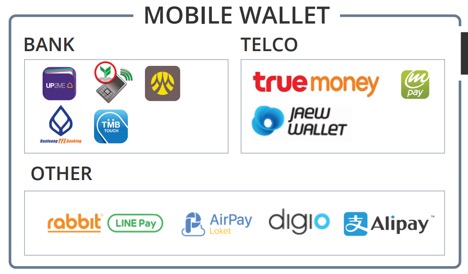 Despite various mobile wallet providers, cast is still the most preferred payment method.
The large unbanked population and low trust in the security of personal financial details does not make the task of Thais adopting digital payments any easier. And though there has been a surge in fintech players, none really address the core issue. For example, LINE Pay accounts can only be linked with a credit card in Thailand, where just  3.7% use one to make payments. Mobile wallets and banks offering a top-up through either ATMs or special kiosks, defeats the purpose of an m-wallet. Good news is that there is an opportunity for a player to provide a convenient and easy digital payment solution for those without a bank account and/or credit and debit cards.
5. Fierce competition in logistics leads to price war
The ecommerce gold rush across all Southeast Asia has facilitated growth of startups who hope to solve logistics problems like next-day delivery and live tracking, and Thailand is no exception. The success of ride-hailing apps Uber and Grab has encouraged several startups to offer on-demand delivery services.

The success of ride-hailing apps has driven several start-ups to offer on-demand delivery.
There are numerous companies who provide 3PL services and ensure a smooth last mile delivery. This means companies engage in price wars and suffer lower margins, if any at all.
The packed logistics market is beneficial for marketplaces and merchants as they have plenty of delivery service providers with whom to negotiate a lower price.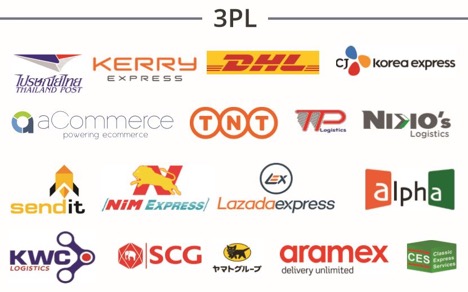 Numerous companies offer 3PL services and ensure last mile delivery driving down delivery costs for the benefit of marketplaces.
---
The diagram of Thailand's ECOMScape together with this article is created by eCommerceIQ team under aCommerce group.
Click here to download the full, high-resolution version of ECOMScape: Thailand and join the ecommerceIQ network for the next ECOMScape in our series. Are we missing any players? Let us know on Facebook, LinkedIn or Twitter.
Check out ECOMScape: Indonesia