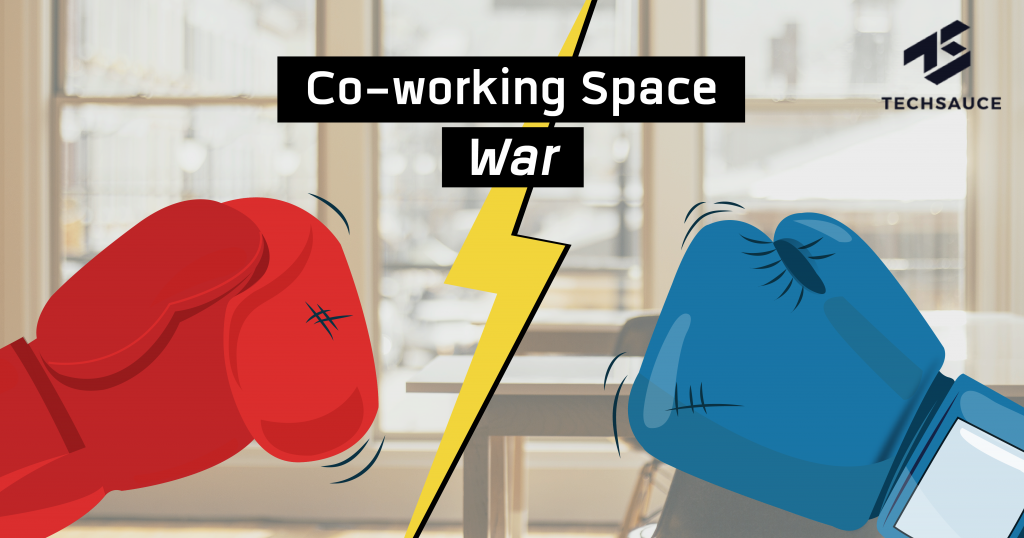 As Thailand becomes a major player, not just in the ASEAN region, but on a global scale, specifically as a leading market player for new and progressive ways of workspace design, the corporate coworking leaders have taken a lions share of the market.
In the heart of Bangkok's CBD, there are 3 new coworking brands, all competing for the same market in a bid to win over the Thai clientele.
We Work, Just Co and GlowFish have all sprung up in the same area creating a competitive edge to Thailand's coworking landscape.
Charles Charoenphan, Co-founder of HUBBA, Thailand's largest co-working space, weighs in on the corporates taking on the Thai market.
As there are 3 main co-working spaces in Sathorn right next to each other can you explain about this competitive landscape?
The Global players are Justco, WeWork, and Spaces (who are owned by Regus).
Regus is an established coworking space from Amsterdam that is firmly recognized and solidly positioned within the global corporate coworking landscape. JustCo and WeWork are the trendier, hipster versions of Regus with their own style but with the same principle outlook, demographic and business structure.
JustCo and WeWork have been employing people who used to work at Regus to increase their chance of reaching a higher ranking in the global corporate coworking landscape. This is a risky and sneaky move but one that seems to have benefited each of their organizations.
Another market advantage that JustCo and WeWork have managed to establish and differentiate themselves is through the demographic they are attracting. Regus attracts more of generation X, whereas JustCo and WeWork, with their design and ethos, attracting more of generation Y, thus giving them an advantage as this younger demographic are progressing into coworking spaces as a way of life. The traditional forms of corporate offices will eventually diminish and this digital nomadic lifestyle will infiltrate globally. So its good news for coworking businesses.
Do they have different investors/backers and marketing strategies?
They all have different investors and Glowfish, in particular, is family owned with property and Real Estate in their portfolio. Glowfish own the whole building and have a restaurant next door to it giving it a unique, boutique and luxurious feel, with an upmarket prestige.
Of course, all three have different marketing strategies with each aiming to provide a different environment, ambiance, and service for their corporate clients.
How does HUBBA feel in the face of these rival coworking spaces?
As it stands we have a completely different demographic and our locations are not focused in the CBD. Luckily the coworking spaces that are rivaling are concentrated in the CBD.
HUBBA offer services to startups, freelancers, new business developers and offer an integrated community for the digital nomad movement.
HUBBA are an affordable option with locations across the city with a cheaper fee and alternative environments, therefore Hubba is not threatened by these international corporate coworking spaces moving into the Thai market.
What do you predict for the future of the coworking landscape in Thailand?
There are so many spaces in Bangkok that are lying empty, more than a million square meters are not being used. There is room for more coworking businesses to move into the market, rent is cheap and it is very simple to set up shop here. The market is still so big and has not become saturated in Thailand. We are becoming more globally interlinked and this is encouraging business to expand rapidly across all industries, therefore businesses have the capital to spend on coworking spaces too. It's becoming a very attractive landscape.
Do you think investors hold the key on who will be more successful in the market?
Of course financial capital helps to build the foundation for companies to get ahead in the market, however understanding your market on a deeper level such as cultural norms, competitors marketing strategies etc give you an advantage.
The key factors that need to be taken into account for a successful co-working space include:
Location
Brand recognition
Space
Design
Function
Marketing
Investment
Price
As it stands We Work's brand is stronger globally but it seems that they are only in Thailand to plant their flag in the market, whereas JustCo is really interested in making a difference in the Thai market. In terms of Design, some may observe that We Work is stronger that JustCo and Glowfish really do offer a culturally relevant and luxurious design.
Watch this space as the Thai corporate co-working space progress into a lucrative and landscape changing enterprise.
For more information on the key players in the Thai corporate coworking space follow the links below.
http://www.glowfishoffices.com/
Disclaimer: HUBBA is a strategic partner of Techsauce