At this year's Seedstars world competition here in Bangkok, influential women within the tech, entrepreneurial and investor sector took to the stage to discuss, debate and inform us of the work, power and influence that females have in the tech world and business.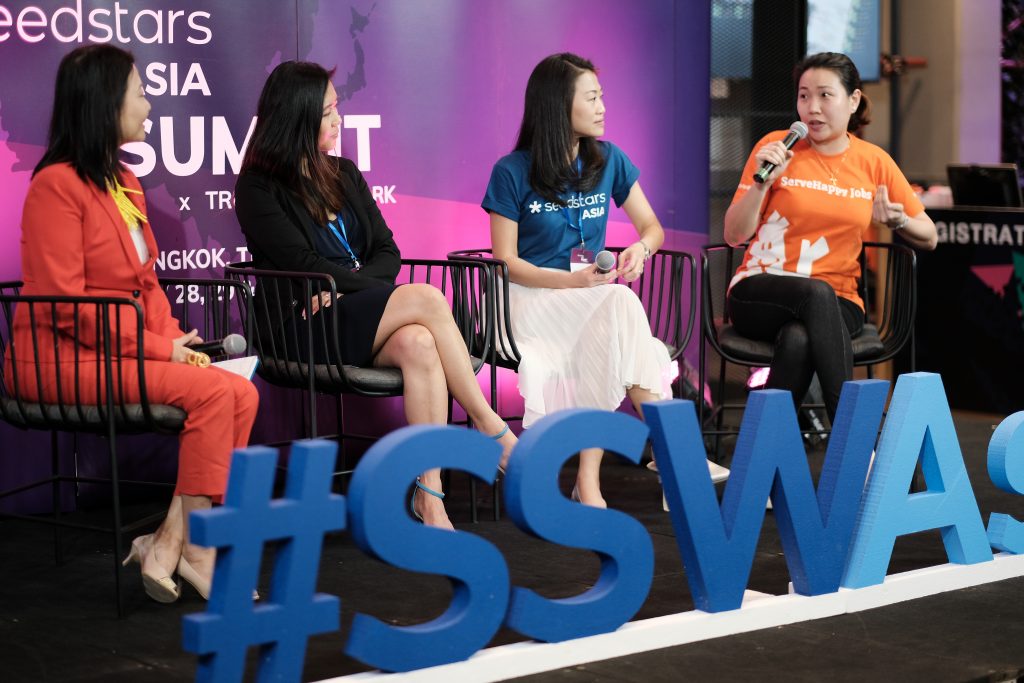 Christina Teo from startup Asia Women chaired the Women in Tech discussion with an impressive panellist full of active and influential females who advised the startups (of) their personal experiences, journeys and expertise.
On the panel:
Cheryl Yeoh from (Silicon Valley Bank), a system builder & Investor
Nichapat Ark from (OpenSpace Ventures), an active Venture Capitalist in Thailand
Audrey Uy (Serve Happy Jobs), an entrepreneur and global ecosystem builder
Ladies, how has working within the corporate industry shaped the way you invest in startups?
Cheryl Yeoh: I eventually wanted to move out of the corporate world and move into the entrepreneur startup game which is so much more fun. The job market is pretty competitive and crowded, especially in the corporate world whereas the startup and entrepreneur game has more freedom and room for expression. The corporate world gives you structure, dedication and fighting spirit to be a leader in the investment world which are skills you can bring to the startup game. When investing in startups it's all about the team, how well they cohesively work together and grow their business model.
Audrey, how did you raise Series C funding for 'Serve Happy Jobs'?
Audrey Uy: When I was developing and growing the business, I focused on the staff and serviced based people. Employers are struggling to find people with strong skills. I studied and understood the culture and problems that I experienced when trying to employ people and by finding out what other CEOs have had to go through. The premise of 'Serve Happy Jobs' is a social media platform for skilled service people. Social media is the best way for us to meet the marketplace and use Facebook actively to connect the right people with the job that suits them better.
I decided to enter a startup competition and found a local competition with local venture capitalists, as at that time there were very few foreign investors in the Philippines. This small competition allowed me to  practice my pitching and as I came with entrepreneurial experience, it was an advantageous skill to have which made the funding run more smoothly.
Cheryl, You moved from Asia to the States, tell us about this journey and what have you learned about business?
Cheryl: Yes, I moved from Asia to America when I was young. I learnt a lot from Silicon Valley, from the people I was around and the education I received. The one thing about the US is that there is much competition. For a startup you can't just think about seed funding, you have to look at the bigger picture with regards to (regarding) funding. What I learned is that a lot of corporate companies will think about a strategic (strategy) plan, for example, 'walmart.com' focused on lower costs deals & personalised shopping lists with an integrated market acquisition. You have to localise as well to succeed which is what we focus primarily on and then expand into broader markets after successfully integrating into a specific market.
How do corporations expand and regionalise overseas? How long did it take and how much work did you have to do to make it happen?
Cheryl: For our companies, some business ventures took around eight and a half years whereas some took five to seven years. It depends on the product and how much research you have done in the market which will determine how long it will take to expand into overseas markets.
To what extent can your ideas be audited over different countries?
Audrey Uy: My thoughts and main strategies are to partner with more prominent startups, for example in Bangkok, which is my next plan. Seeking out joint venture partnerships is crucial. Talk with as many potential partners as possible and do your research. Work on the ground, get involved with organisations like Seedstars who have competitions with workshops to help startups to understand the local landscape.
I have a meeting with a group of angels, and they have such an important role to play. Angel investors bring so much to the table and help grow ecosystems which I have had the privilege of meeting.
Cheryl, now you are in the states, and there are initiatives that you are involved in... can you can give us insight into what is trending over there?
Cheryl: I'm an entrepreneur resident in Silicon Valley focusing on tech with a few businesses under development.
We started a company two decades ago that focused on companies that needed support who didn't get financial backing from traditional forms of investment.
Focusing on startups that are a bit more entrepreneurial and have more creative needs can help them to expand into foreign markets.
We are developing a Blockchain company called ' Cosmos' https://cosmos.network/. With transactions being very slow, this helps to scale companies by 1000 transactions per second. If you are a startup working within the blockchain, you will see your startup accelerate faster.
We have also developed a program surrounding the development of culture which we are hoping to bring to Singapore as well.
As there is such a diversity in our panel and are all female we would like to ask the startups to ask questions.
I'm a co-founder of a startup and have a question for the panel: Have you faced any discrimination for being women and getting where you are today and how did you overcome them today?
Cheryl: We developed this campaign called #Movingforward which is pushing for policies to eradicate harassment against females in the entrepreneurial, investment and startup sector. Our efforts have helped women who have gone through discrimination and have offered protection and a fairer, safer business playing field.
Audrey: I'm doing the best I can to be an active woman entrepreneur in tech in the Philippines and be a good role model. Women CEOs in tech are still so few. We need more females to stand up in the entrepreneurial realm and make progress for women. The barrier to entry into the entrepreneur game is not difficult, it's all about mindset. I've been through women issues that they may face while climbing the ladder of the entrepreneur/ startup game and act as an advocate for breaking through the glass ceiling. There are many events that I went to at the beginning, and I was the only woman pitching on stage. Which was daunting but it builds confidence and encourages women to progress.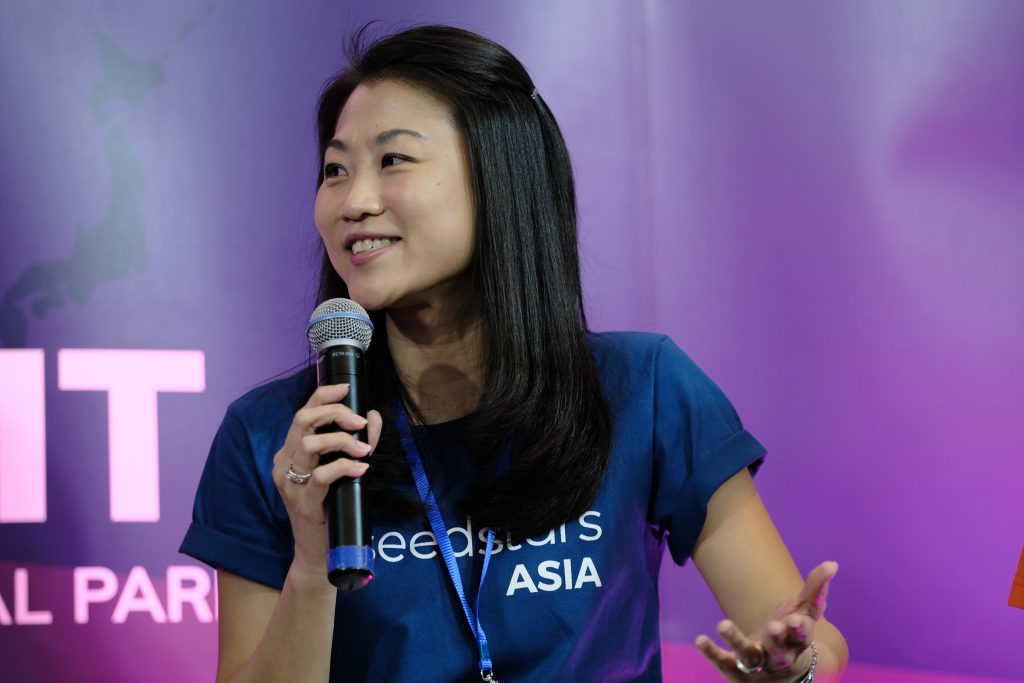 Nichapat: Being a woman investor it's all about being friendly and approachable. Its all about education and what we teach our kids. Its all about adaptability, innovation and being abstract. Women are very privileged, it's all about the mindset, building a corporate executive women network.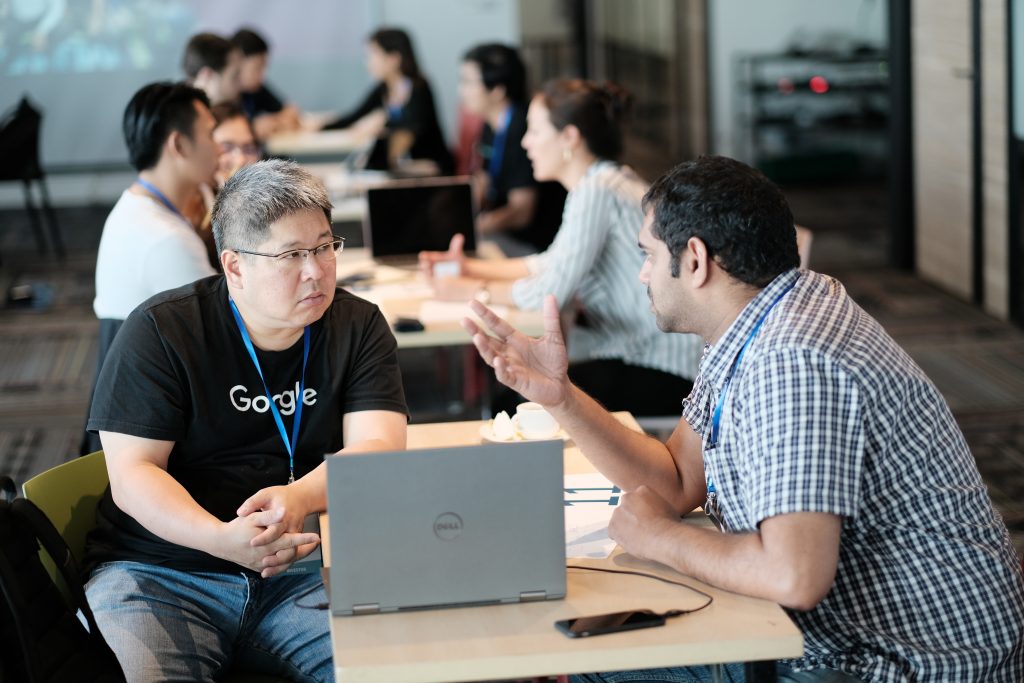 Paul Ark, a top Fin-tech venture capitalist in Bangkok and husband to our panellist Nichapat Ark asked Cheryl:
If we look at the ecosystems in Asia comparing them to Silicon Valley, the work that you did with MaGIC by collecting startups so quickly as we in south-east Asia look to you for motivation and inspiration,
What sort of advice do you have for entrepreneurs, government officials and ecosystem builders so they can grow their portfolio?
Cheryl: I think everyone tries to build like the Silicon Valley ecosystem, which I don't think works. I started my career in New York which at that time was transforming from a financial hub to a tech hub, and the things I did with MaGIC for the Ecosystem was going along with that change. MaGIC is a platform for successful entrepreneurs to come together instead of being separate and hiding their ideas. They can contribute as entrepreneurs and also focus on education and what the challenges are that we face. My own experience which helped was an exposure program at Stanford University which looked at global companies and the software that they use. All of these factors combined are all enablers for winning over startups and growing your portfolio.
Links to the speaker's profiles:
Christina Teo
https://www.linkedin.com/in/christinateo/
Cheryl Yeoh from (Silicon Valley Bank) is a system builder & investor.
https://www.linkedin.com/in/cherylyeoh/
Nichapat Ark from (OpenSpace Ventures) is an active Venture Capitalist in Thailand.
https://www.linkedin.com/in/nichapat-ark-694157137/
Audrey Uy (Serve Happy Jobs) is an entrepreneur and global ecosystem builder.