Lazada, a Southeast Asia's E-commerce leader, has set its goal to be the Number-One shopping destination for women in the digital era as they are important audience to influence the E-Commerce market. The shoppertainment platform is organizing a series of activities include a mega event, 'Lazada Woman's Festival', to raise its market share of women consumers, ages 18-24 years. Aiming to offer new shopping experience through a mixed of O2O (Offline-to-Online) and shoppertainment strategies, the event features Livestream Fashion Show and Magic Mirror which tap on the customer's pain point, offering them trial experience before purchase.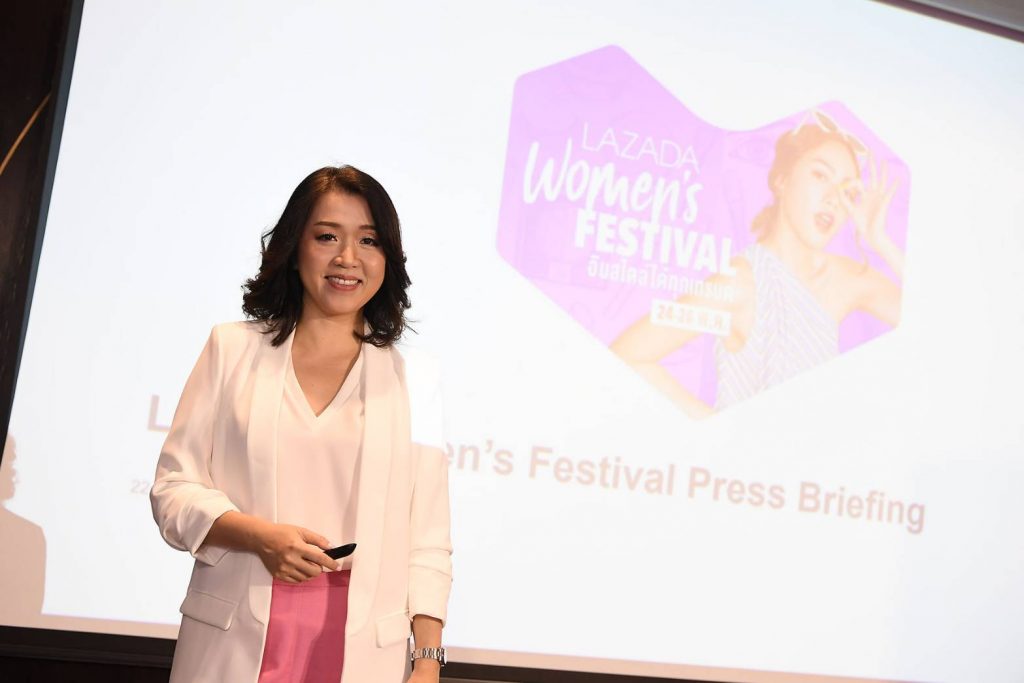 Ms.Thanida Suiwatana, Chief Marketing Officer of Lazada Thailand, shared that overall performance of E-Commerce in Thailand that the sector generated revenue of 118 billion THB in 2018 and it is expected that the upward trend will continue to 139 billion THB in this year with 15.3% of revenue growth projected in 2020. In term of mobile commerce users, Thailand ranked third globally with 71% of internet users buying something online via their mobile phone.  The key factor behind the growth of E-commerce in Thailand is the revolution of consumer behavior, leading to the growth of sellers and buyers on the online platform.
"Lazada, as a leader in the E-Commerce platform in Southeast Asia, is placing a focus to empower sellers and customers on Lazada's platform through three main strategies.
Shoppertainment, an innovative shopping experience that brings fun and games onto shopping. During Lazada's 7th Birthday Celebrations in March, Lazada has introduced Shoppertainment experiences include in-app Live streaming concert and LazGame.
Super E-Commerce Tech, an advanced E-Commerce infrastructure that supports sellers and buyers via tools and backend system, payment, logistics, and the Artificial Intelligence (AI) technology.
Super E-Business solution, a wide range of tools that support sellers and brands in LazMall, driving the growth of SMEs through O2O (Offline-to-Online) experiences.
These strategies are key drivers that enhance Lazada's business performance, reinforcing Lazada's position as number one E-Commerce player in Thailand with total orders uplifted 127% in the first quarter when compared the same period last year." said Ms. Thanida.
With a higher role and purchasing power, women become the world's most powerful consumers who drive the rise of SHEconomy globally. In E-commerce landscape, 85% of all brand purchases are made by women, while 22% of women shop online at least once a day. Women are truly significant part of Lazada's E-Commerce ecosystem. In Thailand, Lazada intents to grow numbers of women sellers and buyers on the E-Commerce platform.
"In the first quarter, women buyers on Lazada's platform grew 8% when compared to the same period last year. Beauty and Fashion are the top two product categories for women, of which beauty products contributed 35.6% while fashion products contributed 28.9% of all sales. Meanwhile, numbers of customers on LazInStyle, a shopping destination for online famous brands, has grown significantly at 60% since its first launch in last October. Local brands such as Copper.bkk successfully hit one million baht in sales in just one day during Lazada's 7th Birthday events. These milestones have been reflecting the continued growth of SHEconomy. Also, we are confident that through our readiness and advanced technologies, Lazada can serve all-things that women need," added Ms. Thanida.
Lazada celebrates women in Southeast Asia through empowerment, personal confidence, and embrace the freedom to explore. The E-Commerce leader is conducting a regional campaign so-called Lazada Women's Festival, empowering women, ages 18-24, to be confident in their style via Lazada – the number one shopping destination. The campaign is expected to drive the growth of beauty and fashion sales and women customers on Lazada's platform.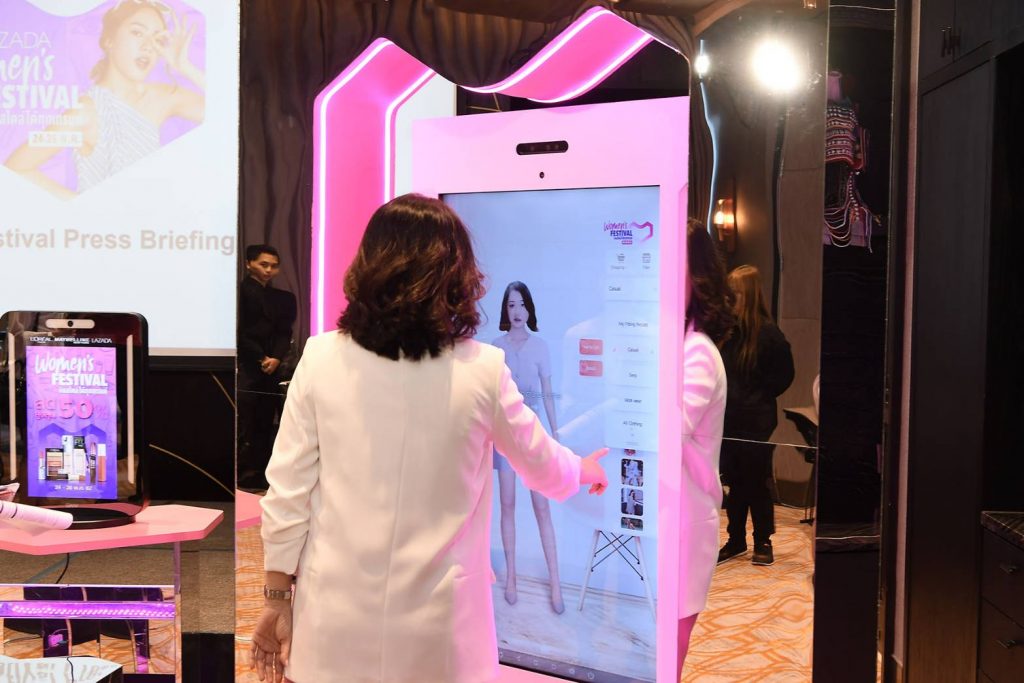 The Lazada Women's Festival will be held during May 24th-26th, 2019 at the Quartier Avenue on G floor and the Quartier Galleria M Floor, EmQuartier, Bangkok. At the event, Lazada will showcase Magic Mirror, the latest technology backed by Alibaba. The innovative solution taps on the customers' pain point, offering them trial experience before purchase. Also, the event will feature more than 40 leading online brands in fashion and beauty categories, from both LazMall and SME sellers.
On May 24th, 2019, starting from 18.00 hrs. onwards, customers will get a chance to enjoy the See Now, Buy Now Livestream Fashion Show. The activity combines Lazada's O2O (Offline-to-Online) and Shoppertainment strategies through innovative live stream technology, which will offer customers new and real-time shopping experience.
Further the continued commitment to accelerating E-Commerce ecosystem in the region and emphasizing on the shoppertainment strategy, Lazada has also introduced 'Guess-It!' livestreaming show for the first time in Thailand to further provide new, fun, and engaging way of online shopping experiences. Don't miss out super deals curated exclusively for women, save up to 80% from more than 300,000 items exclusively on Lazada application, from May 24th – 26th, 2019.
More information, go to https://www.lazada.co.th/women-festival/