PTT Public Company Limited (PTT) in cooperation with Sertis Co., Ltd. develop "Smart Energy Platform" by transforming energy management of Energy Complex Building or EnCo using Blockchain Technology integrates with Artificial Intelligence (AI) to manage power consumption more efficiently and enhance alternative energy usage. The project is the prototype of the PTT Group Smart City that will be a knowledge base for the Thai people.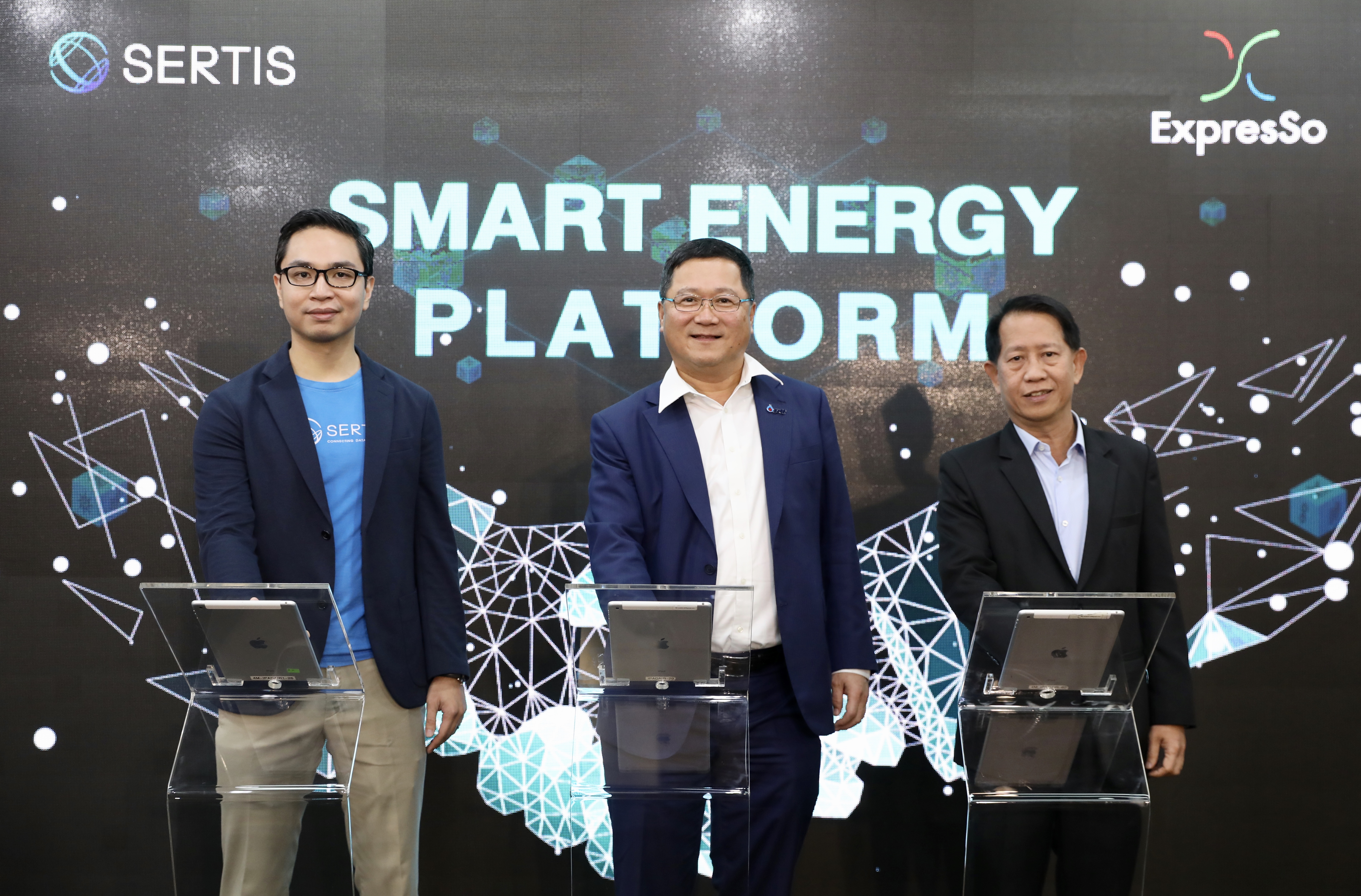 Mr. Chansin Treenuchagron, President and Chief Executive Officer, PTTPLC together with Mr. Thuchakorn Vachiramon Chief Executive Officer and Founder of Sertis Co., Ltd., and Mr. Chaiwat Sakouwjit, Managing Director of Energy Complex Co., Ltd., jointly announce the launch of "Smart Energy Platform by ExpresSo x Sertis" on the 28th November 2018 at PTT Public Company Limited Head office.
Mr. Chansin said that PTT as a National Energy Company under the supervision of the Ministry of Energy has consistently managed the country's energy security toward a sustainable future for 40 years. Throughout the year, PTT has strategically aligned its operations with the current situation and challenges. Nowadays, digital technology has played a major role toward businesses, which consider as both opportunity and challenge toward a more efficient energy management.
The "Smart Energy Platform by ExpresSo x Sertis" is PTT's new project from that has been orchestrated by a team of young generation from Express Solution or ExpresSo together with Sertis to develop Smart Energy system which support a wider range of energy usage more efficiently such as Alternative Energy and Smart Grid. Blockchain and Artificial Intelligence –AI have been used to enhance EnCo Building as a prototype that support PTT Group concept to develop a Smart City for the country. Moreover, this project will raise the living standard of the people to have an access to source of energy available. This mechanism is also in line with the nation's development plan toward "Thailand 4.0" strategy.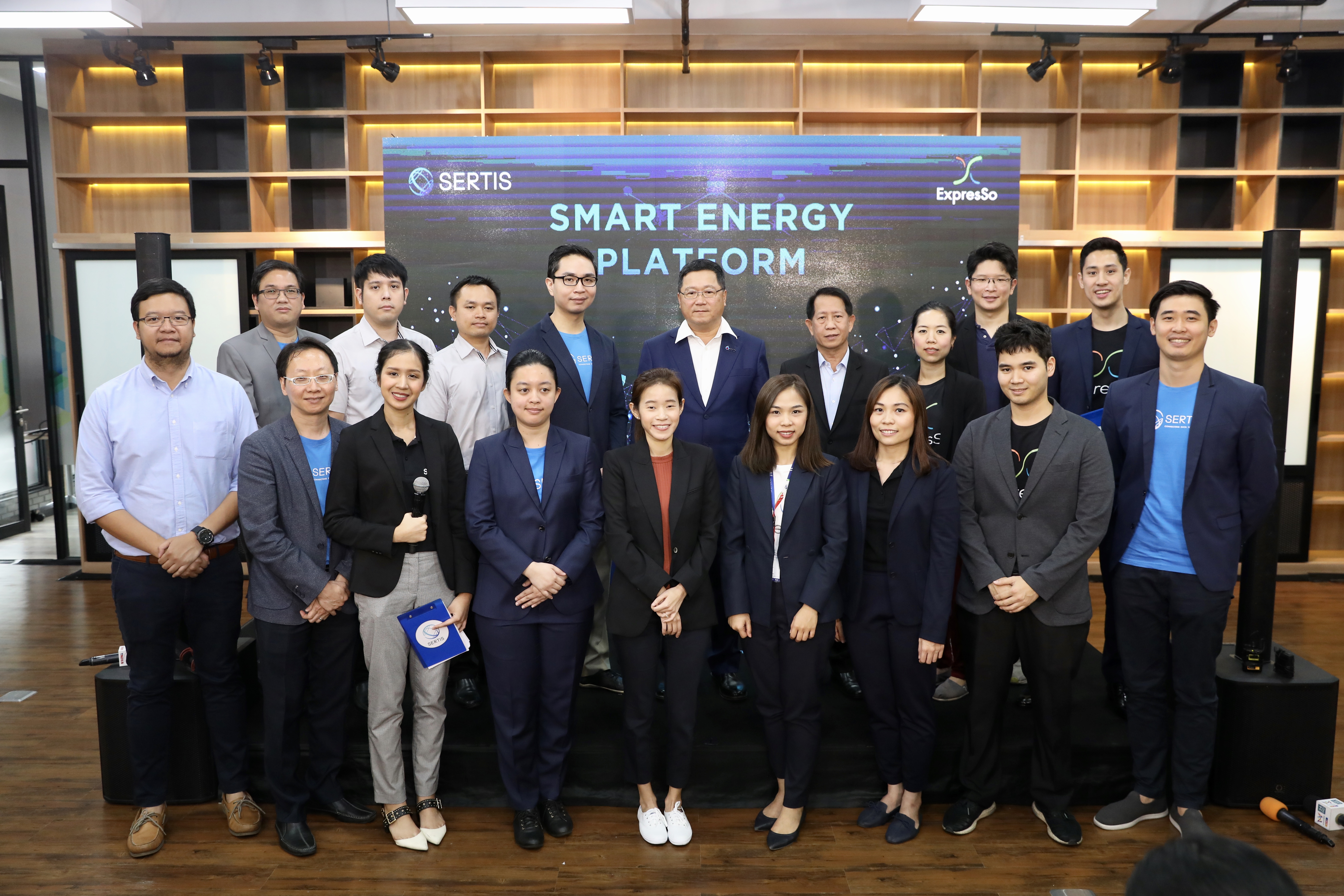 Mr. Thuchakorn said that it was an honor for Sertis to be a part of PTT Group Smart City Project and that for the "Smart Energy Platform" Sertis has developed a Blockchain technology to enable the Energy Management process to be more efficient. This platform will allow transactions to be decentralized and processed automatically without being controlled by any single party, making data management and transactions more secure and transparent. Users on the platform will be able to see the energy consumption data from both the Grid and Energy Complex building Solar cell system in real time.
Moreover, the Smart Energy Platform will merge blockchain technology with Artificial Intelligence - AI in order to optimize data processing on the platform and to support PTT Group's operations in areas such as electricity usage forecasting (Load Forecasting) and electricity production forecasting (Generation Forecasting) from various power sources more accurately. This platform will also provide data insights to the users to help them with rolling out alternative energy systems and to improve the efficiency of their electricity consumption.
Mr. Chaiwat said that Energy Complex Building or EnCo wanted to become the center of Energy Business Unit with the goal to be the prototype building that focus on utility and energy conservation with the least affect to the environment by bringing on technology toward energy management. An example of technology investment was 3 years ago when EnCo foreseen that digital platform will play an important role in energy management, thus the Network Backbone was planned and laid out before hand in order to measure and store energy data digitally, making the whole process easier and more efficient.
"PTT Group has prepared to enter the clean energy era through innovative digital technology to enhance business toward becoming better, faster and more efficient. We aim at becoming the backbone of the country energy and achieving the 20 years national strategic plan that in line with "Thailand 4.0" development plans. This will propel the country's economy toward progress and be beneficial to all Thai" said Mr. Chansin Treenuchagron, President and Chief Executive Officer, PTTPLC.