LINE's new business vision unveiled: "LIFE ON LINE"
Announced intention to become "life infrastructure" that will support all aspects of users' lives
New strategy will focus on bolster initiatives in the three areas of "Offline", "Fintech", and "AI"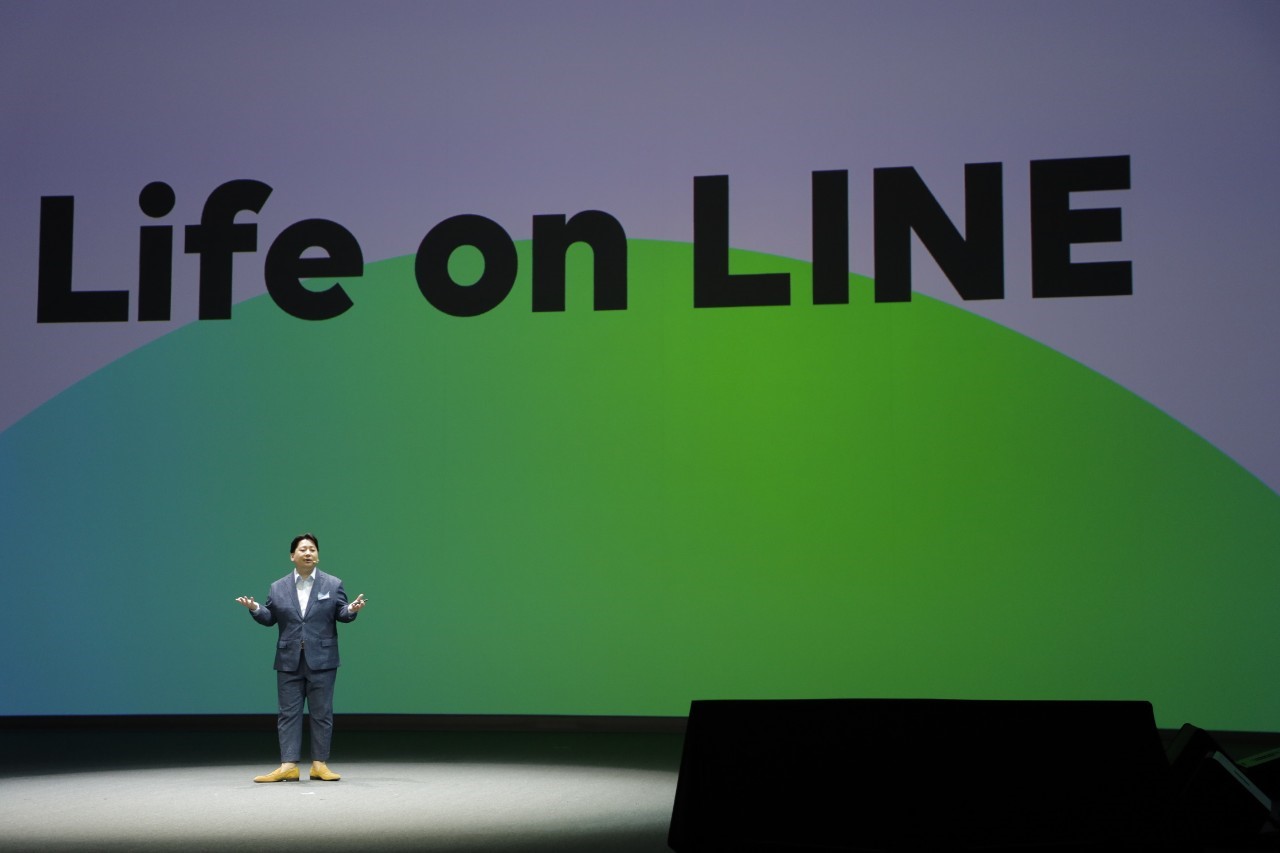 LINE Corporation ("LINE") held its business strategy conference LINE CONFERENCE 2019 today. The whole afternoon was fully packed of 9 informative sessions in total. 
1. Keynote "Life on LINE"
The Keynote presentation marked the first time that CWO Jungho Shin made an appearance at LINE CONFERENCE. During the speech, CWO Shin reaffirmed LINE's core value of "WOW"—as encapsulated in his own title of Chief WOW Officer—and explained that at the crux of "WOW" was innovation. Delving even further, he stated that the type of innovation the company was pursuing was society-changing "lifestyle innovation" that would deliver an unprecedented user experience. Shin went on to announce the company's new vision as "LIFE ON LINE", under which LINE will pursue "WOW" by becoming a "life infrastructure" that leverages lifestyle innovations to support all aspects of users' lives 24/7. Putting forward the three strategies of "Offline", "Fintech", and "AI", LINE will focus on initiatives in these three areas as it endeavors to make "LIFE ON LINE" into a reality.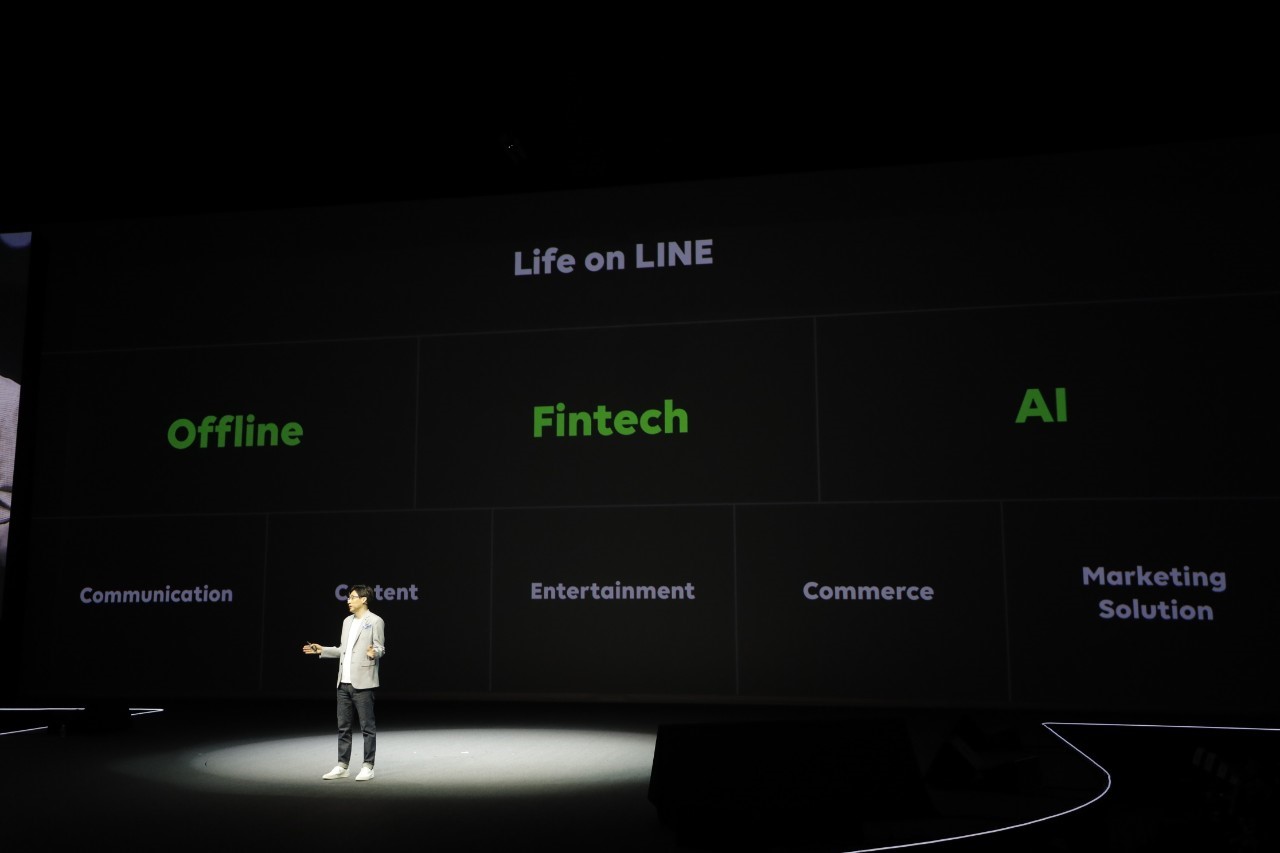 Up until now, expansion from online into offline happened under the straight forward concept of O2O (connecting online and offline). LINE, however, will aim to make its "LIFE ON LINE" vision into reality by going beyond simple online-offline linking and actually uniting the digital and real world: the concept of "Online Merges with Offline" (abbreviated as OMO). By expanding the LINE app beyond the online realm and into the offline one and creating a hub for both, the company intends to make the lives of its user even more convenient and comfortable.
Brand new service platform: LINE Mini App (soft launch in fall 2019, full launch in spring 2020)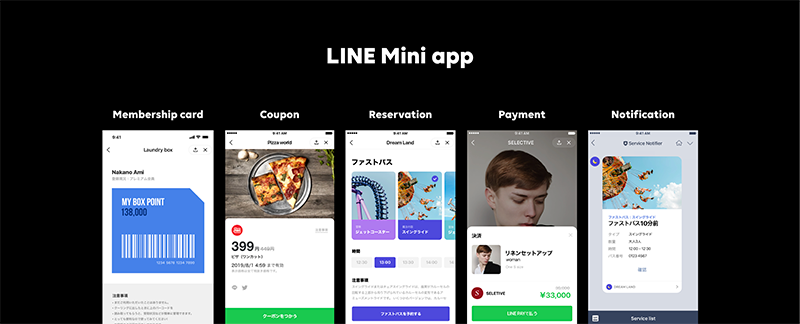 The LINE Mini App (styled as "LINE Mini app") was also unveiled, and introduced as one of the means to help propel the "LIFE ON LINE" vision. It is a new service platform that will be built inside the LINE app. At present, users either need to download separate apps or search the web and visit websites for specific services or information. However, the LINE Mini App will make it possible to search for services and information all from within the LINE app, offering a user experience that seamlessly blurs the line between online and offline.
Scoring service: LINE Score (available from today)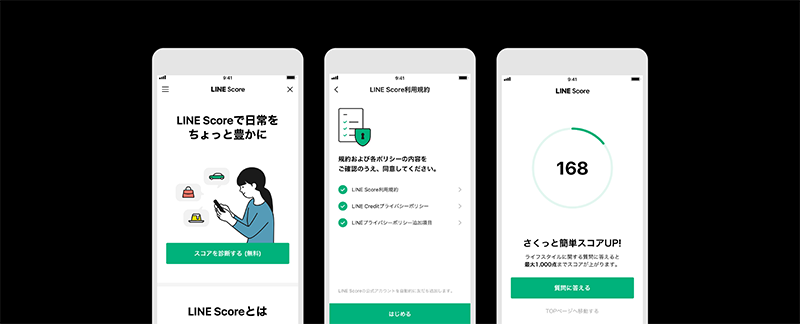 The company announced the launch of LINE's proprietary scoring service, which is available from today through LINE Credit Corporation ("LINE Credit"), a group company of LINE Financial Corporation ("LINE Financial"; provider of LINE's financial services). Utilizing a proprietary AI-driven scoring model, LINE Score is available to the LINE app's more than 80 million MAU in Japan, and is easily accessed via the in-app LINE Wallet tab. The service will provide promotions, deals, and a range of other benefits customized to each individual user's score.
Responsibility as a platformer: Focus on complete privacy and developing leaders of the future
Since launching the LINE messaging app in 2011, LINE has endeavored to provide a communication service that users can both enjoy and feel at ease using. As the company has diversified into other services and content—not to mention its current focus on new business domains such as Fintech and AI—it has taken every effort to formulate rules based on the GDPR and other unique regulations of different countries, provide sufficient explanations to users and obtain their consent for new services and processing personal information, and enforce rigorous review processes.
In addition to regulatory compliance, the company has also released a transparency report on how it handles personal information, and undertaken many other initiatives to create an environment that will allow users to safely and securely use LINE services. Going forward, LINE will continue to prioritize user peace of mind and put privacy at the forefront of its services. Additionally, LINE will focus on education for the next generation's leaders. As the world becomes increasingly digitalized, the company has determined that it will be essential to not only continue with its educational programs on using the LINE app, but to also cultivate service creators. With this in mind, it announced plans to launch a new program around summer called LINE Entry (styled as "LINE entry"), which will provide a programming course meant to develop service creators of the future.
2. Communication Platform
During this session, Ayumi Inagaki—Head of LINE Platform Planning—announced a new communication feature for the LINE messaging app called OpenChat. With over 80 million MAU in Japan using the LINE app to keep in touch with friends and family, LINE will continue to place this communication between loved ones as the app's core value, while now also aiming to become a more integrated part of users' day-to-day life through more personalized communication and information.
3. Content Platform
Striving to become news fit for the smartphone generation, LINE NEWS now boasts 65 million MAU and over 10 billion monthly PVs (as of May 2019). Partnering with over 900 media to deliver more than 7,000 personalized contents daily to 65 million users, LINE NEWS continues to grow into one of Japan's largest content platforms. During this session, Takeshi Shimamura—the CEO of Portal Company—made two announcements on the platform's newest initiative.
Announcement of TV broadcaster partnership for highlight replays, with TV Tokyo as first partner | Launching for select programs in summer 2019 in Japan)
The company unveiled the "Replay Cast" concept, which will see television broadcasters notify users in real-time about highlights of their currently airing programs. Specifically, users will receive a real-time push notification on LINE linking them to "highlight footage" from a program currently airing simultaneously on television and online. Opening the notification will take the user directly to the highlight footage on LINE NEWS, and they can then continue watching the broadcast online. The first partner signed on to the initiative is TV Tokyo, and push notifications will start reaching users for certain programs from summer in Japan.   
VISION video project for LINE NEWS launches, allowing creators to let loose their creativity
Aiming to create a new video culture for smartphones, VISION video project was released on LINE NEWS on June 26, a place for creators to unleash their creative talents. It offers vertical video content that is posted in the News tab within the LINE app. Leading creators in the video and film industry, such as Masahiko Sato, Kundo Koyama, and Gakuto Akashi, will take part, with plans to open up applications and carry out other activities to expand and support the number of productions and creators in future. LINE NEWS will continue to grow beyond a news platform and transform into a content platform that covers all types of media ranging from television, and paper media, to creator-made content.
4. Entertainment Platform
In the entertainment of today, where information is created through social networking sites and other forms of communication, it has become important for content creators (artists and streamers) to close the distance between themselves and their fans and share their passion together. In this session, CSMO Jun Masuda introduced the concept of a new entertainment experience that places communication front and center. 
LINE Creators Market
Unlimited creator stickers with new subscription service: LINE Stickers Premium (available from July 2019) 
LINE Stickers Premium is a subscription service which will give users unlimited use of more than three million sets of creator stickers. Worth approximately JPY 380 million on the Creators Market, users will have access to these stickers for a flat monthly fee of JPY 240 (JPY 120 for students). There is yet to launch in Thailand this year.
LINE LIVE
This live streaming platform provides the opportunity for aspiring models, voice actors, and anyone else with ambitions to make their dreams come true, offering a place where they can become "LINE LIVERs" and build up a fandom with their fans. Along with providing technical support, the platform will enable streamers to more effectively show off their skills and better connect with passionate fans. 
LINE MUSIC (as of May 2019) 
Number of downloads: Over 32 million 

Number of songs: Over 54 million

Number of MAU: Over 11 million
LINE MUSIC has grown into one of Japan's leading streaming music services. Today, the service announced new developments that will create even more opportunities for users to meet music they will love. 
Massive UI overhaul, and major update to include features such as AI-based recommendations

(launching fall 2019)

Enjoy hit music videos of the moment with MUSIC VIDEO

(launching in summer 2019)

All-new freemium model ONE PLAY (tentative)

(launching fall 2019). This model will allow users to listen to 54 million songs as much as they want. 
5. Mobile Payment Platform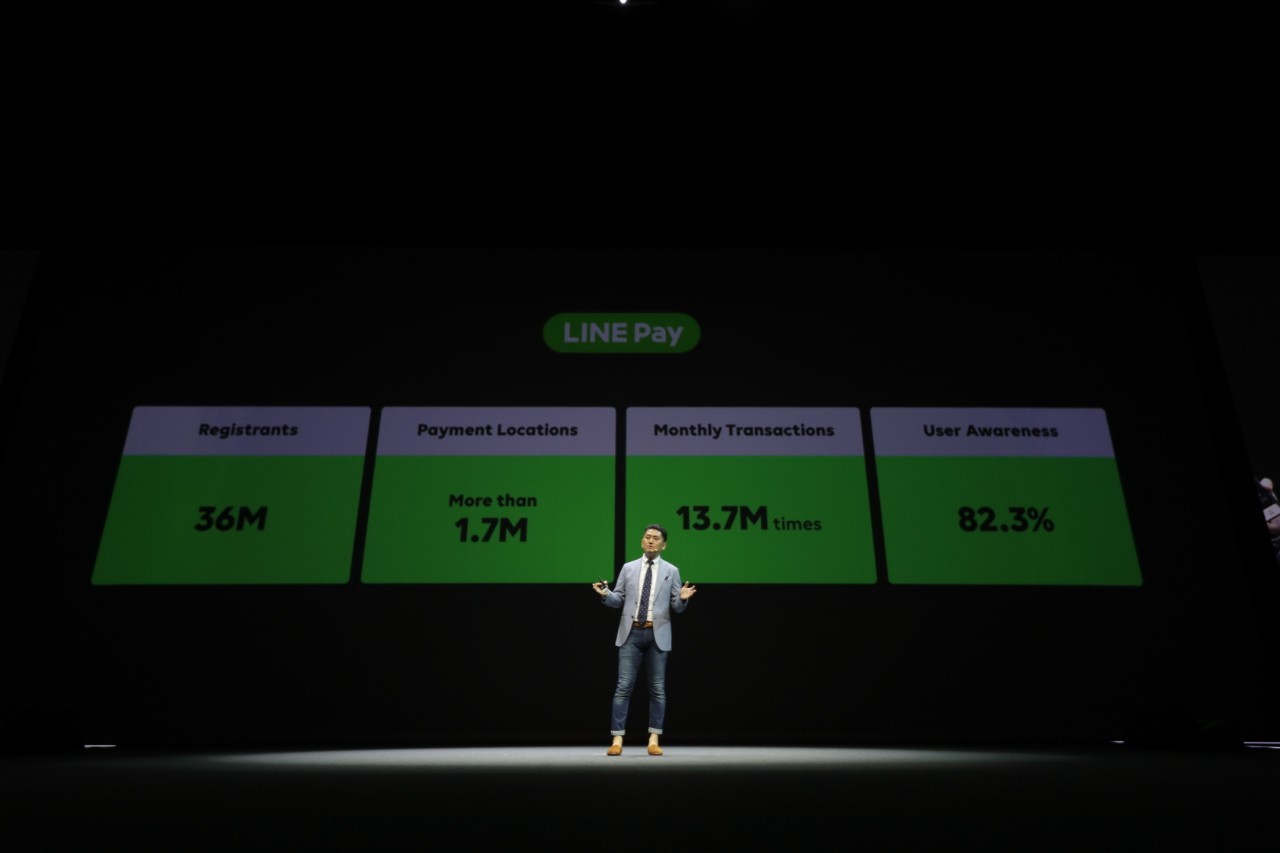 As the world has become increasingly cashless, LINE has also placed the cashless domain as one of its strategic businesses. Under this strategy, continued investment in its digital wallet service LINE Pay has led to its robust growth. As of June 2019, the service has reached over 48 million users across Japan, Taiwan, and Thailand. 
In Taiwan, the service has become the country's number one mobile payment service: in the past year, the number of users has increased from 2.9 million to 6.3 million, the penetration rate has reached 30%, and awareness has reached 83%. Similarly, in Thailand, the number of registrations increased over the past year from 3.1 million to around 6 million. Since fall 2018, both Taiwanese and Thai users have been able to use LINE Pay to pay for select modes of transport. In Japan, several large-scale campaigns have increased the number of users to around 36 million.
6. Financial Platform
In this session, CEO Idezawa reaffirmed the company's goal of making LINE Wallet the starting point for the seamless movement of money, and to that end, would continue to strengthen its financial-related initiatives as it works toward actualizing "LIFE ON LINE" on its Fintech platform. 
With preparations for a banking business already underway in the company's overseas markets, LINE also declared its intent to become Asia's largest payment and banking platform. 
LINE Securities (launching in fall 2019) 
LINE Financial Corporation ("LINE Financial") and Nomura Holdings Inc.'s ("Nomura") joint venture company LINE Securities Corporation ("LINE Securities") announced that it would launch the LINE Securities service on the LINE app this fall. The service will feature hand-picked stocks from 100 leading companies in Japan and allow users to start investing from around the price of JPY 150 (minimum) to JPY 3,000 (average) per stock. 
LINE Pocket Money (launching in summer 2019)
This summer, LINE Credit Corporation* ("LINE Credit") will launch the unsecured personal loan service LINE Pocket Money, and add it to the lineup of benefits for LINE Score users. The new service will determine annual interest rates and credit limits most suitable for each individual user based on their score from LINE Score. 
7. Commerce Platform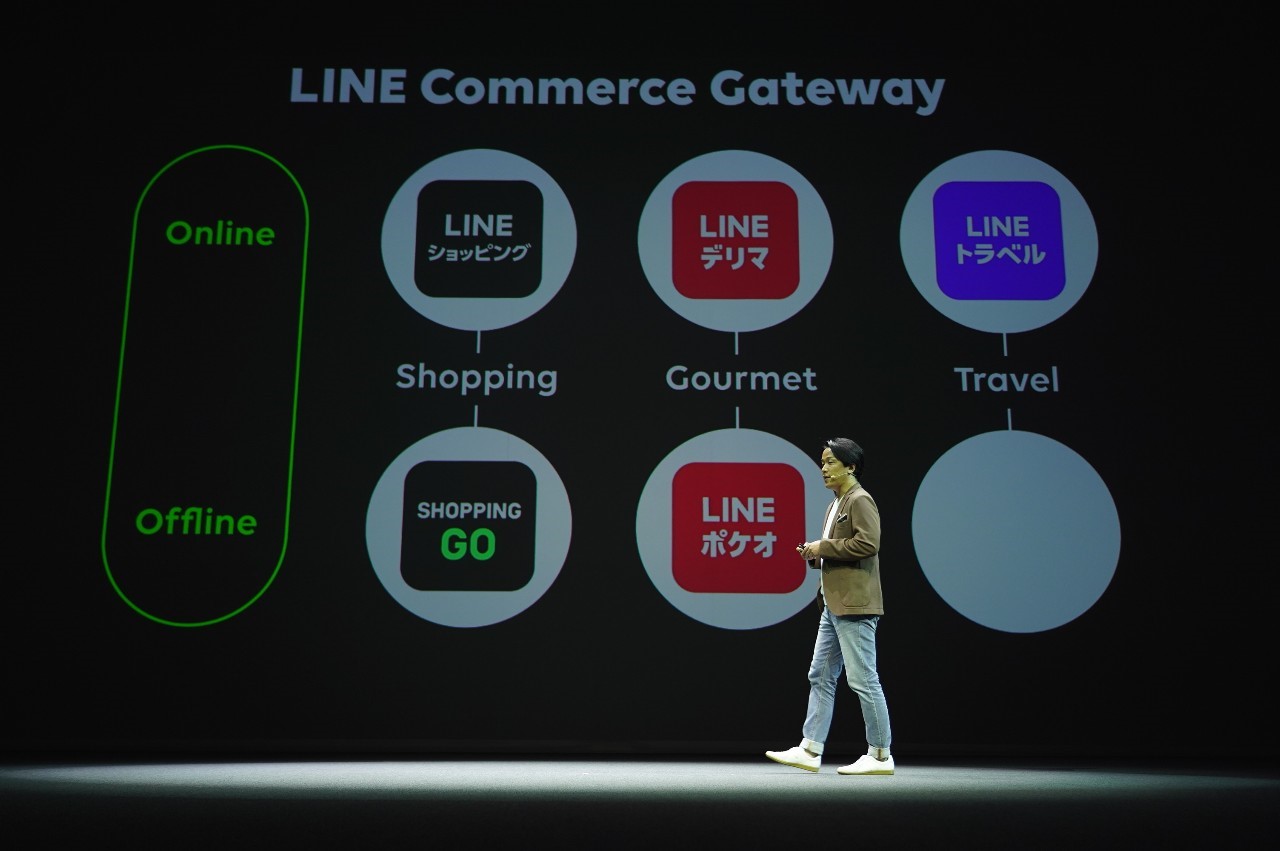 The LINE Commerce Platform, comprised of three services – LINE Shopping, LINE Delima, and LINE Travel – has been launching new services that especially focus on OMO (Online Merges with Offline) since last year. During the conference, LINE announced the latest performance results and plans of each service.
8. Marketing Solution Platform
In this session, LINE announced its goal of becoming a "Life-marketing Platform" in which LINE will subtly support users' lives in a variety of ways. The project to make LINE a marketing platform is based on two important concepts—increasing touchpoints with users and offering personalized data, a concept LINE calls "Comfortable Personalization." Through these efforts, LINE hopes to provide useful, relevant information to users when they need it most. 
9. AI/Search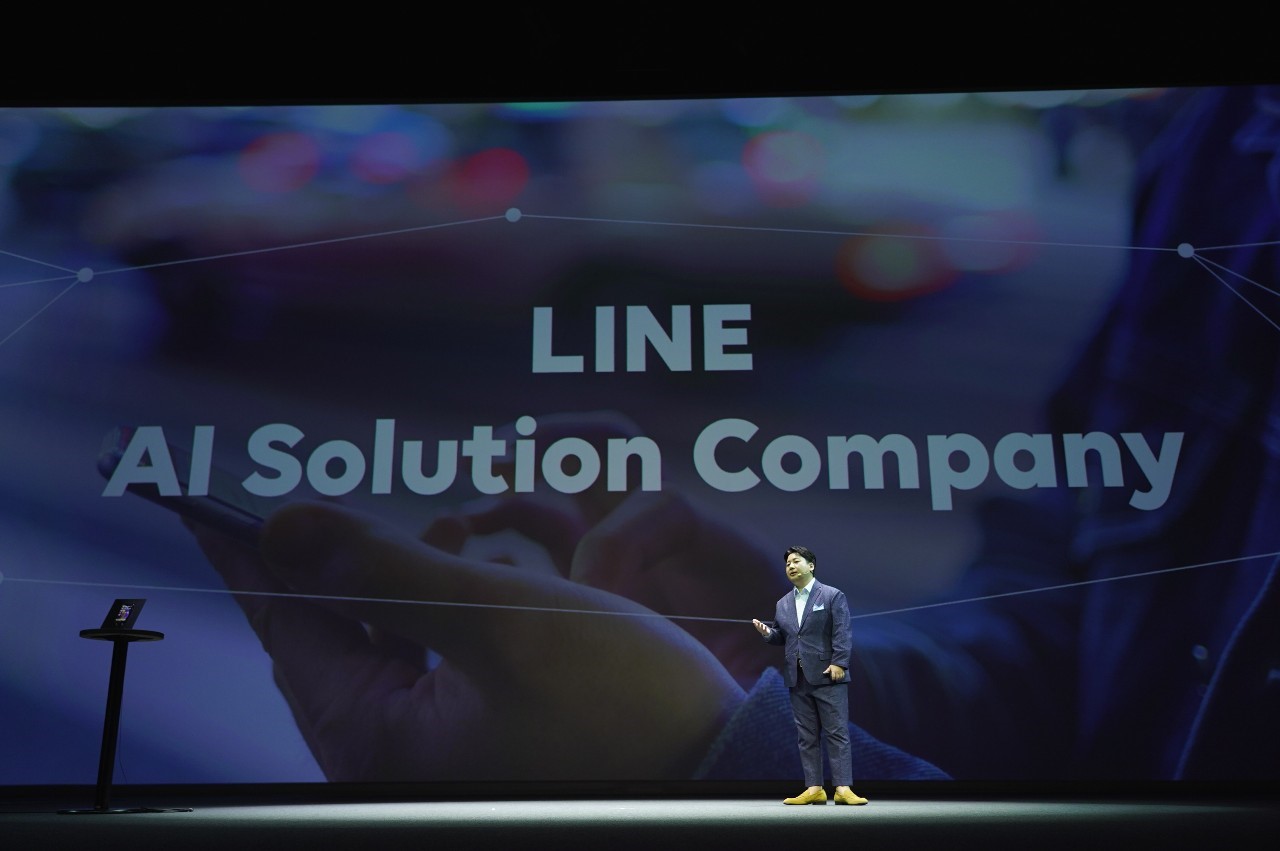 This session presented new ways to use the Clova AI assistant, the LINE BRAIN AI solution business, and LINE's intention to enter the search engine business.