Seatfrog has joined Amadeus Next, the leading community for travel tech startups in Asia Pacific, as it aims to transform the future of mobile airline ancillaries by allowing travellers to upgrade their seat in the 48-hour window prior to take-off, and right up until the time of departure.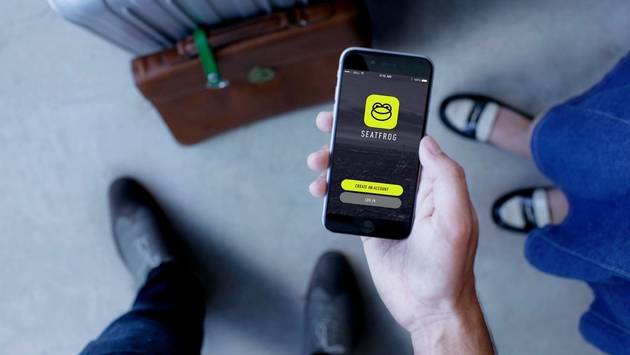 Photo courtesy Seatfrog
The Amadeus Next partnership enables Seatfrog to benefit from Amadeus' industry expertise, global customer base of more than 130 airlines, and access to Amadeus technology. Seatfrog is working closely with Amadeus Next to bring a new level of real-time data intelligence to market, to help Airlines set up and test rapidly, and begin to drive genuine commercial value immediately. This represents a significant innovation in mobile ancillaries and a step forward for airlines and travellers alike.
Seatfrog's unique mobile platform is set to revolutionise mobile ancillaries, with a view to capturing a share of the US$130 billion airline ancillary industry. Built with a focus on data science and superior passenger experience, it allows travellers to transparently bid and pay for an upgrade in real time, and receive a new boarding pass directly to their mobile to scan at the gate in one smooth transaction. The benefits for airlines are huge from a revenue, data science and passenger experience perspective.
"Seatfrog has been an important partner in the Amadeus Next community since its inception, so I'm particularly excited to see that partnership producing real, innovative, customer-focused solutions. Seatfrog is incredibly smart, mobile, and will deliver an outstanding passenger experience." said Simon Akeroyd, VP, Corporate Strategy and Business Development at Amadeus Asia Pacific.
He added, "Innovation is about doing things differently and finding real solutions to real problems, and that is exactly what Seatfrog has done. The team has aligned today's always-connected mobile passengers, with the challenge faced by airlines around the globe — selling seats that would otherwise fly empty, at the exact time that passengers think about upgrades."
CEO and co-founder of Seatfrog, Iain Griffin commented, "The team at Amadeus really understood the challenge facing airline partners and worked with Seatfrog to solve many of the friction points that stand in the way of the deployment of an effective ancillary revenue strategy. Ultimately, our platform is bringing a new level of intelligence to market in delivering the right product, in the right channel at the right time."
"Mobile has spearheaded a dramatic shift in global passenger behaviour, with over 83 per cent using it as their primary travel tool, and airlines need to think like retailers if they are to take advantage of this evolution. Seatfrog will help Airlines to drive higher engagement and unlock significant revenue while delivering a superior mobile experience right up to the gate."
Recent Amadeus research demonstrates that airlines should focus their efforts on mobile-first strategies within 48 hours of a flight, which is the peak of a passenger's intent for ancillaries. With Seatfrog, airlines will have 24/7 control over rules and performance to personalise and target passengers at exactly the right time and drive revenue like never before.
Griffin said, "Research shows giving people the chance to upgrade on traditional channels isn't enough. This is where Seatfrog comes in. We use behavioural design and real-time data to deliver a user experience that adapts to passenger behaviour and enables passengers to make better decisions at the perfect time."
"We chose to work with Amadeus Next because of the team's commitment to innovation and agility, its acute understanding of the airline ancillary problem and the game-changing nature of Seatfrog's technology, which can deliver huge benefit to the airline customer base. Ultimately, airlines will be able to upsell and maximise revenues with the perfect mix of right product, right channel at the right time, while providing their passengers with an outstanding customer experience on mobile."
About Seatfrog
Seatfrog is a travel technology company transforming the future of airline upgrades. Seatfrog helps airlines unlock new ancillary revenue opportunities right up to the departure gate by creating a seamless upgrade experience for passengers on mobile.
It is the world's most comprehensive automation of the upgrade process and the first mobile focussed platform that allows passengers to transparently bid for an upgrade in real time, pay and receive a new boarding pass direct to their mobile right up until the time of departure.
For more information, visit seatfrog.com , Facebook or Twitter.
About Amadeus
Amadeus is a leading provider of advanced technology solutions for the global travel industry. Customer groups include travel providers (e.g. airlines, hotels, rail and ferry operators, etc.), travel sellers (travel agencies and websites), and travel buyers (corporations and travel management companies).
The Amadeus group employs around 13,000 people worldwide, across central sites in Madrid (corporate headquarters), Nice (development) and Erding (operations), as well as 70 local Amadeus Commercial Organisations globally and has a presence in more than 195 countries. The group operates a transaction-based business model. Amadeus is listed on the Spanish Stock Exchange under the symbol "AMS.MC" and is a component of the IBEX 35 index. To find out more about Amadeus, please visit www.amadeus.com, and www.amadeus.com/blog for more on the travel industry.