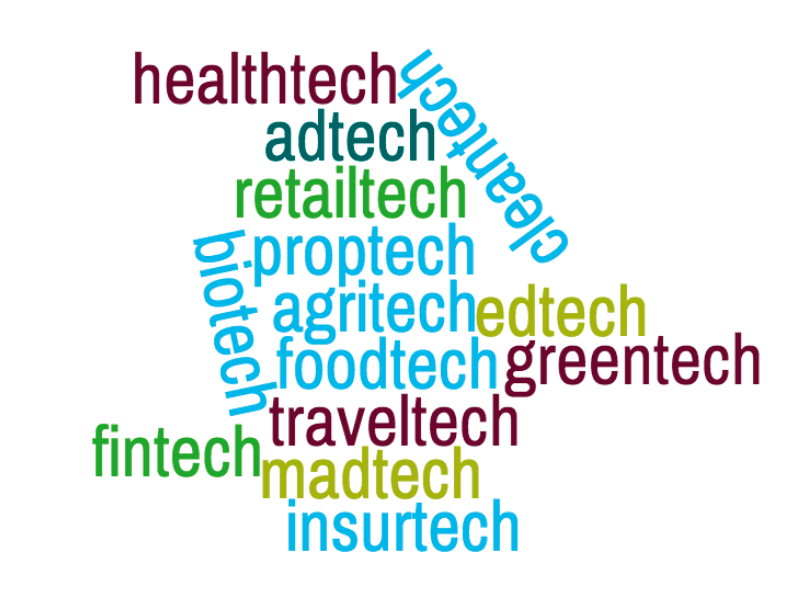 Much as no scandal is complete without adding a -gate suffix on the end (we're out of durians! This is duriangate!), no budding tech sector is really reknowned until it has coined a portmanteau word by adding the suffix -tech . So we have finance + technology = fintech, advertising + technology = adtech, and so on.
There's such a plethora of "foo-tech" startups and events that we thought we'd take a more scientific approach to see which sectors are really successful. We combined Google search results, Twitter mentions, VC investments and some Techsauce secret sauce to find the top ten new tech sectors, ranked out of a possible 100.
10. agritech
Techsauce buzz 9
Agritech refers to techniques using technology for agricultural practices, fishing and farming. As agriculture is so important to Thailand, there's interesting growth potential for Thai agritech businesses. We recently interviewed Verifik8, who are bringing big data into the fishing supply chain. Often overlapping with foodtech.
9. fashiontech
Techsauce buzz 10
Changing the world of fashion through new technology. As well as e-commerce startups like Pomelo, many startups are fusing new technologies into the clothes that we wear.
8. adtech
Techsauce buzz 14
Short for advertising technology, the term refers commonly to all technologies, softwares and services used for delivering, controlling and targeting online ads. While e-commerce is booming in South East Asia, adtech is currently lagging behind.
7. insurtech
Techsauce buzz 15
Insurtech is a combination of "insurance" and "technology", inspired by Fintech. The belief driving insurtech companies is that the insurance industry is ripe for innovation and disruption driven by modern technology.
6. greentech
Techsauce buzz 16
Greentech include clean energy, environmental, and sustainable or green, products and services. It's often a hot sector where accelerators like to invest.
5. healthtech
Techsauce buzz 19
Health Technology is defined by the World Health Organization as the "application of organized knowledge and skills in the form of devices, medicines, vaccines, procedures and systems developed to solve a health problem and improve quality of lives." While Thailand is a regional leader for healthcare, healthcare startups have struggled here so far.
4. cleantech
Techsauce buzz 24
Cleantech, also referred to as clean technology, include clean energy, environmental, and sustainable or green, products and services. Sounds familiar? The greentech and cleantech people really need to agree on a hashtag.
3. edtech
Techsauce buzz 39
EdTech, education+technology  "is a study and ethical practice for facilitating learning and improving performance by creating, using and managing appropriate technological processes and resources.". We've written about EdTech in Thailand and existing startups include SkillLane and Taamkru.
2. biotech
Techsauce buzz 56
Short for Biotechnology, the exploitation of biological processes for industrial and other purposes, especially the genetic manipulation of microorganisms for the production of antibiotics, hormones, etc. One sector which pre-dates the fintech boom!
1. fintech
Techsauce buzz 100
Financial technology, also known as FinTech, is a line of business based on using software to provide financial services, possibly disrupting the traditional banking industry. For Thai examples think Peer Power , StockRadars, or see our interview with Piggipo.
Honourable mentions go to proptech (property), traveltech, martech (marketing) and retailtech. Did we miss any? Let us know in the comments.