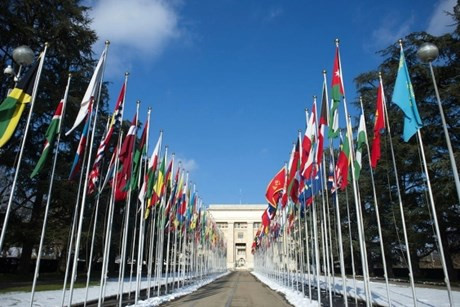 So what is the design makeup of Ethereum Blockchain and what does it have that is better than other Blockchains that are on offer?
Ethereum has the goal of replacing internet third parties and creating a strict, secure system, one that will be complimentary for the UN as they handle large sums of money crossing borders and nations for their many projects.
"Since its release in July 2015, the Ethereum blockchain has garnered significant attention from people and organizations of all types have begun to imagine virtually unlimited ways to take advantage of the transparency, security, and efficiency it offers. The UN, in particular, has embraced it, with seven UN agencies either investigating or implementing it for various purposes. In fact, a major summit is scheduled for the beginning of October at UN Headquarters in New York, in which the Digital Blue Helmets, the UN's branch of technology experts, are expected to unveil some exciting new applications of the Ethereum blockchain." - SingularityHub.com
How does the UN proceed to use this technology across nations?
The 5 main key areas where the Ethereum blockchain will generate a significant difference are in:
Distributing Aid:
With the development of an Ethereum BlockChain, money can be transferred safely and efficiently using an electronic wallet as such. This will enable less risk of interception by third parties, which has been happening in the past, encouraging reluctance from the general public or large companies to donate. This safe procedure using the Ethereum blockchain will be used in a pilot program called "Building Blocks" to distribute food vouchers from the World Food Program to more than 10,000 refugees in Jordan.
If this is successful then the UN will carry on to use this across other nations and countries that are in desperate need of aid.
Climate Change:
It was claimed at the UN Climate Conference in Boon, Germany that the Ethereum blockchain could be a major player in combatting climate change.
Currently, there are over a billion people who are not registered on any system with regards to date of birth and official government documents. The mounting un-regulated people are posing a problem and the UN needs to find a way to log all individuals that will benefit governments of less developed countries, assist people to gain access to government benefits, supplies, and other advantages.
Alexandre Gellert Paris, an officer of the UN's Framework Convention on Climate Change, claimed that "blockchain could contribute to greater stakeholder involvement, transparency, and engagement and help bring trust and further innovative solutions in the fight against climate change, leading to enhanced climate actions."More specifically, blockchain could be used to facilitate the trading of carbon assets, the owner of which has the right to emit a predefined amount of greenhouse gases. Companies can buy and sell these like any other asset, and this market can benefit from the increased efficiency and transparency of the Ethereum blockchain. In fact, IBM and a new organization called Energy Blockchain Lab are currently trying to adapt the blockchain to China's carbon trading market. (Singularity Hub)
The UN considers this one of the major problems facing the world today, prompting them to begin measures to "provide legal identity to all, including birth registration, by 2030." So far, this has proven to be more difficult than originally envisioned.
Microsoft has presented a prototype that would make identity personal, persistent, portable, and private. This is something that the UN could incorporate as a tool to log the information and store it within the Ethereum Blockchain.
Remittances
The creation of an implementation of The Ethereum Blockchain is a stand alone authoritative financial structure. This, in turn, allows for free transactions, which will lower the debt from the old systems that are in place at the moment. The Ethereum blockchain will provide ease, speed, and overall strict privacy. Other subsections of the UN are looking into ways to develop this form of transferring money.
The UN estimates around 200 million migrant workers send money across borders to support close to 800 million family members, totaling more than 400 billion dollars in 2016. According to the UN's International Fund for Agricultural Development (IFAD), this is responsible for lifting millions out of poverty, as the money is spent on needs like food, healthcare, housing, education, and sanitation. Unfortunately, transaction costs to send remittances currently exceed $30 billion annually, with fees particularly high to the poorest countries and remote rural areas.
Smart Contracts
The Ethereum blockchain can help create smart contracts as it cuts out the middleman. People will be able to agree on transferring cryptocurrencies easily and between two companies.
"The transaction would be on the public ledger, giving it far more transparency and making it more efficient, thus helping UNICEF overcome its transparency problem and function more smoothly."  ( Singularity Hub)
Overall the dynamic structure of the Ethereum Blockchain will tightly secure the efficiency of transferring, storing and monitoring money, cryptocurrency, data, and information. The benefits that this could create for humanity are exponential as we move forward with better technology, encouraging the flow of money that can be turned into useful aids that the UN can distribute efficiently and effectively.   
SingularityHub.com is the main source of information. 
Since 2008, Singularity Hub has offered daily news coverage, feature articles, analysis, and insights on key breakthroughs and future trends in exponential technologies as well as highlighting how they're being leveraged for social impact and utilized to tackle the world's grand challenges.