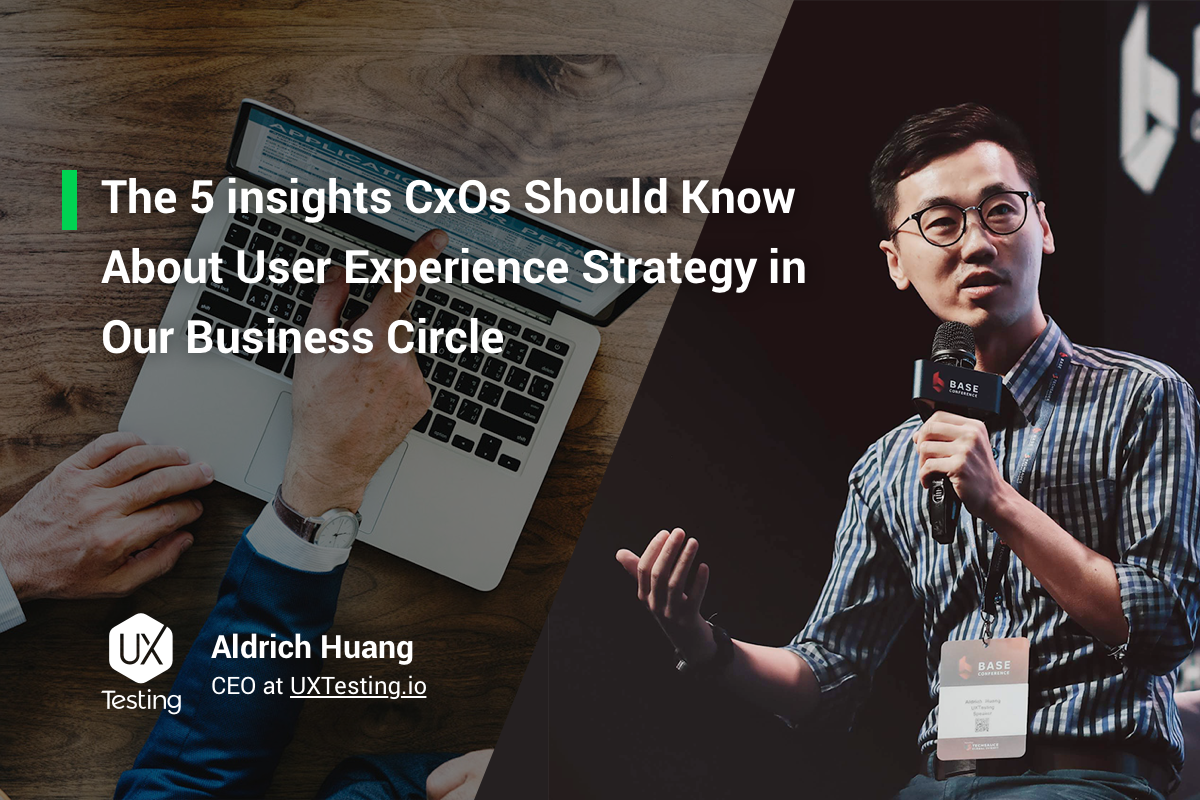 Here are certain things CxOs commonly hear all the time:
"We waste the development cost to build up the wrong product for our clients"
"We try to do cost saving by reducing our call center's cost"
"We make the wrong design decisions?"
Let's face it, we are all familiar with such situations and then we think – "I wish we could change that around…" or "We should have taken another step earlier…"
As CEO and Co-founder myself, I often hear about these situations from within my business connections. Drawing from my own personal experience, I will discuss 5 insights all corporate executives (CxO) should know about User Experience (UX) Strategy.
1. UX is a Solution Provider to Risk Management
I have personal experience as a legal counsel before. The following are some facts I figured out that showed me the similarities between a legal and UX career.
Listen to clients/users to understand what they want

Figure out the main issue of the current situation

Understand the budget (time and money) requirements

Provide the best solution to fix the main issue

Risk management
Another skill I have learned is "using simple words to communicate". For both legal counsel and UX practitioners, we all try to understand a user's behavior and what the user wants. This is crucial to know in order to best serve our clients. We also need to understand that we are solution providers and we should not confuse our clients with too many 'technical terms'.
Especially in the field of UX, we can dig deeper into insights about how the users feel and what they want. This also means that we can reduce developmental hours and avoid the risk of building the wrong product for users.
"Better UX will bring joy to your users" is always my core mindset when I am working with my clients. Satisfied clients can help in further increasing your clientele through word of mouth. This also results in reduced costs as fewer support calls need to be made to satisfy customers.
2. UX is not only part of the design, but it is also the key to increasing ROI
According to the IEEE spectrum report, "Why Projects Fail so Often" there are 12 common factors out of which many factors are directly related to UX:
Badly defined system requirements

Poor communication among customers, developers, and users

Stakeholder politics
It is obvious that we cannot understand all stakeholders such as colleagues and users. However, what we can do to "understand" these "emotions, goals, missions and benefits."
By understanding what users want and by fulfilling their requirements, we can boost revenue and conversion rates. The same goes for satisfying clients. Satisfied clients lead to loyal clients helping you to build the long term competence of the company. Understanding the goals and missions of different departments, we will reduce communication costs and improve efficiency within the organization. Understanding the purposes and benefits of different stakeholders, we will increase business to business satisfaction.
3. UX Vital for Success in Marketing 4.0
In the recent decade, the term User Experience is among businesses. Many UX-related positions are being used and companies are more actively hiring people for UX positions. But why? As Philip Kotler, the author of the book Marketing 4.0, mentioned: "not only is the product, service, and solution important to success, the experience is now just as important as some shopping is done online, and experience can either sway customers into or out of purchases." In other words, the experience is one of the keys to success for any business.
However, many people are still unfamiliar with the term User Experience and how UX can improve their current working performance. It is still a common misconception that UX is related to designers, and non-UXers do not need to understand UX. That is only partially right. UX designers are currently sought-after positions among corporates but are very different from User Interface (UI) Designers. User Experience strategy is not only for UX designers but for all. In fact, User Experience Strategy is a process of the decision-making process with a user-centric mindset.
4. UX is the Science to tell you "WHY"
I would strongly recommend all of you to spend time understanding the meaning of User Experience Strategy. By tracking marketing performance such as conversion rate, churn rate or user sources, we have become familiar with using quantitative data. However, User Experience research is about collecting qualitative data.
What is the difference between quantitative and qualitative data?
"Quantitative data tells you what happened and qualitative data tells you WHY."
For example, the data from Google Analytics shows that 70% of the website visitors come from organic research, however, they only stay on the website for less than 30 seconds. If you are C-levels or Marketers, what did you learn from the data? Do you know why the visitor's session is below 30 seconds? Probably not. We may use trial and error to figure out which way is the best.
After conducting UX research, one of the users mentioned "When I enter the website the language is in English, but I am not an English speaker. So I am not interested in digging deeper". Obviously, you get WHY by the user's personal feedback that we call qualitative data.
The trend to build and optimize a UX strategy requires both quantitative and qualitative data to make validated decisions.
5. UX is the Professional Process in Improvement and Optimization
When I help my clients to improve and optimize the effectiveness of the UX process within their organization, I usually refer to 5 steps: Discuss, Define, Testing, Validate and Deliver.
With Discussion, we need to talk with the clients to find the right flow to measure or match their goal and mission and make decisions about workflow valuation. After that, we need to define the prospective user's case and then execute testing. Validating the data is one of the key points of this process, learn and get insight from data then deliver the solution/feedback.
I remember one of our clients hired me as a UX consultant one year ago to do an employee interview. The mission of this project was to improve efficiency between different departments and make internal software easy to use. After reviewing the data, I noticed that employees in different departments seldom use easy terms to communicate. Often employees between departments do not understand each other leading to frustration. In order to improve internal company communication, I recommended the CEO to reorganize the company and to assign someone who is good at "listening" to different departments. Moreover, I advised the company to host weekly meetings. After that, the company increased the information flow within the departments and encouraged open communication and idea-sharing that increased efficiency in the project development and debug process by 33%.
Original source: https://medium.com/@Aldrich_Huang/the-5-insights-cxos-should-know-about-user-experience-strategy-in-the-business-circle-f2ef3030d9dc
References:
https://www.interaction-design.org/literature/article/improve-customer-experience-with-ux-investments-that-increase-roi
https://spectrum.ieee.org/computing/software/why-software-fails