By Carmen Lam – Chief Customer Officer, Ananda Development Public Company Limited
Digital transformation failure rate ranges between 60-80 percent while less than 5 percent of endeavours meet or exceed expectations, the statistics show. Industry professionals and consultants who have written about the subject have attributed the high rate of failure to a number of factors including management misalignment, over-simplification of the change processes and misreading of digital capabilities. Many, including my fellow contributors to this Techsauce column, have also identified drivers of success to be committed leadership, holistic strategies and effective change management while key ingredients of the success formula invariably contain people-related factors such as skillsets, capabilities and mindset, as well as company culture, processes, tools and systems.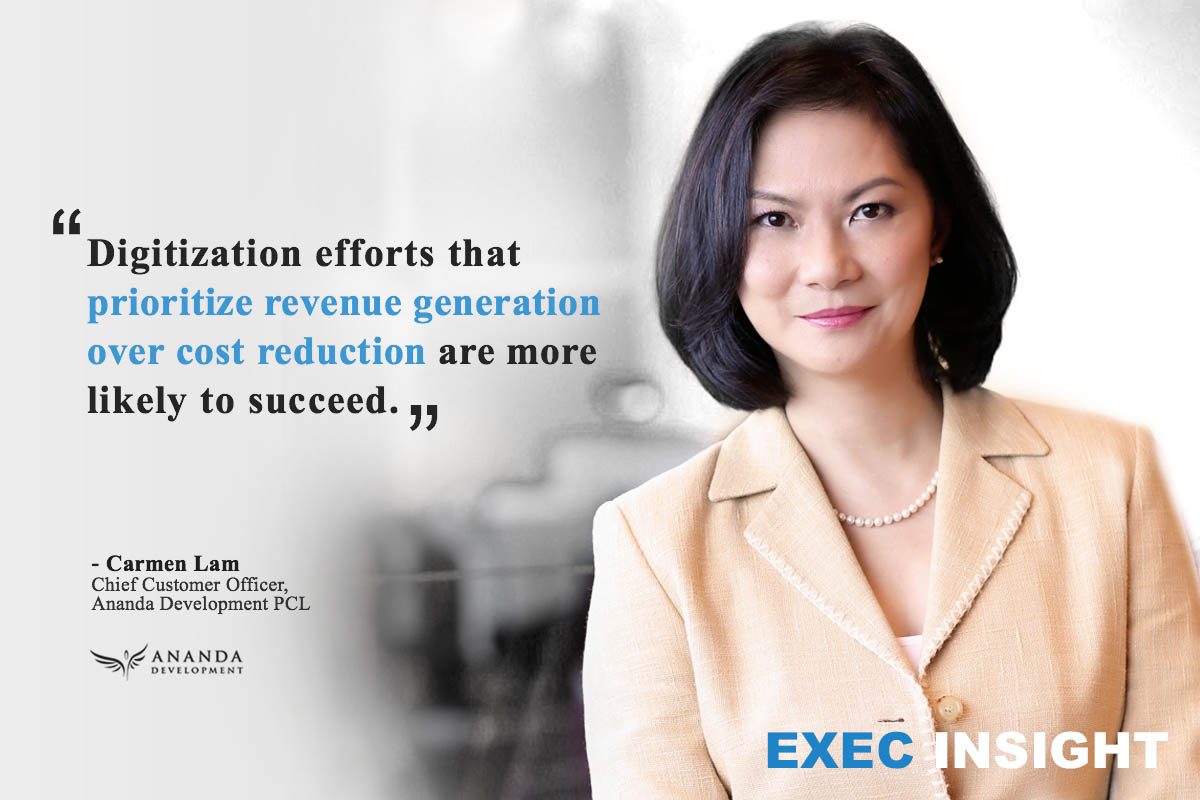 Taking a step back, I reminded myself that digital transformation is not just about introducing automation, increasing technology adoption, or deploying cloud technology for one department or a few functions in a company. It is about a company's effort to achieve sustainable competitive advantage in the digital era against a backdrop of exponential changes in technology and trends impacting the entire operating and competitive landscape.
Having worked in several major organizations, I have observed that people who are chosen to lead and implement digital transformation projects are usually highly qualified and competent individuals. Knowing the importance of digital transformation, it behoves management teams in companies to appoint their best to lead the effort. So why is the failure rate still so high? I suggest that in many cases, the objectives and priorities established for the efforts are not universal enough to engage and align everyone.
In some cases, management teams look at digital transformation as a "project" to be conducted by a few subject matter experts and a competent project management team, then leave them to work inside a cocoon. When the project is unveiled to the rest of the company, the result may be automation of a process or two, but the impact could be more silos and alienation of non-participating teams. On the opposite end of the spectrum, I have also seen companies set their global digital vision and take an enterprise-wide approach to tackle their business models, operational processes as well as customer experiences, supported by change management and cultural development. This wholesale approach is arguably much more holistic, but it is a lot to take on all at once, and constitutes high risks, even for deeply resourced companies. With so many moving parts in digital transformation, the question is where companies should start and how they should prioritize in order to achieve small wins that has the potential to increase engagement and galvanize the entire company.
As companies try to strike a balance between running piecemeal projects vs. biting off more than they can chew to tackle everything at once on their path to digital transformation, I suggest that they identify initiatives that provide a unifying objective that has meaning for everyone in the company. Recently, 200 CEOs from major U.S. Corporations signed a "Statement on the Purpose of a Corporation" and identified their commitment to not just shareholders, but customers, employees, suppliers and communities. While all these stakeholders are important, which one can serve as the one focus for everyone in the organization? I think it is no surprise that the statement began with a commitment to deliver value to customers first and foremost. Separately a recent article published by MIT gave priority to the transformation of customer experience over other options such as operations and business models. This is not because operations and business cases are less important, but because focusing on improving the customer experience to create happier and more loyal customers will help to drive revenue growth and provides the universal business purpose that everyone in the company can aspire to. Research has indeed shown that digitization efforts that prioritize revenue generation over cost reduction are more likely to succeed.
Management guru, Peter Drucker, said that the purpose of a business is to create a customer. Businesses do not exist without customers. Staff, suppliers, processes and systems are there to serve customers and help to make sales happen. Therefore, transforming and improving the customer experience and relationships to capture customers' lifetime value for the organization is the worthy purpose that should have meaning for all and be the unifying point of focus for everyone in the organization. An improved customer experience could entail one or several outcomes such as more seamless buying journeys, better customer and product match, more efficient purchase cycles, and higher customer satisfaction to create better customer traction and affinity. This normally involves the participation and contribution of both front-line as well as backend support teams. The results of improved customer experiences are highly visible and any benefits that arise will be felt by everyone in the organization. This means no department or function would be left out of the transformation effort while ensuring that decisions are made for the greater good of the company and not based on siloed functional objectives.
What does it take to achieve digital transformation of the customer experience? It requires a lot of data and analytics to gain insight and true understanding of the customers, who they are and what they need and prefer. Touchpoints between the organization and the customers need to be examined and mapped along the customer journey, covering channels, service levels, service quality, and this is where digital tools and applications are best leveraged to streamline, capture and maximize return to the organization. Taking a customer-centric approach to transforming the customer experience will help to engender a more open and outward mindset that will increase the success rate of future transformation efforts and bring long term benefits to the organization and incremental shareholder value.
In conclusion, there is no bottom-line without top-line. A sustainable and growing top-line is the result of an expanding base of satisfied customers at every service touchpoint. Addressing the customer journey first will provide highly visible results during digital transformation and positioning customer experience transformation as an imperative for the entire company can help to sharpen the change narrative, break down functional silos, instil the right mindset with individuals and help people focus on what is important.