ARINCARE, a startup providing digital platforms for pharmacists and drugstores, has announced the successful conclusion of a Series B funding round worth 4 million USD. The company will continue to nurture and uplift the Thai Health Tech ecosystem with its investors — Chularat Hospital Group (CHG) to connect in-patient and out-patient services into one, and PTG Energy PCL to diverse range of businesses and services to be better completed.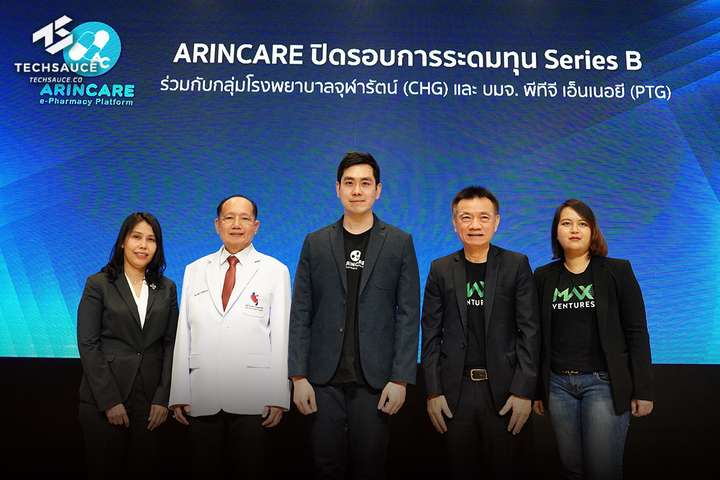 The investment from both companies will foster the Health Tech ecosystem and fill in gaps at the community level, by providing better access to health care services and medications. In 2022, ARINCARE has grew more than 100% and the company is now working on an IPO for a Stock Exchange of Thailand listing in 2026.
It currently has a network of over 3,000 pharmacies nationwide. ARINCARE is on a mission to "Make Healthcare Affordable" for everyone, to enhance pharmacists and drugstores as a gateway with the capability to take care of patients faster at a more affordable price, and to uplift quality of life for all Thais to be a sustainable society.
Mr. Teera Kanokkanjanarat, CEO & Co-Founder of ARINCARE Co., Ltd, disclosed that the company's Series B round of fundraising had brought together two major partners. With Chularat Hospital Group (CHG) as lead investor for this round and PTG as follow on investor. This investment round will power ARINCARE to nurture and enhance the Thai Health Tech ecosystem on the company's designated road map. Last year, the combined trends of the COVID-19 pandemic and Thailand's aging society led to many consumers paying more attention to the health of both themselves and their families. Meanwhile, modern digital lifestyles brought about development of the ARINCARE platform, which is tailored to the needs of pharmacies and drugstores, enabling them to deliver the greatest benefits to consumers. With this model, ARINCARE can better penetrate its target groups, resulting in over 100% growth in 2022.
Over the last year, consumer behaviors and needs have been transformed. In 2023, ARINCARE will continue to expand its markets in a key cooperation with Chularat Hospital Group (CHG). This collaboration is focused on building a connected healthcare ecosystem between hospitals and local healthcare organizations, connecting ARINCARE's network of over 3,000 drugstores and pharmacists with the medical team of CHG. This will build healthcare capabilities into the community with nationwide coverage.
At the same time, the partnership with PTG's MaxCard, a network with the greatest access to Thai consumers, will strengthen operation of local pharmacies by adding healthcare services to Thai consumers through MaxCard privilege. ARINCARE remains on track with a target for a Stock Market listing and IPO in 2026.
"Thailand currently has approximately 20,000 pharmacy outlets around the country. 80% of them are SMEs and only 20% are franchisees or large operators. The market was worth 35,000 MB in 2019 with an average growth of 7%. However, the value of the healthcare market has shown a trend to grow massively after the COVID-19 pandemic. It is believed that this growth will continue at an annual average of 13-17%. In 2022, it was worth 40,000 MB, because Thai people were giving greater priority to their health and Thailand has stepped into an aging society. Thai public health services are therefore a key niche and a great opportunity for Health Tech businesses. Alongside this, government public health systems are inadequate for existing demand, while private health services such as clinics and hospitals are clustered in large cities or communities, and also charge heavy service fees. Drugstores and pharmacists in communities are a gateway for people to better access health services, especially when connected to a healthcare ecosystem, on a platform dedicated to address inequalities, so that all Thai people have equal access to public health service systems through the medium of technology," said Mr. Teera.
This partnership is another crucial step to building a Thai public health ecosystem. In addition to closing the business deal, each party shares common objective and mission to create opportunities for improved health and quality of life for Thai people, by putting communities, consumers and patients at the heart of opportunities to access quality health treatments nationwide. This is in line with ARINCARE's concept of developing services that "Make Healthcare Affordable" for everyone in every area of the country. The dedication to level up the Supply Chain to reduce inequalities of access to public health and medical treatment, includes advanced medical equipment and the latest medications at fair prices. Moreover, ARINCARE also has a separated mission to provide backup to the owners of medium- and small-sized drugstores which are local SMEs, as well as individual practicing pharmacists in terms of the tools required to provide efficient services to patients and connecting patient-care work provided by medical professionals and pharmacists in order to level up national public healthcare services. This is in line with new trends of sustainable healthcare and readiness to cope with increasing business competition amidst economic recovery.
Dr. Kumpol Plussind, Chief Executive Officer of Chularat Hospital Group (CHG) revealed that the concepts and business directions of ARINCARE were consistent with the vision of CHG looking to expand its business in the similar direction. This involves supporting healthcare businesses to reach patients at the community level, to spur growth of the Health Tech ecosystem, to level up and restructure public health systems with patients more at the center. This yields opportunities to combine both in-patient (IPD) and out-patient (OPD) treatments in a seamless upgraded service for good quality of life by bringing the application of technology on the ARINCARE platform, the e-prescription system in particular.
This has made it possible to share patient information with medical teams to provide continuous treatment. AI technology has been deployed to assist in processing diagnoses more quickly and more efficiently, enabling patients in remote locations to access medical care and receive their medications more conveniently. This reduces the issue of missed, faked and reused prescriptions. This also enables the follow-up of patients' medical treatment, medical adherence, and the access to patient medication records easily, without additional fees.
Mr. Pitak Ratchakitprakarn, President & Chief Executive Office of PTG Energy PCL (PTG), disclosed that the joint investment with ARINCARE is a great opportunity to nurture the expansion of Thailand's Health Tech ecosystem. One of PTG's objectives in this investment is a strategic move into startups with high potential through Max Ventures, securing business partnerships and building opportunities with potential to be the new S-curve. It is also beefing up business for many units of PTG to provide better livings for Thais. In the Thai market overall in the past year; healthcare has shown a strong and growing business trend. Healthcare is now an industry of the future with opportunities to create a new S-curve for investors. In particular, this involves business concerned with medical equipment, medical supplies and drugs. Simultaneously, consumer behavior now more greatly values the critical importance of health, forming a new trend of sustainable health in the age of digital. PTG sees the opportunity of opening a new line of business to boost the potential of PT gas stations nationwide, from the dedication to be more than just a fuel service forecourt. The company has expectations for its service stations to meet a variety of needs including convenience stores and pharmacies. NEXX Pharma provides a service of selling drugs, medical supplies and medical equipment with the help of experienced pharmacists, and there is now a plan to expand these services for nationwide coverage.
The joining of forces in this major collaboration between Chularat Hospital Group (CHG) to combine in-patient and out-patient healthcare services, and PTG Energy PCL (PTG) to come out with new lines of business to provide more comprehensive services, underlines the mission of ARINCARE's operations to "Make Healthcare Affordable". This means providing health services at an accessible price point for every member of society. As part of this, the company is making community pharmacists and drugstores into a gateway for rapid treatment of patients at more economical prices, for a sustainable leveling up of quality of life in Thai society.