Flash group, a full-service e-commerce company, owned and operated by Thai and an umbrella of Flash Express, Top logistic company in Thai market, closes a huge funding deal from Series D+ and Series E with big investors including Buer and SCB 10X. Also, eWTP-OR-Durbell-Krungsri Finnovate increase more funding with all totals valued more than US $150M. Announced to be Top private logistics with highest 2M parcels/day and heading to be first unicorn of Thailand.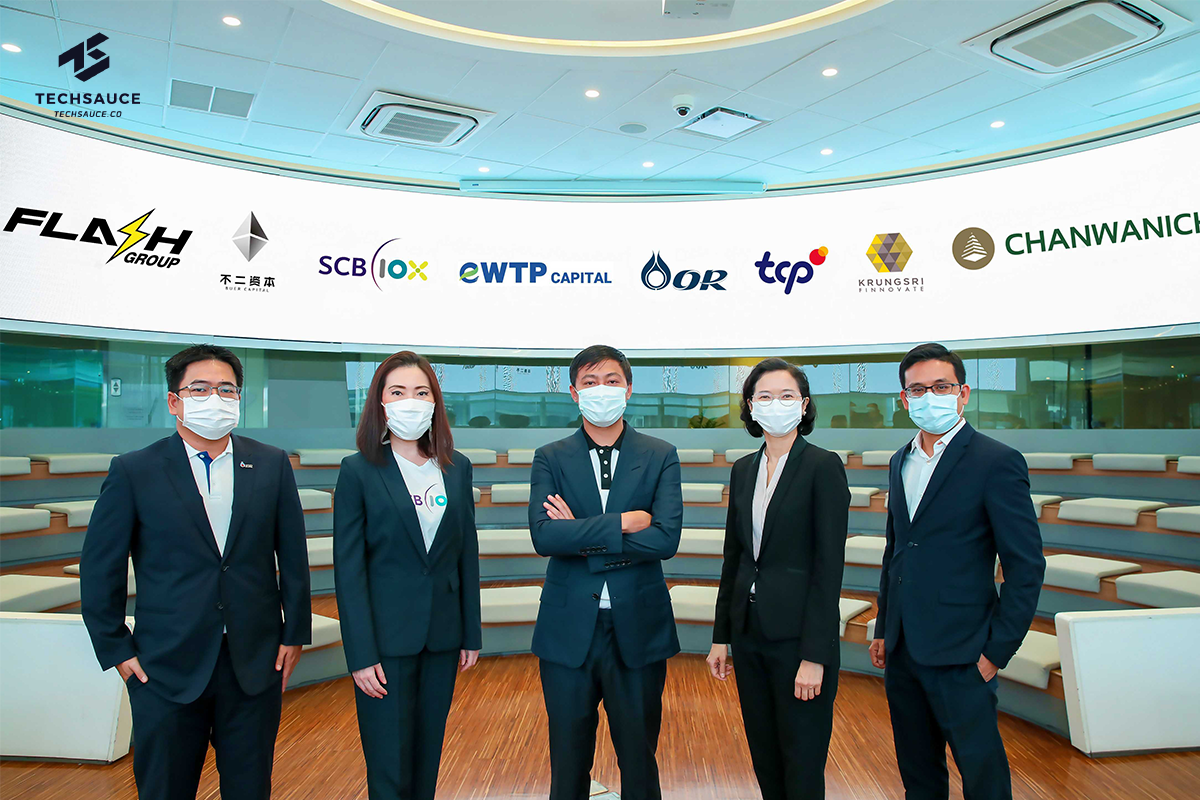 Mr.Komsan Lee, CEO of Flash Group - Thai full-service ecommerce company, announces the latest funding of Series D+ supported by SCB 10X and Chanvanich Security Printing, and Series E supported by Buer Capital from Singapore and SCB 10X. Moreover, existing investors like eWTP, PTT Oil and Retail Business Plc. or OR, Durbell under TCP Group, Krungsri Finnovate under Krungsri Group, also increase funding in Series E, which make total fund over US $150M. Funding will be invested in many businesses, which are management, technology structural development, and e-commerce platform that will differentiate the market and increase selling opportunity, service expansion, as well as building new business strategies.
Flash Group was established under the concept of full-service e-commerce by Thai owned and received trust from investors in different business industries to invest funding in business. Flash has a massive growth and many businesses such as Flash Express – a full service logistic that using new technology as a key management and operation. Currently Flash Express has parcel volume with highest 2 million pieces / day. Flash Fulfilment, a full-service warehouse, has many leading companies as customers and partners. In addition, other sub-business that related to E-Commerce and Thai market, as well as other serviced companies that will be expanded in other SEA countries waiting to be announced.
Proudly success of Flash Team to build trust from our investors. Flash will gradually announce joint business plan with our investors. Firmly, key strategies will focus on one stop service for E-Commerce business in Thailand and overseas. We will also expand the business in other SEA countries. Covid situation may be a challenge obstacle for us, yet we will continue to move forward on our SEA market with a solid development plan in Q4, 2021 Mr. Komsan Lee said.
Mr.Liang Jee, Director of Buer Capital (Buer), a key strategic investor said that Buer is an investor that focus on structural changes in consumption. Buer believes that logistics is one of the significant infrastructures of digital economy era. When the efficiency of the logistics network rises to a new level, it will reshape the "space-time" concept of the retail industry and achieve rich, fast, and cheap. We very much agree with the Flash team's strategic investment in technology and operation, and the database operation capability will bring the company's long-term competitiveness.
Mr. Dawei Jiang, Partner and Chief Financial Officer of eWTP Capital, a long-time backer of Flash Group, expressed that "Since its early days, Flash Group has demonstrated a vision of leveraging technology to drive efficiency along every node on the logistics value chain. Their unwavering devotion to understand and to address the needs of their key customer segments has elevated them to become the leading player in the last-mile logistics sector in Thailand. We are excited to see them continue their tremendous growth trajectory in the future as they expand into other markets and onto other service offerings."
Another key investor in both series D+ and E, SCB 10X Company Limited, by Ms Pitiporn Phanaphat - Chief Business Development and Financial Officer, says "One of SCB 10X missions is to invest in potential start up all over the world especially Thai potential start up to step to international business. With the capability and double digit growth of Flash Group as well as a goal to expand business in SEA, we are well pleased to be the lead investor in Series D+ and Series E with other leading investors. Besides, SCB and Flash group will also incorporate to develop financial solution service and provide financial inclusion with new financial experience for customers in the near future."
Mr.Sira Srisuksai Vice President, Business Development and Innovation Incubation Department PTT Oil and Retail Business Plc. or OR, main investor from Series D reveals on additional investment in Series E that a corporation between OR and Flash will enhance capability for both to drive energy and logistics industries. Moreover, it will benefit other OR business and connect online to offline in order to satisfy consumers' needs in the future that will have more Online lifestyle. This is also to promote Thai start-up company to grow sustainably. Currently, OR and Flash have corporation in many businesses such as OR provides fuel for Flash Express's logistic vehicles. Flash Express becomes one of OR logistic providers and will have a trial "logistic shop in shop" in Cafe Amazon. We will also develop area in some PTT Stations to be Flash Express distribution center. We also consider possibilities to incorporate with other Flash oversee business through OR companies in those countries.
Durbell Company Limited, a leader in logistics and distribution under TCP Group, the manufacturer of Thailand and the world's best-loved beverage brands such as Red Bull, Ready, Sponsor, Mansome and Puriku, is an investor for Flash in Series D and E. Ms. Nucharee Yoovidhya, Managing Director, TCP Group says "The growth of delivery and logistics in Thailand and SEA reflects the changing consumer behaviors in the New Normal which Flash Group is able to capture in a highly competitive environment. Flash Group's convenient one-stop service rooted in customer understanding and operational excellence are the same success formula Durbell adheres to, and we are pleased to be part of the spectacular growth of Flash Group in both series D and E."
Mr.Sam Tanskul, Managing Director of Krungsri Finnovate, a corporate venture capital (CVC) arm of Krungsri Group, another key investor in both Series D and Series E says "We are proud to be the first group of Thai investors that invested in Flash since Series D in 2020. We believe in Flash vision and outstanding capability. Additional investment in Series E will firm our strong corporation and expand our successful expertise in E-Commerce Ecosystem to be more complete. This involves financial innovation development that fulfill customers' needs. This investment also confirms our strong endeavor to leverage the first Thai unicorn, in which a strong growth of Flash is a significant success. We also believe that enhancing good logistics is a fundamental factor to drive and develop a better economics.
Flash Group is the first Thai start up that have the highest fundraising within only 3 years.This make the business valuation worth more than US$1,000M or over THB30,000M.

For more information