Thai agritech startup Freshket set for rapid expansion following a US$23.5 million or 800 million Baht Series B funding round led by OR, with participation from Openspace Ventures, Betagro Holding, ORZON and Volta Circle.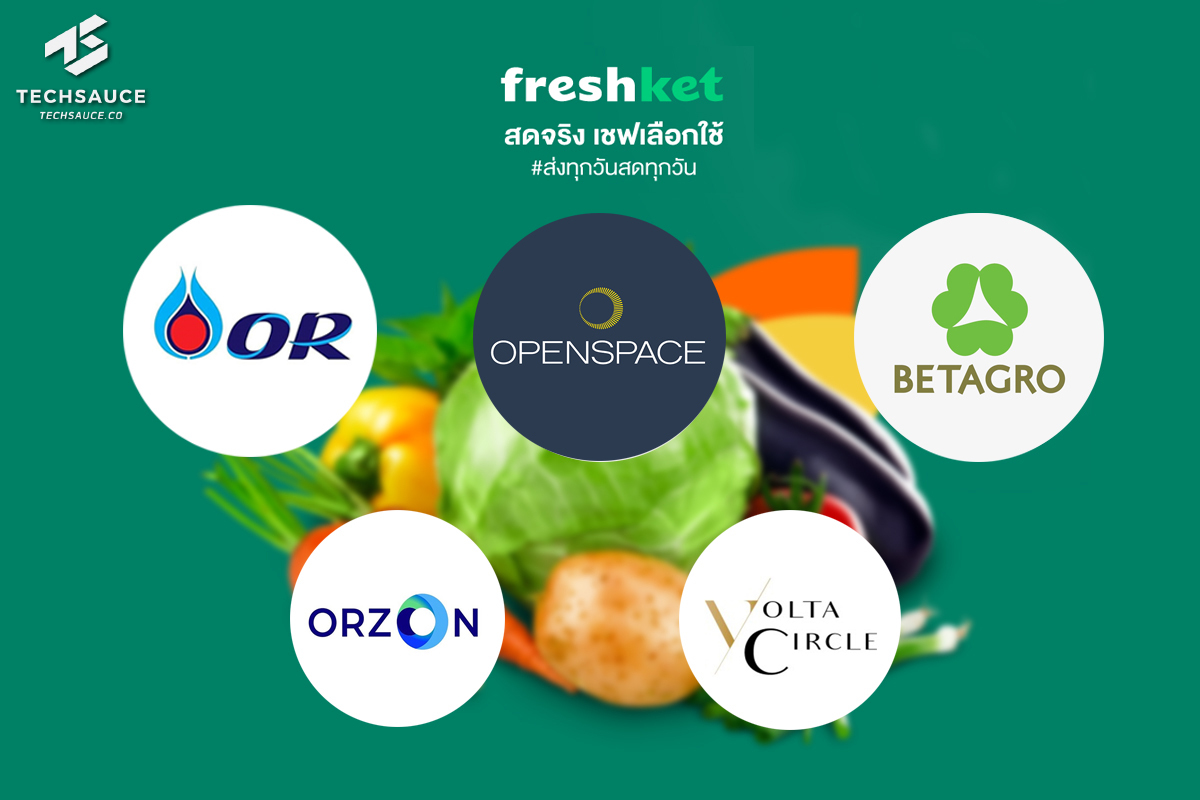 Freshket, a tech-enabled food supply chain platform, has just closed US$23.5 million in its Series B round. The funding was led by SET-listed PTT Oil and Retail Business Public Company Limited ("OR") and saw participation from Openspace, Betagro Holding, a company owned by the Taepaisitphongses and shareholder of Betagro Public Company Limited, ORZON Ventures ("ORZON"), and Volta Circle.
Freshket was founded in 2017 with an aim to provide consumers and food businesses with a wide variety of agricultural produce and the freshest ingredients, always sourced from local farmers and suppliers. Today, Freshket delivers premium quality raw ingredients, dry goods and various food products to doorsteps of customers, which is primarily restaurateurs and hoteliers but also household consumers. This customer focus is driven by a fresh produce market for restaurant and hotel industries in Thailand that is worth nearly 200 billion Baht (US$5.9 billion) in annual purchases.
Miss Ponglada Paniangwet, CEO and Co-Founder of Freshket, said she is "grateful for the support and trust received from OR, the local and regional leader in the retail and commercial market. We are also fortunate to have Betagro Holding and leading edge venture capital firms like Openspace Ventures, ORZON, and Volta Circle supporting us in this round, who are all professional investors and startup accelerators providing us with a great deal of value-add.".
This financing round will bolster Freshket as it enhances its operating system through supply chain tech development, improves service efficiency, penetrates into new categories of products and extends its in-demand service to other provinces. Freshket will also focus on the development of demand forecasting technology to ensure transparency for all parties, the reduction of food waste, and effort to boost the quality of life for upstream entrepreneurs. Ultimately, these improvements will ensure even more customers can enjoy the freshest quality products at reasonable prices, with convenience of online ordering and confidence in Freshket's service reliability.
For those reasons, Freshket is now trusted by restaurateurs and hoteliers as well as household consumers, who spend approximately 100-million-Baht (US$2.9 million) on orders of fresh produce per month, even in the face of the epidemic and economic slowdown. That represents a 3x volume growth on what was being achieved during the Series A funding round only 20 months ago.
Mr. Komjak Rattakham, Chief of Staff (CoS), Freshket, added that "this funding round was part of a key strategy designed to catapult the brand to achieving rapid and progressive growth this year. Freshket will grow alongside its business networks, OR group's distribution channels as well as other joint investors, while also developing and launching products and services shaped to meet the needs of more users."
Ms. Rajsuda Rungsiyakull, Senior Executive Vice President, ORion Project, PTT Oil and Retail Business Public Company Limited (OR), as a Director of Modulus Venture Company Limited, stated that we decided to further invest in Freshket after our previous funding through ORZON. This investment reflects OR's objective to underline strategic cooperation with businesses and ensure inclusive growth with them. OR sees the flourishing potential of the restaurant and hotel industry in Thailand, as well as the opportunity for Freshket to complement OR's food & beverage strategies as another food-supply platform for OR's restaurant operators.
In doing so, we can unlock greater convenience through online purchase, as well as offer reasonable prices for food supply chain management. Additionally, this investment aligns with OR's business expansion approaches that focus on Outside-In Growth, or growing by collaborating with businesses of newly-acquired partners for the benefit of all parties involved. It was aimed at completing the OR ecosystem, while enabling OR to benefit Freshket, supporting the startup in terms of spaces for distribution hubs in the PTT station networks throughout the country. All in all, OR is ready to use OR's platforms to propel Freshket's business, so as to penetrate both B2B and B2C markets going forward.
Importantly, Freshket also responsibly pursues its sustainability vision of promoting farmers and being a platform that strengthens their income and ensures pricing transparency for all parties. As a result, this joint investment in freshket resonated with OR's new vision "Empowering All Toward Inclusive Growth" – its commitment to thriving alongside people and planet."
Mrs. Nichapat Ark, Director – Thailand, Openspace Ventures, added that "Openspace has been working closely with Freshket ever since the end of 2020 when its Series A funding round was closed. We are very proud of the development and growth of Freshket, especially in how they weathered the turbulent time amidst COVID, actively doing all they could to support their customers when many other suppliers did not. In addition, the Thai food-supply industry is a very large market, and we believe Freshket is best placed to capture its huge potential as it grows and expands. Openspace is excited to welcome new investors, and to keep supporting Freshket in their Series B. Our investment and operational team is looking forward to continuing to work closely with them in this next stage of their journey."
Betagro Holding, stated that "the COVID-19 crisis has truly accelerated the pace of innovation and demonstrated how digital technologies can help enable businesses, especially in the foodservice sector, to become more operationally efficient and also find new growth opportunities. The company believes that digital adoption in the foodservice sector will continue to rise and thus considered this the perfect timing to invest in Freshket, a company whom we believe are pioneers in this space."