As the world's leading provider of HR solutions and supporting the mentorship for the youth of tomorrow, the Adecco Group deconstructed the future of work, in this human and tech-driven industry and what they can do to nurture the development of individuals to become employable in the world or work.
"Global CEO meets with future leaders" was held on October 18th, 2018, in Bangkok and welcomed speakers, Alain Dehaze – Chief Executive Officer, the Adecco Group and Lisa Frommhold – the Adecco Group Global 'CEO for One Month' 2018. Both gave the audience an awareness into the progress and future of work, employability, and thoughts on leadership. Techsauce had the great opportunity of joining this exclusive panel discussion.
Before we start, let's meet Lisa Frommhold, the Adecco Group's 2018 Global 'CEO for One Month'
How did you feel when you were asked to be the CEO for One Month of one the largest companies in the world?
Lisa – I was very speechless and very excited. It was such an honour to be chosen as the finalists were all such talented, bright people. I signed the contract right away and couldn't be happier.

As the CEO of the Adecco Group – what's the value of the CEO One Month program to young people?
Alain – The program started in 2011 and has been running now for over eight years old. The initiative started in Norway and was created to provide young people with support by shadowing our Country Manager in Norway to get to know what work life is like.
The idea was so successful in Norway, that we moved it to France where we had many thousands of candidates apply.  It's all about giving a chance to young people to get ahead.
One of the questions that is always asked is do young people have experience for the job?
It is not always easy for young people to gain experience and to study at the same time.
We want to provide work experience to young people to increase their employability. Eight years later we are running the programme in 47 countries with over 204,000 candidates applying. It's all about helping people to get a job and is a programme we're proud of.
Lisa, why do you think you won the role of CEO for One Month?
Lisa – I am always trying to better myself and if you can stay authentic and overcome your fears and challenging situations you will succeed. This helped me In a recent interview, I was asked who are you? This is a very deep question and you can answer with a very basic answer with facts or you can share a more in-depth and personal answer which is closer to your heart.
Moving on to the more experienced CEO Alain - how did you get to where you are in your career and what advice do you have for people looking to progress? 
I've been very lucky in life.
First of all I have had great bosses. You need a good boss to help develop you and give you opportunities.   The first thing is your performance, your track record and it all starts when you are very young. How are you performing in tasks? Are you producing good work? It's very important to be able to evaluate this
The second is your reputation – are you a good person? Are you taking care of your colleagues? Are you decisive?
Combining the two is important for real progression.
What would you say to someone who is really impatient and wants to get ahead quickly in their career?
Alain – If someone is too impatient it can be a bad thing, however it can also be positive as it can be a good source of energy. You can become a prisoner of your own impatience which you must overcome. If energy is well channeled, great things can be achieved. By being focused and energetic, others in an organisation will recognise that you are dedicated and determined and will encourage your progression with enthusiasm.
Lisa – What do you look for in a leader?
Having a good leader that wants to develop you is important. Sharing and building trust can also help. Spending one month with an incredible leader – like I am – can also really change your professional life! I am a very impatient person and am always rushing ahead while my mentors are telling me to take a step back - which is a good thing. The CEO for One Month Program has helped me build trust and autonomy in a nurturing environment.
As a global CEO you must often make some very tough decisions. How do you deal with the emotions associated with these tough decisions?
Alain – This is a good question and has to do with managing pressure. CEO's and colleagues in a company are responsible for the development of the company and its long-term stability. As a leader, I must focus on managing what is really important and sometimes making difficult decisions. It is not always easy as there are personal and professional considerations with the people that you manage. You must always be fair – that is very important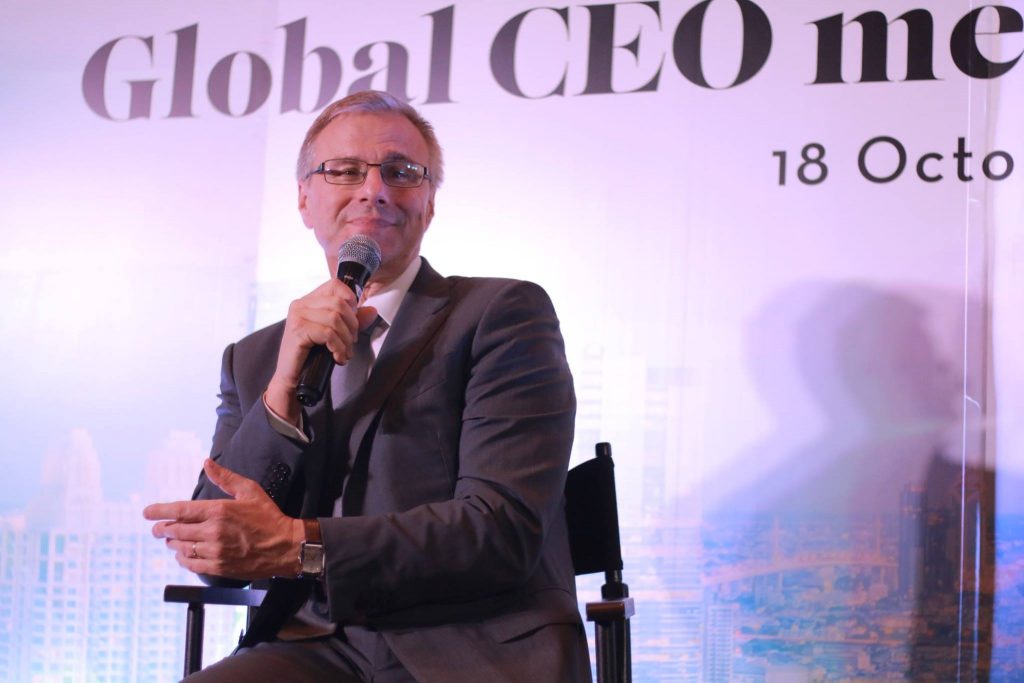 Work-life balance is something we all struggle. I know that you travel a lot and are incredibly busy -  so how do you manage home life with your professional life?
It can be really hard as it as it is a 24 hour a day job. You need to know yourself well and listen to yourself.  You need to know when to listen to your heart and to know when to stop. That's important. You need to learn when to recuperate with the family and to plan that time so it happens. Every three months I plan actions with the family as its rare if I ever have a weekend free.
So Lisa, can you keep up with Alain's busy CEO lifestyle?
Yes, it can be hard – especially after long flight to Asia. I tried to do a run in the park today at 6am run – but my body really needed some more sleep. Sleep is so important and if you are working hard you need to be well-rested to be successful.
We are living in a time of robotics and AI, what is your view on robotics and AI? Is work going to change as a result of this technology?
Lisa – Well the thing about robotics is that they don't need sleep so they can work and produce work much faster! I am a positive person and look to the future and don't see robotics as a threat – but that support work. It's important for everyone to understand how technology can affect their career or what they are looking to do in the future
As we move into the digital era where do you see businesses heading in the next 10 – 20 years? What's in store for work?
Alain – Tech and AI is going to be everywhere and it's going to take away many manual tasks in work. At the Adecco Group We have a chatbot that helps us to reach out to candidates offering support e.g. to schedule appointments with recruiters and help place the right candidate in a perfect job. It also helps assessing candidates and organizing appointments etc. Technology is one of the key drivers for recruiting and will surely support the development of our industry.
What do you do as a CEO to continue to grow and develop yourself?
Alain – There are two aspects:
I try to meet tech startups to learn from them and to see what they are developing. It is also crucial to stay fit, like an athlete, as that helps with mental strength. I also like to train together with my teams to develop skills and to grow.
Lisa, staying with the concept of growth and development, what are your views on the future? Where do you think you will you end up in say 10 years and after all of your studies have finished?
During my studies I will try to grow within a company by doing internships to get experience. Where do I see myself?
Well I hope to see myself with a company that pushes me and that gives me purpose, team spirit and innovation. I hope to be project manager or to lead in some way and to ensure that I am relevant in what I do in the workplace
What would you have been if you were not a CEO?
Alain – I would have probably been an entrepreneur. This would be my first other choices. It's the other part of me and at the beginning of my career I had the choice of running my own company - which was a startup. I have worked as both an entrepreneur and as a CEO.
As the CEO of the Adecco Group what advice do you have for nurturing and progressing young people?
Alain – Decent work with purpose is extremely important as people are extremely important. Everyone in the workplace matters.
In France, for example, Adecco employs more than 6,000 people and this country, and others, we regularly hire ex-prisoners who are looking for a second chance in life and to integrate back into the workforce. Having an inclusive workforce is important and you must always give people opportunities to be successful
Lisa, as the Adecco Group CEO for One Month what are your thoughts about youth, can be supported in the workplace?  
In the last 3 weeks of my CEO role, I have seen how the Adecco Group encourages a young mindset and supports youth to do well. I recently had some work experience with the United Nations in New York and learned about how important it is to be really collaborative. A big goal of mine is to bridge the gap between corporations and the world of politics. Clearly, today's youth are the leaders of tomorrow and we have the power to change the world.
What would be one piece of advice you would give someone who is joining the workforce for the first time?
Alain – I think it's important to know yourself, to listen to yourself and to know your passion. You need to do something you love. Be bold and adventurous.
Lisa – You have to take ownership – it's your life and you need to take action. You have to own your own life in a positive way and be responsible for the actions you take.

What is the next 'big thing' for business and the world of work?
Alain: We are at the very beginning of AI advancement which will make a big impact, exactly the same way that electricity did many years ago. It could revolutionize the way of work. Blockchain is also going to be very important
Lisa: From a Non-Tech perspective how do we want to work and how will we evolve? Hopefully, we will turn into a more close-knit communities and I'm excited to see more global connectivity in the world of work