Thailand's first internationally-accredited business school, Sasin School of Management, has signed a Memorandum of Understanding (MoU) with the US-based Society for Human Resource Management (SHRM) to offer an Advanced Diploma in HR Management program to advance the HR community in Thailand, Laos, and Cambodia.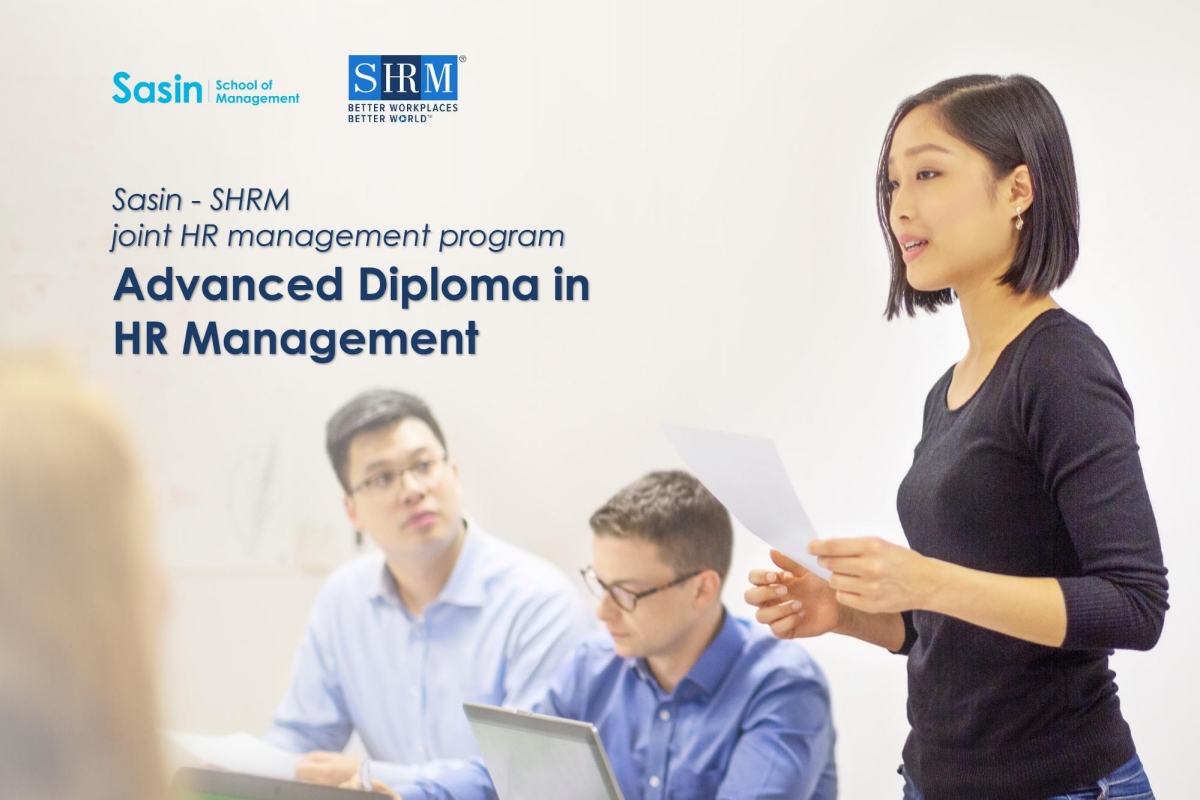 Current rapid global changes mean that HR professionals need to find and acquire the right talent to support their organizations. Sasin and SHRM's strategic partnership will enhance the effectiveness of HR professionals in Thailand and the region by providing comprehensive resources and partnering them with business leaders and stakeholders through development programs, events, and credentialing opportunities.
With its network of more than 300,000 HR and business executive members in 165 countries, SHRM is set to enhance Sasin's leading programs that have already impacted over 15,000 executives in Thailand and in the region.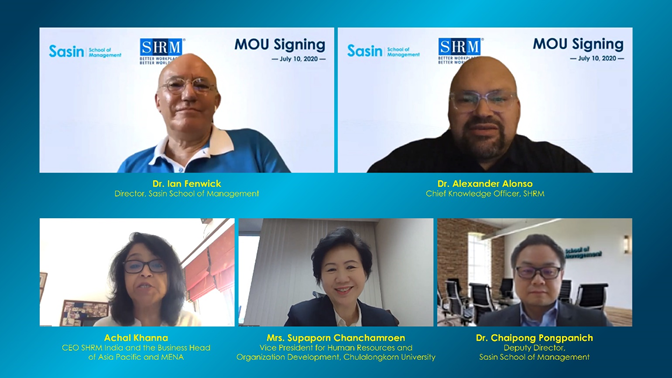 In a virtual signing ceremony, Sasin Director Professor Ian Fenwick and SHRM -
Chief Knowledge Officer Dr. Alexander Alonso signed the MoU. Witnessing the signing was SHRM India CEO & APAC & MENA Head Achal Khanna, Sasin Deputy Director Chaipong Pongpanich, and Chulalongkorn University Vice President Supaporn Chanchamroen.
"In today's disrupted world, the ways we meet, the ways we interact, the ways we work, and the ways we manage will never be the same again. We all need to refresh our understanding of Human Resource Management, and that's the intent of this collaboration between Sasin School of Management and SHRM," said Sasin Director Professor Ian Fenwick.
"SHRM's offerings of Certifications, Learning Systems, and Body of Competency and Knowledge, coupled with Sasin's impressive academic track record serves as the ideal combination for achieving the institute's vision of developing resilient, adaptive, impactful leaders," said SHRM India CEO & APAC & MENA Head Achal Khanna Achal Khanna.
The new Advanced Diploma in HR Management program will provide a much-needed review and renewal of knowledge and experience to elevate the workforce to thrive in the "new" world of work. This comprehensive program touches on key issues such as talent acquisition, talent development, and leveraging analytics for HR.
"The SHRM Advanced Diploma Program is developed based on the SHRM Book of Competency and Knowledge, or BoCK. The SHRM BoCK has been developed with more than 1,000 senior HR professionals globally, representing the key knowledge and competencies an HR professional, depending on seniority, should possess. The 8 modules in the program provide an HR professional with the opportunity to embark on a holistic developmental journey with experiential learning and robust assessments. It will certainly prepare any HR professional with the learning pathway to become an HR leader." said CP Tham, SHRM Master Facilitator and Representative, South -East Asia & Director, People and Culture, Speedoc Pte Ltd.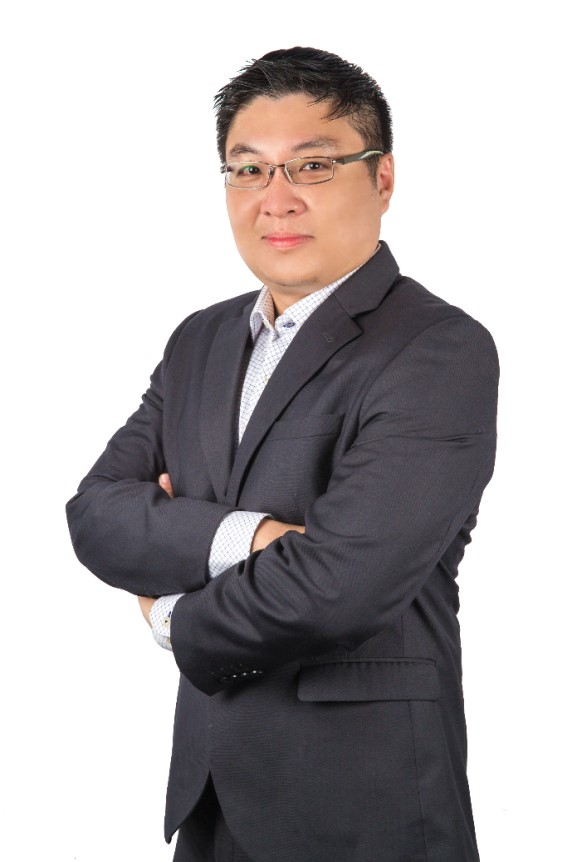 There are a total of 8 modules divided into 2 levels:
Level 1: Basic Certificate
This level is for operational HR professionals who are planning to move up to a strategic HR Business Partner role. This module is also relevant for those who intend to enter the HR profession from different fields/sectors or for anyone who intends to brush up their skills with the latest trends in today's business environment.
Module 1 -Talent Acquisition | October 16 – 17, 2020
Module 2 – Talent Development | October 30 – 31, 2020
Module 3 – Employee Engagement | November 13 – 14, 2020
Module 4 – Employee Total Rewards | November 27 – 28, 2020
Level 2: Advanced Certificate
This level is for HR professionals who have completed the basic certificate program (Module 1 to Module 4). It is applicable for experienced HR professionals who plan to move into a strategic HR Business Partner role. It is also useful for HRBPs who want to be updated with the latest trends in Global HR strategies.
Module 5 – Strategic HR Analytics | January 8 – 9, 2021
Module 6 – Strategic Workforce Planning | January 22 – 23, 2021
Module 7 -Strategic Business Partner | February 12-13, 2021
Module 8 – Global Strategic HR | February 19 – 20, 2021
You can choose to apply to the full program (8 modules) or individual modules that interest you. For more information on fees, please click here.
With this new Advanced Diploma in HR Management program, Sasin and SHRM hope to strengthen and prepare HR professionals in Thailand and the region for the ever-changing workplace. SHRM certified SCP/CP is globally recognized in the region, specifically in Singapore, Malaysia, Philippines, South Korea, and the United States.
With the first module starting on October 16, 2020, interested HR professionals can find more information on this new Advanced Diploma in HR Management at https://bit.ly/31klIoa.