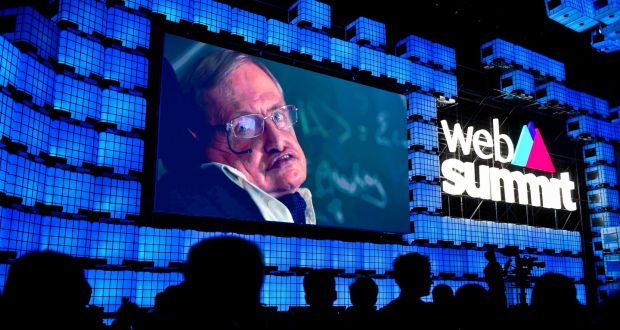 "We stand on the threshold of a brave new world. Our AI systems must do what we want them to do, for the benefit of humanity" - Stephen Hawkings
Professor Hawking joined Web Summit's opening night ceremony via broadcast, following remarks by AI entrepreneur and Feedzai CEO Nuno Sebastião. 
The Web Summit's opening night was joined by Professor Hawking who delivered a keynote speech on artificial intelligence (AI) via video to the audience at the Web Summit. Stephen Hawking's speech was centered around fraud prevention. Over 15,000 people packed the Lisbon's Altice Arena to hear Professor Hawking's opinions, thoughts and ideas concerning AI, specifically AI's role in the future of our society and called for ethical controllability in the development of AI.
Professor Hawking said:
"We cannot predict what we might achieve when our own minds are amplified by AI.  Perhaps with the tools of this new technological revolution, we will be able to undo some of the damage done to the natural world by the last one, industrialization. We will aim to finally eradicate disease and poverty. Every aspect of our lives will be transformed."
"We all have a role to play in making sure that we, and the next generation, have not just the opportunity, but the determination, to engage fully with the study of science at an early level, so that we can go on to fulfil our potential, and create a better world for the whole human race. We need to take learning beyond a theoretical discussion of how AI should be and take action to make sure we plan for how it can be. You all have the potential to push the boundaries of what is acceptable, or expected, and to think big. We stand on the threshold of a brave new world. It is an exciting if precarious, place to be and you are the pioneers."
Paddy Cosgrave, Web Summit CEO, said:
"Professor Hawking is one of the great minds of our generation and when he speaks we all should listen. AI could be the greatest or the worst thing to happen our society since the industrial revolution. Regulation and agreed ethical practices are essential to ensure we protect the rights of all in society because this is not the future this is the now, AI is already permeating into every aspect of our lives."

About Web Summit
Web Summit is a global technology conference hosted annually in Lisbon. In 2017, more than 60,000 attendees from over 170 countries will fly to Lisbon for Web Summit, including over 20,000 companies, 7,000 CEOs and 2,000 international journalists. Speakers in Lisbon 2017 will include the founders and CEOs of the world's largest tech companies as well as political leaders and major sports, fashion and music personalities.
About Feedzai
Feedzai is AI. We're coding the future of commerce with the most advanced risk management platform powered by big data and artificial intelligence. The world's largest banks, payment providers, and retailers use Feedzai's agile machine learning technology to manage risks associated with banking and e commerce. Learn more about Feedzai at www.feedzai.com.