Global Expansion Track is the latest program to be introduced by dtac accelerate with the ambition to widen opportunities for highly capable Thai start-up companies to scale up in the global level. The program will leverage Telenor Group's global digital capability in possibly penetrate into 13 markets of 200 million customers. A selected Thai startup company will receive many privileges such as: 1. A chance to penetrate into 13 markets of over 200 million customers; 2. An opportunity to work with world-class technology partners for a chance to become an unicorn startup in the future; 3. Business partnership packages from our world-class technology partners such as Google, AWS, Microsoft, IBM, and Samsung; 4. The first-ever corporate venture capital rewarded by dtac.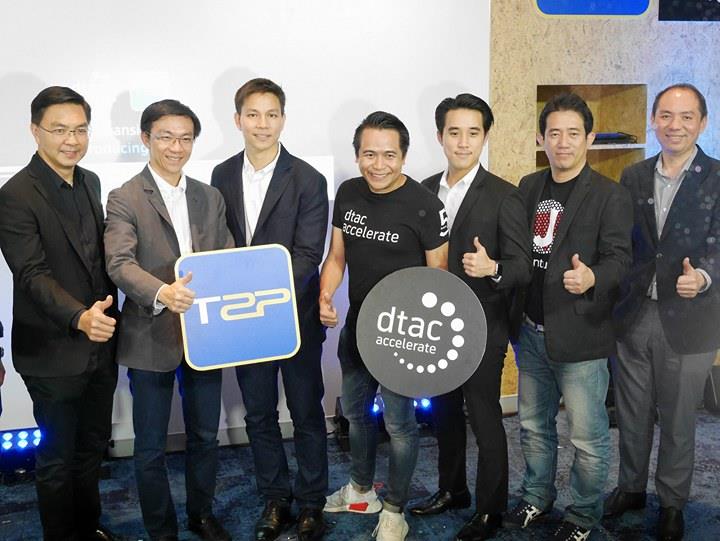 Mr. Sompoat Chansomboon, Director of dtac accelerate, said: "The startup ecosystem in Thailand has grown over 100 times, worth US$236 million in the last year. Especially, 70 – 75 % of startups in dtac Accelerate program have constantly received funds ranging from seed funding to Series A-level funding. Surely, this is a success of dtac Accelerate. However, in order to push the Thai startup ecosystem to the next levels: from Series A to Series B and to the ultimate Series C, it truly is a challenge for everyone since less than 5% of Thai startups could reach those levels. We really need more resources, investments, and management capabilities in order to leap to the high levels. Thus, we all have to involve in driving Thai startups to the global stage."
dtac accelerate is pleased to announce that T2P is the first Thai start-up selected to participate in the Global Expansion Track program. T2P is a Fin Tech startup that possesses key strength of being a solution provider for building and maintaining corporate client base. With Loyalty, a platform for a customer-loyalty program for member cash cards, and DeepPocket, an app that brings group of friends on social network to share the automatic payment and borrow money between e-wallets, T2P is the fast growing loyalty and cash card platform provider with over 1 million users, serving over 1,500 leading retail shops. Recently, the transactions via T2P platforms have reached over THB 250 Million. In the first quarter of this year, T2P has expanded its business by signing a joint venture deal with City Mart Holdings, the number one retail chain in Myanmar, and Telenor Myanmar, a leading 3G/4G service provider with 90% population coverage, serving more than 18 million customers.
Mr. Taweechai Pureetip, CEO of T2P Co., Ltd., said: "T2P is a successful Thai Fin Tech startup. Established in 2011, T2P has seen its business regularly grow with average 100% growth. Lately, we have expanded our market to Myanmar by signing a joint venture deal with City Mart Holdings Co., Ltd., a leading retail chain in Myanmar, to provide payment platform, loyalty card, e-gift, and e-wallets for 51 million Myanmar people, with further plans for more market penetration in Myanmar. Moreover, T2P has continually raised funds from 4 key leading VCs, J-Venture, Chanwanich, Benchachinda Holding, 500 Startups, and 500 TukTuks the total of over US$ 3M. By seeing T2P's potential for growth, dtac Accelerate has recently invested in T2P and selected T2P to the world-class accelerate program or Global Expansion Track that will help T2P enlarge the market to Telenor Group."