Mr. Lars Norling, Chief Executive Officer, Mr. Andrew Kvalseth, Chief Digital Officerand Mr.Sompoat Chansoomboon, Director dtac accelerate Total Access Communication PLC or dtac, presented Best Performance Startups awards to the winners at Demo Day Batch 5, on which the 12 startup finalists made their final pitch on stage after completing a 4-month intensive boot camp, which included 19 training sessions conducted by 23 top speakers and mentorship from 9 Thai renowned startup entrepreneurs and 8 padawans from previous batches. Interestingly, one-third of this batch's startup founders are female. dtac accelerate batch 5 has partnered with 6 top organizations and recorded an unprecedented success as 80% of participating startups received funding during the boot camp.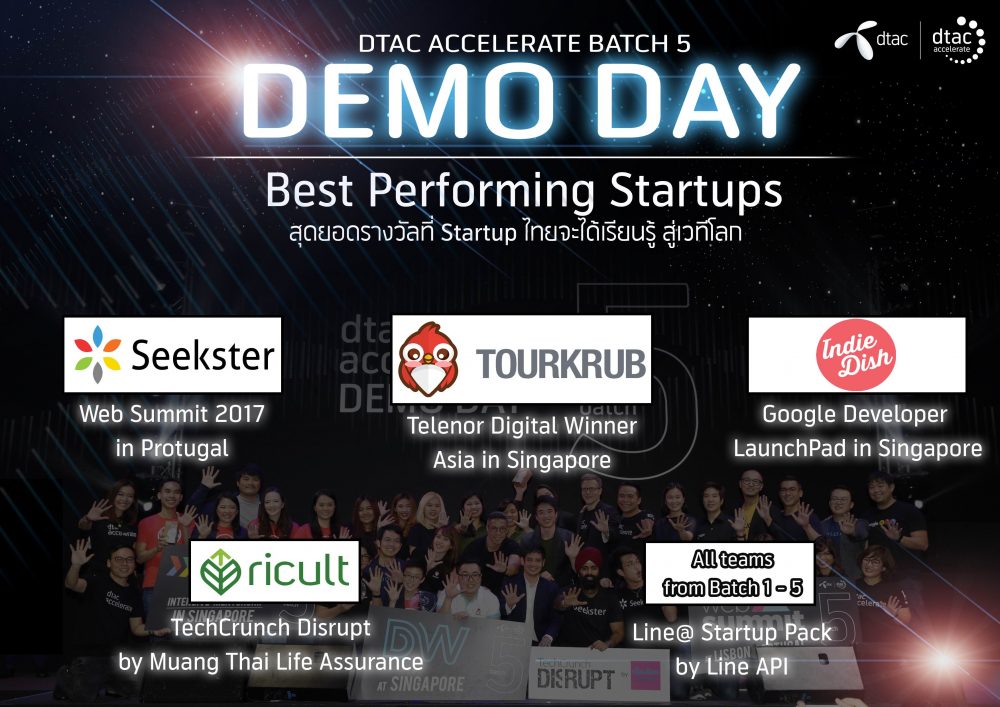 Demo Day Batch 5 is one of Southeast Asia's top four major startup events that attract interest from top VC's from around the world. The event gave startups an opportunity to pitch to investors on a big stage and receive funding, ranging from seed to a Series A. The winners were announced as follows:
Tourkrub received an award to attend Telenor Digital Winners Asia in Singapore
Seekster received an award to attend the world's largest tech conference "Web Summit 2017" in Lisbon, Portugal. The event is expected to have more than 30,000 attendees.
Indie Dish received an award from Google to attend the Google Developer Launchpad accelerator in Singapore.
Two surprise prizes from partners, LINE Thailand and Muang Thai Life Assurance PCL, were given to:
Ricult received an award from Muang Thai Life Assurance to attend TechCrunch Disrupt in San Francisco. The event, organized by the world's leading tech & startup media companies, is an annual event attended by top Silicon Valley investors. This award is given in partnership with Muang Thai Life Assurance, TechCrunch, and dtac accelerate.
All 12 teams received Line@ Startup Pack from LINE API, making it the very first startup to integrate with API and LINE.
Who is who at Startups batch 5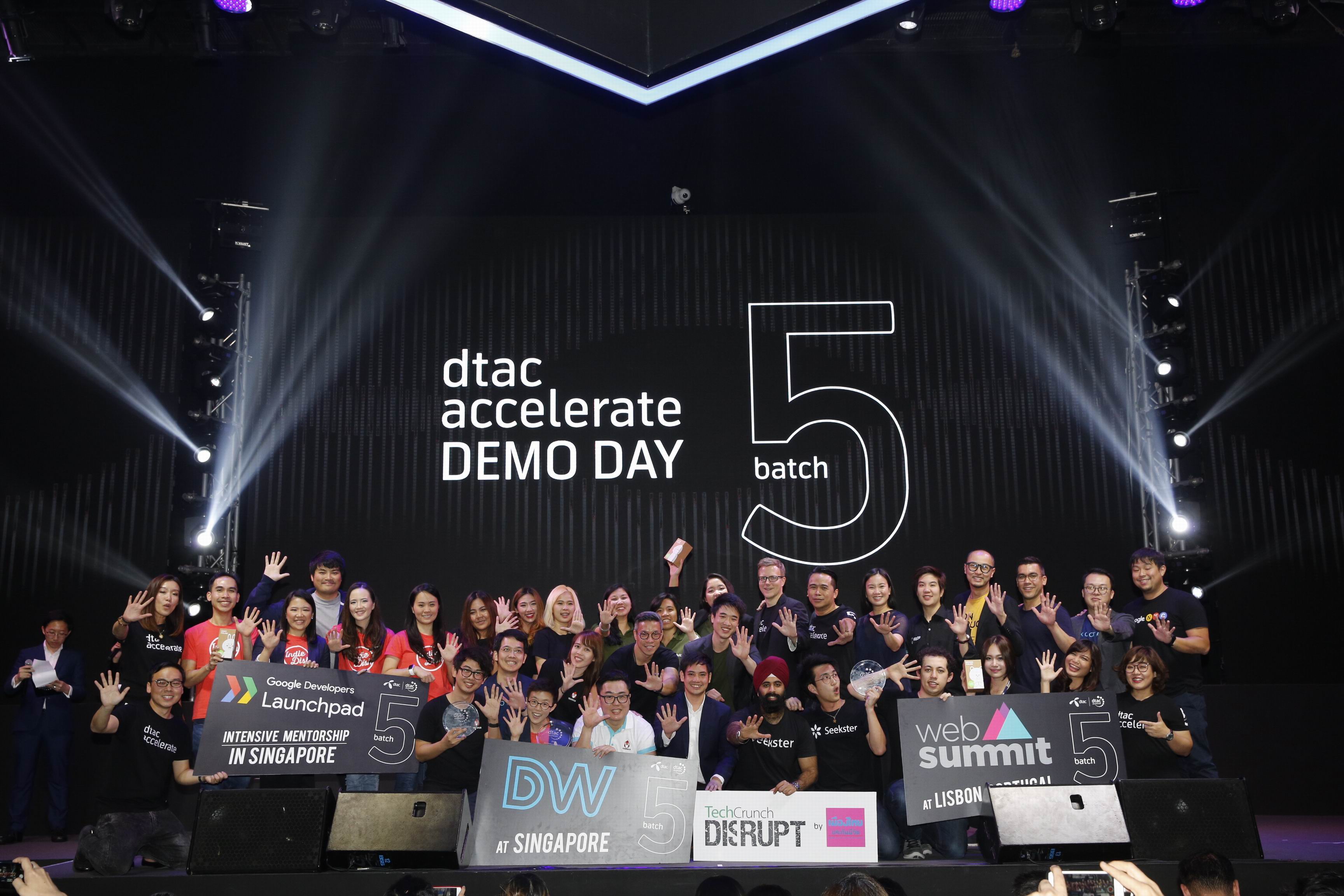 12 startups from dtac accelerate batch 5
Cookly

(

https://www.cookly.me/

) is a leading booking platform for cooking classes from over 250 cooking schools in 9 countries, including Thailand, Japan, Indonesia, Vietnam, Cambodia, Malaysia, Spain, France, and Italy. Cookly has served customers from over 60 countries around the world.

Creden

is a fintech solution combining eCredit Scoring and Blockchain Technology to provide a fast and easy credit approval process and address Know Your Client (KYC) obligations. The solution is being piloted in partnership with microfinance institutions.

Drivemate (

https://www.drivemate.asia/

) is

a peer-to-peer car sharing platform for rental (60%) and privately owned (40%) cars in 27 major provinces.  

Globish

 (

https://www.globish.co.th/

) is the fastest online English learning platform that provides 24-hour, one-on-one English courses with foreign teachers via video calls.  

Indie Dish (

http://indiedish.co/

) is a food ordering application that delivers healthy meals from over 60 shops to customers. It offers a marketplace for new independent chefs without a store front.  

Ricult

(

http://www.ricult.com/?lang=th

) is a social enterprise that uses machine learning and satellite imagery to create an alternative credit store for Thai farmers to access cheaper loans and improve farm yield. Ricult has received seed round funding from 500 TukTuks and currently has partners, including the Bank for Agriculture and Agricultural Cooperatives (BAAC).

ScoutOut

(

https://www.scoutout.net/

) is the first job search application in Southeast Asia that uses a specifically design algorithm to match candidates with jobs.

Seekster

(

https://seekster.co/

) is a cleaning and maintenance platform for homes, offices, and condominiums. Currently, Seekster has over 1,300 registered maids and technicians providing services in Bangkok and the outskirts.

Senseino

(

https://www.senseino.com/

) offers online Japanese, Chinese, and Korean language courses. It is also the largest online Japanese and Korean learning platform in Thailand.

Shiftspace

(

http://www.shiftspace.co.th/

) is an online marketplace for brand owners to sell their products directly to target customers through selected retail spaces, saving them time and money on hiring their own sales staff.

Tixget

(

https://www.tixget.com/

) is a ticketing platform that provides travelers around the world with an enhanced travel experience by offering special priced tickets to various tourist attractions. Tixget simplifies the ticketing process, reduces costs, minimizes errors, and prevents frauds.

Tourkrub

(

https://tourkrub.co/

) is a package-tour selling platform that enables customers to search for tours according to their interests, preferred schedule, and budget.