VISAI has raised Pre-Series A funding from depa and SCB 10X, and is coordinating with a tripartite partnership among the government, businesses, and science and technology research institutions.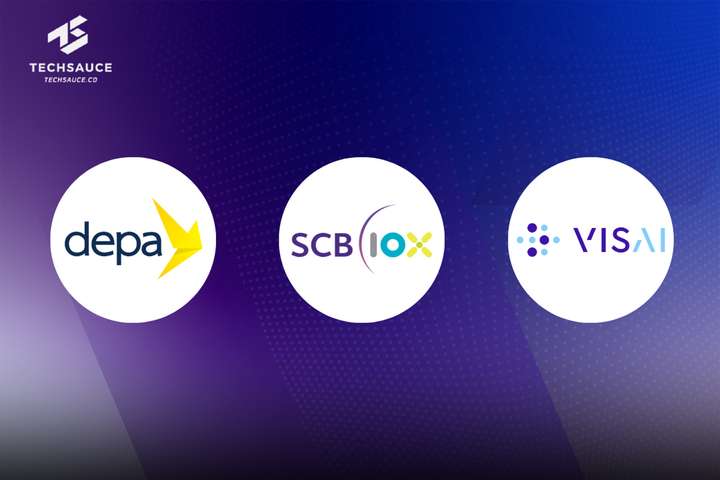 VISAI, a Thai start-up that provides comprehensive AI solutions for businesses, has raised Pre-Series A funding from depa and SCB 10X, co-operating with among the government sector, the business sector, and science and technology research institutions to enhance the accessibility and development of Thai AI technology. VISAI also launched an AI Cloud Platform service, AI model technology that can be accessed immediately via the cloud without coding, helping businesses reduce the problem of AI skill shortage.
Founded in 2019 as an Artificial Intelligence research institute, VISAI was established as a result of collaboration between Vidyasirimedhi Institute of Science and Technology (VISTEC) and Digital Economy Promotion Agency (depa) to provide access to high-quality AI technology research for businesses and industries in Thailand. The start-up offers AI Solutions, AI consultation services and AI Training programs which provide knowledge on how to use AI through real-data exercises to enable learners to apply their knowledge and increase work efficiency.
"Through working with clients over the years, we have come to realize that although we are capable of producing high-quality AI models, many Thai businesses still lack data scientists to effectively apply and develop AI applications. To address this issue, we have significantly lowered the cost of using AI models through our AI cloud platform. This enables developers or engineers in businesses to use AI technology without having to write code themselves." - Assoc. Prof. Dr. Sarana Nutanong, CEO of VISAI Co., Ltd.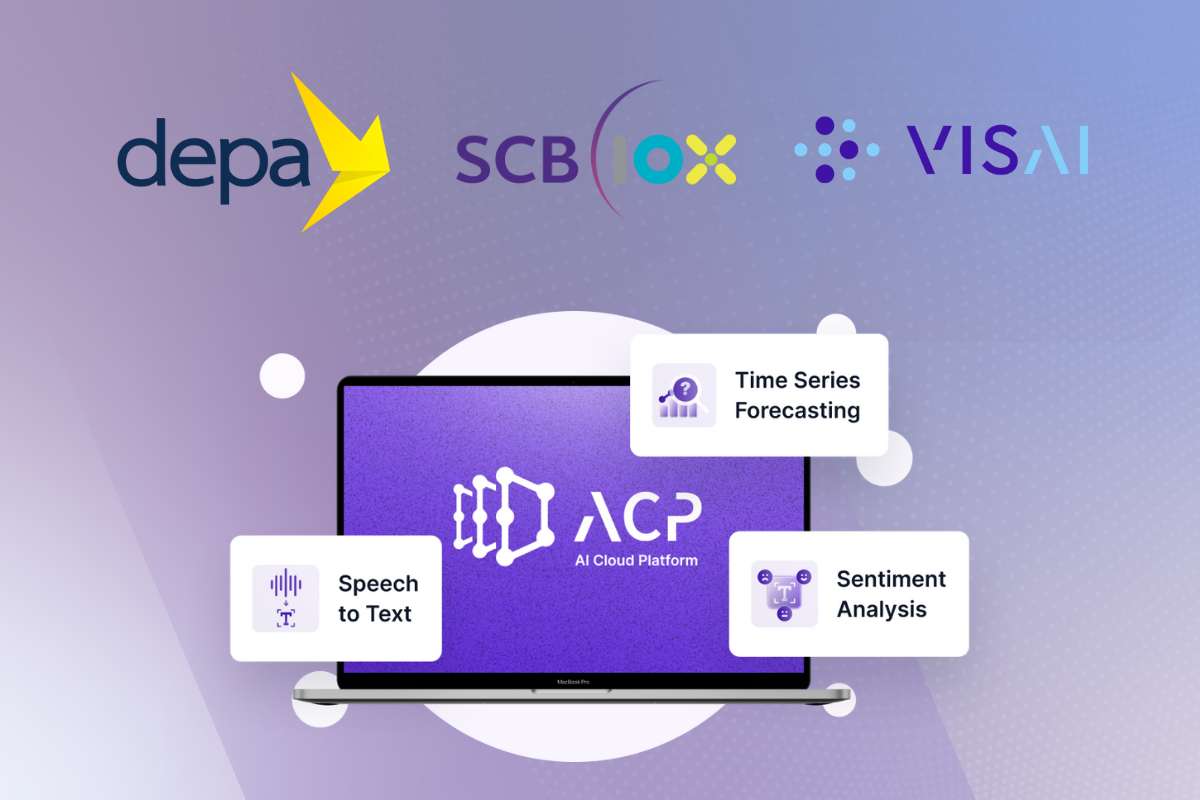 Dr. Supakorn Siddhichai, Executive Vice President (Digital Technology and Innovation Development) of the Digital Economy Promotion Agency (depa), stated, "depa recognizes the importance of deep technology development from Thai people, which will create competitiveness in the country's industrial sector. Until now, depa has played a role in promoting and supporting the development of datasets and digital workforce to support the digital industry and innovation service market. Furthermore, depa is committed to promoting the development of advanced artificial intelligence technology by focusing on a business sector to create ready-to-use service platforms. This will help reduce a problem of artificial intelligence system accessibility, resulting from the shortage of digital experts in Thailand, and increase the capability of the Thai business and industrial sectors, Ultimately, depa aims to elevate Thai national technology and advanced innovation to an international level."
SCB 10X aims to create exponential growth through collaboration and investment in high potential digital technology startups. It has invested in VISAI and is partnering with researchers from VISTEC to develop machine learning models and applications. Mukaya (Tai) Panich, CEO & Chief Venture and Investment Officer of SCB 10X said "We recognize the strengths of VISAI, which include deep technical knowledge and expertise in AI and machine learning. This investment and collaboration will allow us to access high-quality AI models more easily. The access will be highly beneficial to our data science team to efficiently and sustainably solve long-term business problems. This is especially true in the finance and banking sectors, where there is strong demand for AI in use cases such as data analysis and forecasting where accuracy is critical. It helps to improve and automate the delivery and use of financial services and also enhance customer services."
For an overview of artificial intelligence (AI) technology recently, it can be seen that there are various companies developing AI technology for new businesses almost every day. Developing a workforce with knowledge and skills according to technology is therefore essential for enabling AI to meet business needs. VISAI can help businesses to achieve it with its high-quality technology services with low risk and a team of experts who can find solutions to business problems for customers.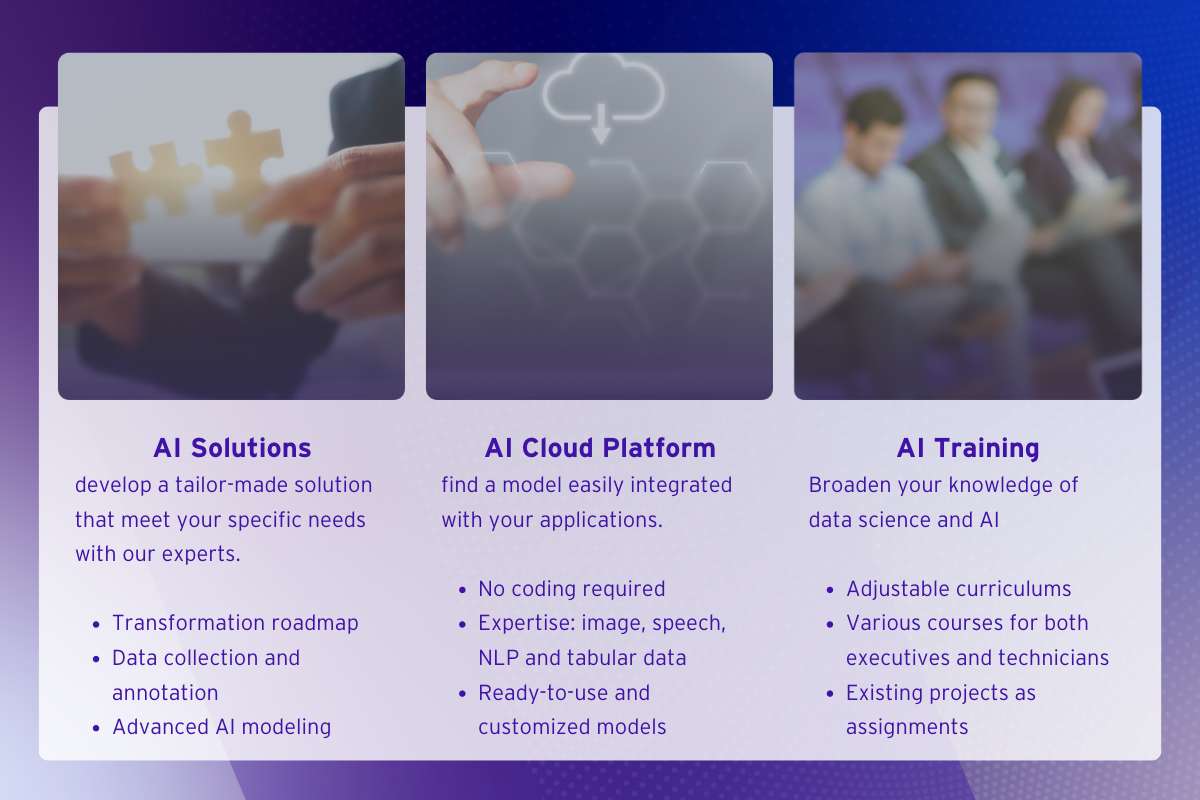 Comprehensive AI services developed from advanced science and technology research by VISTEC.
With a commitment to enabling all sectors, including government and business, to access high-quality artificial intelligence (AI) technology and overcome the limitations of a shortage of AI development experts, VISAI has developed three services that allow anyone to use advanced technology without having a deep knowledge base. These services include AI Cloud Platform, AI Solutions, and AI Training.
1. AI Cloud Platform - provides access to high-quality AI models and applications on the cloud, which have been developed by VISAI in collaboration with VISTEC and partners. There are up to 9 AI models available, and there are plans to develop many more in the future to help increase the potential for developing applications, software, or business processes. The outstanding feature of AI models on the AI Cloud Platform is their high accuracy with various types of data, including images, speech, natural language processing (NLP), and tabular data. The platform is designed to be user-friendly, allowing users to select ready-made AI models for immediate use or customize them to suit their business data. This allows businesses to begin using AI technology immediately and at a lower cost.
2. AI Solutions - provides consultation for businesses who need to develop artificial intelligence to solve their specific problems but lack AI or data science experts. VISAI has AI and machine learning experts to help analyze business problems, as well as design and conduct data preparation, model training, and accuracy testing before implementing a model.
3. AI Training - Provides training programs for organizations and individuals interested in AI and data science, broadening their knowledge of AI and data science and enabling them to drive their organizations. Our training courses are divided into two groups: Executive Programs for organizational executives and Technical Training Programs for technical staff. Learners will learn everything from basic knowledge of applying technology in organizations, working with data science, to developing their own use case.
All of these are services from VISAI whose main goal is to make it easier for everyone to access high-quality technology. Those interested in using the service can contact a team for consultation on using AI for business and request to try various AI models at the https://visai.ai/ or via email at [email protected].